Abstract
In the midst of challenges facing affordable, safe and sustainable housing development, there is a continuous increase in the vast amounts of carton papers, melon seed husks, and groundnut shells discarded as waste materials. This is of great concern, especially, as such residues are under-utilised and their improper disposal creates grave problems. Thus, this work was designed to assess the feasibility of solving the emerging problems by valorising the said wastes into value-added products that can be used for building construction. Samples containing varying weight proportions of waste carton paste (WCP) and melon seed husk (MSH) were developed using Topbond as binding agent. Other samples were similarly fabricated but with groundnut shell (GNS) as a component. From the results of tests performed to investigate strength and heat transfer behaviour of each developed sample, it was observed that nailability remained 100% irrespective of the composite formulations adopted. In other cases, the test results varied according to WCP loadings. Though samples containing MSH appeared to be more efficient than their counterparts with GNS content for thermal insulation, the observed differences in the results were statistically insignificant. Aside being sustainable and inexpensive, it was found generally that the afore-mentioned wastes are promising alternative raw materials for production of medium-density panels that are environmentally-friendly and also suitable for use as either ceiling or interior partition boards for effective thermal insulation in buildings. Such undertakings have the potential to minimise the adverse effects that could be caused by the wastes in question.
Graphical Abstract

Access options
Buy single article
Instant access to the full article PDF.
USD 39.95
Price excludes VAT (USA)
Tax calculation will be finalised during checkout.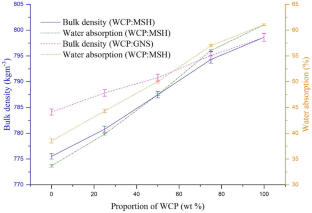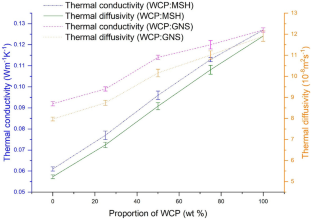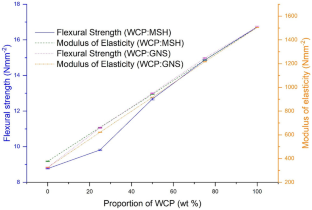 References
Adebayo AA, Yusuf KA (2015) Analele University. Eftimie Murgu Resita 22:11–22

Aitokhuehi OJ (2016) Egg crate production from carton wastes: An approach for transforming wastes. IOSR J Mech Civil Eng 13(10):28–36

Ajeigbe HA, Waliyar F, Echekwu CA, Ayuba K, Motagi BN, Eniayeju D, Inuwa A (2014): A Farmer's Guide to Groundnut Production in Nigerian, Patancheru 502324, Telangana, India: International Crops Research Institute for the Semi-Arid Tropics, p 36

Akbulut T, Ayrilmis N (2019) Some advantages of three-layer mediun-density fibreboard as compared to the traditional single-layer one. J Wood Sci 65:46. https://doi.org/10.1186/s10086-019-1822-4

Ann PI, Moses O, Kabuo NO et al (2016) Comparative evaluation of Proximate compositions, functional and physiochemical properties of raw melon seeds of five members of Cucurbitaceae family. Am J Food Sci Nutri 3(1):8–17

ASTM C518 (2017) Standard Test Method for steady-state thermal transmission properties by means of the Heat Flow Meter Apparatus. ASTM International, West Conshohocken, PA

ASTM D1037 (2012) Standard test methods for evaluating properties of wood-based fiber and particle panel materials. ASTM International, West Conshohocken, PA

ASTM D790 (2017) Standard Test Methods for flexural strength properties of unreinforced and reinforced plastics and electrical insulating materials. ASTM International, West Conshohocken, PA

Ataguba CO (2016) Properties of ceiling boards produced from a composite of waste paper and rice husk. Int J Adv Sci Eng Technol 2:117–121

Bano S, Negi YS (2017) Studies on cellulose nano crystals isolated from groundnut shells. Carbohyd Polym 157:1041–1049. https://doi.org/10.1016/j.carbpol.2016.10.069

Chen PH, Chen GC, Yang MF, Hsieh CH, Chuang SH, Yang HL, Kuo YH, Chyuan JH, Chao PM (2012) Bitter melon seed oil-attenuated body fat accumulation in diet-induced obese mice is associated with camp-dependent protein kiase activation and cell death in white dispose tissue. J Nutr 142(7):1197–1204

De Souza F, Del Menezzi CHS, Júnior GB (2011) Material properties and non-destructive evaluation of laminated veneer lumbaer (LVL) made from Pinus oocarpa and P. kesiya. Eur J Wood Wood Prod 69:183–192. https://doi.org/10.1007/s00107-010-0415-0

Duc PA, Dharanipriya P, Velmurugan BK, Shanmugavadivu M (2019) Groundnut shell–a beneficial bio-waste. Biocatalysis Agric Biotechnol 20:101206. https://doi.org/10.1016/j.bcab.2019.101206

EN312 (2010) Particleboards specifications. European Committee for Standardisation, Brussels, Belgium

Etuk SE, Robert UW, Agbasi OE (2020). Design and performance evaluation of a device for determination of specific heat capacity of thermal insulators. Beni-Suef Univ J Basic Appl Sci 9:34. https://doi.org/10.1186/s43088-020-00062-y

Fadhil AB (2013) Optimisation of transesterification parameters of melon seed oil. Int J Green Energy 10(7):763–774

FAOSTAT (2018) Food and agricultural organisation of the United States Statistics. Accessed 9 Mar 2020. https://www.fao.org/faostst/en/#data/QC

Foo K, Hameed B (2012) Preparation and characterization of activated carbon from melon (Citrullus vulgaris) seed hull by microwave-induced NaOH activation. Desalin Water Treat 47(1–3):130–138

Giwa S, Abdullah LC, Adam NM (2010) Investigating Egusi (Citrullus colocynthis L.) seed oil as potential biodiesel feedstock. Energies 3(4):607–618

Giwa SO, Akanbi TO (2020) A review on food uses and prospect of Egusi melon for biodiesel production. Bioenergy Res. https://doi.org/10.1007/s12155-020-10145-4

Giwa SO, Chuad LA, Adam NM (2014) Fuel properties and rheological behaviour of biodiesel from egusi (Colocynthis citrullus L.) seed kernel oil. Fuel Process Technol 122(0):42–48. https://doi.org/10.1016/j.fuproc.2014.01.014

Güler C, Büyüksari Ü (2011) Effect of production parameters on the physical and mechanical properties of particleboards made from Peanut (Arachis hypogaea L.) Hull. Bioresources 6(4):5027–5036

Isaac IO, Ekpa OD (2014) Comparative study on the kinetics of the preparation of melon seed and cotton seed oils based biopolymers. Am J Polym Sci 4(1):7–15

Jarret RL, Levy IJ (2012) Oil and fatty acid contents in seed of Citrullus lanatus schrad. J Agric Food Chem 60(20):5199–5204

Johar N, Ahmad I, Dufresne A (2012) Extraction, preparation and characterisation of cellulose fibres and nano crystals from rice husk. Ind Crops Prod 37:93–99. https://doi.org/10.1016/j.indcrop.2011.12.016

Kiran MC, Nandanwar A, Naidu MV, Rajulu KCV (2012) Effect of density on thermal conductivity of bamboo mat board. Int J Agric Forest 2(5):257–261. https://doi.org/10.5923/j.ijaf20120205.09

Law TT, Ishak ZAM (2010) Water absorption and dimensional stability of short kenaf fiber filled polypropylene composites treated with maleated polypropylene. J Appl Polym Sci 120(1):563–572. https://doi.org/10.1002/app.3318

Lawal SA, Choudhury IA, Yusoff N (2012) An assessment of the physic-chemical properties of melon seed (Citrullus lanatus) oil as base material for oil-in-water emulsion cutting fluid. Adv Mater Res 576:293–295

Mabaleha M, Mitei Y, Yeboah S (2007) A comparative study of the properties of selected melon seed oils as potential candidates for development into commercial edible vegetables oils. J Am Oil Chem Soc 84(1):31–36

Madhusudhana B (2013) A survey on area, production and productivity of groundnut crop in India. IORS J Econ Fin 1(3):1–7

Marín E (2008) Teaching thermal physics by touching. Lat Am J Phys Educ 2(1):15–17

Nkansah GO, Kanton RAL, Ametefe C, Quaye EB, Mawuli A (2012) Agronomic performance of eight sweet melon cultivars in three ecological zones of Ghana. J Agron 11(4):94–100. https://doi.org/10.3923/ja.2012.94.100

Nzelu CO, Okonkwo NJ (2016) Evaluation of melon seed oil Citrullus colocynthis (L.) schrad, for the protection of cowpea Vigna unguiculata seeds against Callosobruchus maculates (Fabricius) (Coleoptera: Bruchidae). Evaluation 3(8):1–10

Ojiewo CO, Janila P, Bhatnagar-Mathur P, Pandey MK, Desmae H, Okoire P, Mwololo J et al (2020) Advances in crop improvement and delivery research for nutritional quality and health benefits of groundnut (Arachis hypogaea L.). Front Plant Sci 11:29

Okieimen F, Onyenkpa V (1989) Removal of heavy metal ions from aqueous solution with melon (Citrullus vulgaris) seed husks. Biol Wastes 29(1):11–16

Okorie US, Robert UW, Iboh UA, Umoren GP (2020) Assessment of the suitability of tiger nut fibre for structural applications. J Renew Energy Mech 3(1):32–38. https://doi.org/10.25299/rem.2020.vol3(01).4417

Oluba OM, Eidangbe GO, Ojieh GC, Idonije BO (2011) Palm and egusi melon oils lower serum and liver lipid profile and improved antioxidant activity in rats fed a high fat diet. Int J Med Med Sci 3(2):47–51

Olubi O, Felix-Minnaar JV, Jideani VA (2019) Physiochemical and fatty acid profile of egusi oil from supercritical carbondioxide extraction. Heliyon 5(1):e01083. https://doi.org/10.1016/j.heliyon.2018.e01083

Patel S, Rauf A (2017) Edible seeds from Cucurbitaceae family as potential functional foods: Immense promises, few concerns. Biomed Pharmacother 91:330–337. https://doi.org/10.1016/j.biopha.2017.04.090

Rajput ERE (2015) Heat and Mass Transfer, 6th Revised edn. S. Chand & Company PVT ltd, Ram Nagar, New Delhi, p 15

Robert UW, Etuk SE, Agbasi OE (2019). Bulk volume determination by modified water displacement method. Iraqi J Sci 60(8):1704–1710. https://doi.org/10.24996/ijs.2019.60.8.7

Settaluri VS, Kandala CVK, Puppala N, Sandaram J (2012) Peanuts and their nutritional aspects–a review. Food Nutr Sci 3:1644–1650. https://doi.org/10.4236/fns.2012.312215

Shukla SR, Kamdem DP (2009) Properties of laboratory made yellow-poplar (Liriodendron tulipifera) laminated veneer lumber: Effect of adhesives. Eur J Wood Wood Prod 67(4):397–406

Standard A (2008) Facts about particleboard and MDF EWPAIA. Australian Wood Panels Association Incorporated. https://www.ewp.asn.au

Suleiman IY, Aigbodion VS, Shuaibu L, Shangalo M (2013) Development of eco-friendly particleboard composites using rice husk particles and gum Arabic. J Mater Sci Eng Adv Technol 7(1):75–91

Tata KH, Sani M, Ekundayo OO, Frederick K (2015) Feasibility study of the use of groundnut shells as fine aggregates in lightweight concrete construction. Int J Adv Res Eng 1(1):13–16. https://doi.org/10.24178/ijare.2015.1.1.13

Tiwari R (2019) Groundnut output is likely to be 40% more than last year. The Economic Times. Market Watch. Accessed 14 Oct 2019

Toomer OT (2018) Nutritional chemistry of the peanut (Arachis hypogaea). Crit Rev Food Sci Nutr 58(17):3042–3053. https://doi.org/10.1080/10408398.2017.1339015

Twidell J, Weir T (1990) Renewable Energy Resources E. and FN Spon. London, p 418

Vijayalakshmi MM, Natarajan E, Shanmugasundaram V (2006) Thermal behaviour of building wall elements. J Appl Sci 6(15):3128–3133

World Watch Institute (2017) The miracle melon (Egusi). Washington DC. Accessed 7 Feb 2017. https://goo.gl/7ILtxD

Xu Y, Xu L, Chen XT, Sun P, Guo Q, Wang HL (2016) Bitter melon seed oil may reduce the adiposity through the hypothalamus Mtor signalling in mice fed a high-fat diet. J Nutr Intermed Metabol 6(1):16–21
Additional information
Publisher's Note
Springer Nature remains neutral with regard to jurisdictional claims in published maps and institutional affiliations.
Novelty Statement
Packaging of melons or groundnuts for wholesale is mostly done in cartons made of paper, which are usually discarded then after as waste materials. Due to growing importance and high consumption of melon and groundnut, vast amount of residues generated after processing of the crops remain under-utilised and the current strategies for disposal of municipal solid wastes in developing countries are inefficient. This leads to open burning, indiscriminate dumping or unplanned landfilling of the wastes, thereby requiring an urgent need to consider more efficient routes for valorising the wastes in question. Production of value-added products from waste carton paper, melon seed husks, and groundnut shells is proposed. The developed composite panels are suitable for use as ceiling or interior partition boards in order to ensure effective thermal insulation/minimisation of the adverse effect caused by climate change in buildings. Such waste valorisation is a promising alternative for solving the problems associated with disposal of the solid wastes and is first reported in this study.
About this article
Cite this article
Robert, U.W., Etuk, S.E., Agbasi, O.E. et al. Valorisation of Waste Carton Paper, Melon Seed Husks, and Groundnut Shells to Thermal Insulation Panels for Structural Applications. Polytechnica 4, 97–106 (2021). https://doi.org/10.1007/s41050-021-00034-w
Received:

Revised:

Accepted:

Published:

Issue Date:

DOI: https://doi.org/10.1007/s41050-021-00034-w
Keywords