Abstract
Women workers continue in the beedi industry due to the unavailability of alternative livelihoods though they are vulnerable and exploited. This remains a poorly understood field of research due to the unavailability of reliable data, which is an obstacle to the effective implementation of various policies and schemes. Even, the number of beedi worker reported by the Ministry of Labour and Employment contains significant discrepancies. These data show that the registered beedi workers have increased in India with a significant decline in the Southern States in the last two decades. We estimate the women beedi employees at the state and district levels and also assess their socio-economic status. We find that the number of women beedi workers in the registered firms has increased in India including the Southern States, and about 80% of beedi workers are women and mainly living in the rural areas. Further, we find that while West Bengal, Andhra Pradesh, Tamil Nadu, and Karnataka have the highest number of beedi workers, the highest share of women in the total beedi workforce is found in Andhra Pradesh (95%), Karnataka (91%), and Tamil Nadu (84%). The majority of women beedi workers are illiterate with a lower wage than men's. The minority mainly Christian followers are significant compared to their population share, and the OBC category is significant among the women beedi workers. More than 90% of the women beedi rollers do not have written job contracts and are not eligible for paid leaves or social security.
Access options
Buy single article
Instant access to the full article PDF.
US$ 39.95
Tax calculation will be finalised during checkout.
Subscribe to journal
Immediate online access to all issues from 2019. Subscription will auto renew annually.
US$ 79
Tax calculation will be finalised during checkout.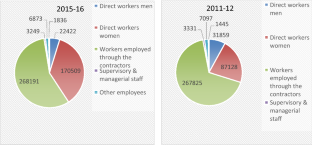 Notes
1.

LWOs administer welfare funds under the: (1) Beedi Workers' Welfare Fund Act, 1976; (2) Cine Workers' Welfare Fund Act, 1981; and (3) Limestone & Dolomite Mines Labour Welfare Fund Act, 1972. These funds are financed by the cess on consumption, production of minerals, manufacture of beedis and production of feature films.

2.

3.

The ASI report covers only the factories registered under Sections 2(m) (i) and 2(m) (ii) of the Factories Act, 1948 including all beedi and cigar manufacturing establishments, which are registered under the Bidi and Cigar Workers (Conditions of Employment) Act, 1966. These data exclude home-based workers.

4.

5.

6.

The notified wage rate of beedi workers ranges between Rs. 142 and Rs. 160 in West Bengal (ILO 2018).
References
Agarwala, R.N. 2013. Informal labour, formal politics, and dignified discontent in India. Cambridge: Cambridge University Press.

Aghi, M., and M. Gopal. 2001. Exploiting women and children-India's beedi industry. Lifeline 2001(6): 8–10.

Ansari, M.S., and A. Raj. 2015. Socio-economic status of women beedi workers in Bundelkhand region of Uttar Prasesh: An empirical analysis. UTMS Journal of Economics 6(1): 53–66.

Bagchi, J., and A. Mukhopadhyay. 1996. Child labour in beedi industry, Murshidabad District in West Bengal. Calcutta: School of Women's Studies Jadavpur University.

Basu, G., et al. 2018. Morbidity audit of women beedi workers in an urban fringe of West Bengal, India. Journal of Clinical and Diagnostic Research 12(3): LC05–LC09.

Campaign for Tobacco Free-Kids. 2008. Bidi industry in India welfare and working conditions. Campaign for Tobacco-Free Kids. https://www.tobaccofreekids.org/assets/global/pdfs/en/IW_facts_products_bidis_welfare.pdf.

Dube, Y. 2013. A study on child labour in Indian beedi industry. National Commission for Protection of Child Rights 5th Floor, Chandralok Building, 36- Janpath New Delhi, 110001.

Gopal, M. 1997. Labour process and its impact on the lives of women workers: A study of the beedi industry in Keelapavoor block of Tirunelveli District, Tamil Nadu. Ph.D Thesis, JNU, New Delhi.

Government of India. 2016. India—Sixth Economic Census 2013–14, Ministry of Statistics and Programme Implementation (MOSPI), Central Statistical Organisation (CSO), New Delhi

Hema Kumari, T.A. 1994. Women workers: Migration and development. In Changing status and role of women in the changing society, ed. C. Chakrapani and S.V. Kumar, 209–224. New Delhi: M.D. Publications.

Hema Kumari, T.A., and U. Tataji. 1996. Migrant labour: Gender dimension, monograph series No. 1. New Delhi: Centre for Women's Development Studies.

ILO. 2003. The beedi sector in India: An overview—Improving working conditions and emloyment opportunities for women workers in beedi industry. Mangalore: International Labour Organization.

ILO. 2017. World social protection report: Universal social protection to achieve the sustainable development goals 2017–19. Geneva: International Labour Office.

ILO. 2018. India Wage Report Wage policies for decent work and inclusive growth. Geneva: International Labour Office.

John, R.M., E. Dauchy, and M. Goodchild. 2019. Estimated impact of the GST on tobacco products in India. Tob Control 28: 506–512. https://doi.org/10.1136/tobaccocontrol-2018-054479.

Labour Bureau. 2003. Report on evaluation studies on implementation of the minimum wages act in bidi making establishments in Madhya Pradesh, Government of India. http://labourbureau.gov.in/MW3ch2.htm.

Mallick, J. 2012. Private investment in ICT sector of Indian states. India Economic Review 47(1): 33–56.

Mallick, J. 2013. Private investment in India: Regional patterns and determinants. The Annals of Regional Science 51(2): 515–536.

Mallick, J. 2014. Regional convergence of economic growth during post-reform period in India. The Singapore Economic Review 59(2): 1450012-1-1450012–18.

Mallick, J. 2019. International trade structure and labour share: Industry level analysis in India, China and Japan. Forum for Empirical Investigation and International Trade (FREIT), Working Paper 1610, December 2019, FREIT, USA.

Mallick, J. 2020. Does globalisation economic integration affect labour income share in India? Indian Journal of Labour Economics 63: 291–309.

Mallick, J., and A. Fukumi. 2020. The globalization and sources of regional income growth disparity in India and the People's Republic of China (PRC). India Growth and Development Review. https://doi.org/10.1108/IGDR-04-2019-0041.

Mohandas, M. 1980. Beedi workers in Kerala conditions of life and work. Economic and Political Weekly 15(36): 1517–1523.

National Sample Survey Organisation (NSSO). 2013. Key indicators of employment and unemployment in India, 2011–12. NSS 68th Round, National Sample Survey Office (NSSO), Ministry of Statistics and Programme Implementation (MOSPI), New Delhi.

NCEUS. 2007. Report on conditions of work and promotion of livelihoods in the unorganized sector. National Commission for Enterprises in the Unorganised Sector. http://nceuis.nic.in/condition_of_workers_sep_2007.pdf. Accessed from 16th May 2020.

Pandharipande N. 2020. Serious health hazards force women beedi workers in Tamil Nadu, Karnataka to quit profession amid COVID-19, Firstpost, September 16, 2020. https://www.firstpost.com/india/serious-health-hazards-force-women-beedi-workers-in-tamil-nadu-karnataka-to-quit-profession-amid-covid-19-8822111.html.

Prasad, K.V.E., and A. Prasad. 1985. Bidi workers of Central India: A study of production process and working and living conditions. New Delhi: National Labour Institute.

Rajasekhar, D., and G. Sreedhar. 2001. Identifying alternative employment and income opportunities for women beedi workers-A study in Dakshina Kannada district of Karnataka. Report Submitted to ILO, New Delhi.

RBI. 2020. Measuring productivity at the industry level the India: KLEMS data base, data manual 2018 (Version 5), Reserve Bank of India. Accessed from https://rbidocs.rbi.org.in/rdocs/PublicationReport/Pdfs/KLEMS27032018E6B6C80028604EBCAFDA3A82ACDE9B10.PDF.

Samantroy, E. 2019. The invisible workers: Capturing home-based work in India. Antyajaa: Indian Journal of Women and Social Change 4(2): 181–208.

Satapathy, S. 2020. How nearly 1 million women in India's southern states stopped beedi rolling, The Print, 20 July 2020. https://theprint.in/opinion/how-nearly-1-million-women-in-indias-southern-states-stopped-beedi-olling/464647/#:~:text=The%20report%20says%20the%20reduction,the%20beedi%20workforce%20in%20India.

Sen, V. 2011. Impact of social security schemes and welfare programmes on Beedi Rollers. Social Cohesion and Development 6(2): 133–147.

Singh, J.K., S.V.S. Rana, and N. Mishra. 2014. Ocupational health problems amongst women beedi rollers in Jhansi, Bundelkhand region, Uttar Pradesh. Journal of Ecophysiology and Occupational Health 14(1,2): 17–22.

Srinivasan, S., and P. Ilango. 2012. A study on the socio-economic conditions of female beedi workers at Khajamalai, in Trichirapalli, Tamil Nadu. International Journal of Innovative Research & Development 1(11): 295–305.

Sudarshan, R., and R. Kaur. 1999. The tobacco industry and women's employment: Old concerns and new imperatives. Indian Journal of Labour Economics 42(4): 675–685.

Sundaram, K. 2009. Measurement of employment and unemployment in India: Some issues. Working Paper No. 174, Centre for Development Economics, Department of Economics, Delhi School of Economics, Delhi.

Sunley, E.M. 2008. India: The tax treatment of Bidis. Report prepared for Bloomberg Initiatives to reduce tobacco use. Accessed from https://www.tobaccofreekids.org/assets/global/pdfs/en/IW_facts_products_bidis_taxes.pdf.

Teja, C. 2020. Falling wages to deteriorating health: The dismal plight of Telangana's beedi rollers, The News Minute, 25 February 2020. https://www.thenewsminute.com/article/falling-wages-deteriorating-health-dismal-plight-telangana-s-beedi-rollers-118894.

Voluntary Health Association of India. 2008. Caught in a DEATH TRAP the story of bidi rollers of West Bengal and Gujarat. Voluntary Health Association of India, B-40, Qutab Institutional Area, New Delhi, 110 016.

World Health Organisation. 2014. India's bold step: Taxing tobacco to protect the health of the poor. World Health Organisation (WHO). http://origin.searo.who.int/mediacentre/features/2014/taxing-tobacco-to-protect-the-health-poor/en/. Accessed from 14 May 2020.
Acknowledgements
This research work was supported through a project to AF Development Care, New Delhi, by The Foundation for a Smoke Free World (FSFW), USA. The authors are benefitted from the comments by Dr. Bibek Debroy, the Chairman of the PM's Economic Council, Government of India, Dr. Derek Yach, former Executive Director, World Health Organization (WHO) and President, FSFW and Dr. Ehsan Latif, Vice President, Grant Management and Stakeholder Engagement, FSFW.
Additional information
Publisher's Note
Springer Nature remains neutral with regard to jurisdictional claims in published maps and institutional affiliations.
Appendix
Appendix
See Figs. 11, 12 and Table 10.
About this article
Cite this article
Mallick, J., Satpathy, S. Estimation of Women Beedi Workers in India and Their Socio-economic Condition. Ind. J. Labour Econ. 64, 499–521 (2021). https://doi.org/10.1007/s41027-021-00320-2
Accepted:

Published:

Issue Date:
Keywords
Tobacco

Poverty

Beedi workers

Informal sector

Home-based work

Household analysis

Vulnerability
JEL Classification