Abstract
This paper examines the impact of COVID-19 pandemic on migration. The rapid spread of the pandemic caught countries across the world off guard, resulting in widespread lockdowns that clamped down on mobility, commercial activities and social interactions. In India, the pandemic precipitated a severe 'crisis of mobility', with migrant labourers in many major cities seeking to return to their hometowns. Their desperate attempts to return home by any means available rendered the lockdown ineffective in several areas, prompting clashes with authorities, last-minute policy relief and, eventually, the arrangement of transport measures. This paper aims to shed light on the vulnerability of India's internal migrants in terms of their mobility, gender and mental health. In addition, it critically analyses the limitations of public policy in addressing migrants and suggests recommendations for the way ahead.
Introduction
This paper examines the effect of the COVID-19 pandemic and its associated nationwide lockdown on internal migrants. As of 12 September 2020, India had recorded 958,316 active cases, with 77,472 deaths (Ministry of Health and Family Welfare 2020a). The rapid spread of this highly contagious disease prompted the Government of India to implement a nationwide lockdown on the 24 March, with strict restrictions on mobility and transportation links summarily cut off overnight.
The commencement of the lockdown generated widespread panic among migrants across India's major cities and states of destination, kicking off concerted attempts to return predominantly to rural hometowns in the states of origin. From the scale of the attempted exodus, it is evident that the government did not account for India's enormous magnitude of internal migrants, with the four-hour notice preceding the first lockdown taking migrant workers by surprise. The shutdown of commercial activities effectively cut off the primary source of income for many of these labour migrants, leaving them with little or no resources to ride out a twenty-one-day lockdown period which was likely to be the first among a number of consecutive nationwide lockdowns.
This paper is divided into five sections. First, the paper gives an overview of the characteristics of internal migration in India in terms of numbers, streams and gender through documentation on existing data. This section lays the foundation of the paper by highlighting how the COVID-19 pandemic affected migrants through an analysis of various strands. Secondly, the paper examines the gendered aspects of COVID-19 on migrant workers, since most of the narratives, albeit limited, were male-centred. The third section gives an account of mental health issues of migrants, and the fourth section highlights the limitations of social security provisions that failed to address the multidimensional vulnerabilities faced by migrants. This section presents an overview of laws and policies related to migration, known vulnerabilities and mobility-related issues, and the larger 'invisibility' of the migrants as a key contributor to the unprecedented scale of the crisis during the lockdown. The fifth section examines the roadmap for inclusive migrant policies.
Section I: Internal Migration in India: Attributes and Patterns
According to the 2011 Census, there were 450 million internal migrants in India by the 'Place of Last Residence' metric, thus accounting 37.7 per cent of the total population (Registrar General of India 2011). Based on census trends, we estimate about 600 million internal migrants in 2020. Among this, one-third are interstate and inter-district migrants which accounts to 200 million, and within this 200 million, two-thirds are estimated to be migrant workers that roughly constitute 140 million (Gupta 2020).
By all accounts, these numbers are enormous. If we have a closer analysis, we find that most internal migrants in India are short-distance intra-district migrants, with almost 62 per cent according to the 2011 Census. Long-distance interstate migrants accounted for 12 per cent of internal migrants, which, when compared to other developing countries like Brazil and China, is quite low. Research has pointed to a number of reasons; most importantly among them is the non-portability of social security benefits like subsidised food procured through the public distribution system and the constraints on jobs at the destination due to domicility restrictions (Kone et al. 2018).
Another point to be noted is that a significant number of migrant workers are temporary or seasonal migrants, with 21 out of every 1000 migrants classified as a temporary or seasonal migrants in 2007–08 (Keshri and Bhagat 2013). They show that the bulk of these migrants also hail from marginalised sections of the country and from among the lower-income quintile groups (Table 1). A number of these migrants are also involved in employment in the informal sector, making them some of the most vulnerable working groups, which further exclude them from social security benefits and even basic rights at the workplace (Srivastava and Sutradhar 2016; Government of India 2017b).
As shown in Fig. 1, women account for over half of the total migrants in the country. However, while male migration is primarily driven by reasons of work/employment, most female migration is for marriage or associated reasons (Rajan 2013; Rajan and Sumeetha 2019a). However, studies have also pointed towards the increasing incidence of female migration or feminisation for employment on the rise (Neetha 2004; Rajan and Neetha 2018; Mahapatro 2020; Parida and Madheswaran 2020), which will be discussed in the next section.
The Economic Survey 2016–17 estimated an interstate migrant population of 60 million and an inter-district migrant population of 80 million (Government of India 2017a). The average annual flow of migrants between states was calculated at 9 million persons. However, this number uses data from the Railways, which is a popular mode of transport for migrants, but far from the only one. Thus, new data and estimates are starting to emerge, but suffer from the same key drawbacks: a lack of recent and accurate data. The lack of consistent, wide-ranging data on migrants has made policy-framing and legislation far more difficult.
These features of internal migration and particularly their underestimation on part of the central and state governments came to light with the onset of the pandemic and specifically the policy response towards it.
Section II: The Missing Narrative of Gender
Narratives of the COVID-19 struggles of Indian migrant workers have either overlooked or trivialised the gender perspective. The experience and impact of COVID-19 on women migrant workers are different from their male counterparts, vis-à-vis the process of migration.
While women outnumber men in internal migration in India, it is often identified as part of marriage or associational migration (Srivastava 2011; Verick 2017; Rajan and Sivakumar 2018; Rajan and Sumeetha 2019b, b; Rajan et al. 2020). This generalisation is one of the inherent reasons for the invisibility of female labour migrants. It is undoubtedly obvious that marriage and associated migration as part of the social practice of patrilocality and increased care work responsibilities are core reasons for the majority of women withdrawing from the labour force. However, women's employment status after marriage migration is highly misunderstood and mis-measured, due to the fact that many women report marriage as the reason for migration, even though they immediately enter into jobs in the newly migrated area (Mehrotra and Parida 2017; Parida and Madheswaran 2020). In addition, the study conducted by Agnihotri et al. (2012) points that the movement of women is greatly oriented towards struggle with social, economic and political forces along with the policies that influence internal migration patterns and their outcomes for women.
Every disaster has an unequal gender impact. Within two months of the lockdown, four in every ten working women lost their jobs, which are more than 17 million (Rukmini 2020). The already happening reverse migration due to the overnight loss of livelihood of migrants can set the economy 15 years back (Nair 2020), alter the dynamics of development and reset migration equations for women. The soon-to-be anticipated unprecedented global economic depression will result in the feminisation of loss of jobs and widen gender gaps to an exacerbated level.
At this juncture, it is vital to visibilise three predominant categories of vulnerable women: those who belong to the lower strata of class, caste and geographical location. The first is the left-out women due to male migration. Male migration to urban areas, leaving their spouse, children and extended family behind, has been mainly due to lack of employment opportunities, agricultural crisis and small landholdings in rural areas and better opportunities in urban areas (Keshri and Bhagat 2013). This had structural as well as cultural constraints on the left-out women (Rai 2020). Increasing number of female-headed households in the rural areas has exponentially increased women's responsibility inside and outside the house, often engaging in the traditional occupation or agricultural and allied activities the man left behind, in addition to the care work and household management. However, such women are neither part of welfare programs and schemes nor migration policies (Rai 2020).
Similarly, the narratives have failed to capture the issues faced by another major category of women: the single women migrant labourers. The mainstream traditions and norms devalue women working outside the domestic boundary and moving alone to stranger places (Ghatak 2020). The single women migrants, who bypassed these constraints and migrated alone from rural to urban areas for employment opportunities and economic benefits, are mostly silent in the narrative. This includes a large number of women ranging from live-in domestic help, women working in brick kilns or on construction sites and as farm labourers, to those who work in the service industry as beauticians, sales girls and waitresses (Sharma 2020; Sapra 2020). During the pandemic, many among them, pertaining to north-eastern states, were harassed and targeted for their looks. Their return to their native places was never covered in the media. Their workplaces, considered to be danger zones for COVID infection, are going to be locked down for a while, and therefore, most of them have chances of losing their jobs permanently. On the other hand, the home-based women migrant workers who chose to stay back in the place of employment are now working with a huge drop in daily wage (Thomas and Jayaram 2020) and missing out from COVID-19 relief schemes.
The only visible women migrants during COVID-19 times were those who migrated with their spouse (and children) for better job opportunities. Media has extensively reported an enormous number of men and women walking hundreds of kilometres back to their native land carrying children (Venkatraman et al. 2020; Pandey 2020). Some women died on the way, and a few women gave birth to children on the road and continued walking with the newborn (Singh 2020; Press Trust of India 2020). Many of them tested positive with COVID-19. The unfortunate incident of train running over and killing 16 migrant labourers who were sleeping in the railway tracks, tired of walking (BBC 2020), gives an account of their fateful travails. In addition, 80 passengers, including many women, died in Shramik trains (Awasthi 2020). The most affected are the children who will possibly lose education and be at threat of child labour.
Even though economically gainful, migration has always had higher vulnerability risks for women, especially with respect to exploitation and violation (Bhatt 2009). Now with reverse migration, the economic crunch and uncertainties will turn these women's lives catastrophic. Even though COVID-19 crisis is unprecedented, similar instances have evidently increased distress sale of assets and the incidence of domestic violence (Puskur et al. 2020). Loans, debts and accompanying poverty may result in alcoholism and depression in returned men, which will victimise women and girl children further. Sex trade, trafficking, exploitation, bonded labour and child labour may all be on the rise. Mental health impacts on women and children can be catastrophic if not addressed properly.
Women Migrants and Pertinent Challenges
The two confining aspects of policy initiatives aimed at women in India, if critically examined, are lack of intersectional approach of gender perspective and lack of inclusivity. While the diverse heterogeneity of Indian women is often overlooked within the applicability of gender needs, the coverage of many schemes remains exclusive of certain subsections of women. The quantitative approach alone cannot be sufficient to locate the deserving beneficiaries. Women migrants often fall outside the periphery of many of the women welfare schemes.
For example, schemes like Pradhan Mantri Ujjwala Yojana and Pradhan Mantri Jan-Dhan Yojana (PMJDY) are well praised for their gender-sensitive approach and objectives. With Ujjwala Yojana—aiming to put an end to the use of firewood and biomass fuels for cooking that cause respiratory ailments and morbidity issues for rural women—LPG connections taken by women across India have increased by 16.26 per cent. However, recent studies show that due to the price rise of LPG, many women continue with the traditional method of cooking, after their first gas cylinder empties. Because of this, the use of gas cylinder has increased by only 9.83 per cent, which is lower than in 2014–15, before the scheme was introduced (Sethi and Deep 2018).
Similarly, JAM (Jan Dhan-Aadhaar-Mobile) Trinity, the Online Subsidy Transfer of Jan-Dhan Yojana, aimed at financial inclusion, direct benefit and prevention of cut-outs and leakages through intermediaries (Krishnan 2015) and anticipated to benefit women most significantly. While the overwhelming number of accounts opened under PMJDY broke all records, it was identified that majority of these accounts went dormant, inactive and/or zero balance later on (Samant et al. 2017). Due to the lack of digital literacy, impediments in access and mobility factors, the government is supposed to think beyond Jan-Dhan Yojana for effective transfer of cash relief announced with respect to COVID-19 (Dreze and Khera 2020).
This is further validated by the findings of the rapid assessment conducted by ActionAid in 2020 on 177 returnee migrant workers in 15 districts of Bihar. The respondents reported that 89 per cent of the time, they could not avail any government schemes due to the lack of their Aadhaar being linked to bank accounts and other documents (Sapkal et al. 2020; see also Fig. 2). Also, they could not avail the entitlements due to migration out of the source district (83 per cent of the time) as well as due to a lack of proper information regarding the schemes (36 per cent of the time).
These intent–impact gaps in welfare schemes due to the blind spots pertaining to the inherent heterogeneity of beneficiary requirements have been most critically unfavourable for migrant women. While feminisation of labour migration from rural to urban areas is predominant, it also means that these migrant women are prone to be excluded from utilising such schemes. At the same time, they lack access to urban welfare schemes as well (Thomas and Jayaram 2020). Another issue is that most of the migrant women workers at the bottom of the informal employment structure, working as part-time, contract, unregistered and home-based workers, do not have official status (Singh et al. 2020).
The government has recently announced Garib Kalyan Rozgar Yojana, a one-time scheme, converging 14 existing schemes of the government, aimed at providing employment to the returnee migrant workers near their villages (Deb 2020).This Rs. 5000 billion scheme will launch in 116 districts, within an execution frame of 125 days involves skill mapping of migrant labourers and linking women with self-help groups offering 25 types of employment. This can be a huge opportunity loss for such women migrant labourers who were identified simply as associational migrants and remaining excluded from the official data sources.
National Commission for Women: Advisory
On 31 March 2020, Ministry of Health and Family Welfare, Government of India, issued an advisory for the quarantine of migrant workers, where it was emphasised that 'special care shall be taken with regard to vulnerable groups including children, pregnant women, the elderly and those with co-morbidities' (Ministry of Health and Family Welfare 2020b). Recognising the multidimensional vulnerability of internal woman migrants and its perilous consequences, on 7 April 2020, National Commission for Women issued an advisory to the Ministry of Women and Child Development to take appropriate measures to address needs of internal women migrants during COVID-19 lockdown. This gender-responsive and inclusive advisory consisted of six identified needs (Table 2); recommendations for a gender-responsive and child-sensitive quarantine protocol with respect to children separated from mothers due to COVID-19 infection; possible actions and interventions from government authorities to ensure the safety of migrant women and girls; and specific advisory for protection of women migrants from north-east as well as pregnant and lactating women (National Commission for Women 2020).
The transgender communities and their incidence of migration data are not specifically available, and their struggles are totally absent from the COVID-19 narratives. Many of them are migrants who left home due to denial of their identity and harassments. However, the advisory of National Commission for Women did not cover transwomen and queer communities who are more prone to the dangers of violence.
However, numerous reports cite that migrant women and children are not safe and secure in shelter homes, quarantine centres and COVID centres. Many cases of sexual assaults are reported where one migrant woman bled to death in a COVID isolation ward in Bihar due to sexual assault (Kumar 2020). Also, the rate of suicide among female migrant workers is on the rise (Kakar 2020). One woman found dead near a quarantine centre in Odisha (Mohanty 2020), being the nineteenth of such cases of migrant labourers reported in the state (Madaik 2020). Even though some quarantine centres were set up specifically for migrant pregnant women, the partum and post-partum health concerns of such women are still not addressed effectively.
Section III: Mental Health Crisis of Migrants
Mental health itself is a contested cultural taboo in the context of India. Studies found that mental health issues are significantly higher among single, unskilled, illiterate daily wage labourers with higher years of migration and lack of housing and proper sanitation facilities (Firdaus 2017). Therefore, the impact of COVID-19 and its related restrictions on the mental health of migrant workers can be varied and complex. Migrant workers are an already vulnerable population and COVID-19 aggravated several existing vulnerabilities such as fear of transmitting the disease, the absence of family and care groups (Choudhari 2020). Besides, the mishandling of migrant mobility and the scapegoating migrants faced during the pandemic (due to being the most visible movers of COVID-19) likely generated a huge trust deficit.
In a document released early into the pandemic, the Ministry of Health and Family Welfare pointed out that migrants need to be treated with dignity and respect and, in more practical terms, need to remain well informed about all sources of assistance available to them from central as well as state governments in order to explore their options, including at quarantine centres (Ministry of Health and Family Welfare 2020c).
After the first lockdown, the Ministry of Home Affairs also urged the state governments to provide medical and psychological needs of the migrant workers along with food and shelter requirements (Tiwary 2020). Bihar State Health Society (BSHS) started 'Ummeed', a mental health programme for migrant labourers in health quarantine and isolation centres (Sopam 2020). Around 14,000 returnee migrants sought counselling to overcome depression, anxiety, apprehensions and sleeplessness due to the lockdown. Twenty-one states currently operate mental health counselling helplines and 21,000 migrant workers were given counselling in Karnataka alone (The Hindu 2020a).
However, the widespread reports of police aggression, mistreatment at the hands of officials and delayed transport facilities run counter to these goals. This grievous apathy towards both the mental and physical health ramifications of COVID-19 could significantly change migration patterns once cities begin to open up once more. The unequal impact of the pandemic on the lives of internal migrant workers can augment the pre-existing mental health disparities among them. Therefore, Choudhari (2020) suggests that building a holistic intervention system including screening for psychological stress and integrating mental health professionals, factory medical officers, general medical practitioners, trained community health workers, etc. in addressing the mental health aspects of internal migrant labourers are essential.
For migrants who are fearful of their rights and lives, it is reasonable to assume that they will be wary about returning to cities to resume work once normality returns. If work availability recovers in India's urban migration hotspots, migrants may not necessarily choose to move automatically (even if wages are higher) due to the comfort, convenience and familiarity of working in hometowns. Moreover, if local employment provisions (for example, under MGNREGA) are expanded, migrants will have less incentive to move to urban centres. There could be an additional benefit of economic activity and industry moving further into the hinterland, which could reduce migration distances and allow migrants and governments to react more quickly in times of crisis.
Section IV: Labour Migrants and Social Security Provisions
Over 90 per cent of India's economy is supported by informal sector activities. There are varying degrees of informal economic activities, but the key feature of informal work is that organisations are removed from 'formal' oversight structures, and workers are left to fend for themselves. There may even be the extension of 'informality in the formal sector' (Dhanya 2013). This is evident from the point that the increasing employment opportunities even in the organised sector mainly accounted for informal workers (Mehrotra 2019).
Thus, two problems arise. first, the workers may be entirely outside the ambit of certain social benefits and key legislation. Second, the prevalence of informality in the formal sector results in shifting responsibilities and, ultimately, less oversight. Certain other acts, such as the Unorganised Workers' Social Security Act and the Building and Other Construction Workers (Regulation of Employment and Conditions of Service) Act (1996) also pertain to migrant workers, but limited in applicability due to various reasons. Moreover, India is yet to sign the flagship ILO Convention no. 102 [Social Security (Minimum Standards) Convention, 1952], which guarantees social security coverage to all workers, including informal workers. The Unorganised Workers' Social Security Act, 2008, covers social security measures limited to (a) life and disability cover, (b) health and maternity benefits and (c) old-age protection, and any other benefit as determined by the central government. It is to be noted that the draft bill proposed by NCEUS, which was later considered by the standing committee on labour, envisaged National Minimum Social Security Scheme for unorganised workers, inclusive of health and maternity benefits, life insurance and old-age security for BPL workers above 60 years. However, the act is silent on many other provisions in the draft bill.
Srivastava (2020) notes that with regard to the implementation of social protection programmes, some fundamental issues include:
i.

With regard to the state-level implementation of social protection programmes, the design, financing, coverage and delivery of programmes vary states to states and even between local bodies

ii.

These programmes are designed and targeted to a certain specific category of population primarily based on domicile; as a result, they exclude others who are domicile in another locality or state
The NCEUS proposal was having measures to address these limitations, but due to the fragmented and piecemeal implementation of the recommendations, the portability factors were ignored (NCEUS 2009; Srivastava 2020).
With regard to the Building and Other Construction Workers Welfare Board (BOCWWB), where a predominant section of migrants is engaged, it is estimated that around 56 million workers are in the construction sector, and out of this, only 32 million workers are registered. As of December 2015, an amount of Rs. 254.96 billion was collected as cess under the BOCWWB, out of which only 53.71 billion had been spent for the welfare of registered workers (Chandrasekhar et al. 2017). On 24 March 2020, the Union Labour Ministry had issued an advisory to all states/UTs to provide financial aid to construction workers out of the cess collected and the advisory mentioned that about 5200 billion is available as cess fund (Press Information Bureau 2020a). As per the advisory, around 35 million workers are registered under the act as of 2020.
It is visible from the recent exodus of migrants out of distress that both the state and the central governments failed in enforcing the act. Had they implemented the act in its true spirit, it would have helped the government with accurate data from both origin and destination sources.
It is evident that the existence of legislation is not directly indicative of improved circumstances for migrant workers, especially in the informal sector. In fact, the informal sector, especially in large, diffused industries such as textiles, construction and manufacturing, thrives on passing through legislative loopholes and avoiding oversight. 'Informality', or the use of non-formal pathways to complete certain tasks even within formal employment networks, further complicates matters. While informal in-state workers are offered the protections available to state residents by virtue of their domicile status, those provisions are not available to migrants. This lacuna is exacerbated by hostile or discriminatory attitudes towards migrant workers.
Aside from the lack of legislation or the hidden exploitation of informal sector workers, migrants often face active discrimination in the form of domicile, cultural and ethnic discrimination, aggression from authorities and lack of access to basic needs such as shelter. In fact, it took until 2019 for the government to initiate the One Nation, One Ration Card scheme which would make ration cards portable across India and allow migrants to collect subsidised food grain at their destination. In effect, this meant that poor migrants suffered from compromised food security for decades. All of these factors cumulatively rendered migrants 'invisible' under most policy frameworks and, more importantly, made it inevitable that a sudden loss of mobility and income from precarious jobs could snowball into an unprecedented economic crisis.
The COVID-19 pandemic has already crept deeper into the labour market causing widespread disruptions across the globe. It has affected both the supply chain and demand causing labour markets to shrink. The disruptions in production create ripples in the bottom of the chain affecting labour and result in deeper shocks and vulnerability. All business entities regardless of the volume of business were forced to stop and resulted in job losses in most of the sectors. This labour market shock has deeply impacted internal migrants.
Internal migrants are largely left out in social security coverage as majority of the rural–urban migrants are mainly in the casual wage sector or in self-employment in the informal sector (Srivastava 2011). There is visible lack of social security coordination between the various states in India, though sometimes there is visible source and destination and most of the instances the 'invisible' nature of migrants predominates in the labour market. This exclusion of informal workers from availing social protection mechanism further places migrant labourers in a vulnerable position. Unsurprisingly, the ILO estimates that India's population is the most vulnerable in Asia and the Pacific region in terms of access to social protection (see Fig. 3).Footnote 1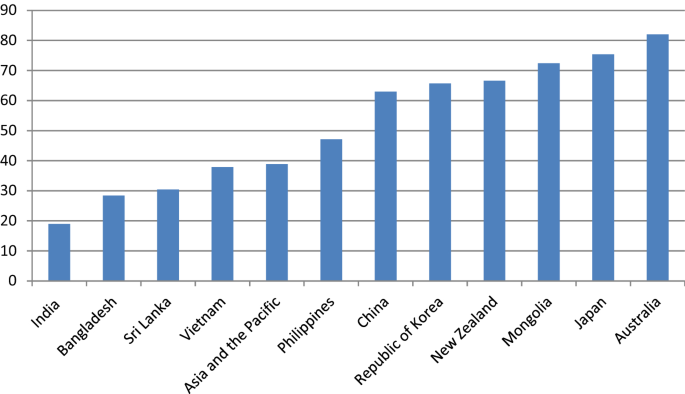 India has been largely successful in eradicating poverty by expanding social security nets targeting rural poor. It was possible by providing basic income via PM KISAN Yojana or access to food subsidies through PDS or health coverage through Pradhan Mantri Jan Arogya Yojana and access to employment through MGNREGA. However, since there has been focussed attention towards the rural setting, there is a huge disparity in covering urban poor and migrants belonging to a large pool of such population.
The recent lockdown due to the pandemic has demonstrated the vulnerability and lack of any social protection mechanism to migrants which resulted in chaotic scenes across urban India. Srivastava (2020) notes that the internal migrants in India face the following vulnerabilities:
Lack of civic identity and civic citizenship in the destination areas

Absorbed into labour market in less favourable ways than non-migrants

Weaker social networks compared to non-migrants

Extreme difficulties in establishing claims and entitlements
Social security has multiple dimensions from the human rights perspective to poverty alleviation (Townsend 2009). India's social security system was primarily limited to the formal sector until recently. However, these were expanded to reach out to the informal workers as well and fairly successful in covering the informal segment of the population. Still, the coverage of social security is yet to reach out to the migrants as the institutional structure of social protection schemes is creating barriers in accessing the entitlement (Srivastava 2020; Sharma and Arora 2015). The above factors were visible during the lockdown period and their vulnerabilities were evident enough that the first and worst affected population during the pandemic are internal migrants.
The following are some of the important measures announced by the Government of India (Press Information Bureau 2020b) to ameliorate the plight of migrants:
Supply for food grains to the migrants who are not covered under the PDS system. This is expected to help 80 million migrant workers

Affordable rental housing schemes under the Pradhan Mantri Awas Yojana

Interest Subvention for 12 months for Shishu MUDRA loans—Relief of INR 150 billion

Allocation of INR 500 billion for facilitating street vendors

One Nation One Ration Card to enable access of PDS across the country

The government had released INR 1100 billion to augment states in their State Disaster Response Fund for setting up shelter homes for migrants
Critics argue the there are several hits and misses in the announcement; for example, lack of proper data on internal migrants makes it impossible to design short-term or long-term welfare measures. Scholars like Dreze and Khera argue that over 100 million people will be excluded from the coverage of PDS due to the dependence on 2011 census for calculating state-wise coverage of National Food Security Act (NFSA) (The Hindu 2020b). They argue that the biggest gap will be felt in the state of Uttar Pradesh and Bihar where approximately 28 million and 18 million people, respectively, will be left out in Uttar Pradesh and Bihar from the ambit of National Food Security Act (Table 3).
Dreze (2020) further argues that the phenomenon of reverse migration due to the pandemic will affect different states differently. For example, the well-off states local workers may benefit from the reverse migration in the form of better employment opportunities due to the reverse migration. However, the poorest states will further suffer as the labour pool will set to bulge in a disproportionate way and this will affect the employment prospects.
For return migrants, social security provisions such as the MGNREGA scheme, which guarantees rural employment, are integral. The pressure on the government to create income generation opportunities for migrants at the source will be enormous. Between April 1 and May 20, 3.5 million workers registered for work under the scheme, indicating the sudden increase in dependence on vital social security schemes (Chauhan 2020).
From the above section, it is clear that there needs to be a comprehensive expansion of the Social Protection Floor for the internal migrants in India. As noted by Srivastava (2013), the creation of Social Protection Floor will have a huge impact in the lives of poor and vulnerable and also this will ensure the coverage of social protection in both horizontal and vertical extensions.
Section V: A Roadmap for Inclusive Migrant Policies
The adverse impact generated due to COVID-19 crisis is multidimensional and it is to be seen whether migrants will be able to come out of this vulnerable situation to restart/redirect their migratory journeys. The seasonal or circular migrants represent predominant internal migration in India and belong to lower socio-economic groups therefore adversely placed in the labour market (Srivastava et al. 2020). It is an undeniable fact that sound socio-economic policies can mitigate the ill effects of pandemic and the wrong ones magnify the problems. Based on lessons learned during the COVID-19 pandemic and our own empirical observations, we propose the following measures to better managing the future of internal migration:
Employment
Studies show that employment provisions available in a locality even at low wages reduce seasonal distress migration. For example, analysing the original survey data from three states of India, Imbert and Papp (2018) prove that the availability of employment in local public works significantly influences out-migration despite the higher earnings available outside the villages. The employment provisions available locally for migrants need to be strengthened in order to reduce the gap between income at source and at the destination. Local income generation also comes with more assurances and proximity to safety in case of unprecedented circumstances such as COVID-19. This can be achieved either by expanding NREGA or by creating more by increased government spending into local public works.
Social Protection
PDS rations need to be supplied irrespective of migrant status during a national crisis. The One Nation, One Ration Card scheme, expected to be operational in 2021, will go a long way towards this. Along with this, it is important to strengthen the institutional mechanism for supporting migrants by cash transfers and extending food subsidies. The NCEUS-based working papers and reports can provide the foundation for the formation of a social protection framework in the future (Government of India 2017b). Moreover, it is important to ensure that direct cash transfers are provided into the hands of migrant workers. With the loss of jobs, remittances to their respective households, a loss in purchasing power of these workers will result in a depressed demand even if normality is restored in the future. Cash in hands of workers ensures that workers have enough resources to sustain during any crisis and also ensure that some kind of consumption is restored in the future.
Special care needs to be taken in the case of women migrants. As we have shown, women's issues have been largely invisibilised in both the narrative and policy responses by the state. This needs change which not only protects migrant women at the workplace nut also provide social support like creche facilities, adequate sanitation and healthcare facilities need to be ensured. Schemes to ensure better participation in the labour market through self-help and also access to finance and credit schemes also need to be further incentivised so that migrant women have a more robust support structure available to them.
Health
Migration in post-lockdown scenario will create highly vulnerable situation as most of the urban PHCs are in accessible for migrants due to various reasons. Moreover, the accommodation and sanitation facilities available for migrants will make them further vulnerable. The mental health concerns of the migrants need to be considered, because they face enormous stress, anxiety and mental duress at the destination even under normal circumstances. The COVID-19 crisis has exposed the vulnerability of migrants in times of crisis—migrant mobility must be facilitated to or from source on a priority basis. Restricting mobility at the outset only delays comprehensive resolution as was observed in source states that received return migrants after a few weeks and saw a spike in cases.
Governance
Comprehensively restructure the oversight and governance mechanisms for migrants in urban areas. The dichotomy of urban growth and migrant oppression must be addressed. A report by the Aajeevika Bureau has suggested a number of issues in this regard, such as the lack of political agency of migrant workers, misaligned local governance initiatives and discrimination based on origin, caste, ethnicity or sex (Thomas et al. 2020). Without an overt attempt by state governments to regain trust and inform migrants of their value to the urban economy, local employment will remain more lucrative and convenient. However, governance can only be effectively implemented with an accurate idea of the extent of the problem. And for that, real-time, accurate data are required. The central government should include improved data gathering instruments, which can be handled digitally through a central database. More frequent migration surveys can also be held, which track mobility trends and constraints in a more accurate manner.
Conclusion
This paper provides insight into the contemporary migrant crisis due to COVID-19, by examining the condition of internal migrant labourers with respect to gender, mental health and social security provisions. Any effective solution to the present migrant crisis requires accurate data on internal migrants which would render visibility to the invisible yet pervasive categories of labourers. Many migrants remain excluded from various governmental schemes due to their 'neither here, nor there' status. This should be done in alignment to the intent–impact gap analysis of such schemes. At this juncture, it is critical to revisit NCEUS recommendations and effectively implement them without diluting the specificities. It is also necessary to form a migrant collective for better voice and political agency of migrants.
Notes
1.

Note: Effective coverage of social protection is measured as the number of people who are either actively contributing to a social insurance scheme or receiving benefits (contributory or non-contributory), as a percentage of the total population. Health protection is not included under SDG indicator 1.3.1.
References
Agnihotri, Indu, Indrani Mazumdar, and N. Neetha. 2012. Gender and migration: Negotiating rights, a women's movement perspective. Delhi: Centre for Women's Development Studies.

Awasthi, Prashasti. 2020. Shramik Trains witnessed 80 deaths onboard. The Hindu Business line. https://www.thehindubusinessline.com/news/shramik-trains-witnessed-80-deaths-onboard/article31708831.ece#.

BBC. 2020. Indian migrant deaths: 16 sleeping workers run over by train. BBC News. https://www.bbc.com/news/world-asia-india-52586898.

Bhatt, Wasudha. 2009. The gender dimension of migration in India: The politics of contemporary space in Orissa and Rajasthan. Development in Practice 19(1): 87–93.

Chandrasekhar, S., M. Naik, and S.N. Roy. 2017. On the importance of triangulating data sets to examine Indians on the move. Economic and Political Weekly 52(47): 60–68.

Chauhan, Chetan. 2020. 3.5 million new enrolments under MGNREGA, as 'distressed' workers return to villages. Hindustan Times. https://www.hindustantimes.com/india-news/3-5-million-new-enrolments-under-mgnrega-as-distressed-workers-return-to-villages/story-aDJHYz0vz1tSeLleIhVT7I.html.

Choudhari, R. 2020. COVID-19 pandemic: Mental health challenges of internal migrant workers of India. Asian Journal of Psychiatry. https://doi.org/10.1016/j.ajp.2020.102254.

Deb, Rouhin. 2020. Understanding Garib Kalyan Rojgar Yojana and its implications. Livemint. https://www.livemint.com/opinion/online-views/opinion-understanding-garib-kalyan-rojgar-yojana-and-its-implications-11593420501668.html.

Dhanya, M.B. 2013. Fundamental Principles and Rights at Work and informal economy in India. Noida: VV Giri National Labour Institute.

Dreze, Jean. 2020.Averting hunger during monsoon calls for bold food security measures. The Indian Express. https://indianexpress.com/article/opinion/columns/nrega-funds-migrant-workers-monsoon-pds-scheme-6449293/.

Firdaus, G. 2017. Mental well-being of migrants in urban center of India: Analyzing the role of social environment. Indian Journal of Psychiatry 59(2): 164–169.

Ghatak, Sunetra. 2020. Women's economic migration. In Handbook of internal migration in India, ed. S.I. Rajan and M. Sumeetha, 372–384. Delhi: Sage.

Government of India. 2017a. India on the Move and Churning: New Evidence. Economic Survey 2016–17. Ministry of Finance.

Government of India. 2017b. Report of the Working Group on Migration. Ministry of Housing and Urban Poverty Alleviation.

Gupta, Surojit. 2020. 30% of migrants will not return to cities: Irudaya Rajan. Times of India. https://timesofindia.indiatimes.com/india/30-of-migrants-will-not-return-to-cities-irudaya-rajan/articleshow/76126701.cms.

Imbert, Clement and Papp, John. 2018. "Costs and Benefits of Seasonal Migration: Evidence from India." The Warwick Economics Research Paper Series (TWERPS) 1161, University of Warwick.

International Labour Organisation. 2017. World Social Protection Database. Geneva: International Labour Office.

Kakar, Vedika. 2020. Differently-abled migrant women workers grapple with the pandemic. The Leaflet. https://theleaflet.in/differently-abled-migrant-women-workers-grapple-with-the-pandemic/.

Keshri, Kunal, and R.B. Bhagat. 2013. Socioeconomic determinants of temporary labour migration in India: A regional analysis. Asian Population Studies 9(2): 175–195.

Kone, Z.L., M.Y. Liu, A. Mattoo, C. Ozden, and S. Sharma. 2018. Internal borders and migration in India. Journal of Economic Geography 18(4): 729–759.

Krishnan, Aarati. 2015. All you wanted to know about JAM Trinity. The Hindu. https://www.thehindubusinessline.com/opinion/columns/all-you-wanted-to-know-about-jam-trinity/article22511736.ece.

Kumar, Abhay. 2020. Migrant woman in Bihar coronavirus isolation ward sexually abused, dies. Deccan Herald. https://www.deccanherald.com/national/north-and-central/migrant-woman-in-bihar-coronavirus-isolation-ward-sexually-abused-dies-822914.html.

Madaik, Devyani. 2020. Odisha: woman migrant worker found dead near COVID-19 qurantine centre, 19th such death in state. The Logical Indian. https://thelogicalindian.com/news/woman-migrant-worker-dies-of-suicide-21770.

Mahapatro, Sandhya Rani. 2020. Internal Migration: Emerging Patterns. In Handbook of internal migration in India, ed. S.I. Rajan and M. Sumeetha, 80–92. New Delhi: Sage.

Mehrotra, S. 2019. Informal Employment Trends in the Indian Economy: Persistent informality, but growing positive development. Working Paper No. 254. International Labour Organisation.

Mehrotra, S., and J.K. Parida. 2017. Why is the labour force participation of women declining in India? World Development 98: 360–380.

Ministry of Health and Family Welfare. 2020a. COVID-19: India. https://www.mohfw.gov.in/.

Ministry of Health and Family Welfare. 2020b. Advisory for quarantine of migrant workers. Government of India. https://www.mohfw.gov.in/pdf/Advisoryforquarantineofmigrantworkers.pdf.

Ministry of Health and Family Welfare. 2020c. Psychosocial issues among migrants during COVID-19. Government of India. https://www.mohfw.gov.in/pdf/RevisedPsychosocialissuesofmigrantsCOVID19.pdf.

Mohanty, Debabrata. (2020). Woman migrant worker found dead near Covid-19 quarantine centre in Odisha. Hindustan Times. Retrieved from https://www.hindustantimes.com/india-news/woman-migrant-worker-found-dead-near-covid-19-quarantine-centre-in-odisha/story-Dr8KqAv5Wg0IOA9yx4nI3K.html.

Nair, Sobhana K. 2020. Reverse migration to villages has set economy back by 15 years, says JNU professor. The Hindu. https://www.thehindu.com/business/Economy/reverse-migration-to-villages-has-set-economy-back-by-15-years-says-jnu-professor/article31671389.ece.

National Commission for Enterprises in the Unorganised Sector (NCEUS). 2009. The Challenge of Employment in India: An Informal Economy Perspective. New Delhi: National Commission for Enterprises in the Unorganised Sector.

National Commission for Women. 2020. Advisory to address needs of internal women migrants in India during COVID-19 Lockdown. https://wcd.nic.in/sites/default/files/Advisory%20dated%207th%20April%2C%202020%20by%20NCW_0.pdf.

Neetha, N. 2004. Making of Female Breadwinners: Migration and social networking of women Domestics in Delhi. Economic and Political Weekly 39: 1681–1688.

Pandey, Vikas. 2020. Coronavirus lockdown: The Indian migrants dying to get home. BBC News. https://www.bbc.com/news/world-asia-india-52672764.

Parida, J.K., and S. Madheswaran. 2020. Unexplored facets of female migration. In Handbook of internal migration in India, ed. S.I. Rajan and M. Sumeetha. New Delhi: Sage Publications.

Press Information Bureau. 2020a. Labour Ministry Issues Advisory to all States/UTs to use Cess fund for Welfare of Construction Workers. https://pib.gov.in/PressReleasePage.aspx?PRID=1607911.

Press Information Bureau. 2020b. Finance Minister announces short term and long-term measures for supporting the poor, including migrants, farmers, tiny businesses and street vendors. https://pib.gov.in/PressReleasePage.aspx?PRID=1623862.

Press Trust of India. 2020. COVID-19 Lockdown 3.0: Migrant woman delivers baby enroute to UP on Mumbai-Agra highway at Madhya Pradesh's Barwani. First Post. https://www.firstpost.com/health/covid-19-lockdown-3-0-migrant-woman-delivers-baby-enroute-to-up-on-mumbai-agra-highway-at-madhya-pradeshs-barwani-8360291.html.

Puskur, Ranjitha, Rohini Ram Mohan, and Marianne Gadeberg. 2020. COVID-19 opens unknown chapter on rural women's plight in India's migration saga. Gender Platform. https://gender.cgiar.org/covid-19-opens-unknown-chapter-on-rural-womens-plight-in-indias-migration-saga/.

Rai, Neha. 2020. Narratives of left-behind women. In Handbook of internal migration in India, ed. S.I. Rajan and M. Sumeetha, 415–427. Delhi: Sage.

Rajan, S.I. 2013. Internal Migration and Youth in India: Main Features, Trends and Emerging Challenges. Discussion Paper, UNESCO, Delhi.

Rajan, S.I., Renjini Rajagopalan, and P. Sivakumar. 2020. The Long Walk towards Uncertainty: The Migrant Dilemma in times of COVID-19. In Migration and the COVID-19 Pandemic: Fundamental Freedoms, Vulnerabilities, and States of Exception in India, ed. Hans Asha et al. Delhi: Routledge.

Rajan, S.I., and P. Neetha (eds.). 2018. Migration, Gender and Care Economy. Abingdon: Routledge.

Rajan, S.I., and P. Sivakumar. 2018. Introduction. In Youth migration in emerging India: Trends, challenges and opportunities, ed. S.I. Rajan and P. Sivakumar, 1–31. Delhi: Orient BlackSwan.

Rajan, S.I., and M. Sumeetha. 2019a. Women workers on the move. In Handbook of internal migration in India, ed. S.I. Rajan and M. Sumeetha, 408–414. Delhi: Sage.

Rajan, S.I., and M. Sumeetha. 2019b. Handbook of Internal Migration in India. Delhi: Sage.

Registrar General of India. 2011. D Series. Office of the RGI and Census Commissioner. Government of India.

Rukmini, S. 2020. How COVID-19 locked out women from jobs. Livemint. https://www.livemint.com/news/india/how-covid-19-locked-out-women-from-jobs-11591772350206.html.

Samant, Priya, Anurupa Singh, and Ritesh Dwivedi. 2017. JAM Trinity: Transforming rural landscape through financial inclusion. Researchers World: Journal of Arts, Science and Commerce 8(4): 43–52.

Sapra, Ipsita. 2020. Why don't we see the women? The untold story of COVID-19 migration. Indian Express. https://indianexpress.com/article/opinion/why-dont-we-see-the-women-the-untold-story-of-covid-19-migration-6378557/.

Sethi, Nitin, and Aroon Deep. 2018. PM's plan for free gas connections failing as govt had been warned it would. Business Standard. https://www.business-standard.com/article/economy-policy/pm-s-plan-for-free-gas-connections-failing-as-govt-had-been-warned-it-would-118012700030_1.html.

Sharma, Kalpana. 2020. Even in the COVID-19 migrant narrative, women don't count. English Mathrubhumi. https://english.mathrubhumi.com/features/specials/even-in-the-covid-19-migrant-narrative-women-don-t-count-1.4777812.

Sharma, Alakh N., and Diksha Arora. 2015. Social Protection in India: Issues and Challenges. Delhi: Institute for Human Development.

Singh, S.K., Vibhuti Patel, Aditi Chaudhary, and Nandlal Mishra. 2020. Reverse Migration of Labourers amidst COVID-19. Economic and Political Weekly 55: 32–33.

Sopam, Reena. (2020). In Bihar, 14,000 migrants seek counselling to overcome lockdown blues. Hindustan Times. Retrieved from https://www.hindustantimes.com/india-news/in-bihar-14-000-migrants-seek-counselling-to-overcome-lockdown-blues/storyjxQmhahb6CU0gpqKN5jjkL.html.

Srivastava, R. 2011. Labour Migration in India: Recent Trends, Patterns and Policy Issues. The Indian Journal of Labour Economics 54(3): 411–440.

Srivastava, R. 2012. Internal migration in India: An overview of its features, trends and policy challenges. National Workshop on Internal Migration and Human Development in India, UNESCO and UNICEF, Delhi.

Srivastava, R. 2013. A social protection floor for India. Delhi: International Labour Organization.

Srivastava, R. 2020. Vulnerable internal migrants in India and portability of social security and entitlements. Delhi: Institute for Human Development.

Srivastava, R., Kunal Keshri, Kirti Gaur, Balakrushna Padhi, and Ajit Kumar Jha. 2020. Internal migration in India and the impact of uneven regional development and demographic transition across states: A study for evidence based policy recommendations. Delhi: Institute for Human Development.

Srivastava, R., and R. Sutradhar. 2016. Labour migration to the construction sector in India and its impact on rural poverty. Indian Journal of Human Development 10(1): 27–48.

Sapkal, Rahul Suresh, Divita Shandilya, and K.T. Suresh. 2020. Surviving in the time of lockdown: Evidence from a rapid assessment in Bihar. The Wire. https://thewire.in/rights/surviving-in-the-time-of-lockdown-evidence-from-a-rapid-assessment-in-bihar.

The Hindu. 2020a. Helpline providing COVID-19 mental health counselling in 21 States: NIMHANS tells HC. The Hindu. https://www.thehindu.com/news/national/karnataka/helpline-providing-covid-19-mental-health-counselling-in-21-states-nimhans-tells-hc/article31466837.ece.

The Hindu. 2020b. Outdated census data deprives over 10 crore of PDS: economists. The Hindu. https://www.thehindu.com/news/national/outdated-census-data-deprives-over-10-crore-of-pds-economists/article31350648.ece.

Thomas, Cenny, and Nivedita Jayaram. 2020. Pandemic crisis: 'migrant home-based women workers work 8 hours/day for Rs 10–15'. IndiaSpend. https://www.indiaspend.com/pandemic-crisis-migrant-home-based-women-workers-work-8-hours-day-for-rs-10-15/.

Thomas, C., et al. 2020. Unlocking the urban: Reimagining migrant lives in cities post-COVID-19. Rajastan: Aajeevika Bureau. http://www.aajeevika.org/assets/pdfs/Unlocking%20the%20Urban.pdf.

Tiwary, Deeptiman. 2020. Provide counselling to migrants: Centre to states. Indian Express. https://indianexpress.com/article/india/coronavirus-india-lockdown-provide-counselling-to-migrants-centre-to-states-6359601/.

Townsend, P. (ed.). 2009. Building Decent Societies: Rethinking the Role of Social Security in Development. Basingstoke: Palgrave Macmillan.

Venkatraman, T., et al. 2020. In long walk back home, migrants battle hunger, scourge of COVID-19. Hindustan Times. https://www.hindustantimes.com/india-news/in-long-walk-back-home-migrants-battle-hunger-scourge-of-disease/story-TizRfUz69osJQ0Uqmm6jZN.html.

Verick, Sher. 2017. The paradox of low female labour force participation. International Labour Organization. https://www.ilo.org/newdelhi/info/public/fs/WCMS_546764/lang–en/index.htm.
Acknowledgements
This paper is part of a larger status paper titled 'Impact of COVID19 on Internal Migrants in India' prepared for the UNICEF and Published by Rajiv Gandhi National Institute of Youth Development, Sriperumbudur, Tamil Nadu.
Additional information
Publisher's Note
Springer Nature remains neutral with regard to jurisdictional claims in published maps and institutional affiliations.
About this article
Cite this article
Irudaya Rajan, S., Sivakumar, P. & Srinivasan, A. The COVID-19 Pandemic and Internal Labour Migration in India: A 'Crisis of Mobility'. Ind. J. Labour Econ. 63, 1021–1039 (2020). https://doi.org/10.1007/s41027-020-00293-8
Accepted:

Published:

Issue Date:
Keywords
Gender

Labour laws

Mental health

Migration

Return migration

Social protection