Abstract
This paper investigates the factors influencing poverty transitions among rural households. There is a higher likelihood for the poor rural household in escaping poverty and lower likelihood for non-poor households to fall into poverty over time, with the increase in average completed years of education and mean labor hours supplied by female members in the household. However, the contribution of female labor supply and education toward changes in poverty risks is low due to the low-wage cycle prevalent among women. Further, higher maximum educational attainment of households and a higher level of assets ensures a higher probability of escaping poverty and a lower probability of falling into poverty over time. However, there is a higher likelihood for a non-poor household to enter poverty over time and a lower likelihood for a poor household in escaping poverty over time with an increase in dependency ratio and household size. Efforts need to be made to transform a woman's role from an "income buffering" to an "income generation" role. Women's economic participation and empowerment are powerful tools for poverty reduction at the household level.
Access options
Buy single article
Instant access to the full article PDF.
US$ 39.95
Tax calculation will be finalised during checkout.
Subscribe to journal
Immediate online access to all issues from 2019. Subscription will auto renew annually.
US$ 79
Tax calculation will be finalised during checkout.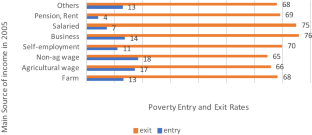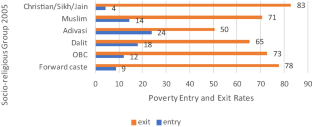 Notes
1.

China has 64% of its women working, one of the highest rates in the world (Dwivedi 2017). In the USA, it is over 56%. Further, Nepal and Bangladesh do much better than India; only Pakistan has a lower rate than India (ibid).

2.

Similar results are also found in a region-level panel data analysis for India by Lanjouw and Murgai (2009). They find that expansion of non-farm sector leads directly to poverty reduction and also indirectly by putting pressure on agriculture wage rates, on which most of the poor are dependent upon.

3.

Weights are numerical values that are used in surveys to multiply by response values, in order to account for missing observations (missing in terms of either non-responses or pre-arranged sample design). In the case of sample designs, weights estimate the totals or means for data, based on a selected subset of the entire population (Knaub 2007).

4.

The National Sample Survey came into existence in 1950. It is a "multi-subject integrated continuing sample survey program launched for collection of data on the various aspects of the national economy (covering both rural and urban areas) required by different agencies of the Government, both Central and States. NSS can be classified under four categories: household surveys on socio-economic subjects; Surveys on land holding, livestock and agriculture; Establishment surveys, and enterprise surveys; Village surveys" (NSS report).

5.

It is described as the ratio of probability density function (pdf = f(x)) to cumulative distribution function (CDF = F(x)) of a continuous random variable. Thus, IMR = f(x)/F(x).

6.

Poverty line cut-offs are based on Tendulkar poverty lines for both years 2005 and 2012. Poor (BPL) and non-poor (APL) have been classified based on the cut-offs.

7.

Ratio of number of dependents (those less than 15 years of age and those aging more than 60 years) to number of members in the working age-group (15–59 years) in a household.

8.

Number of members residing in the same household.

9.

In such non-poor households, women may be out of workforce due to less pressure to work and low returns for women (relative to men) in the job market. But when they decide to enter workforce, they have less experience, low pay and the low-wage cycle perpetuates which keeps their earnings relatively low as compared to men.

10.

Women are often used as a reserve army of labor and may be compelled to increase their labor hours or enter workforce when the non-poor household is under financial crisis.
References
Attanasio, O., H. Low, and V. Sánchez-Marcos. 2005. Female labor supply as insurance against idiosyncratic risk. Journal of the European Economic Association 3(2/3): 755–764.

Balcazar, C. F., S. Desai, R. Murgai, and A. Narayan. 2016. Why did poverty decline in India? A non-parametric decomposition exercise (World Bank Policy Research Working Paper No. 7602).

Bhalotra, S., and M. Umana-Aponte. 2010. The dynamics of women's labor supply in developing countries (IZA Discussion Paper No. 4879).

Bhide, S., and A.K. Mehta. 1998. Tracking poverty through panel data: Rural poverty in India: 1970–1988 (Working paper No. 28). CPRC-IIPA.

Blau, F.D., and L.M. Kahn. 1995. The gender earnings gap: Some international evidence. In Differences and changes in wage structures, ed. R.B. Freeman, and L.F. Katz, 105–143. Chicago, IL: University of Chicago Press.

Değirmenci, S., and I. Ilkkaracan. 2013. The impact of household labor supply structure on poverty. Topics in Middle Eastern and North African Economies. 184.

Desai, S. 2010. The other half of the demographic dividend. Economic and Political Weekly 45(40): 12–14. Retrieved March 15, 2015 from http://www.jstor.org/stable/25742137.

Dhamija, N., and S. Bhide. 2010. Dynamics of poverty in India: A panel data analysis. Economic and Political Weekly 45(13): 91–96.

Durand, J. 1975. The labor force in economic development: A comparison of international census data, 1946–1966. Princeton University Press.

Esteve-Volart, B. 2004. Gender discrimination and growth: Theory and evidence from India (STICERD Discussion Papers DEDPS42). London School of Economics and Political Science.

Goldberg, J. 2010. Kwacha Gonna do? Experimental evidence about labor supply in rural Malawi. American Economic Journal 8(1): 129–149.

Goldin, C. 1994. The U-shaped female labor force function in economic development and economic history. In Investment in women's human capital, ed. T. P. Schultz. University of Chicago Press.

ILO. 2016. India labor market update. Retrieved December 12, 2017 from http://www.ilo.org/wcmsp5/groups/public/---asia/---ro-bangkok/---sro-new_delhi/documents/publication/wcms_496510.pdf.

Kabeer, N. 2012. Women's economic empowerment and inclusive growth: Labor markets and enterprise development (SIG Working Paper No. 2012/1). Retrieved July 12, 2015 from https://www.idrc.ca/sites/default/files/sp/Documents%20EN/NK-WEE-Concept-Paper.pdf.

Khera, R., and N. Nayak. 2009. Women workers and perceptions of the National Rural Employment Guarantee Act. Economic and Political Weekly 54(43): 49–57.

Klasen, S. 1999. Does gender inequality reduce growth and development: evidence from cross-country regressions (Policy research report on gender and development working paper series no. 7). Washington, D.C.: The World Bank.

Klasen, S. 2002. Low schooling for girls, slower growth for all? World Bank Economic Review 16, 345–373.

Klasen, S., and F. Lamanna. 2009. The impact of gender inequality in education and employment on economic growth: New evidence for a panel of countries. Feminist Economics 15(3), 91–132.

Klasen, S., and J. Pieters. 2012. Push or pull? Drivers of female labor force participation during India's Economic Boom (IZA Discussion Paper Series No. 6395).

Klasen, S., and J. Pieters. 2013. What explains the stagnation of women labor force participation in Urban India (IZA Paper No. 7597).

Knaub, J. 2007. Survey weights. In Encyclopaedia of measurement and statistics, ed. N. Salkind, 981–982. Thousand Oaks, CA: SAGE.

Lanjouw, P., and R. Murgai. 2009. Poverty Decline, agricultural wages, and non-farm employment in rural India: 1983–2004 (Policy Research Working paper). World Bank.

Martin, J., and C. Roberts. 1984. Women and employment, Report on the Department of Employment/OPCS Survey. London: HMSO.

Mathur, A. (1994). Work participation, gender and economic development: A quantitative anatomy of the Indian scenario. The Journal of Development Studies 30(2): 466–504.

McKernan, S.-M., and C. Ratcliffe. 2002. Events that trigger poverty entries and exits. Washington, NW: The Urban Institute.

Mehrotra, S., and S. Sinha. 2017. Explaining falling female employment during a high growth period. Economic Political Weekly 52(39): 54–62.

Morris, L. 1990. The workings of the household. Cambridge: Polity Press.

Rani, U., and J.P. Schmid. 2006. Household characteristics, employment and poverty in India. Retrieved September 20, 2014 from http://citeseerx.ist.psu.edu/viewdoc/download%20doi=10.1.1.190.922&rep=rep1&type=pdf.

Saha, D. 2017. Only 27% Indian women are in labour force- the lowest among BRICS countries. Business Standard. Retrieved March 2, 2018 from https://www.business-standard.com/article/current-affairs/rising-income-stability-linked-to-declining-working-females-in-india-117050400150_1.html.

Sarkar, S., S. Sahoo, and S. Klasen. (2017). Employment transitions of women in India: A panel analysis (IZA Discussion Paper No. 11086). Retrieved February 12, 2018 from http://ftp.iza.org/dp11086.pdf.

Sen, A.K. 1985. Ingredients of feminine analysis: Availability and entitlements. The Quarterly Journal of Economics 96(3): 433–464.

Sen, A.K. 1987. The standard of living: The Tanner lectures. Cambridge: Cambridge University Press.

Smith, M., C. Fagan, and J. Rubery. 1998. Where and why is part time work growing in europe? In Part-time prospects: An international comparison of part-time work in Europe, North America and the Pacific Rim, ed. J. O'Reilly and C. Fagan, 35–56. London: Routledge.  

Stacey, K. and J. Kynge. 2018, Feb 28. India regains title of world's fastest-growing major economy. Financial Times. Retrieved March 5, 2018 from https://www.ft.com/content/cb5a4668-1c84-11e8-956a-43db76e69936.

Stevens, A.F. 2011. Poverty transitions. Davis, CA: University of California.

Stier, H., and A.C. Lewin. 2002. Does women's employment reduce poverty? Evidence from Israel. Work, Employment & Society 16(2): 211–230.

Thorat, A., R. Vanneman, S. Desai, and A. Dubey. 2017. Escaping and falling into poverty in India today. World Development 93: 413–426.

World Bank. 1990. Poverty. World Development Report. Oxford: Oxford University Press.

World Bank. 2000. Attacking poverty. World Development Report. World Bank and Oxford University Press.
Additional information
Publisher's Note
Springer Nature remains neutral with regard to jurisdictional claims in published maps and institutional affiliations.
Appendix
Appendix
About this article
Cite this article
Sebastian, N. Entry into and Escape from Poverty: The Role of Female Labor Supply in Rural India. Ind. J. Labour Econ. 63, 719–740 (2020). https://doi.org/10.1007/s41027-020-00242-5
Keywords
Poverty transition

Female

Labor supply

Rural

India

Panel
JEL Classification