Abstract
Nowadays a large number of products for concrete protection are available on the market and the efficacy of these materials still needs more research. This study aimed to evaluate the efficiency of certain surface treatments (such as polyurethane coating, hydrophobic agents and cementitious crystalline) applied on concrete under chloride ions and carbon dioxide exposure. The results indicated that polyurethane coating is efficient against the ingress of aggressive agents. An increase in cement consumption also provided significant reduction in the penetration depths among untreated samples.
This is a preview of subscription content, log in to check access.
Access options
Buy single article
Instant access to the full article PDF.
US$ 39.95
Tax calculation will be finalised during checkout.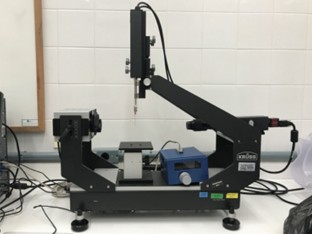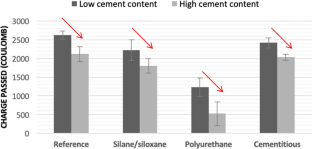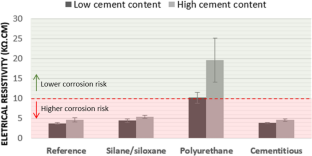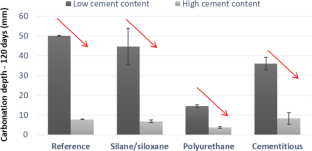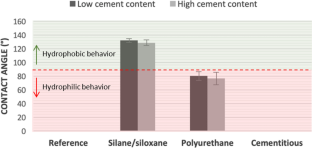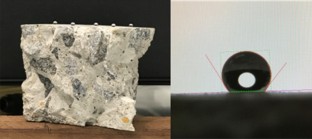 References
1.

Medeiros MHF, Helene P (2009) Durabilidade e proteção do concreto armado. Revista Téchne 151

2.

De Muynck W, Kathelijn C, De Belie N, Verstraete W (2008) Bacterial carbonate precipitation as an alternative surface treatment for concrete. Constr Build Mater 22:875–885

3.

Medeiros MHF, Helene P (2008) Efficacy of surface hydrophobic agents in reducing water and chloride ion penetration in concrete. Mater Struct 41:59–71

4.

Rincón OT, Collaboration D (2006) Durability of concrete structures: DURACON, and iberoamerican project. Preliminary results. Build Environ 41:952–962

5.

Cavalcanti Filho AN (2010) Contribuição ao controle tecnológico de concretos estruturais de cimento Portland, em ambientes marítimos. Dissertação (Mestrado) Escola Politécnica da Universidade de São Paulo, São Paulo.

6.

Pauletti C, Possan E, Dal Molin DCC (2007) Carbonatação acelerada: estado da arte das pesquisas no Brasil. Ambiente Construído, c.7, n 4, p 7–20, Porto Alegre

7.

Medeiros-Junior RA, Lima MG, Yazigi R, Medeiros MHF (2015) Carbonation depth in 57 years old concrete structures. Steel Compos Struct 19:953–966

8.

Medeiros Junior RA, Lima MG, Brito PC, Medeiros MHF (2015) Chloride penetration into concrete in an offshore platform-analysis of exposure conditions. Ocean Eng 103:78–87

9.

Medeiros MHF, Gobbi A, Réus GC, Helene P (2013) Reinforced concrete in marine environment: effect of wetting and drying cycles, height and positioning in relation to the sea shore. Constr Build Mater 44:452–457

10.

Pereira E, Resende A, Medeiros MHF, Meneghetti LC (2013) Chloride accelerated test: influence of silica fume, water/binder ration and concrete cover thickness. Rev IBRACON Estrut Mater 6:561–581

11.

Medeiros MHF (2008) Contribuição ao estudo da durabilidade de concretos com proteção superficial frente à ação de íons cloretos. Tese (Doutorado) Escola Politécnica da Universidade de São Paulo, São Paulo

12.

Swamy RN, Tanikawa S (1993) An external surface coating to protect concrete and steel from aggressive environments. Mater Struct 2:465–478

13.

Medeiros MHF, Casto-Borges P, Aleixo DM, Quarcioni VA, Marcondes CGN, Helene P (2012) Reducing water and chloride penetration through silicate treatments for concrete as a mean to control corrosion kinetics. Int J Eletrochem Sci 7:9682–9696

14.

Medeiros MHF, Helene P (2009) Surface treatment of reinforced concrete in marine environment: Influence on chloride diffusion coefficient and capillary water absorption. Constr Build Mater 23:1476–1484

15.

Almusallam AA, Hkan FM, Dulaijan SU, Al-Amoudi OSB (2003) Effectiveness of surface coatings in improving concrete durability. Cem Concr Compos 25:473–481

16.

Medeiros MHF, Pereira E, Figura AS, Tissot FM, Artioli KA (2015) Avaliação da eficiência de sistemas de proteção de superfície para concrete: absorção de água, migração de cloretos e ângulo de contato. Matéria (UFRJ) 20:145–159

17.

Moradllo MK, Shekarchi M, Hoseini M (2012) Time-dependent performance of concrete surface coatings in tidal zone of marine environment. Const Build Mater 30:198–205

18.

Astm C 150 (2009) Standard specification for Portland cement. American Society for Testing and Materials, USA

19.

Astm C 1202 (1997) Standard test method for electrical indication of concrete-s ability to resist chloride ion penetration. American Society for Testing and Materials, USA

20.

Hoppe Filho J, Medeiros MHF, Pereira E, Helene P, Asce M, Isaia GC (2013) High-volume fly ash concrete with and without hydrated lime: chloride diffusion coefficient from accelerated test. J Mater Civ Eng 25:411–418

21.

Medeiros MHF, Hoppe Filho J, Helene P (2009) Influence of the slice position on chloride migration tests for concrete in marine conditions. Mar Struct 22:128–141

22.

Neto E, Camões A, Bergonha A (2015) Effects of anti-grafitti protection on concrete durability. Key Eng Mater 634:517–526

23.

Comité Euro International du Béton (1989) CEB Bull 192: diagnosis and assessment of concrete structures—state of the art report, Lausanne
Acknowledgements
The authors express their gratitude to the Brazilian agencies CNPq, Capes and Araucária Foundation, the Federal University of Paraná (UFPR), the Polytechnic Center, the Department of Civil Construction (DCC), the Post-Graduate Program in Civil Construction Engineering (PPGECC), the Center for Civil Engineering Studies (CESEC), the Laboratory of Materials and Structures (LAME), the Laboratory of Wood Anatomy of UFPR and the Research Group on Pathology and Construction Recovery (PRC).
Ethics declarations
Conflict of interest
On behalf of all authors, the corresponding author states that there is no conflict of interest.
Additional information
Publisher's Note
Springer Nature remains neutral with regard to jurisdictional claims in published maps and institutional affiliations.
About this article
Cite this article
Carneiro, A.F.B., Daschevi, P.A., Langaro, E.A. et al. Effectiveness of surface coatings in concrete: chloride penetration and carbonation. J Build Rehabil 6, 3 (2021). https://doi.org/10.1007/s41024-020-00098-8
Received:

Accepted:

Published:
Keywords
Durability

Protection

Coating

Chloride

Carbonation