Abstract
Predicting the structural performance of railroad structures is a constant challenge. Numerical models are the most common technique, lately, to predict the performance of many mechanical structures including railroad trackbeds. This paper presents a detailed quantitative validation of a recently developed numerical model, known as the ADYTrack, for the structural performance analysis of railroad trackbeds. The results of the ADYTrack model were compared to the results of the commercial software, other well-known track simulation tools, and the reported measurements of full-scale field tests. A railroad trackbed model using the ADYTrack predicted the vertical displacements and stresses along the depth below the wheel load that produced a maximum percentage difference of around 5% compared to the results produced in an identical model using ANSYS software. Furthermore, when compared with the field measurements and other models' predictions, the predictions of the ADYTrack's trackbed models showed a maximum percentage difference of less than 10% for the vertical stress profile along the depth below the wheel load. These findings indicated that the finite element model, ADYTrack, can be a great numerical tool to analyze the performances of railroad tracks with acceptable accuracy and precision.
Access options
Buy single article
Instant access to the full article PDF.
USD 39.95
Price includes VAT (USA)
Tax calculation will be finalised during checkout.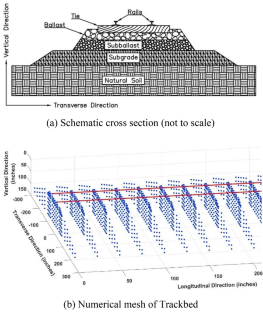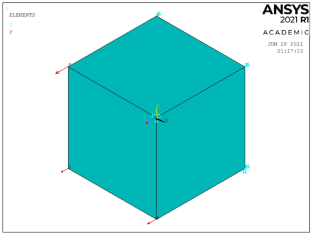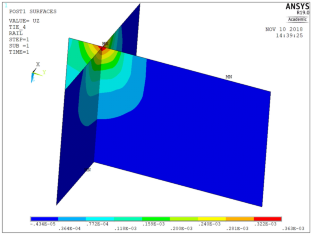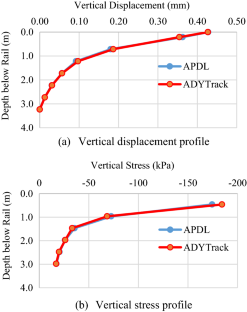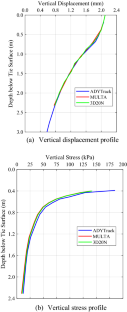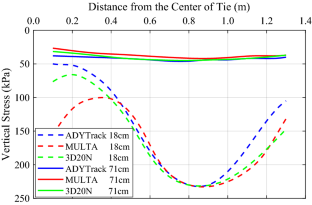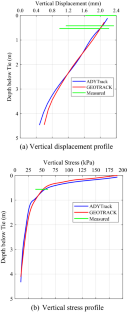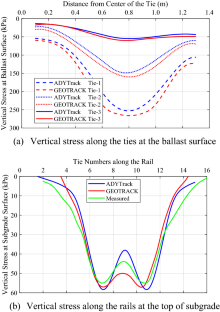 References
1.

ASCE (2017) ASCE Infrastructure Report Card

2.

Phoon K-K, Ching J (2015) Risk and reliability in geotechnical engineering. Taylor & Francis

3.

Vanmarcke E (1983) Random fields: analysis and synthesis, Revised an. World Scientific Publishing Co.

4.

Arbabi BF, Loh CU (1991) Reliability analysis of railroad tracks. J Struct Eng 117(5):1435–1447

5.

Burmister DM (1945) The general theory of stresses and displacements in layered soil systems. III. J Appl Phys 16(5):296–302

6.

Adegoke CW, Chang CS, Selig ET (1979) Study of analytical models for track support systems. Transp Res Rec J Transp Res Board 733:12–20

7.

Kennedy JC, Prause RH (1978) Development of multilayer analysis model for tie-ballast track structures. Transp Res Rec J Transp Res Board 694:39–47

8.

Thompson MR (1976) Program ILLI-TRACK: a finite element analysis of conventional railway support system: user's manual and program listing

9.

Chang CS, Adegoke CW, Selig ET (1980) GEOTRACK model for railroad track performance. J Geotech Geoenviron Eng 106(11):1201

10.

Mishra D, Sharma S, Shrestha A, Li D, Basye C (2016) GEOTRACK-2015: an upgraded software tool for railroad track Analysis, in 2016 Joint Rail Conference, 2016, V001T01A028

11.

Huang YH, Lin C, Deng X, Rose J (1984) KENTRACK, A Computer Program for Hot-Mix Asphalt and Conventional Ballast Railway Trackbeds

12.

Rose J, Agarwal NK, Brown JD, Ilavala N (2010) KENTRACK, a performance-based layered elastic railway trackbed structural design and analysis procedure–a tutorial, in Joint Rail Conference, 73–110

13.

Rose J, Liu S, Souleyrette R (2014) KENTRACK 4.0: A Railway Trackbed Structural Design Program, in 2014 Joint Rail Conference, JRC 2014

14.

Shahu JT, Kameswara Rao N, Yudhbir (1999) Parametric study of resilient response of tracks with a sub-ballast layer. Can Geotech J 36(6):1137–1150

15.

Arshid A, Huang Y, Tolliver D (2019) ADYTrack: development of a railroad trackbed model and parametric study of track modulus. Geotech Eng J SEAGS AGSSEA 50(1):1–10 (ISSN 0046-5828)

16.

Macneal RH, Harder RL (1985) A proposed standard set of problems to test finite element accuracy. Finite Elem Anal Des 1(1):3–20

17.

Adegoke CW (1978) Elastic and inelastic deformation response of track structures under train loadings. Buffalo, NY

18.

Selig ET, Chang CS, Adegoke CW, Alva-Hurtado JE (1979) A theory for track maintenance and life prediction. Buffalo, NY

19.

Stewart HE, Selig ET (1982) Predicted and measured resilient response of track. J Geotech Eng Div 108(11):1423–1442
Acknowledgement
This paper is supported by the U.S. Department of Transportation through the University Transportation Centers Program. The findings and opinions expressed in this article are those of the authors only and do not necessarily reflect the views of the sponsors.
Ethics declarations
Conflict of interest
On behalf of all authors, the corresponding author states that there is no conflict of interest.
About this article
Cite this article
Arshid, A., Huang, Y., Lu, P. et al. Validation of a Numerical Model (Adytrack) Against Existing Simulation Tools and Field Measurements. Int J Civ Eng (2021). https://doi.org/10.1007/s40999-021-00673-1
Received:

Revised:

Accepted:

Published:
Keywords
Railroad trackbed

Random finite element analysis

Numerical simulations

Substructure performance