Abstract
In this study, performance comparison for steel and biaxial geogrid reinforced concrete samples is explored. The basic properties of geosynthetics and concrete ingredients were studied. Formulae and derivations of limiting moment, maximum load, and area of geogrid reinforcements for flexural slab were obtained by limit state design methodology. Three types of textile and one biaxial geogrid were individually employed in concrete specimens (cubes, prisms, and slabs). From the results, the geogrid exhibited good performance with the concrete. The flexural behaviour of the steel-reinforced sample is compared with the geogrid reinforced ones. The flexural test of geogrid reinforced flexural members showed satisfactory results. The load-carrying capacity, deflection, and energy absorption of the geogrid reinforced slab, as compared to the steel-reinforced slab, increased by 25, 6.5, and 23%, respectively. The study demonstrated a sustainable reinforcement of concrete that can be a practical solution to corrosion issues experienced in the construction field.
Access options
Buy single article
Instant access to the full article PDF.
US$ 39.95
Tax calculation will be finalised during checkout.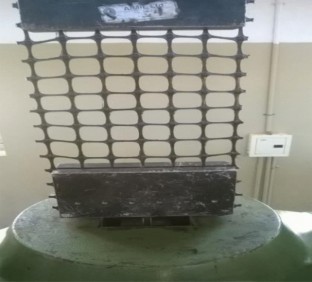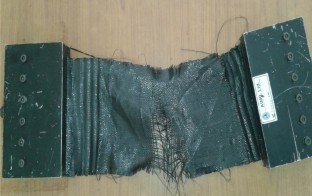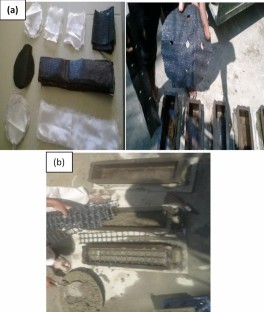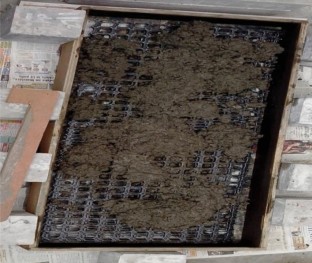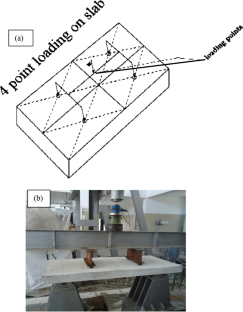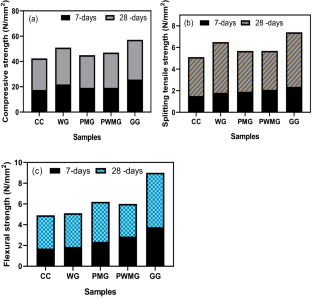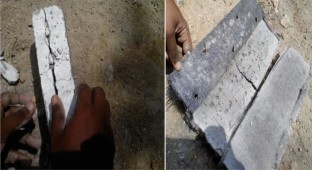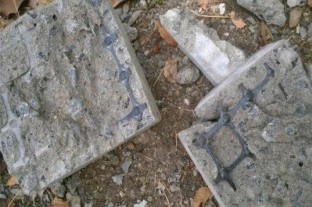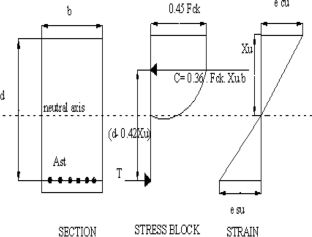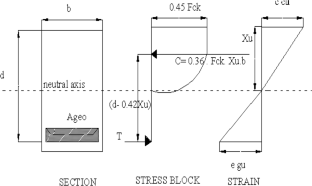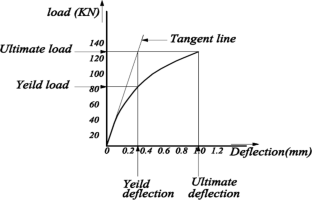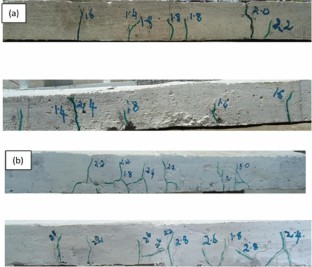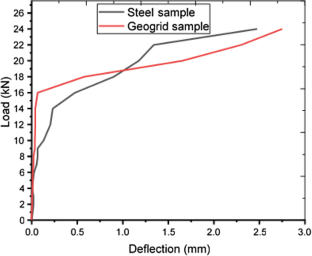 Availability of Data
All the data used in this research will be made available upon request.
References
1.

Banu ST, Chitra G, Awoyera PO, Gobinath R (2019) Structural retrofitting of corroded fly ash based concrete beams with fibres to improve bending characteristics. Aust J Struct Eng. https://doi.org/10.1080/13287982.2019.1622490

2.

Sanjeev J, Sai Nitesh KJN (2020) Study on the effect of steel and glass fibers on fresh and hardened properties of vibrated concrete and self-compacting concrete. Mater Today Proc. https://doi.org/10.1016/j.matpr.2020.03.208

3.

Huang H, Yuan Y, Zhang W, Hao R, Zeng J (2020) Bond properties between GFRP bars and hybrid fiber-reinforced concrete containing three types of artificial fibers. Constr Build Mater 250:118857. https://doi.org/10.1016/j.conbuildmat.2020.118857

4.

Merli R, Preziosi M, Acampora A, Lucchetti MC, Petrucci E (2020) Recycled fibers in reinforced concrete: a systematic literature review. J Clean Prod 248:119207. https://doi.org/10.1016/j.jclepro.2019.119207

5.

Asim M, Uddin GM, Jamshaid H, Raza A, ul [Rehman Tahir] Z, Hussain U, Satti AN, Hayat N, Arafat SM (2020) Comparative experimental investigation of natural fibers reinforced light weight concrete as thermally efficient building materials. J Build Eng 31:101411. https://doi.org/10.1016/j.jobe.2020.101411

6.

Wang H, Yang G, Wang Z, Liu W (2020) Static structural behavior of geogrid reinforced soil retaining walls with a deformation buffer zone. Geotext Geomembr 48:374–379. https://doi.org/10.1016/j.geotexmem.2019.12.008

7.

Elshesheny A, Mohamed M, Nagy NM, Sheehan T (2020) Numerical behaviour of buried flexible pipes in geogrid-reinforced soil under cyclic loading. Comput Geotech 122:103493. https://doi.org/10.1016/j.compgeo.2020.103493

8.

Altay G, Kayadelen C, Taşkıran T, Kaya YZ (2019) A laboratory study on pull-out resistance of geogrid in clay soil. Measurement 139:301–307. https://doi.org/10.1016/j.measurement.2019.02.065

9.

Hadi MNS, Al-Hedad ASA (2020) Flexural fatigue behaviour of geogrid reinforced concrete pavements. Constr Build Mater 249:118762. https://doi.org/10.1016/j.conbuildmat.2020.118762

10.

Zhang H, Hadi MNS (2020) Geogrid-confined pervious geopolymer concrete piles with FRP-PVC-confined concrete core: analytical models. Structures 23:731–738. https://doi.org/10.1016/j.istruc.2019.11.005

11.

Meng X, Chi Y, Jiang Q, Liu R, Wu K, Li S (2019) Experimental investigation on the flexural behavior of pervious concrete beams reinforced with geogrids. Constr Build Mater 215:275–284. https://doi.org/10.1016/j.conbuildmat.2019.04.217

12.

Jallu M, Arulrajah A, Saride S, Evans R (2020) Flexural fatigue behavior of fly ash geopolymer stabilized-geogrid reinforced RAP bases. Constr Build Mater 254:119263. https://doi.org/10.1016/j.conbuildmat.2020.119263

13.

Chen C, McDowell GR, Thom NH (2014) Investigating geogrid-reinforced ballast: experimental pull-out tests and discrete element modelling. Soils Found 54:1–11. https://doi.org/10.1016/j.sandf.2013.12.001

14.

Sun X, Han J, Fei J, Guo J, Zhang W (2020) Geosynthetic-stabilized flexible pavements: solution derivation and mechanistic-empirical analysis. Geotext Geomembr 48:468–478. https://doi.org/10.1016/j.geotexmem.2020.02.005

15.

Imjai T, Pilakoutas K, Guadagnini M (2019) Performance of geosynthetic-reinforced flexible pavements in full-scale field trials. Geotext Geomembr 47:217–229. https://doi.org/10.1016/j.geotexmem.2018.12.012

16.

Neves J, Lima H, Gonçalves M (2016) A numerical study on the implications of subgrade reinforcement with geosynthetics in pavement design. Procedia Eng 143:888–895. https://doi.org/10.1016/j.proeng.2016.06.151

17

de Rezende LR, Camapum de Carvalho J, Palmeira EM (2005) Chapter 26. The use of alternative and improved construction materials and geosynthetics in pavements. In: Indraratna B, Chu J (eds) Gr. Improve.—case hist. Elsevier, pp 765–786. https://doi.org/10.1016/S1571-9960(05)80029-1

18.

Patra CR, Das BM, Atalar C (2005) Bearing capacity of embedded strip foundation on geogrid-reinforced sand. Geotext Geomembr 23:454–462. https://doi.org/10.1016/j.geotexmem.2005.02.001

19.

Raymond G, Ismail I (2003) The effect of geogrid reinforcement on unbound aggregates. Geotext Geomembr 21:355–380. https://doi.org/10.1016/S0266-1144(03)00044-X

20.

El Meski F, Chehab GR (2014) Flexural behavior of concrete beams reinforced with different types of geogrids. J Mater Civ Eng 26:4014038. https://doi.org/10.1061/(ASCE)MT.1943-5533.0000920

21.

Siva Chidambaram R, Agarwal P (2014) The confining effect of geo-grid on the mechanical properties of concrete specimens with steel fiber under compression and flexure. Constr Build Mater 71:628–637. https://doi.org/10.1016/j.conbuildmat.2014.08.059

22.

Tam AB, Park D-W, Le THM, Kim J-S (2020) Evaluation on fatigue cracking resistance of fiber grid reinforced asphalt concrete with reflection cracking rate computation. Constr Build Mater 239:117873. https://doi.org/10.1016/j.conbuildmat.2019.117873

23.

Maghool F, Arulrajah A, Mirzababaei M, Suksiripattanapong C, Horpibulsuk S (2020) Interface shear strength properties of geogrid-reinforced steel slags using a large-scale direct shear testing apparatus. Geotext Geomembr. https://doi.org/10.1016/j.geotexmem.2020.04.001

24.

Pant A, Datta M, Ramana GV, Bansal D (2019) Measurement of role of transverse and longitudinal members on pullout resistance of PET geogrid. Measurement 148:106944. https://doi.org/10.1016/j.measurement.2019.106944

25.

Yu Z, Woodward PK, Laghrouche O, Connolly DP (2019) True triaxial testing of geogrid for high speed railways. Transp Geotech 20:100247. https://doi.org/10.1016/j.trgeo.2019.100247

26.

ACI 318M (2015) Building code requirements for structural concrete and commentary 520

27.

Correia NS, Mugayar AN (2020) Effect of binder rates and geogrid characteristics on the shear bond strength of reinforced asphalt interfaces. Constr Build Mater. https://doi.org/10.1016/j.conbuildmat.2020.121292

28.

Daou A, Chehab G, Saad G, Hamad B (2020) Experimental and numerical investigations of reinforced concrete columns confined internally with biaxial geogrids. Constr Build Mater 263:120115. https://doi.org/10.1016/j.conbuildmat.2020.120115

29.

IS 10262 (2009) Guidelines for concrete mix design proportioning. Indian Stand

30.

IS: 516-1959 (n.d.) Methods of test for strength of concrete. Indian Stand

31.

Sharma V, Kumar A, Kapoor K (2019) Sustainable deployment of crushed concrete debris and geotextile to improve the load carrying capacity of granular soil. J Clean Prod 228:124–134. https://doi.org/10.1016/j.jclepro.2019.04.306

32

de Souza SF, Cherian BM, Leão AL, Kozłowski RM, Thomas S (2020) 15—natural fibres for geotextiles. In: Kozłowski RM, Mackiewicz-Talarczyk E (eds) Text. Inst. B ser. Woodhead Publishing, pp 499–530. https://doi.org/10.1016/B978-0-12-818782-1.00015-8

33.

Izadi E, Decraene T, De Strijcker S, Bezuijen A, Vinckier D (2018) A laboratory investigation on the impact resistance of a woven geotextile. Geotext Geomembr 46:91–100. https://doi.org/10.1016/j.geotexmem.2017.10.003

34

Lee SL, Mannan MA, Wan Ibrahim WH (2020) Shear strength evaluation of composite pavement with geotextile as reinforcement at the interface. Geotext Geomembr 48:230–235. https://doi.org/10.1016/j.geotexmem.2019.11.002

35.

Majumder S, Saha S (2020) Experimental and numerical investigation on cyclic behaviour of RC beam column joints reinforced with geogrid material. Mater Today Proc. https://doi.org/10.1016/j.matpr.2020.06.415

36.

IS 456 (2000) Plain and reinforced concrete—code of practice

37.

ASTM C1018 (1997) Standard test method for flexural toughness and first-crack strength of fiber-reinforced concrete (using beam with third-point loading). http://www.astm.org
Acknowledgements
The authors would like to thank the management of the centre for construction methods and materials, S R Engineering College, Warangal, Telangana, India.
Funding
No funding was received for conducting this research.
Ethics declarations
Conflict of interest
The authors declare that they have no conflict of interest.
Ethics approval
All authors certify that they have no affiliations with or involvement in any organization or entity with any financial interest or non-financial interest in the subject matter or materials discussed in this manuscript.
Additional information
The original Online version of this article was revised: The co-author's affiliation has been incorrectly published.
About this article
Cite this article
RajeshKumar, K., Awoyera, P.O., Shyamala, G. et al. Structural Performance of Biaxial Geogrid Reinforced Concrete Slab. Int J Civ Eng (2021). https://doi.org/10.1007/s40999-021-00668-y
Received:

Revised:

Accepted:

Published:
Keywords
Geogrid reinforcement

Load capacity

Energy absorption

Deflection

Flexural strength