Abstract
Utilization of RAP in asphalt pavements may lead to severe quality problems, mostly due to asphalt aging phenomenon. Within the scope of this study, the use of rejuvenators to improve the properties of RAP is investigated. Two different types of waste oils together with a commercial rejuvenator are used. The rejuvenated bitumen samples are evaluated from both rheological and microstructural aspects. In addition, mixture testing also employed to investigate the effectiveness of used rejuvenators. Experimental studies on bitumen samples included conventional and Dynamic Shear Rheometer (DSR) testing and Atomic Force Microscopy (AFM) imagings. The results unveiled that, the utilization of rejuvenators can significantly improve the quality of recycled asphalt and threatened the aged bitumen quality. Missing bee-structures of aged bitumen samples evolve in a different type of surface topography while the mixtures performance evolves in terms of workability. The rejuvenation process provides viscous behavior to aged bitumen. The Rejuvenation Index (RI) which is a dimensionless value, simply evolves this fact. While the RI of the non-rejuvenated aged bitumen is taken as 1 (one) as per RI definition, the neat bitumen RI is calculated as 0.79, the RI of waste oils are calculated as 0.74 and 0.79 while the commercial sample RI is calculated as 0.60. Among the rejuvenators, waste oils showed similar results with almost same volume of peri- and para-phase since the commercial rejuvenator behaved more similar to neat bitumen. The rejuvenated samples workability performance improves using rejuvenating additives. Binder and mixture testing demonstrated high consistency and conformity with each other in terms of performance and aging characteristics. The results proved that, waste oils can be used as rejuvenating agents within RAP. Rejuvenators can significantly restore the properties of aged RAP bitumen and increase the amount of RAP in bituminous mixtures.
Access options
Buy single article
Instant access to the full article PDF.
US$ 39.95
Tax calculation will be finalised during checkout.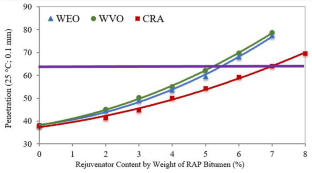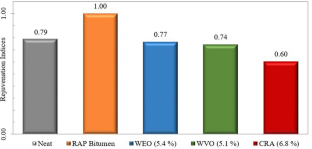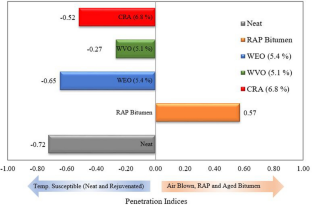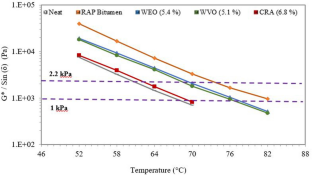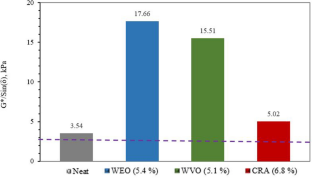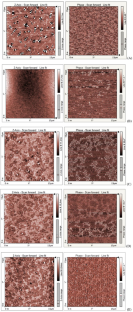 References
1.

Chesner WH, Collins RJ, MacKay MH, Emery J (2002) User guidelines for waste and by-product materials in pavement construction. Federal Highway Administration (FHWA). FHWA-RD-97-148

2.

Kandhal PS, Mallick RB (1998) Pavement recycling guidelines for state and local governments participant's reference book. Publication Numbers: FHWA-SA-98-042, Washington DC, USA

3.

Tebaldi G, Dave EV, Marsac P, Muraya P, Hugener M, Pasetto M, Graziani A, Grilli A, Bocci M, Marradi A (2014) Synthesis of standards and procedures for specimen preparation and in-field evaluation of cold-recycled asphalt mixtures. Road Mater Pavement Des 15(2):272–299

4.

Soleimanbeigi A, Edil TB (2015) Compressibility of recycled materials for use as highway embankment fill. J Geotech Geoenviron Eng 141(5):04015011

5.

Puppala AJ, Saride S, Williammee R (2012) Sustainable reuse of limestone quarry fines and RAP in pavement base/subbase layers. J Mater Civ Eng 24(4):418–429

6.

Su K, Hachiya Y, Maekawa R (2009) Study on recycled asphalt concrete for use in surface course in airport pavement. Resour Conserv Recycl 54(1):37–44

7.

Kumari M, Ransinchung G, Singh S (2018) A laboratory investigation on Dense Bituminous Macadam containing different fractions of coarse and fine RAP. Constr Build Mater 191:655–666

8.

Zaumanis M, Mallick RB (2015) Review of very high-content reclaimed asphalt use in plant-produced pavements: state of the art. Int J Pavement Eng 16(1):39–55

9.

Kim Y, Im S, Lee HD (2011) Impacts of curing time and moisture content on engineering properties of cold in-place recycling mixtures using foamed or emulsified asphalt. J Mater Civ Eng 23(5):542–553

10.

Hansen KR, Copeland A, Association NAP (2013) Annual asphalt pavement industry survey on recycled materials and warm-mix asphalt usage: 2009–2012. National Asphalt Pavement Association

11.

Tao M, Mallick RB (2009) Effects of warm-mix asphalt additives on workability and mechanical properties of reclaimed asphalt pavement material. Transp Res Rec 2126(1):151–160

12.

Sonmez I, Topcu A, Yildirim S, Eren B, Gunay E, Kara M, Kavakli B (2011) "Recycling and reuse of old asphalt coatings in hot bituminous mixtures". 24th World Road CongressWorld Road Association (PIARC), pp 26–30. Mexico City, Mexico

13.

Fernández-Gómez WD, Rondón Quintana H, Reyes Lizcano F (2013) A review of asphalt and asphalt mixture aging: Una revisión. Ingenieria e investigacion 33(1):5–12

14.

ASTM D (2013) Standard test method for penetration of bituminous materials. ASTM International, West Conshohocken

15.

ASTM D (2014) Standard test method for softening point of bitumen (ring-and-ball apparatus). American Society for Testing and Materials, West Conshohocken, PA

16.

ASTM D (2015) Standard test method for viscosity determination of asphalt at elevated temperatures using a rotational viscometer. American Societyfor Testing and Materials, West Conshohocken, PA, USA

17.

ASTM D (2009) Standard test method for effects of heat and air on asphaltic materials (thin-film oven test). American Society for Testing and Materials, West Conshohocken, PA, USA

18.

ASTM S (2009) Standard test method for density of semi-solid bituminous materials (pycnometer method). American Society for Testing and Materials, West Conshohocken, PA, USA

19.

ASTM D (2002) 92Standard test method for flash and fire points by Cleveland open cup. American Society for Testing and Materials, West Conshohocken, PA

20.

Asli H, Ahmadinia E, Zargar M, Karim MR (2012) Investigation on physical properties of waste cooking oil–Rejuvenated bitumen binder. Constr Build Mater 37:398–405

21.

Shen J, Ohne Y (2002) Determining rejuvenator content for recycling reclaimed asphalt pavement by SHRP binder specifications. Int J Pavement Eng 3(4):261–268

22.

Zaumanis M, Mallick RB, Frank R (2014) Determining optimum rejuvenator dose for asphalt recycling based on Superpave performance grade specifications. Constr Build Mater 69:159–166

23.

Jia X, Huang B, Moore JA, Zhao S (2015) Influence of waste engine oil on asphalt mixtures containing reclaimed asphalt pavement. J Mater Civ Eng 27(12):04015042

24.

Siddiqui MN, Ali MF (1999) Studies on the aging behavior of the Arabian asphalts. Fuel 78(9):1005–1015

25.

Apeagyei AK (2011) Laboratory evaluation of antioxidants for asphalt binders. Constr Build Mater 25(1):47–53

26.

Sengoz B, Isikyakar G (2008) Evaluation of the properties and microstructure of SBS and EVA polymer modified bitumen. Constr Build Mater 22(9):1897–1905

27.

Standard AASHTO T315–10 (2011) 315–10 Standard Method of Test for Determining the Rheological Properties of Asphalt Binder Using a Dynamic Shear Rheometer (DSR). American Association of State and Highway Transportation Officials: Washington DC, USA

28.

Masson JF, Leblond V, Margeson J (2006) Bitumen morphologies by phase-detection atomic force microscopy. J Microsc 221(1):17–29

29.

De Moraes M, Pereira R, Simão R, Leite L (2010) High temperature AFM study of CAP 30/45 pen grade bitumen. J Microsc 239(1):46–53

30.

Fischer HR, Dillingh E, Hermse C (2014) On the microstructure of bituminous binders. Road Mater Pavement Des 15(1):1–15

31.

Ganter D, Mielke T, Maier M, Lupascu DC (2019) Bitumen rheology and the impact of rejuvenators. Constr Build Mater 222:414–423

32.

Rebelo LM, De Sousa J, Abreu A, Baroni M, Alencar A, Soares S, Mendes Filho J, Soares J (2014) Aging of asphaltic binders investigated with atomic force microscopy. Fuel 117:15–25

33.

Allen RG, Little DN, Bhasin A (2012) Structural characterization of micromechanical properties in asphalt using atomic force microscopy. J Mater Civ Eng 24(10):1317–1327

34.

Cavalli M, Partl M, Poulikakos L (2019) Effect of ageing on the microstructure of reclaimed asphalt binder with bio-based rejuvenators. Road Mater Pavement Des 20(7):1683–1694

35.

Ozdemir DK, Topal A, McNally T (2020) Relationship between microstructure and phase morphology of SBS modified bitumen with processing parameters studied using atomic force microscopy. Constr Build Materi 268:121061

36.

Ortega F, Roman C, Navarro F, García-Morales M, McNally T (2016) Physico-chemistry control of the linear viscoelastic behaviour of bitumen/montmorillonite/MDI ternary composites: effect of the modification sequence. Fuel Process Technol 143:195–203

37.

Soenen H, Besamusca J, Fischer HR, Poulikakos LD, Planche J-P, Das PK, Kringos N, Grenfell JR, Lu X, Chailleux E (2014) Laboratory investigation of bitumen based on round robin DSC and AFM tests. Mater Struct 47(7):1205–1220
Acknowledgements
This study prepared as a concise essay from the scope of the Doctor of Philosophy dissertation submitted to the Graduate School of Natural and Applied Sciences of Dokuz Eylul University.
About this article
Cite this article
Aghazadeh Dokandari, P., Topal, A. & Kaya Ozdemir, D. Rheological and Microstructural Investigation of the Effects of Rejuvenators on Reclaimed Asphalt Pavement Bitumen by DSR and AFM. Int J Civ Eng (2021). https://doi.org/10.1007/s40999-021-00605-z
Received:

Revised:

Accepted:

Published:
Keywords
Reclaimed asphalt pavement

Rejuvenator

Bitumen aging

Atomic force microscopy

Dynamic shear rheometer