Abstract
Fugitive dust induced by wind erosion has been a serious environmental problem in many countries. In this research, a plant-derived urease enzyme named soybean, as a cheap and easily available enzyme-induced carbonate precipitation (EICP), is employed to stabilize loose soil-inducing fugitive dust. The tested silty sand soil was retrieved from one of the dust centers of Khuzestan-Iran with a low plasticity index. The treated experiments were prepared by two different methods of mixing and pouring the extract solution with and on the soil with both maximum and minimum densities. After a certain period of time, at which the calcium carbonate precipitation process was completed, unconfined compressive strength tests were conducted to monitor increase in the soil shear strength, treated with EICP. Then, water erosion test was conducted to evaluate resistance of the treated soil against water penetration and soil erosion due to water runoff. Later, trays containing bare and treated soils, obtained from different EICP applications, were sited in a wind tunnel to test their erosion performances. The results indicated that soybean enzyme which is much easier to prepare than the jack bean enzyme, previously suggested by other researchers, can control dust emissions induced by wind erosion.
Access options
Buy single article
Instant access to the full article PDF.
USD 39.95
Price includes VAT (USA)
Tax calculation will be finalised during checkout.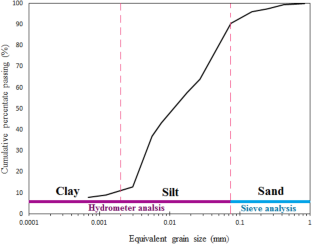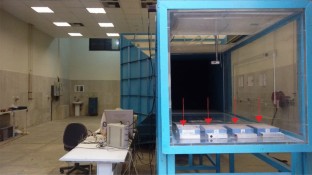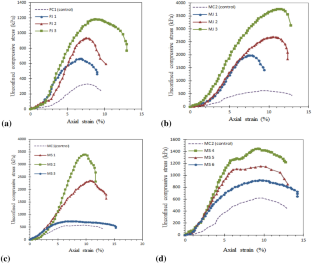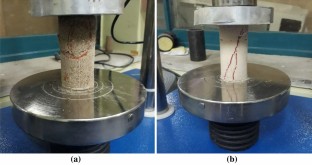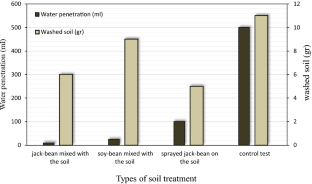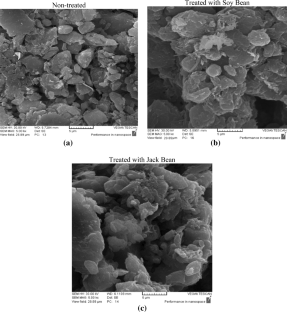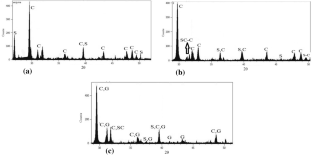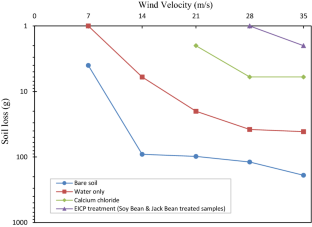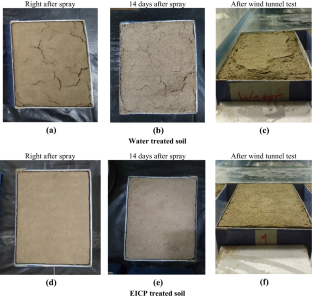 References
1.

Maleki H, Sorooshian A, Goudarzi G, Nikfal A, Baneshi MM (2016) Temporal profile of PM10 and associated health effects in one of the most polluted cities of the world (Ahvaz, Iran) between 2009 and 2014. Aeol Res 22:135–140

2.

Levy GJ, Levin J, Shainberg I (1995) Polymer effects on runoff and soil erosion from sodic soils. Irrig Sci 16(1):9–14

3.

Hamdan N, Kavazanjian E Jr (2016) Enzyme-induced carbonate mineral precipitation for fugitive dust control. Géotechnique 66(7):546–555

4.

Soltani-Jigheh H, Ghorbani M, Pazhouhandeh M, Azadi ME (2020) Bacterial treatment of remoulded fine-grained cohesive soils. Int J Civ Eng 18(4):463–473

5.

Montoya BM, Safavizadeh S, Gabr MA (2019) Enhancement of coal ash compressibility parameters using microbial-induced carbonate precipitation. J Geotech Geoenviron Eng 145(5):04019018

6.

Xiao P, Liu H, Xiao Y, Stuedlein AW, Evans TM (2018) Liquefaction resistance of bio-cemented calcareous sand. Soil Dyn Earthq Eng 107:9–19

7.

Lin H, Suleiman MT, Brown DG, Kavazanjian E Jr (2016) Mechanical behavior of sands treated by microbially induced carbonate precipitation. J Geotech Geoenviron Eng 142(2):04015066

8.

Li ML, Chun-xiang Q, Yong-hao Z (2014) Pore structures and mechanical properties of microbe-inspired cementing sand columns. Int J Civ Eng 12(2):174–179

9.

Rasool AM, Aziz M (2020) Advanced triaxial tests on partially saturated soils under unconfined conditions. Int J Civ Eng 18(10):1139–1156

10.

Dakhane A, Das S, Hansen H, O'Donnell S, Hanoon F, Rushton A, Perla C, Neithalath N (2018) Crack healing in cementitious mortars using enzyme-induced carbonate precipitation: quantification based on fracture response. J Mater Civ Eng 30(4):04018035

11.

Simatupang M, Okamura M (2017) Liquefaction resistance of sand remediated with carbonate precipitation at different degrees of saturation during curing. Soils Found 57(4):619–631

12.

Hamdan N, Kavazanjian Jr E, O'Donnell S (2013) Carbonate cementation via plant derived urease. In: Proceedings of the 18th international conference on soil mechanics and geotechnical engineering, Paris

13.

Park S-S, Choi S-G, Nam I-H (2014) Effect of plant-induced calcite precipitation on the strength of sand. J Mater Civ Eng 26(8):06014017

14.

Kavazanjian E, Hamdan N (2015) Enzyme induced carbonate precipitation (EICP) columns for ground improvement. IFCEE, Reston, pp 2252–2261

15.

Ganapathy GP, Gobinath R, Akinwumi II, Kovendiran S, Thangaraj M, Lokesh N, Anas SM, Yogeswaran P, Hema S (2017) Bio-enzymatic stabilization of a soil having poor engineering properties. Int J Civ Eng 15(3):401–409

16.

Almajed A, Abbas H, Arab M, Alsabhan A, Hamid W, Al-Salloum Y (2020) Enzyme-induced carbonate precipitation (EICP)-based methods for ecofriendly stabilization of different types of natural sands. J Clean Prod 274:122627

17.

Meyer F, Bang S, Min S, Stetler L, Bang S (2011) Microbiologically-induced soil stabilization: application of Sporosarcina pasteurii for fugitive dust control. In: Geo-frontiers: advances in geotechnical engineering, pp 4002–4011

18.

Almajed A, Khodadadi Tirkolaei H, Kavazanjian E Jr (2018) Baseline investigation on enzyme-induced calcium carbonate precipitation. J Geotech Geoenviron Eng 144(11):04018081

19.

Cui MJ, Lai HJ, Hoang T, Chu J (2020) One-phase-low-pH enzyme induced carbonate precipitation (EICP) method for soil improvement. Acta Geotech 15(7):1–9

20.

Hamdan NM (2015) Applications of enzyme induced carbonate precipitation (EICP) for soil improvement. Doctoral dissertation, Arizona State University

21.

Kavazanjian Jr E, Almajed A, Hamdan N (2017) Bio-inspired soil improvement using EICP soil columns and soil nails. In: Grouting 2017, pp 13–22

22.

Carmona J (2016) Use of biotecnology for soil stabilization: Enzymatic CaCO3 precipitation. M.Sc. dissertation, University of Coimbra, Coimbra, Portugal (in Portuguese)

23.

ASTM D (2006) Standard test method for unconfined compressive strength of cohesive soil. American Society for Testing and Materials, West Conshohocken

24.

Knorr B (2014) Enzyme-induced carbonate precipitation for the mitigation of fugitive dust. Thesis, Arizona State University
About this article
Cite this article
Baziar, M.H., Sanaie, M. & Amirabadi, O.E. Mitigation of Dust Emissions of Silty Sand Induced by Wind Erosion Using Natural Soybean Biomaterial. Int J Civ Eng 19, 595–606 (2021). https://doi.org/10.1007/s40999-020-00587-4
Received:

Revised:

Accepted:

Published:

Issue Date:
Keywords
Dust emission

Wind erosion

EICP

Soil treatment

Water erosion

Soybean