Abstract
In this study, two-way cyclic lateral loading tests with constant displacement amplitude are performed to investigate the effect of cross section geometry and modulus of elasticity on the behavior of model piles in sand. Various laboratory pile models were tested in a metal test tank equipped with various facilities including cyclic lateral loading system, devices to measure displacement and pressure along the pile, an inverter to adjust or change loading frequency, sand raining system, etc. Different cross section geometries, including square and circular shapes, were used for piles made of polyethylene and polyurethane. A loading frequency of 0.29 Hz and a total number of 145 loading cycles were used for all the tests. Results revealed that in constant displacement amplitude tests, both lateral load resistance of the pile head and stiffness of the pile–soil system increase with an increase in the number of loading cycles; however, the rate of increase gradually decreases. It is shown that these variations may be formulated using a logarithmic relationship, which includes a degradation parameter reflecting rate of these changes. For tests with different pile cross section shapes, dimensions, and moduli of elasticity, the degradation parameter varied from 0.08 to 0.18. The pile head load and stiffness of the pile–soil system at the end of the 145th cycle varied from 1.4 to 1.85 times those of the first cycle for different section shapes, dimensions, and moduli of elasticity.
Access options
Buy single article
Instant access to the full article PDF.
USD 39.95
Price includes VAT (USA)
Tax calculation will be finalised during checkout.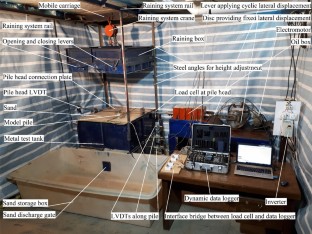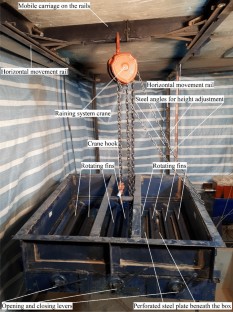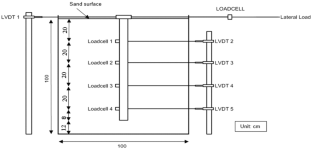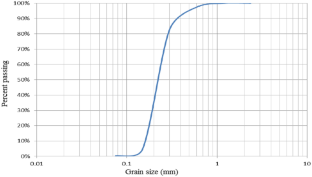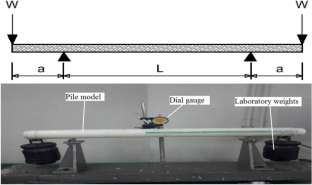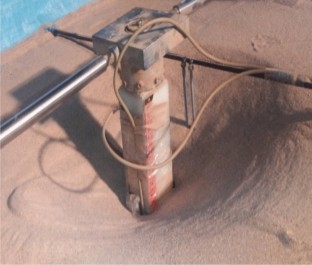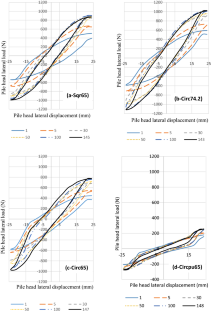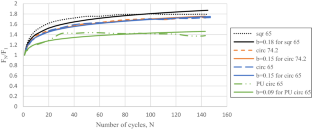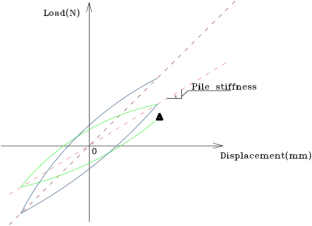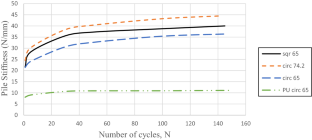 References
1.

Briaud J, Smith T, Tucker L (1985) A pressuremeter method for laterally loaded piles. Proceeding of the eleventh international conference on soil mechanics and foundation engineering, San Francisco, pp 1353–1356

2.

Reese LC, Cox WR, Koop FD (1974) Analysis of laterally loaded piles in sand. Proceeding of 6th annual offshore technology conference, Vol. 2, Houston, pp 473–484

3.

API (2010) Recommended practice for planning, designing and constructing fixed offshore platform. Working stress design, RP 2A-WSD, Washington, American Petroleum Institute

4.

DNV (1977) Rules for the design, construction, and inspection of offshore structures. Det Norske Veritas, Hovek, Norway

5.

Bartolomey AA (1994) Forecast sediment pile foundations. Stroiizdat, Moskva, p 390

6.

Long JH, Vanneste G (1994) Effects of cyclic lateral loads on piles in sand. J Geotech Eng 120(1):225–244

7.

Leblanc C, Houlsby GT, Byrne BW (2010) Response of stiff piles in sand to long-term cyclic lateral loading. Geotechnique 60(2):79–90

8.

Peng J, Clarke BG, Rouainia M (2011) Increasing the resistance of piles subject to cyclic lateral loading. J Geotech Geoenviron Eng 137(10):977–982

9.

Garnier J (2013) Advances in lateral cyclic pile design. Contribution of the SOLCYP project, Proceedings of the TC 209 work-shop, 18th ICSMGE-design for cyclic loading: piles and other foundations, Paris, pp 59–68

10.

Vahabkashi P, Rahai A, Amirshahkarami A (2014) Lateral behavior of piles with different cross-sectional shapes under lateral cyclic loads in granular layered soils. Int J Civ Eng Trans A Civ Eng 12(1):112–121

11.

Vahabkashi P, Rahai A (2015) Pile head displacements with different cross-sectional shapes under lateral loading and unloading in granular soils. Scientia Iranica, Trans A Civ Eng 22(3):629–638

12.

Korovkin VS, Ragulin KG, Kuzina AD, Smolenkova AV, Orlova NS (2017) Computation of mooring quay in the form of pile grillage. Mag Civ Eng 71(3):10–20

13.

Korovkin VS (2017) Engineering kinematic theory in application to the calculation of pile foundations. Mag Civ Eng 70(2):57–70

14.

Shooshpasha I, Kharun M, Hasanzadeh A (2017) Evaluation of end bearing capacity of drilled shafts in sand by numerical and spt-based methods. J Fundam Appl Sci 9(7S):282–295

15.

Reese LC, Wright SJ (1977) Construction procedure and design for axial loading, drilled shaft manual, HDV–22, Implementation Package 77–21, Vol. 1, Implementation Division, US Department of Transportation, McLean, USA

16.

Truong P, Lehane BM (2018) Effects of pile shape and pile end condition on the lateral response of displacement piles in soft clay. Géotechnique 68(9):794–804

17.

Abadie CN, Byrne BW, Houlsby GT (2019) Rigid pile response to cyclic lateral loading: laboratory tests. Géotechnique 69(10):863–876

18.

Frick D, Achmus M (2019) Model tests on the behaviour of monopiles under general cyclic lateral loading. 2nd International conference on natural hazards & infrastructure, Chania, Greece

19.

Darvishi AS, Moradi M, Bahaari MR (2019) Centrifuge modelling of monopiles subjected to lateral loading. Scientia Iranica, Transactions A: Civil Engineering 26(6):3109–3124

20.

Yu G, Gong W, Chen M, Dai G, Liu Y (2017) Prediction and analysis of behaviour of laterally loaded single piles in improved gravel soil. Int J Civ Eng. https://doi.org/10.1007/s40999-018-0372-2

21.

Chen T, Xiao S (2019) An upper bound solution to undrained bearing capacity of rigid strip footings near slopes. Int J Civ Eng. https://link.springer.com/article/10.1007%2Fs40999-019-00463-w

22.

Rosquoet F, Thorel L, Garnier J, Canepa Y (2007) Lateral cyclic loading of sand-installed piles. Soils Found 47(5):821–832

23.

Qin H, Guo W (2016) Response of static and cyclic laterally loaded rigid piles in sand. Mar Georesour Geotechnol 34(2):138–153

24.

Chiou JS, Xu ZW, Tsai CC, Hwang JH (2018) Lateral cyclic response of an aluminum model pile in sand. Mar Georesour Geotechnol 36(5):554–563

25.

Klinkvort RT, Hededal O (2013) Lateral response of monopile supporting an offshore wind Turbine. Proc Inst Civ Eng Geotech Eng 166(2):147–158

26.

Hajialilue-Bonab M, Azarnya-Shahgoli H, Sojoudi Y (2011) Soil deformation pattern around laterally loaded piles. Int J Phys Modell Geotech 11(3):116–125

27.

Tefera TH, Sandven R, Kleppe O (2006) Response of laterally loaded round wooden roadside piles in dense sand. Proceedings of physical modelling in geotechnics (6th ICPMG' 06), Hong Kong, vol. 2, 951–956

28.

Liu J, Yuan B, Mai VT, Dimaano R (2011) Optical measurement of sand deformation around a laterally loaded pile. J Test Eval 39(5):754–759

29.

American Society for Testing and Materials (2007) Standard test method for particle-size analysis of soils. ASTM D 422

30.

American Society for Testing and Materials (2017) Standard practice for classification of soils for engineering purposes (Unified Soil Classification System) ASTM D 2487

31.

Matlock H, Reese LC (1962) Generalized solutions for laterally loaded piles. Trans Am Soc Civ Eng 127(1):1220–1247

32.

Rudolph C, Bienen B, Grabe J (2014) Effect of variation of the loading direction on the displacement accumulation of large-diameter piles under cyclic lateral loading in sand. Can Geotech J 51(10):1196–1206

33.

Klinkvort RT, Hededal O, Springman SM (2013) Scaling issues in centrifuge modelling of monopoles. Int J Phys Modell Geotech 13(2):38–49
About this article
Cite this article
Faresghoshooni, A., Imam, S.M.R. & Mahmoodi, A. Model Testing on the Effects of Section Geometry and Stiffness on the Cyclic Lateral Behavior of Piles in Loose Sand. Int J Civ Eng 19, 563–581 (2021). https://doi.org/10.1007/s40999-020-00548-x
Received:

Revised:

Accepted:

Published:

Issue Date:
Keywords
Cyclic lateral load

Model test

Sand

Pile

Pile cross section

Lateral pile capacity