Abstract
In recent years, it has become increasingly common to strengthen concrete by wrapping carbon fibre reinforced polymer (CFRP) laminates to improve its compressive strength and ductility. However, studies on the durability of CFRP-confined concrete are relatively scarce, which could significantly hinder the application of CFRP in structural reinforcement. An experimental study was conducted to investigate the effect of exposure to natural hydrothermal environment on the confinement system of CFRP-wrapped concrete in this study. Three kinds of specimens were prepared and tested after natural exposure to the subtropical environment in South China, including 35 CFRP flat coupons, 35 epoxy adhesive flat coupons and 60 CFRP-wrapped concrete cylinders. The test parameters included the exposure duration (0, 6, 12, 18 and 30 months) for all specimens and the number of CFRP layers (0, 1, 2 and 3) for the CFRP-wrapped concrete specimens. Based on the experimental results, a compressive strength model for the CFRP-confined concrete exposed to hydrothermal environment was proposed. The results show that hydrothermal environment had a significant effect on the mechanical properties of the epoxy adhesive, but a relatively slight effect on that of the CFRP. Due to the deterioration of the CFRP, the compressive strength of CFRP-wrapped concrete gradually decreased with the increase of exposure duration. After a 30-month exposure, the compressive strength of CFRP-wrapped concrete has a decrease of approximately 10%.
Access options
Buy single article
Instant access to the full article PDF.
USD 39.95
Price includes VAT (USA)
Tax calculation will be finalised during checkout.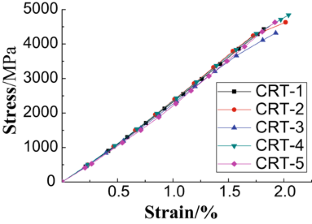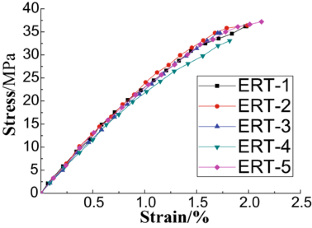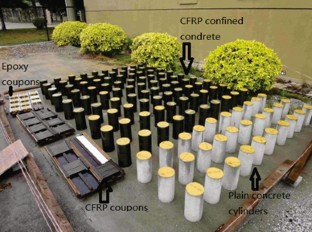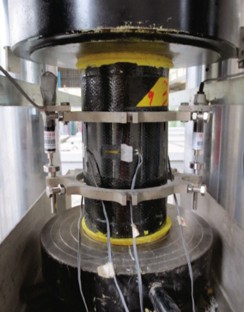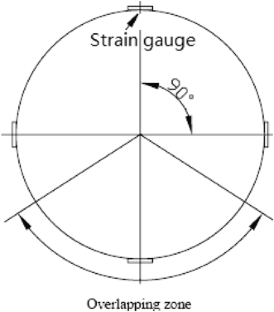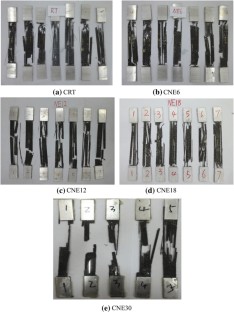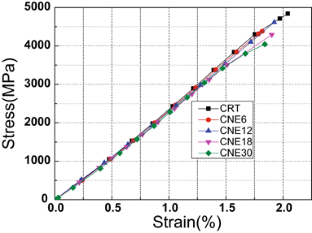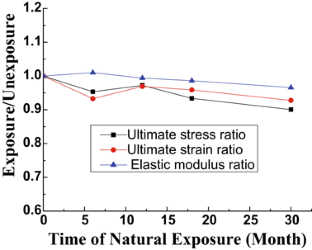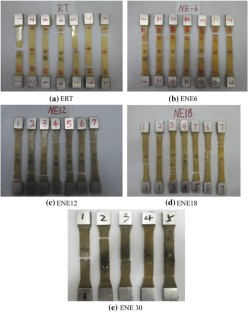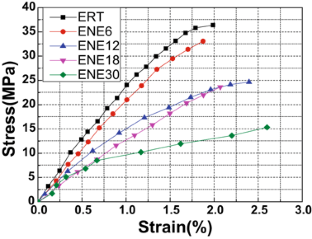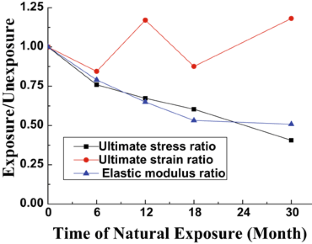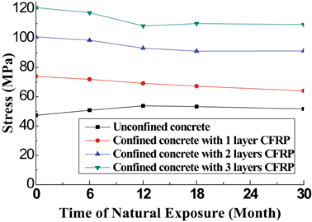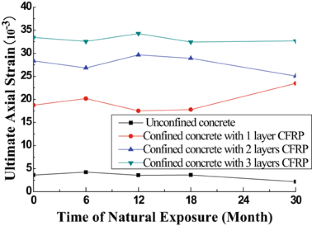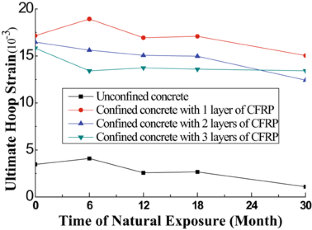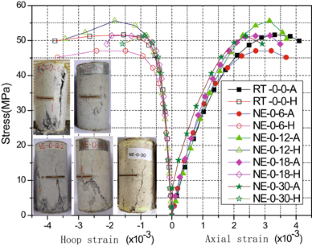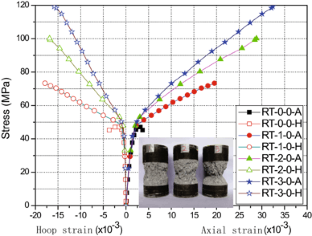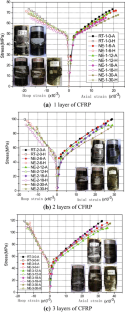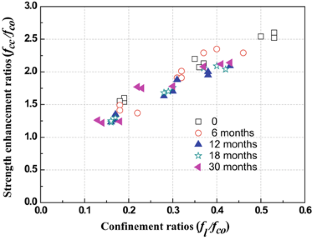 References
1.

Choi HK, Bae BI, Choi CS (2016) Lateral resistance of unreinforced masonry walls strengthened with engineered cementitious composite. Int J Civil Eng 14(6):411–424

2.

Biglari M, Ashayeri I, Bahirai M (2016) Modeling, vulnerability assessment and retrofitting of a generic seismically designed concrete bridge subjected to blast loading. Int J Civil Eng 14(6):379–409

3.

Guo Y, Xie JH, Xie ZH, Zhong J (2016) Experimental study on compressive behavior of damaged normal- and high-strength concrete confined with CFRP laminates. Constr Build Mater 107:411–425

4.

Visintin P, Chen Y, Oehlers DJ (2015) Simulating the behavior of FRP-Confined cylinders using the shear-friction mechanism. J Compos Constr 19(6):04015014

5.

Parvin A, Brighton D (2014) FRP composites strengthening of concrete columns under various loading conditions. Polymers 6:1040–1056

6.

Vincent T, Ozbakkaloglu T (2013) Influence of concrete strength and confinement method on axial compressive behavior of FRP confined high- and ultra high-strength concrete. Compos Part B 50:413–428

7.

Abbasnia R, Holakoo A (2012) An investigation of stress-strain behavior of FRP-confined concrete under cyclic compressive loading. Int J Civil Eng 10(3):201–209

8.

Micelli F, Mazzotta R, Leone M, Aiello MA (2015) Review study on the durability of FRP-confined concrete. J Compos Constr 19(3):04014056

9.

Idridge A, Fam A (2014) Durability of concrete cylinders wrapped with GFRP made from furfuryl alcohol bioresin. J Compos Constr 18(6):04014013

10.

Hanna S, Jones R (1997) Composite wraps for ageing infrastruture: concrete columns. Compos Struct 38(1–4):57–64

11.

Toutanji HA, Balaguru P (1998) Durability characteristics of concrete columns wrapped with FRP tow sheets. J Mater Civ Eng 10(1):52–57

12.

Kong A, Fam A Z, Green M (2008) Freeze-thaw behavior of FRP-confined concrete under sustained load. In: 7th Int. Symp. of the Fiber-Reinforced Polymer Reinforcement for Reinforced Concrete Structures (FRPRCS-7), Kansas City, Missouri; November 6–9, 2005, pp 705–722

13.

Erdil B, Akyuz U, Yaman IO (2008) Behaviour of CFRP reinforced low-strength concretes subjected to temperature changes and sustained loads. In 4th World Conference on Earthquake Engineering, Beijing, China

14.

Karbhari VM, Rivera J, Dutta PK (2000) Effect of short-term freeze-thaw cycling on composite confined concrete. J Compos Constr 4(191):191–197

15.

Karbhari VM (2002) Response of fiber reinforced polymer confined concrete exposed to freeze and freeze-thaw regimes. J Compos Constr 6(1):35–40

16.

Green MF, Bisby LA, Fam AZ, Kodur VKR (2006) FRP confined concrete columns: Behaviour under extreme conditions. Cem Concr Compos 28(10):928–937

17.

Micelli F, Aiello MA, Maffezzoli A, Modarelli R (2008) Mechanical behaviour of GFRP-confined concrete after exposure tosevere conditions. In: 11DBMC Conference on Durability of Building Materials and Components, Istanbul, Turkey, pp 577–584

18.

Toutanji HA (1999) Durability characteristics of concrete columns confined with advanced composite materials. Compos Struct 44(2–3):155–161

19.

Gharachorlou A, Ramezanianpour AA (2010) Durability of concrete cylinder specimens strengthened with FRP laminates under penetration of chloride ions. Int J Civil Eng 8(4):327–336

20.

Toutanji HA, Deng Y (2002) Strength and durability performance of concrete axially loaded members confined with AFRP composite sheets. Compos Part B 33(4):255–261

21.

Belarbi A, Myers JJ, Chandrashekhara K, Watkins SE, Bae SW (2004) Structural integrity of RC columns wrapped with FRP sheet subjected to various environmental conditions including corrosion. Research Report: RDT 04–021, Missouri Department of Transportation

22.

Belarbi A, Bae SW (2007) An experimental study on the effect of environmental exposures and corrosion on RC columns with FRP composite jackets. Compos Part B 38(5–6):674–684

23.

GB50608-2010 (2010) Technical code for infrastructure application of FRP composites. China Metallurgical Construction Association, China

24.

ACI 440.2R-08 (2008) Guide for the design and construction of externally bonded FRP systems for strengthening concrete structures. ACI Committee, USA

25.

HB 305-2008 (2008) Design handbook for RC structures retrofitted with FRP and metal plates: beams and slabs. Standards Australia Limited, Australia

26.

CNR-DT 200/2004 (2004) Guide for the design and construction of externally bonded FRP systems for strengthening existing structures. Advisory Committee on Technical Recommendations for Construction, Italy;

27.

Tasdemir MA, Tasdemir C, Jefferson AD, Lydon FD, Barr BIG (1998) Evaluation of strains at peak stresses in concrete: a three-phase composite model approach. Cem Concr Compos 20(4):301–318

28.

Ozbakkaloglu T, Lin JC, Vincent T (2013) FRP-Confined concrete in circular sections: review and assessment of stress-strain models. Eng Struct 49:1068–1088
Acknowledgements
The authors gratefully acknowledge the financial support provided by the National Natural Science Foundation of China (No. 11372076 and No. 11672076), the Foundation of Guangdong Provincial Department of Transportation (No. 201402027), the Science and Technology Planning Project of Guangzhou City (No. 201510010042 and No.201510010096), the Rolling Project of Colleges and Universities Engineering Center in Guangdong Province (No. 13ZK0403) and the Science and Technology Planning Project of Guangdong Province (No. 2014A010105044).
Ethics declarations
Conflict of interest
The authors declare no competing financial interests.
About this article
Cite this article
Xie, Z., Xie, J., Guo, Y. et al. Durability of CFRP-Wrapped Concrete Exposed to Hydrothermal Environment. Int J Civ Eng 16, 527–541 (2018). https://doi.org/10.1007/s40999-017-0159-x
Received:

Revised:

Accepted:

Published:

Issue Date:
Keywords
Durability

Carbon fibre reinforced polymer (CFRP)

Hydrothermal environment

Natural exposure

Confined concrete