Abstract
In the present study, the effect of carbon black (CB) as an additive on resistance of bitumen to delay or prevent rutting and low temperature cracking was investigated. For this purpose, different amounts of CB (0, 5, 10, and 15 wt%) were added into bitumen with PG 58-28. Conventional tests (penetration, softening point, Fraass breaking point, ductility, and kinematic viscosity) and Superpave binder tests (rotational viscosity, dynamic shear rheometer, and bending beam rheometer test) were carried out to determine the physical and rheological properties of pure and modified bitumens. In addition, high and low temperature performance grades of pure and modified bitumens were identified according to Superpave binder specification. The results indicated that the addition of CB increased the stiffness and resistance of bitumen to rutting at high temperatures and resistance to thermal cracking at low temperatures of bitumen. Finally, the bitumen becomes more elastic and less susceptible to temperature changes.
Access options
Buy single article
Instant access to the full article PDF.
USD 39.95
Price includes VAT (USA)
Tax calculation will be finalised during checkout.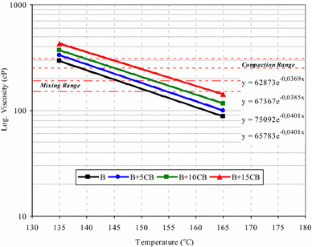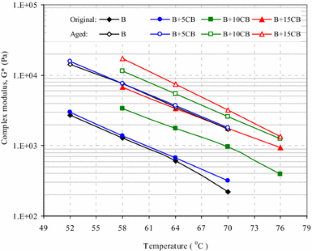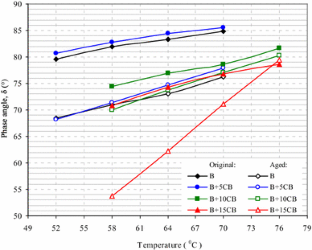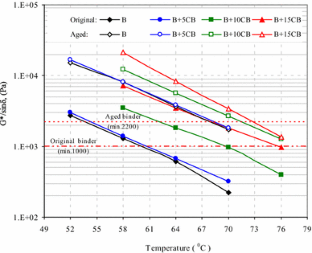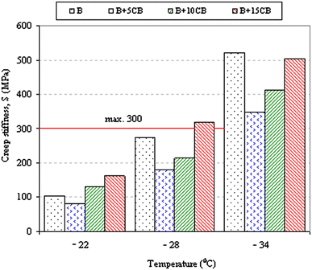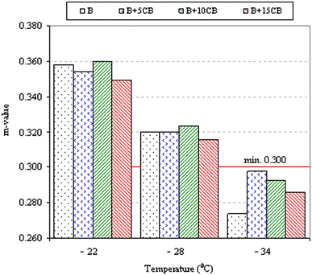 References
1.

Carreau PJ, Bousmina M, Bonniot F (2000) The viscoelastic properties of polymer-modified asphalt. Can J Chem Eng 3(78):495–502

2.

Yousefi AA, Ait-Kadi A, Roy C (2000) Composite asphalt binders: effect of modified RPE on asphalt. J Mater Civil Eng 2(12):113–123

3.

Johansson LS, Isacsson U (1998) Effect of filler on low temperature physical hardening of bitumen. Constr Build Mater 8(12):463–470

4.

Ait-Kadi A, Brahimi B, Bousmina M (1996) Polymer blends for enhanced asphalt binders. Polym Eng Sci 12(36):1724–1733

5.

Li X, Shan L, Tan Y (2015) Analysis of different indices for high- and low-temperature properties of asphalt binder. Constr Build Mater 83:70–76

6.

Ameri M, Mansourian A, Ashani SS, Yadollahi G (2011) Technical study on the iranian gilsonite as an additive for modification of asphalt binders used in pavement construction. Constr Build Mater 3(25):1379–1387

7.

Isacsson U, Lu X (1995) Testing and Appraisal of polymer modified road bitumens-state of the art. Mater Struct 28:139–159

8.

Qadir A (2014) Rutting performance of polypropylene modified asphalt concrete. Int J Civil Eng 3(12):304–312

9.

Ma T, Zhong Y, Tang T, Huang X (2016) Design and evaluation of heat-resistant asphalt mixture for permafrost regions. Int J Civil Eng 14(5):339–346

10.

Ma T, Wang H, Zhao Y, Huang X, Wang S (2016) Laboratory investigation of crumb rubber modified asphalt binder and mixtures with warm-mix additives. Int J Civil Eng 1–10. doi:10.1007/s40999-016-0040-3

11.

Lei Z, Bahia H, Yi-qiu T (2015) Effect of bio-based and refined waste oil modifiers on low temperature performance of asphalt binders. Constr Build Mater 86:95–100

12.

Li R, Karki P, Hao P, Bhasin A (2015) Rheological and low temperature properties of asphalt composites containing rock asphalts. Constr Build Mater 96:47–54

13.

Hong-liang Z, Man-man S, Shi-feng Z, Yong-ping Z, Zeng-ping Z (2016) High and low temperature properties of nano-particles/polymer modified asphalt. Constr Build Mater 114:323–332

14.

Puga KLNN, Williams RC (2016) Low temperature performance of laboratory produced asphalt rubber (AR) mixes containing polyoctenamer. Constr Build Mater 112:1046–1053

15.

Benson FC, Martinez DF (1984) Evaluation of several mineral fillers for use in item 340 hot-mix asphaltic concrete. Report FHWA/TX/85/1. Texas Transportation Institute

16.

Roberts FL, Kandhal PS, Brown ER, Lee DY, Kennedy TW (1996) Hot mix asphalt materials, mixture design and construction. NAPA Education Foundation

17.

Roque R, Birgisson B, Tia M, Kim B, Cui Z (2004) Guidelines for use of modifiers in superpave mixtures: evaluation of ground-tire-rubber (GTR). Report No. 4910-4504-718-12, University of Florida

18.

Zeng Y, Lovell CW (1996) Using pyrolized carbon black (PCB) from waste tires in asphalt pavement (part 2, asphalt binder). Report No. FHWA/IN/JHRP-95/12. Perdue University

19.

Krueger QJ (2002) Electromagnetic interference and radio frequency interference shielding of carbon-filled conductive resins. MS thesis, Michigan Technological University

20.

Konell JP (2002) Characterization and tensile modulus modeling of conductive resins. Doctor of philosophy, Michigan Technological University

21.

Zhang J, Wang J, Wua Y, Wang Y, Wang Y (2009) Evaluation of the improved properties of SBR/weathered coal modified bitumen containing carbon black. Constr Build Mater 23:2678–2687

22.

Park T, Lovell C (1996) Using pyrolized carbon black (PCB) from waste tires in asphalt pavement (part 1, limestone aggregate). Report No. FHWA/IN/JHRP-95/10. Perdue University

23.

Martin KG (1962) Preliminary microviscometer studies of carbon black (rubber) bitumen dispersions. In: Proceedings Australian Road Research Board, 1(1)

24.

Fitzgerald RL (2000) Novel applications of carbon fiber for hot mix asphalt reinforcement and carbon-carbon pre-forms. MS thesis, Michigan Technological University

25.

Rostler FS, White RM, Dannenberg EM (1977) Carbon black as a reinforcing agent for asphalt. AAPT 46:376–410

26.

Terrel RL, Rimstrington S (1980) Evaluation of wood lignin as a substitute or extender for asphalt. Report FHWA/RD-80/125, FHA

27.

Wallerga BA, Gridley PF (1980) Carbon black reinforcement of asphalt in paving mixtures. Am Soc Test Mater Spec Tech Pub 724:110–128

28.

Yao Z, Monismith LC (1986) Behavior of asphalt mixtures with carbon black reinforcement. AAPT 55:564–585

29.

Button JW, Little DN, Kim Y, Ahmed J (1987) Mechanistic evaluation of selected asphalt additives. Proc Assoc Asphalt Paving Technol 56:62–90

30.

Jennings PW, Pribanic JAS, Smith J, Mendes TM (1988) Predicting the Performance of Montana Test Sections by Physical and Chemical Testing. TRR 1171, TRB, National Research Council, p 59–65

31.

Khosla NP (1991) Effect of the use of modifiers on performance of asphaltic pavements. TRB, Transportation Research Record, No. 1317, p 10–22

32.

Yamaguchi K, Sasaki I, Nishizaki I, Meiarashi S, Moriyoshi A (2005) Reinforcing effects of carbon black on asphalt binder for pavement. J Jpn Petrol Inst 48(6):373–379

33.

Ahmedzade P, Geçkil T (2007) Influence of carbon black on the mechanical and electrical properties of asphalt mixtures. Indian J Eng Mater Sci 14:358–364

34.

Ahmedzade P, Alatas T, Geckil T (2007) The effect of carbon black on the mechanical properties of asphalt mixtures. J Eng Nat Sci Sigma 25(2):179–189

35.

Cong P, Xu P, Chen S (2014) Effects of carbon black on the anti aging, rheological and conductive properties of SBS/asphalt/carbon black composites. Constr Build Mater 52:306–313

36.

Airey GD (2003) Rheological properties of styrene butadiene styrene polymer modified road bitumens. Fuel 82:1709–1719

37.

Read J, Whiteoak D (2003) The shell bitumen handbook, 5th edn. Thomas Telford Services Ltd., London

38.

Firoozifar SH, Foroutan S, Foroutan S (2011) The effect of asphaltene on thermal properties of bitumen. Chem Eng Res Des 89(10):2044–2048

39.

Galooyak SS, Dabir B, Nazarbeygi AE, Moeini A (2010) Rheological properties and storage stability of bitumen/SBS/montmorillonite composites. Constr Build Mater 24:300–307

40.

Roberts FL, Kandhal PS, Brown ER, Lee DY, Kennedy TW (1996) Hot mix asphalt materials, mixture design and construction, 2nd edn. NAPA Education Foundation, Lanham

41.

Yusoff NIM, Shaw MT, Airey GD (2011) Modeling the linear viscoelastic rheological properties of bituminous binders. Constr Build Mater 25:2171–2189

42.

Jones R (1990) Modifiers for asphalt concrete. Air Force Engineering and Services Center, Tyndall Air Force Pure, Report No. ESL-TR-88-32

43.

Wang D, Wayoe HT, Anderson KO (1992) Low temperature properties of asphalt cements and mixtures used in the C-SHRP Lamont Test Road in Alberta. Report No. ABTR/RD/RR-92/02. University of Alberta

44.

Zaniewski JP, Nallamothu SH (2003) Evaluation of binder grades on rutting performance. Asphalt Technology Program Department of Civil and Environmental Engineering Morgantown

45.

Pumphrey ME (2003) Evaluation of performance graded asphalt binder equipment and testing protocol. MS thesis, West Virginia University

46.

Zaniewski JP, Pumphrey ME (2004) Evaluation of performance graded asphalt binder equipment and testing protocol. West Virginia University

47.

Al-Abdul Wahhab HI, Al-Dubabe IA, Asi IM, Ali MF (1998) performance-based characterization of arab asphalt. Build Environ 33(6):375–383

48.

Liu S, Cao W, Fang J, Shang S (2009) Variance analysis and performance evaluation of different crumb rubber modified (CRM) asphalt. Constr Build Mater 23:2701–2708
About this article
Cite this article
Geckil, T., Ahmedzade, P. & Alatas, T. Effect of Carbon Black on the High and Low Temperature Properties of Bitumen. Int J Civ Eng 16, 207–218 (2018). https://doi.org/10.1007/s40999-016-0120-4
Received:

Revised:

Accepted:

Published:

Issue Date:
Keywords
Carbon black

Bitumen

Aging

Rutting resistance

Performance grade