Abstract
As a result of the large quantities of glass residues being generated, research is currently underway for efficient, economic and eco-friendly alternatives, among them the incorporation of recycled glass in mortar as a substitute for natural sand; this work has researched and studied recycled glass substitutions of 0, 15, 30, 60 and 100 %. A basic characterization of both sands was carried out with the aim of comparing both materials (granulometric profiles, density and absorption). Compressive and flexural strength were studied with regard to the mechanical behavior of the mortar in question; regarding deformation, the basic, drying and total shrinkage were determined. The results of the research show that the recycled glass sands are less dense than the standard sand used, and the latter has a higher absorption coefficient. With regard to compressive and flexural strength, the mortars with recycled glass reported lower resistance than the natural sand mortars, with the 15 % recycled glass combination being the closest to the natural mortar. On the other hand, in the case of deformation due to drying shrinkage (the most significant), the recycled mortars showed even more favorable results than the natural mortar; the 100 % glass content had the lowest shrinkage rate in the experimental phase. The study concludes that mortars with 15 % recycled sand may feasibly be used in applications with low mechanical requirements, with their low rates of shrinkage deformation being an additional advantage.
Access options
Buy single article
Instant access to the full article PDF.
USD 39.95
Price includes VAT (USA)
Tax calculation will be finalised during checkout.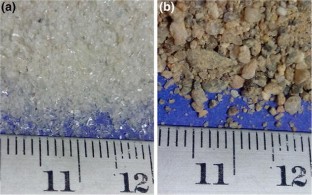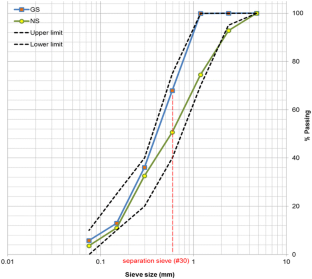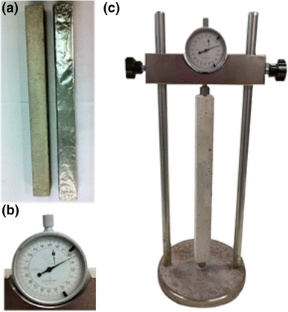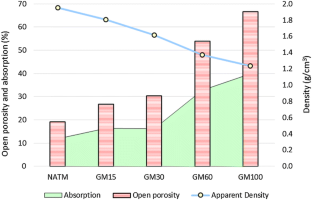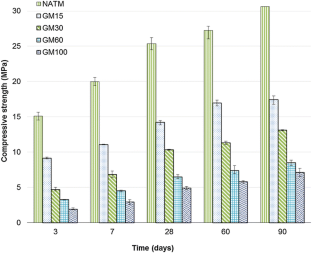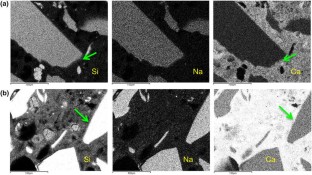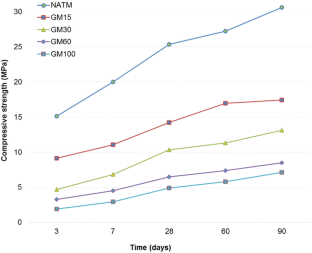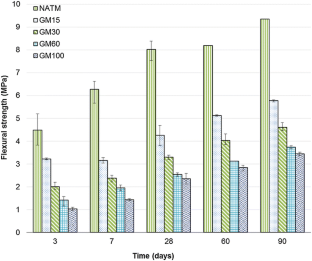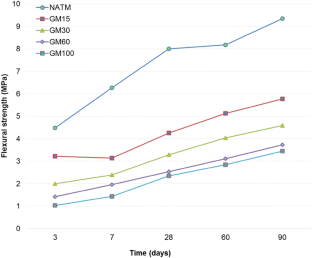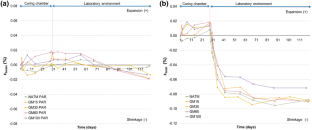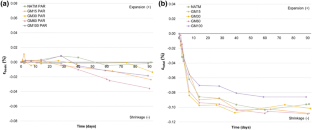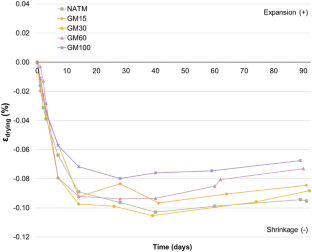 References
1.

Khmiri A, Chaabouni M, Samet B (2013) Chemical behaviour of ground waste glass when used as partial cement replacement in mortars. Constr Build Mater 44:74–80

2.

Shi C, Zheng K (2007) A review on the use of waste glasses in the production of cement and concrete. Resour Conserv Recycl 52(2):234–247

3.

Maghsoodloorad H, Allahverdi A (2016) Efflorescence formation and control in alkali-activated phosphorus slag cement. Int J Civ Eng 14(6):425–438

4.

Allahvedi A, Hashemi H (2015) Investigating the resistance of alkali-activated slag mortar exposed to magnesium sulfate attack. Int J Civ Eng 13(4):379–387

5.

Poon CS, Ling TCB (2010) Use of recycled glass in architectural mortars. J Wuhan Univ Technol 32(17):231–235

6.

Penacho P, Brito J, Veiga MR (2014) Physico-mechanical and performance characterization of mortars incorporating fine glass waste aggregate. Cem Concr Compos 50:47–59

7.

Ling TC, Poon CS (2011) Properties of architectural mortar prepared with recycled glass with different particle sizes. Mater Des 32(5):2675–2684

8.

Pereira-de-Oliveira LA, Castro-Gomes JP, Santos PMS (2012) The potential pozzolanic activity of glass and red-clay ceramic waste as cement mortars components. Constr Build Mater 31:197–203

9.

Shao Y, Lefort T, Moras S, Rodriguez D (2000) Studies on concrete containing ground waste glass. Cem Concr Res 30(1):91–100

10.

Xie Z, Xiang W, Xi Y (2003) ASR potentials of glass aggregates in water-glass activated fly ash and portland cement mortars. J Mater Civ Eng 15(1):67–74

11.

Bhandari PS, Tajne KM (2013) Use of waste glass in cement mortar. Int J Civ Struct Eng 3(4):704–711

12.

Park SB, Lee BC (2004) Studies on expansion properties in mortar containing waste glass and fibers. Cem Concr Res 34(7):1145–1152

13.

Ling TC, Poon CS, Kou SC (2011) Feasibility of using recycled glass in architectural cement mortars. Cem Concr Compos 33(8):848–854

14.

Topçu IB, Boğa AR, Bilir T (2008) Alkali-silica reactions of mortars produced by using waste glass as fine aggregate and admixtures such as fly ash and Li2CO3. Waste Manag 28(5):878–884

15.

Du H, Tan KH (2014) Concrete with recycled glass as fine aggregates. ACI Mater J 111(1):47–58

16.

Karamberi A, Moutsatsou A (2005) Participation of coloured glass cullet in cementitious materials. Cem Concr Compos 27(2):319–327

17.

Ling TC, Poon CS (2011) Utilization of recycled glass derived from cathode ray tube glass as fine aggregate in cement mortar. J Hazard Mater 192(2):451–456

18.

Ling TC, Poon CS (2014) Feasible use of large volumes of GGBS in 100% recycled glass architectural mortar. Cem Concr Compos 53:350–356

19.

Du H, Tan KH (2013) Use of waste glass as sand in mortar: Part II—Alkali—silica reaction and mitigation methods. Cem Concr Compos 35(1):118–126

20.

Matos AM, Sousa-Coutinho J (2012) Durability of mortar using waste glass powder as cement replacement. Constr Build Mater 36:205–215

21.

Ling TC, Poon CS (2012) A comparative study on the feasible use of recycled beverage and CRT funnel glass as fine aggregate in cement mortar. J Clean Prod 29–30:46–52

22.

Ling TC, Poon CS (2012) Effects of particle size of treated CRT funnel glass on properties of cement mortar. Mater Struct 46(1):25–34

23.

Tan KH, Du H (2013) Use of waste glass as sand in mortar: Part I—fresh, mechanical and durability properties. Cem Concr Compos 35(1):109–117

24.

Corinaldesi V, Gnappi G, Moriconi G, Montenero A (2005) Reuse of ground waste glass as aggregate for mortars. Waste Manag 25(2):197–201

25.

Hui Z, Sun W (2011) Study of properties of mortar containing cathode ray tubes (CRT) glass as replacement for river sand fine aggregate. Constr Build Mater 25(10):4059–4064

26.

Jiménez JR, Ayuso J, López M, Fernández JM, Brito J (2013) Use of fine recycled aggregates from ceramic waste in masonry mortar manufacturing. Constr Build Mater 40:679–690

27.

CEDEX (2010) FICHA TÉCNICA 4.1. Residuos de Construcción y Demolición. http://www.cedex.es/NR/rdonlyres/0AF8BEF6-2BE2-4456-AE0C-7181B3A2975B/119974/RESIDUOSDECONSTRUCCIONYDEMOLICION1.pdf. Accessed 7 Nov 2015

28.

Zhao Z, Remond S, Damidot D, Xu W (2015) Influence of recycled concrete aggregates on strength properties of concrete. Constr Build Mater 81:179–186

29.

Gómez-Soberón JMV (2002) Porosity of recycled concrete with substitution of recycled concrete aggregate—an experimental study. Cem Concr Res 32(8):1301–1311

30.

Gómez-Soberón JMV (2003) Relationship between gas adsorption and the shrinkage and creep of recycled aggregate concrete. Cem Concr Aggregates 25(2):1–7

31.

Ling TC, Poon CS, Lam WS, Chan TP, Fung KKL (2012) Utilization of recycled cathode ray tubes glass in cement mortar for X-ray radiation-shielding applications. J Hazard Mater 199–200:321–327

32.

Idir R, Cyr M, Tagnit-Hamou A (2010) Use of fine glass as ASR inhibitor in glass aggregate mortars. Constr Build Mater 24(7):1309–1312

33.

Idir R, Cyr M, Tagnit-Hamou A (2011) Pozzolanic properties of fine and coarse color-mixed glass cullet. Cem Concr Compos 33(1):19–29
Acknowledgments
The authors wish to thank the CONACYT for its doctoral thesis program, the Escuela Politécnica Superior de Edificación de Barcelona-UPC, the Departamento de Construcciones Arquitectónicas II-EPSEB-UPC, the Facultad de Ingeniería Mochis-UAS, as well as the Doctores Jóvenes-UAS program.
Ethics declarations
Funding information
The research was carrying out without external funding.
Disclaimer
The opinions, findings, conclusions, and recommendations expressed in this paper are those of the authors and do not necessarily reflect those of the sponsor.
Conflict of interest
The author declares that there is no conflict of interests regarding the publication of this paper.
About this article
Cite this article
Cabrera-Covarrubias, F.G., Gomez-Soberon, J.M., Almaral-Sanchez, J.L. et al. Mechanical and Basic Deformation Properties of Mortar with Recycled Glass as a Fine Aggregate Replacement. Int J Civ Eng 16, 107–121 (2018). https://doi.org/10.1007/s40999-016-0071-9
Received:

Revised:

Accepted:

Published:

Issue Date:
Keywords
Recycled mortars

Recycled glass materials

Basic and drying shrinkage

Sustainability construction