Abstract
The paper presents results of an experimental investigation carried out on the water permeation properties of self compacting concrete (SCC) containing fine recycled concrete aggregates (FRCA) and coarse recycled concrete aggregates (CRCA) as replacement of fine natural aggregates (FNA) and coarse natural aggregates (CNA), respectively. The replacement levels of CNA with CRCA were kept as 0, 50 and 100 %. For 50 and 100 % replacement of CNA with CRCA, 0, 25 and 50 % FRCA were used in place of FNA. In all the SCC mixes fly ash was used as partial replacement of Portland cement. Properties of fresh SCC were assessed using slump flow test, V-funnel test and L-box test. The water permeation properties of hardened SCC were investigated using initial surface absorption test, water permeability test and capillary suction test. The compressive strength of all the mixes was also determined. The results indicate that increasing the replacement level of CNA with CRCA has been observed to deteriorate the properties of SCC, whereas the replacement of FNA with FRCA up to 25 % has been found to improve the water permeation properties and compressive strength of SCC mixes up to some extent. Results of this investigation lend support to the use of recycled aggregates in SCC.
Access options
Buy single article
Instant access to the full article PDF.
USD 39.95
Price includes VAT (USA)
Tax calculation will be finalised during checkout.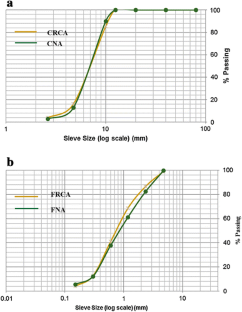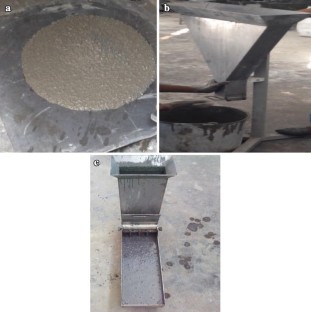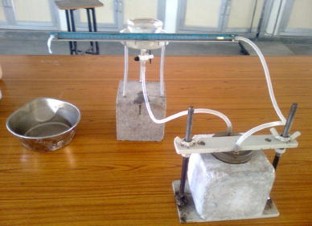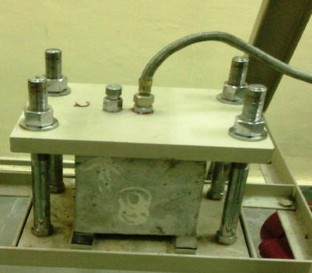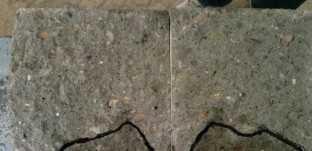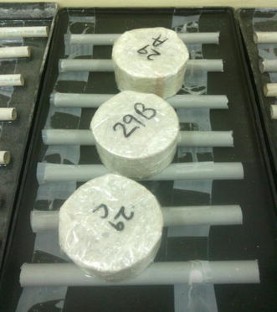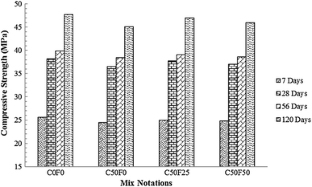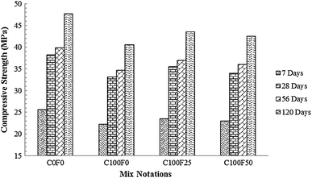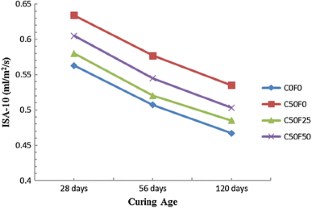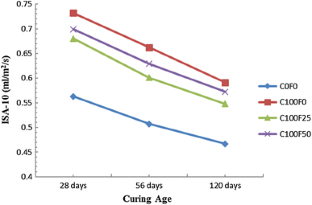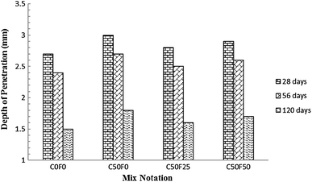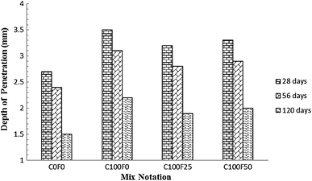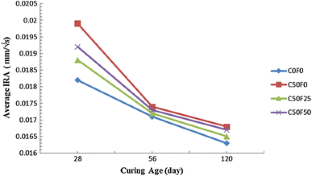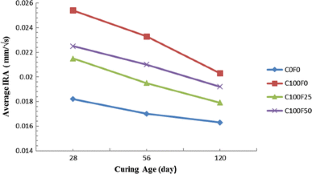 References
1.

ACI Committee 237 (2007) Self consolidating concrete. ACI Emerg Technol Ser 237R-07:1–30

2.

Okamura H, Ouchi M (2003) Self-compacting concrete. J Adv Concr Technol 1(1):5–15

3.

Ghosh S, Ghosh S, Aich A (2011) Rebuilding C&D waste recycling efforts in India. Waste Manag World 12:5

4.

Cement & Concrete Association of New Zealand (2011) Best practice guide for the use of, recycled aggregates in new concrete. CCANZ Technical report TR 14

5.

Katz A (2003) Properties of concrete made with recycled aggregate from partially hydrated old concrete. Cem Concr Res 33(5):703–711

6.

Poon CS, Shui ZH, Lam L (2004) Effect of microstructure of ITZ on compressive strength of concrete prepared with recycled aggregates. Constr Build Mater 18(6):461–468

7.

Rahal K (2007) Mechanical properties of concrete with recycled coarse aggregate. Build Environ 42(1):407–415

8.

Yang KH, Chung HS, Ashour AF (2008) Influence of type and replacement level of recycled aggregates on concrete properties. ACI Mater J 105(3):289–296

9.

Dhir RK, Limbachya MC, Leelawat T (1999) Suitability of recycled concrete aggregate for use in BS 5328 designated mixes. Proc Inst Civ Eng Struct Build 134(3):257–274

10.

Xiao J, Li W, Poon C (2012) Recent studies on mechanical properties of recycled aggregate concrete in China—a review. Sci China Technol Sci 55(6):1463–1480

11.

Hansen TC (1992) Recycling of demolished concrete and masonry. Taylor and Francis, London

12.

Kamal M, Safan M, Etman Z, Abd-elbaki M (2015) Effect of steel fibers on the properties of recycled self-compacting concrete in fresh and hardened state. IJCE 13(4):400–410

13.

Maghsoodloorad H, Allahverdi A (2016) Efflorescence formation and control in alkali-activated phosphorus slag cement. Int J Civ Eng. doi:10.1007/s40999-016-0027-0

14.

Thomas C, Setién J, Polanco JA, Alaejos P, Sánchez De Juan M (2013) Durability of recycled aggregate concrete. Constr Build Mater 40:1054–1065

15.

Zaharieva R, Buyle-Bodin F, Skoczylas F, Wirquin E (2003) Assessment of the surface permeation properties of recycled aggregate concrete. Cem Concr Compos 25(2):223–232

16.

Pereira-de-Oliveira LA, Nepomuceno MCS, Castro-Gomes JP, Vila MFC (2014) Permeability properties of self-compacting concrete with coarse recycled aggregates. Constr Build Mater 51:113–120

17.

Wainwright P, Trevorrow A, Wang Y (1994) Modifying the performance of concrete made with coarse and fine recycled aggregates. Third international RILEM symposium on demolition reuse concrete Mason, pp 319–330

18.

Evangelista L, de Brito J (2007) Mechanical behaviour of concrete made with fine recycled concrete aggregates. Cem Concr Compos 29(5):397–401

19.

Khatib JM (2005) Properties of concrete incorporating fine recycled aggregate. Cem Concr Res 35(4):763–769

20.

Indian Standard 383 (1970) Specification for coarse and fine aggregates from natural sources of concrete. In: Bureau of Indian Standards, Reaffirmed 2002. New Delhi, India, p 19

21.

European SCC Guidelines (2005) The European Guidelines for Self-compacting Concrete, Specification, Production and Use, p 63 (Retrieved May 1, 2011). http://www.efca.info

22.

Indian Standard 516 (1959) Methods of Tests for Strength of Concrete Bureau of Indian Standards New Delhi (India) (Reaffirmed 2004), p 24

23.

British Standard Institution (1996) Recommendations for the determination of the initial surface absorption of concrete BS 1881-208 Testing concrete – Part 208, British Standards Institute, London, p 8

24.

British Standard Institution (2000) Depth of penetration of water under pressure. BS EN 12390-8 Testing hardened concrete- Part 8, British Standards Institute, London, p 6

25.

ASTM International (2013) Standard Test Method for Measurement of Rate of Absorption of Water by Hydraulic-Cement Concretes. ASTM C1585-13. doi:10.1520/C1585-13

26.

Poon C, Qiao X, Chan D (2006) The cause and influence of self-cementing properties of fine recycled concrete aggregates on the properties of unbound sub-base. Waste Manag 26(10):1166–1172
Acknowledgments
The financial assistance in the form of fellowship to the first author from the Ministry of Human Resource Development (MHRD), Government of India is appreciatively acknowledged. The authors also acknowledge the support of the staff of Structures Testing Laboratory at Dr B R Ambedkar National Institute of Technology, Jalandhar, India during the experimentation work reported in the paper.
Ethics declarations
Funding information
Ministry of Human Resource Development (MHRD), Government of India.
About this article
Cite this article
Kapoor, K., Singh, S.P. & Singh, B. Water Permeation Properties of Self Compacting Concrete Made with Coarse and Fine Recycled Concrete Aggregates. Int J Civ Eng 16, 47–56 (2018). https://doi.org/10.1007/s40999-016-0062-x
Received:

Revised:

Accepted:

Published:

Issue Date:
Keywords
Coarse recycled concrete aggregates

Fine recycled concrete aggregates

Fly ash

Permeation properties

Self compacting concrete