Abstract
In this study, the shear strength parameters of the Kaolinite clay, as the control material, and the Kaolinite clay reinforced by different percentages of two different types of crumb rubber content have been evaluated. The consolidated drained and unconsolidated undrained triaxial and California bearing ratio tests have been conducted on the control and crumb rubber reinforced soils. Addition of crumb rubber would improve shear strength parameters such as cohesion, friction and dilation angles, stiffness and the ductility of the reinforced soil. 5, 10 and 15 % (by the weight of dry soil) of crumb rubber content were used in this study which were undergone confining stress levels of 100, 200 and 300 kPa and an optimum crumb rubber content is found, which results in the maximum bearing capacity of the soil. Also, due to the non-linearity of the failure mode of reinforced soil and inadequacy of Mohr–Columb envelope for describing the behaviour, a failure mode is proposed for the clay soils reinforced by crumb rubber. This failure criterion is useful for failure envelope of clay-rubber matrix.
Access options
Buy single article
Instant access to the full article PDF.
USD 39.95
Price includes VAT (USA)
Tax calculation will be finalised during checkout.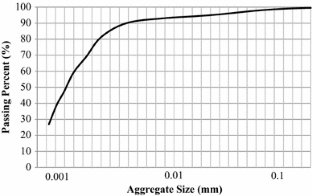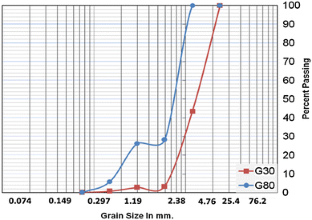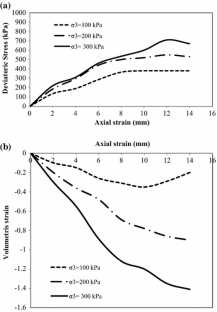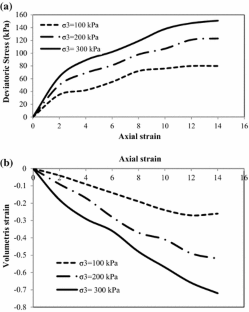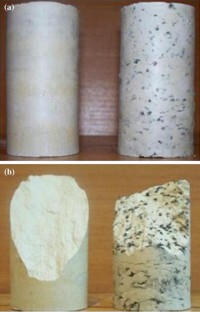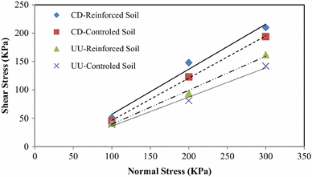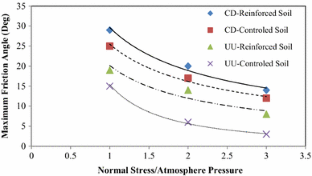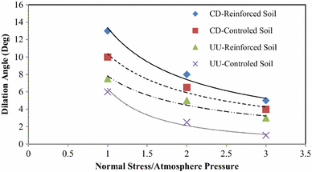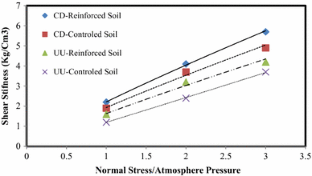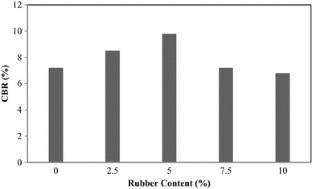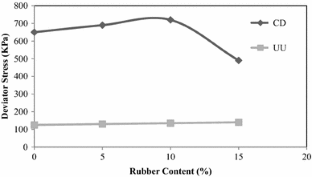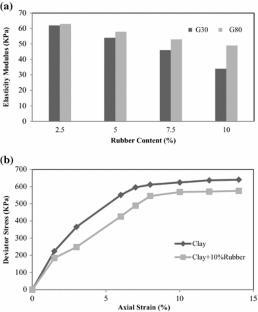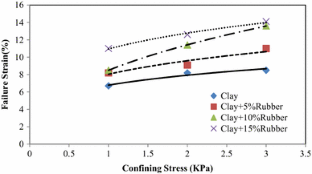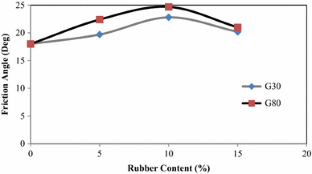 References
1.

Yoon YW, Cheon S, Kang D (2004) Bearing capacity and settlement of tire-reinforced sands. Geotext Geomemberanes 22:439–453

2.

Youwai S, Bergado T (2004) Numerical analysis of reinforced wall using ruber tire chips-sand mixture as backfill material. Comput Geotech 31:103–114

3.

Zornberg JG, Cabral AR, Viratjandr C (2004) Behaviour of tire shred-sand mixture. Can Geotech J 41:227–241

4.

Ghazavi M (2004) Shear characteristics of sand-mixed with granular rubber. Geotech Geol Eng 22:401–416

5.

Mandal J, Kumar S, Meena C (2005) Centrifuge modeling of reinforced soil slopes using tire chips. Slopes and retaining structures under seismic and static conditions. doi:10.1061/40787(166)7

6.

Ghazavi M, Amel Sakhi M (2005) Influence of optimized tire shreds on shear strength parameters of sand. Int J Geomech ASCE 5(1):58–65

7.

Gotteland, P. Lirigm (2005) Strength characteristics of Tyre chips-sand mixtures. Polytech' Grenoble Joseph Fourier University, Maison des Géosciences, BP 38041 Grenoble cedex 9, France

8.

Hataf N, Rahimi MM (2006) Experimental investigation of bearing capacity of sand reinforced with randomly distributed tire shreds. Constr Build Mater 20:910–916

9.

Akbulut S, Arasan S, Kalkan E (2007) Modification of clayey soils using scrap tire rubber and synthetic fibers. Appl Clay Sci 38:23–32

10.

Tsang H-H, Lam TKN (2008) Rubber-soil CUSHION for earthquake protection. Geotech Test J 19(3):297–304

11.

Prasad DSV, Raju GVR (2009) Performance of waste tyre rubber on model flexible pavement. ARPN J Eng Appl Sci 4(6):164–168

12.

Guler E, Enunlu KA (2009) Mechanical properties of granular rubber–sand mixtures determined by triaxial test. Department of Civil Engineering, Boğaziçi University, Turkey

13.

Kalkan E (2013) Preparation of scrap tire rubber fiber–silica fume mixtures formodification of clayey soils. Appl Clay Sci 80:117–125

14.

Kobayashi M, Issa UH, Ahmed A (2015) On the compressive strength and geo-environmental properties of MC-clay soil treated with recycled bassanite. IJCE 13(1):54–61

15.

Mojezi M, Jafari M (2015) Effects of mean net stress and cyclic behaviour of normally consolidated unsaturated kaolin. IJCE 13:3 (4B)
About this article
Cite this article
Tajdini, M., Nabizadeh, A., Taherkhani, H. et al. Effect of Added Waste Rubber on the Properties and Failure Mode of Kaolinite Clay. Int J Civ Eng 15, 949–958 (2017). https://doi.org/10.1007/s40999-016-0057-7
Received:

Revised:

Accepted:

Published:

Issue Date:
Keywords
Clay soil

Reinforced clay

Waste crumb rubber

Triaxial test

CBR test