Abstract
The geometric design of a road based on consistency implies that this should not violate driver expectations. Although there are different methods for estimating consistency, the most used have been those based on the operating speed of vehicles. This is due to its relationship with accidents. Road alignments which cause marked differences in vehicle speeds favour a greater accident rate. In this research, local approaches to evaluate the consistency of the alignments (tangents, curves) versus global approaches to evaluate an entire stretch of road have been analyzed. Different models have been used to estimate an operating speed of vehicles. The study has focused from a practical point of view using two applications for the evaluation of consistency of a stretch of road. The results show the influence of the choice of the speed model in the level of consistency. In addition, practical issues about how some variables, such as desired speed, posted speed, and design speed, can influence the results that are presented.
Access options
Buy single article
Instant access to the full article PDF.
USD 39.95
Price includes VAT (USA)
Tax calculation will be finalised during checkout.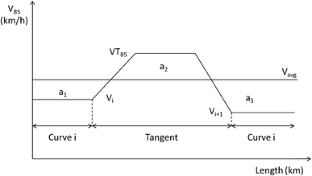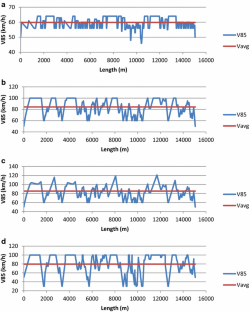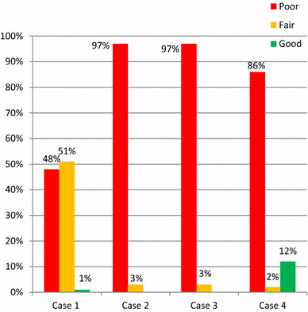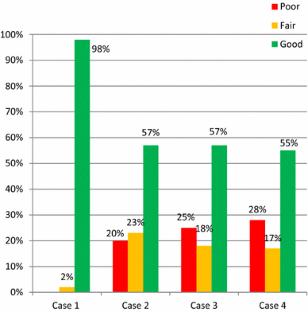 Abbreviations
V 85 :

Operating speed (km/h)

R :

Radius of circular curve (m)

\(\varOmega\)

:

Total deflection angle (°)

Lc:

Length of circular curve (m)

Lt:

Length of tangent (m)

e :

Super-elevation

i :

Longitudinal grade

CCR:

Curvature change rate

D :

Degree of curvature (°)

GCI1 :

Global consistency index of Polus y Mattar-Habib (m/s)

V avg :

Average operating speed (km/h)

GCI2 :

Global consistency index of Garach (m/s)

RHR:

Road hazard rating

PS:

Posted speed (km/h)

VT85 :

Desired speed (km/h)

Vd:

Design speed (km/h)

V 85n :

Operating speed of the element "n"
References
1.

Glennon JC, Harwood DW, Free S, Gray C (1978) Highway design consistency and systematic design related to highway safety. Transp Res Rec 681:77–88

2.

Lamm R, Choueiri EM, Hayward JC, Paluri A (1988) Possible design procedure to promote design consistency in highway geometric design on two-lane rural roads. Transp Res Rec 1195:111–122

3.

Voigt A (1996) Evaluation of alternative horizontal curve design approaches on rural two-lane highways. Texas Transportation Institute (TTI), College Station, TX, USA, Report No. TTI-04690-3

4.

Oña J, Garach L, Calvo F, García-Muñoz T (2014) Relationship of predicted speed reduction on horizontal curves and safety in two-lane rural roads in Spain. J Transp Eng 140(3):04013015

5.

Wu K-F, Donnell ET, Himes SC, Sasidharan L (2013) Exploring the association between traffic safety and geometric design consistency based on vehicle speed metrics. J Transp Eng 139(7):738–748

6.

Taragin A (1954) Driver performance on horizontal curves. In: Proceedings of the 33rd Annual Meeting of the Highway Research Board, National Research Council, Washington, DC, pp. 446–466

7.

McLean J (1979) An alternative to the design speed concept for low speed alignment design. Transp Res Rec 702:55–63

8.

Lamm R, Choueiri EM (1987) Recommendations for evaluating horizontal design consistency based on investigations in the State of New York. Transp Res Rec 1122:68–78

9.

Kanellaidis G, Golias J, Efstathiadis S (1990) Drivers' speed behaviour on rural road curves. Traffic Eng Control 31(7/8):414–415

10.

Krammes RA, Brackett RQ, Shafer MA, Ottesen JL, Anderson IB, Fink KL, Collins KM, Pendleton OJ, Messer VJ (1995) Horizontal alignment design consistency for rural two-lane highways. Federal Highway Administration, Washington, DC, Report No. FHWARD-94-034

11.

Fitzpatrick K, Elefteriadou I, Harwood DW, Collins JM, McFadden J, Anderson IB, Krammes RA, Irizarry N, Parma KD, Bauer KM, Passetti K (2000) Speed prediction for two-lane rural highways. Federal Highway Administration, Washington, DC, Report No. FHWA-RD-99-171

12.

Ottesen JL, Krammes RA (2000) Speed-profile model for a design-consistency evaluation procedure in The United States. Transp Res Rec 1701(1):76–85

13.

Castro M, Iglesias L, Rodriguez-Solano R, Sanchez JA (2008) Highway safety analysis using geographic information systems. Proc ICE Transp 161(2):91–97

14.

Pérez Zuriaga AM, García García A, Camacho Torregrosa FJ, D'Attoma P (2010) Modelling operating speed and deceleration on two-lane rural roads with global positioning system data. Transp Res Rec 2171:11–20

15.

Memon RA, Khaskheli GB, Dahani MA (2012) Estimation of operating speed on two lane two way roads along N-65 (SIBI–Quetta). Int J Civil Eng 10(1):25–31

16.

Castro M, Pardillo-Mayora JM, Jurado R (2013) Development of a local operating speed model for consistency analysis integrating laser, GPS and GIS for measuring vehicles speed. Balt J Road Bridg Eng 8(4):281–288

17.

Lamm R, Choueiri EM, Mailaender T (1990) Comparison of operating speeds on dry and wet pavements of two-lane rural highways. Transp Res Rec 1280:199–207

18.

Castro M, De Santos-Berbel C (2015) Spatial analysis of geometric design consistency and road sight distance. Int J Geogr Inf Sci. doi:10.1080/13658816.2015.1037304

19.

Echaveguren T, Altamira A, Tejeda S, Riveros D (2009) Criterios para el Análisis de Consistencia del Diseño geométrico: Velocidad, Aceleración, Visibilidad y Confiabilidad. XV Congreso Argentino de Vialidad y Tránsito. http://www.eicam.unsj.edu.ar/descargas/059.pdf. Accessed 3 Jun 2010

20.

Federal Highway Administration (2013) IHSDM 2013 user's manual

21.

Castro M, Sánchez JA, Vaquero CM, Iglesias L, Rodríguez-Solano R (2008) Automated GIS-based system for speed estimation and highway safety evaluation. J Comp Civ Eng 22(5):325–331

22.

Polus A, Mattar-Habib C (2004) New consistency model for rural highways and its relationship to safety. Journal of Transportation Engineering 130(3):286–293

23.

Garach Morcillo L (2013) Medida de la consistencia en carreteras convencionales y su relación con la seguridad vial. Aplicación a la provincia de Granada. Doctoral Dissertation. Universidad de Granada
About this article
Cite this article
Luque, R., Castro, M. Highway Geometric Design Consistency: Speed Models and Local or Global Assessment. Int J Civ Eng 14, 347–355 (2016). https://doi.org/10.1007/s40999-016-0025-2
Received:

Revised:

Accepted:

Published:

Issue Date:
Keywords
Roads

Geometric design

Consistency

Traffic safety

Speed model