Abstract
An efficient track maintenance management system depends on a reliable track conditions assessment. The available track condition indices have been developed based on the geometry assessment or visual inspection of the straight tracks and curves structural conditions. The literature review indicates that there is no research on the indices development for the track turnouts and switch conditions, despite their important role in the track performance and safety. It is the critical requirement to develop switch condition index. In response to this requirement, in this study an index for the track turnout and switches structures conditions was developed for the first time. The index was developed based on the results of the filed investigation as well as statistical analyses of engineering experiences and expert judgments using the Delphi method. The applicability and reliability of the new index were evaluated by analyzing the index obtained for 23 turnouts. It was shown that the new index provides a better understanding of the track safety level and cost-effective maintenance and it optimizes repair planning for the turnout and crossing.
Access options
Buy single article
Instant access to the full article PDF.
US$ 39.95
Tax calculation will be finalised during checkout.
Subscribe to journal
Immediate online access to all issues from 2019. Subscription will auto renew annually.
US$ 79
Tax calculation will be finalised during checkout.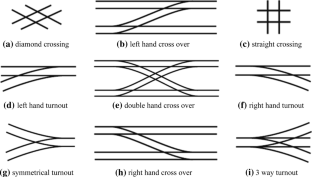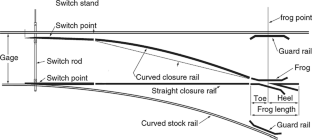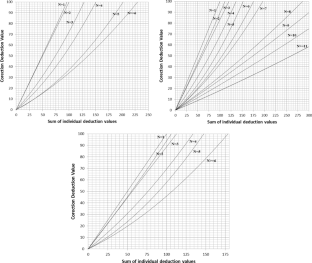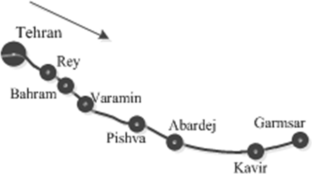 Abbreviations
TGI:

Track geometry index

TQI:

Track quality index

w5 :

Quality measure of line segments

J:

Indicator of a track quality

R2 :

Track roughness index

QI:

Quality index

TSI:

Track structural index

DV:

Deduct value

M:

Mean value

SD:

Standard deviation

SCI:

Condition indices for switch components

FCI:

Condition indices for frog components

GCI:

Condition indices for guardrail components

g :

Total summed deduction values

t :

Total summed deduction values

T:

Type of turnout defect

S:

Defect-severity level
References
Anderson W (2002) "Strategic planning of track maintenance", Thesis (PhD), Royal institute of technology, Department of infrastructure, Borlänge, Sweden

Arenas D, Pellegrini P, Hanafi S, Rodriguez J (2018) Timetable rearrangement to cope with railway maintenance activities. Comput Oper Res 95:123–138

ASTM D6433–11 (1993) Standard practice for roads and parking lots pavement condition index. American society for testing and materials, West Conshohocken

Cannon DF, Edel KO, Grassie SL, Sawley K (2003) Rail defects: an overview. Fatigue Fract Eng Mater Struct 26(10):865–886

Ebersöhn W, Conrad JR (1998) Implementing a railway infrastructure maintenance system. In: Conference on railway engineering proceedings—engineering innovation for a competitive edge, Central Queensland University, Rock-Hampton, Australia, CQU Publication Service Rock-Hampton, Australia pp 395–402

Esveld C (2001) Modern railway Track. Delft university of technology, MRT-Productions, ISBN 90-800324-3-3

Fathollahi-Fard AM, Ahmadi A, Mirzapour Al-e-Hashem SMJ (2020a) Sustainable closed-loop supply chain network for an integrated water supply and wastewater collection system under uncertainty. J Environ Manag 275:111277

Fathollahi-Fard AM, Hajiaghaei-Keshteli M, Mirjalili S (2020b) A set of efficient heuristics for a home healthcare problem. Neural Comput Appl 32(10):6185–6205. https://doi.org/10.1007/s00521-019-04126-8

Fathollahi-Fard AM, Hajiaghaei-Keshteli M, Tavakkoli-Moghaddam R (2020c) Red deer algorithm (RDA): a new nature-inspired meta-heuristic. Soft Comput 24:14637–14665. https://doi.org/10.1007/s00500-020-04812-z

Fathollahi-Fard AM, Hajiaghaei-Keshteli M, Tian G, Li Z (2020d) An adaptive Lagrangian relaxation-based algorithm for a coordinated water supply and wastewater collection network design problem. Inf Sci 512:1335–1359. https://doi.org/10.1016/j.ins.2019.10.062

FRA (2012) "Railroad safety statistics annual report". U.S department of transportation, federal railroad administration 1200 New Jersey Avenue, SE Washington, DC 2059, www.fra.dot.gov

Lanza di Scalea F, Rizzo P, Coccia S, Bartoli I, Fateh M, Viola E, Pascale G (2005) Non-contact ultrasonic inspection of rails and signal processing for automatic defect detection and classification. Insight Non-Destruct Test Cond Monit 47(6):346–353

Liu X, Tian G, Fathollahi-Fard AM, Mojtahedi M (2020) Evaluation of ship's green degree using a novel hybrid approach combining group fuzzy entropy and cloud technique for the order of preference by similarity to the ideal solution theory. Clean Technol Environ Policy 22:493–512. https://doi.org/10.1007/s10098-019-01798-7

Macedo R, Benmansour R, Artiba A, Mladenović N, Urošević D (2017) Scheduling preventive railway maintenance activities with resource constraints. Electron Notes Discret Math 58:215–222

Madejski J, Grabczyk J (2002)."Continuous geometry measurement for diagnostics of tracks and switches". In: Proceedings of the international conference on switches, March, Delft University of Technology, The Netherlands

Mundry JS (2003) Railway Track Engineering. Tata Mc Graw Hill Publishing Co., New Delhi, pp 134–205

Office for research and experiments of the International Union of Railway (ORE) (1981) "Quantitative evaluation of geometry track parameters determining vehicle behavior: introductory study to the problem of assessing track geometry on the basis of vehicle response", The Netherlands

Patrik BELL, Scutelnicu G, Young S (2007) Determinants of success: lessons to be learned from rail transit system development in miami-dade and dallas counties. Transylv Rev Adm Sci 3(19):21–35

Sadeghi JM (2012) Fundamentals of Track Geometry Design (Routes, Yards, Switches and Crossing). Publications of Iran university of science and technology, Tehran, pp 270–285

Sadeghi J, Askarinejad H (2009) Investigation on effects of track structural conditions on railway track geometry deviation. J Rail Rapid 223:426–415. https://doi.org/10.1243/09544097JRRT266

Sadeghi J, Liravi H, Esmaeili MH (2017a) Experimental investigation on loading pattern of railway concrete slabs. Constr Build Mater 153:481–495

Sadeghi J, Zakeri JA, Tolou Kian AR (2017b). Effect of unsupported sleepers on rail track dynamic behaviour. In: Proceedings of the institution of civil engineers-transport. Thomas Telford Ltd. P 1–13

Sadeghi J, Heydari H, Doloei EA (2017c) Improvement of railway maintenance approach by developing a new railway condition index. J Transp Eng Part A Syst 143(8):04017037

Statistical centre of Iran (2017) "Iranian statistical yearbook of the railroad transportation", Date published: First impression, December 2017, Circulation: 300, Serial No: 4948

Unified Facilities Criteria (UFC) (2008) "UFC 4–860–03 railroad track maintenance and safety standards", approved for public release: distribution unlimited, https://dod.wbdg.org/

Uzarski DR, Darter MI, Thompson MR (1993) Development of condition indexes for low-volume railroad trackage. Transp Res Rec J of the Transp Res Board 1381:42–52

Yu H, Dai H, Tian G, Wu B, Xie Y, Zhu Y, Zhang T, Fathollahi-Fard AM, He Q, Tang H (2021) Key technology and application analysis of quick coding for recovery of retired energy vehicle battery. Renew Sustain Energy Rev 135:110129. https://doi.org/10.1016/j.rser.2020.110129

Zhang C, Tian G, Fathollahi-Fard AM, Li Z (2020) Interval-valued intuitionistic uncertain linguistic cloud petri net and its application to risk assessment for subway fire accident. IEEE Trans Autom Sci Eng. https://doi.org/10.1109/TASE.2020.3014907
About this article
Cite this article
Rahmani, A., Seyedhosseini, S.M. Development of Railway Turnout Structural Condition Index. Iran J Sci Technol Trans Civ Eng 45, 219–226 (2021). https://doi.org/10.1007/s40996-020-00512-8
Received:

Accepted:

Published:

Issue Date:
Keywords
Turnouts

Condition index

Visual inspection

Switch