Abstract
Formation of a suitable null basis (static basis) for equilibrium matrix is the main part of finite element analysis via force method. For an optimal analysis, the selected null basis matrices should be sparse, well-structured, e.g., banded, and well-conditioned flexibility matrices. In this paper, an efficient method is developed for the formation of null bases of wedge element, corresponding to highly sparse and banded flexibility matrices. This is achieved by associating special graphs with the FEM and selecting appropriate subgraphs and forming the self-equilibrating systems on these subgraphs. The efficiency of the presented method is illustrated through three examples.
Access options
Buy single article
Instant access to the full article PDF.
US$ 39.95
Tax calculation will be finalised during checkout.
Subscribe to journal
Immediate online access to all issues from 2019. Subscription will auto renew annually.
US$ 79
Tax calculation will be finalised during checkout.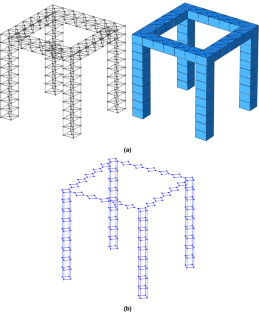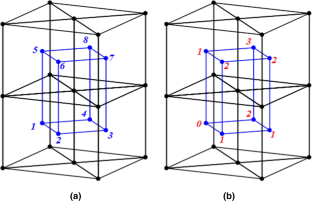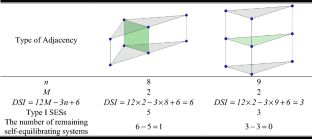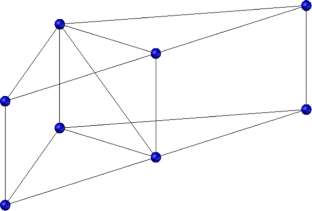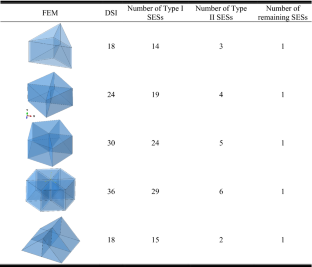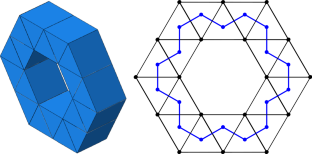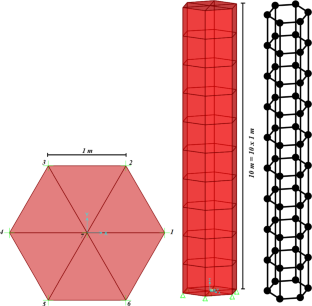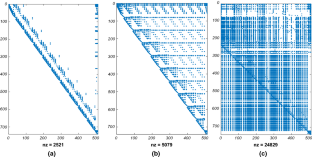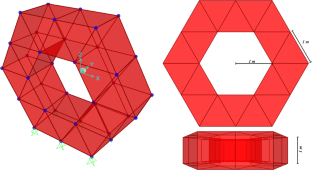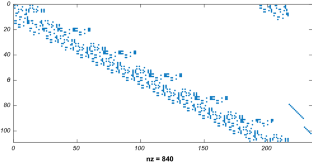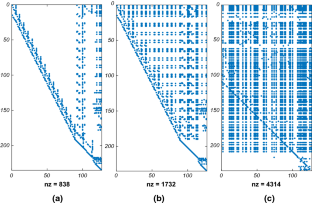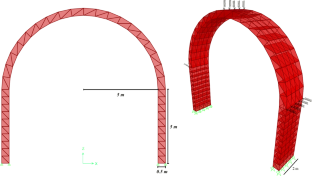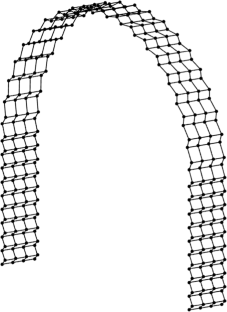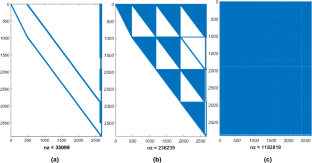 References
Argyris JH, Kelsey S (1960) Energy theorems and structural analysis. Butterworth, London

Coleman TF, Pothen A (1986) The null space problem I; complexity. SIAM J Alg Disc Methods 7:527–537

Coleman TF, Pothen A (1987) The null space problem II; algorithms. SIAM J Alg Disc Methods 8:544–561

Denke PH (1962) A general digital computer analysis of statically indeterminate structures. NASA-TD-D-1666

Heath MT, Plemmons R, Ward J (1984) Sparse orthogonal schemes for structural optimization using the force method. SIAM J Sci Stat Comput 5:514–532

Henderson JCC, Maunder EAW (1969) A problem in applied topology: on the selection of cycles for the flexibility analysis of skeletal structures. J Inst Math Appl 5(2):254–269

Kaneko I, Lawo M, Thierauf G (1982) On computational procedures for the force methods. Int J Numer Methods Eng 18:1469–1495

Kaveh A (1974) Application of topology and matroid theory to the analysis of structures. PhD thesis, London University, Imperial College

Kaveh A (1979) A combinatorial optimization problem: optimal generalized cycle bases. Comput Methods Appl Mech Eng 20:39–52

Kaveh A (1992) Recent developments in the force method of structural analysis. Appl Mech Rev 45:401–418

Kaveh A (2004) Structural mechanics: graph and matrix methods, 3rd edn. RSP, Exeter

Kaveh A (2006) Optimal structural analysis, 2nd edn. Research Studies Press, Letchworth

Kaveh A (2014) Computational structural analysis and finite element methods. Springer, New York

Kaveh A, Massoudi MS (2015) Efficient finite element analysis using graph-theoretical force method; rectangular plane stress and plane strain Lagrange family elements. Appl Math Comput 266:72–95

Kaveh A, Naseri Nasab E (2010) A new four-node quadrilateral plate bending element for highly sparse and banded flexibility matrices. Acta Mech 209:295–309

Kaveh A, Tolou Kian MJ (2012) Efficient finite element analysis using graph-theoretical force method with brick elements. Finite Elem Anal Des 54:1–15

Kaveh A, Massoudi MS, Massoudi MJ (2013) Efficient finite element analysis using graph-theoretical force method; rectangular plane stress and plane strain serendipity family elements. Period Polytech Civ Eng 58:1–20

Kazemzadeh Azad S, Hasançebi O (2015) Discrete sizing optimization of steel trusses under multiple displacement constraints and load cases using guided stochastic search technique. Struct Multidisc Optim 52:383–404

Patnaik SN (1973) An integrated force method for discrete analysis. Int J Numer Methods Eng 6:237–251

Pothen A (1989) Sparse null basis computation in structural optimization. Numer Math 55:501–519

Przemieniecki JS (1968) Theory of matrix structural analysis. McGraw-Hill, New York

Robinson J (1973) Integrated theory of finite element methods. Wiley, New York

Soyer E, Topçu A (2001) Sparse self-stress matrices for the finite element force method. Int J Numer Methods Eng 50:2175–2194

Tohidi SS, Khaki Sedigh A, Buzorgnia D (2016) Fault tolerant control design using adaptive control allocation based on the pseudo inverse along the null space. Int J Robust Nonlinear Control 26(16):3541–3557

Wang H, Li E, Li G (2013) A parallel reanalysis method based on approximate inverse matrix for complex engineering problems. J Mech Des 135(8):081001
About this article
Cite this article
Haji Ebrahim Araghi, F., Massoudi, M.S. & Kaveh, A. Efficient Graph-Theoretical Force Method: Wedge-Shaped Finite Element. Iran J Sci Technol Trans Civ Eng 45, 1121–1138 (2021). https://doi.org/10.1007/s40996-020-00395-9
Received:

Accepted:

Published:

Issue Date:
Keywords
Finite element force method

Null (static) basis

Flexibility matrix

Graph theory

Wedge elements