Abstract
Long-term discharge variability assessment in the river channels helps to improve the water management strategies under the changing climate change scenarios. The present study investigated the 40-year (1970–2010) spatio-temporal variability in the discharge of the Krishna and Koyna River channels at Karad and Varunji gauging stations. Mean annual discharge (MAQ), mean decadal discharge (MDQ), standard deviation (SD), coefficient of variation (CV) and Pearson correlation coefficient (R), and variance (R2) were calculated from the daily discharge data to know the spatio-temporal variability. Possible causes of discharge variability were investigated from rainfall, topography, drainage, and reservoir data. Rainfall data (1998–2000) were collected from the Indian meteorological department and satellite-derived tropical rainfall measuring mission to examine the hydrologic response to discharge. Similarly, shuttle radar topography mission digital elevation model data were incorporated into ArcGIS software to generate relief, slope, drainage, reservoir, and basin data to quantify their relative influence with discharge. Results explored whether a significant variability existed in the 40-year historical discharge in the Krishna and Koyna River channels. Low MAQ for both the channels was recorded during 2000–2001, while it was maximum during 2006–2007. Krishna River's MDQ was higher as compared to Koyna River. The highest SD value (2358.4 m3/s) was recorded for 2000–2010 and minimum (416.5 m3/s) for the 1970–1980 decade. The CV of the Varunji station was lower in 1970–1980 (0.2) while higher in 2000–2010 (0.7) with a rising trend from 1970–1980 to 2000–2010 decade. The Krishna and Koyna River flow regime has changed over the four decades due to variations in rainfall, relief, slope, drainage, reservoir, and basin area within both the basins. The results could be useful to the regional climate and flood forecasting centres not only in the Krishna and Koyna river basin, but also in other basins which have similar hydrogeological characteristics.
Access options
Buy single article
Instant access to the full article PDF.
US$ 39.95
Tax calculation will be finalised during checkout.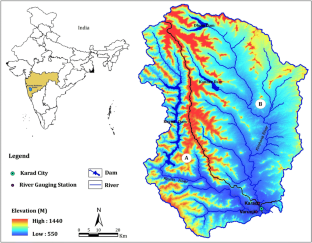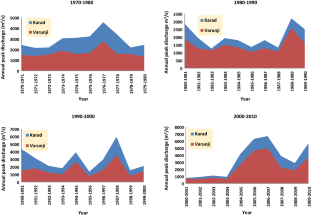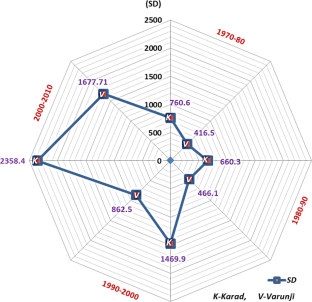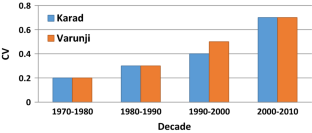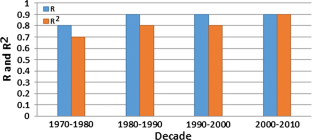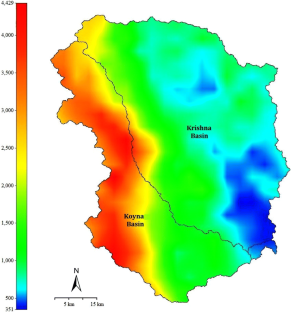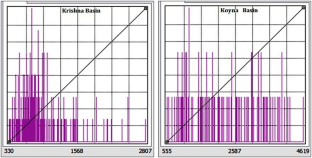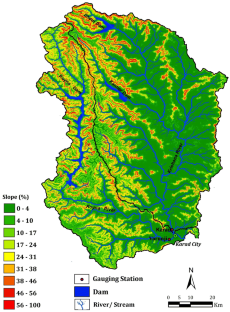 Notes
1.

The TRMM is a satellite launched and operated by the US space agency NASA and the JAXA.

2.

SRTM was an international project, spearheaded by the US National Geospatial-Intelligence Agency (NGA) and the National Aeronautics and Space Administration (NASA).
References
Abe G, Joseph JE (2015) Changes in streamflow regime due to anthropogenic regulations in the humid tropical Western Ghats, Kerala State, India. J Mt Sci 12:456–470

Aher SP, Bairagi SI, Deshmukh PP, Gaikwad RD (2012) River change detection and bank erosion identification using topographical and remote sensing data. Int J Appl Inf Syst 2:1–7

Aher SP, Khemnar SB, Shinde SD (2014a) Synthetic aperture radar in Indian remote sensing. Int J Appl Inf Syst 7:41–44

Aher SP, Shinde SD, Jarag AP, Mahesh Babu J, Gawali PB (2014b) Identification of lineaments in the Pravara basin from ASTER-DEM data and satellite images for their geotectonic implication. Int Res J Earth Sci 2:1–5

Aher S, Shinde S, Guha S, Majumder M (2017a) Identification of drought in Dhalai river watershed using MCDM and ANN models. J Earth Syst Sci 126:21. https://doi.org/10.1007/s12040-017-0795-1

Aher SP, Kantamaneni K, Deshmukh P (2017b) Detection and delineation of water bodies in hilly area using satellite derived CartoDEM, SRTM and ASTER GDEM data. Remote Sens Land 1(1):41–52. https://doi.org/10.21523/gcj1.17010103

Albostan A, Önöz B (2015) Implementation of chaotic analysis on river discharge time series. Energy Power Eng 7(3):81–92

Aslıhan A, Bihrat Ö (2015) Implementation of chaotic analysis on river discharge time series. Energy Power Eng 7:81–92

Bertalan L, Rodrigo-Comino J, Surian N, Šulc Michalková M, Kovács Z, Sz Szabó, Szabó G, Hooke J (2019) Detailed assessment of spatial and temporal variations in river channel changes and meander evolution as a preliminary work for effective floodplain management. The example of Sajó River, Hungary. J Environ Manag 248C:109277

Bookhagen B, Burbank DW (2010) Toward a complete Himalayan hydrological budget: spatiotemporal distribution of snowmelt and rainfall and their impact on river discharge. J Geophys Res 115(F03019):1–25

Buchanan TJ, Somers WP (1969) Discharge measurements at gaging stations. U.S. Geological Survey, Techniques of water-resources investigations, Book 3, Chapter A8. US Government Printing Office, Washington, DC

Burn DH, Elnur MAH (2002) Detection of hydrologic trends and variability. J Hydrol 255:107–122

Deshmukh KK, Aher SP (2016) Assessment of the impact of municipal solid waste on groundwater quality near the Sangamner City using GIS approach. Water Resour Manag 30(7):2425–2443

Deshmukh KK, Aher SP, Gawali PB, Deshmukh PP (2017) Groundwater quality in Deccan upland region of Chandanapuri Valley, Sangamner, Maharashtra, India. Sustain Water Resour Manag 4(4):687–697

Dhital YP, Kayastha RB, Eslamian SS (2011) Precipitation and discharge pattern analysis: a case study of Bagmati River basin. Nepal. J Flood Eng 2(1):49–60

Eslamian SS, Khordadi MJ (2009) Comparing Rainfall and Discharge Trends in Karkhe Basin, Iran. Int J Ecol Econ Stat 15:114–122

Gani G, Florim I, Shpejtim B, Ibrahim R (2011) Correlation between discharge, river Basin surface and rainfall quantity in Kosova. In: The 2nd international geography symposium GEOMED2010, procedia social and behavioral sciences, vol 19, pp 482–486

Gashi G, Isufi F, Bulliqi S, Ramadani I (2011) Correlation between discharge, river Basin surface and rainfall quantity in Kosova. Procedia Soc Behav Sci 19:482–486

Gautam M, Acharya K (2012) Streamflow trends in Nepal. Hydrol Sci J 57:344–357

Gautier E, Brunstein D, Vauchel P, Roulet M, Fuertes O, Guyot JL, Darozzes J, Bourrel L (2007) Temporal relations between meander deformation, water discharge and sediment fluxes in the floodplain of the Rio Beni (Bolivian Amazonia). Earth Surf Process Landf 32:230–248. https://doi.org/10.1002/esp.1394

Gawali PB, Aher SP, Lakshmi BV, Gaikwad RD, Deendayalan K, Hanamgond PT, Mahesh Babu JLV, Arote SI, Bairage SI (2017) Identification of landslide susceptible villages around Kalsubai Region, Western Ghats of Maharashtra using geospatial techniques. J Geol Soc India 90(3):259–384

Hewitt K (1997) Regions of risk: a geographical introduction to disasters. Themes in resource management. Routledge, Abingdon

Higashino M, Stefan HG (2019) Variability and change of precipitation and flood discharge in a Japanese river basin. J Hydrol Reg Stud 21:68–79

Hodgkins G, Dudley R, Huntington T (2003) Changes in the timing of high river flows in New England over the 20th century. J Hydrol 278:244–252

Hunink J, Immerzeel W, Droogers P (2014) A High-resolution precipitation 2-step mapping procedure (HiP2P): development and application to a tropical mountainous area. Remote Sens Environ 140:179–188

Jain SK, Nayak P, Singh Y, Chandniha SK (2017) Trends in rainfall and peak flows for some river basins in India. Curr Sci 112(8):1712–1726

Jing C, Shortridge A, Lin S, Wu J (2014) Comparison and validation of SRTM and ASTER GDEM for a subtropical landscape in Southeastern China. Int J Digit Earth 7(12):969–992. https://doi.org/10.1080/17538947.2013.807307

Kneis D, Chatterjee C, Singh R (2014) Evaluation of TRMM rainfall estimates over a large Indian river basin (Mahanadi). Hydrol Earth Syst Sci 18:2493–2502

Krasovskaia I, Gottschalk L (2002) River flow regimes in a changing climate. Hydrol Sci J 47:597–609

Krishnamurthy V, Shukla J (2000) Intraseasonal and interannual variability of rainfall over India. J Clim 13:4366–4377

Kundzewicz ZW, Robson AJ (2004) Change detection in hydrological records—a review of the methodology/revue méthodologique de la détection de changements dans les chroniques hydrologiques. Hydrol Sci J 49:7–19

Liu F, Chen S, Dong P, Peng J (2012) Spatial and temporal variability of water discharge in the Yellow River Basin over the past 60 years. J Geogr Sci 22(6):1013–1033

Mane S (2017) The study of irrigation in Maharashtra. Int Res J Multidiscip Stud 3(7):1–3

Miao CY, Ni JR, Borthwick AGL (2010) Recent changes of water discharge and sediment load in the Yellow River Basin, China. Prog Phys Geogr 34:541–561

Milliman JD, Farnsworth KL, Jones PD et al (2008) Climatic and anthropogenic factors affecting river discharge to the global ocean, 1951–2000. Glob Planet Change 62(3/4):187–194

Mohammed S, Faridah O (2015) Long-term variation analysis of a tropical river's annual streamflow regime over a 50-year period. Theor Appl Climatol 121:71–85. https://doi.org/10.1007/s00704-014-1225-9

Morán-Tejeda E, López-Moreno JI, Ceballos-Barbancho A, Vicente-Serrano SM (2011) River regimes and recent hydrological changes in the Duero basin (Spain). J Hydrol 404:241–258

Naik PK, Awasthi A, Anand A, Behera P (2009) Hydrogeochemistry of the Koyna River basin, India. Environ Earth Sci 59:613

Nayak G, Agrawal P, Rao CR, Pandey O (2006) Thickness estimation of Deccan Flood Basalt of the Koyna Area, Maharashtra (India) from inversion of aeromagnetic and gravity data and implications for recurring seismic activity. Curr Sci 91:960–965

Pawar AM (2015) Flood and drought in Satara (Maharashtra): a geoinformatics approach. Unpublished Ph.D. thesis. Shivaji University, Kolhapur, Maharashtra, India

Rakhshandehroo GR, Vaghefi M, Shafeei MM (2010) Flood forecasting in similar catchments using neural networks. Turk J Eng Environ Sci 34:57–66

Revadekar JV, Varikoden H, Murumkar PK, Ahmed SA (2018) Latitudinal variation in summer monsoon rainfall over Western Ghat of India and its association with global sea surface temperatures. Sci Total Environ 613–614:88–97

Richter BD, Baumgartner JV, Powell J, Braun DP (1996) A method for assessing hydrologic alteration within ecosystems. Conserv Biol 10:1163–1174

Rudra R, Dickinson W, Ahmed S, Patel P, Zhou J, Gharabaghi B, Khan A (2015) Changes in rainfall extremes in Ontario. Int J Environ Res 9:1117–1126

Rusnák M, Lehotský M, Kidová A (2016) Channel migration inferred from aerial photographs, its timing and environmental consequences as responses to floods: a case study of the meandering Topl'a River, Slovak Carpathians. Morav Geogr Rep 24:32–43. https://doi.org/10.1515/mgr-2016-0015

Shinde S, Lingade V, Aher S (2015) Identification of groundwater potential zones in Khatav Tahsil using geospatial techniques. Int J Appl Inf Syst 9:22–28

Thatte C (2012) Impacts of Koyna Dam, India. In: Tortajada C, Altinbilek D, Biswas AK (eds) Impacts of large dams: a global assessment. Springer, Berlin, pp 329–356

Theilen-Willige B, Aher SP, Gawali PB, Venkata LB (2016) Seismic hazard analysis along Koyna Dam area, western Maharashtra, India: a contribution of remote sensing and GIS. Geosciences 6:20

Thorvat AR, Mujumdar MM (2011) Design flood estimation for Upper Krishna Basin through RFFA. Int J Eng Sci Technol 3:5252–5259

Vörösmarty CJ, Green P, Salisbury J et al (2000) Global water resources: vulnerability from climate change and population growth. Science 289:284–288

Wang HJ, Yang ZS, Saito Y et al (2006) Interannual and seasonal variation of the Huanghe (Yellow River) water discharge over the past 50 years: connections to impacts from ENSO events and dams. Glob Planet Change 50:212–225

Willems W, Kasper G, Klotz P, Stricker K, Zimmermann A (2016) Mean daily discharge and discharge variability. In: Mauser W, Prasch M (eds) Regional assessment of global change impacts. Springer, Berlin, pp 133–137

Xu Y-P, Yu C, Zhang X, Zhang Q, Xu X (2012) Design rainfall depth estimation through two regional frequency analysis methods in Hanjiang River Basin, China. Theor Appl Climatol 107:563–578

Yang D, Shi X, Marsh P (2015) Variability and extreme of Mackenzie River daily discharge during 1973–2011. Quat Int 380:159–168

Zhang W, Mu S-S, Zhang Y-J, Chen K-M (2012) Seasonal and interannual variations of flow discharge from Pearl River into sea. Water Sci Eng 5:399–409
Acknowledgements
The authors acknowledge the Irrigation Department, Satara (Maharashtra, India) for providing the discharge data of the Karad and Varunji stations (1970–2010) and Department of Geography, Shivaji University, Kolhapur, for providing necessary research facilities. The authors would like to give special thanks for the comments of the reviewers on earlier versions, which helped significantly to improve the manuscript.
Ethics declarations
Conflict of interest
The authors declare that they have no conflict of interest.
About this article
Cite this article
Shinde, S., Aher, S., Pawar, A. et al. Spatio-temporal Variability of Discharge Over the Past 40 Years in Krishna and Koyna Rivers, India. Iran J Sci Technol Trans Civ Eng 44, 395–407 (2020). https://doi.org/10.1007/s40996-020-00375-z
Received:

Accepted:

Published:

Issue Date:
Keywords
Discharge variability

Hydrological changes

Climate change

Water management