Abstract
In this study, the mode choice behavior model is used to determine the key parameters influencing the motorcyclists' mode choice. The findings can be used to shift the motorcycle mode choice toward public transport to reduce fatalities, injuries and economic losses. In order to create the proposed model, the stated-preference method and nested logit modeling are used to investigate the attributes affecting the individuals' mode choice among three types of transportation including motorcycle, bus and LRT. The results indicated that two main attributes, namely traveling time and cost were involved in affecting the behavior of motorcyclists' mode choice. However, the traveling time was taken into consideration more for choosing motorcycle mode. Considering the travel time elasticity, as the travel time increased up to 1%, the demand for using motorcycle decreased about 0.6% while the demand for using bus and LRT increased up to 1.3 and 0.9%, respectively. Moreover, other attributes such as the increased age, an increased monthly income and private car ownership may encourage motorcyclists to switch their mode choice toward other types of transportation.
This is a preview of subscription content, log in to check access.
Access options
Buy single article
Instant access to the full article PDF.
US$ 39.95
Price includes VAT for USA
Subscribe to journal
Immediate online access to all issues from 2019. Subscription will auto renew annually.
US$ 99
This is the net price. Taxes to be calculated in checkout.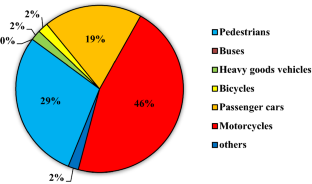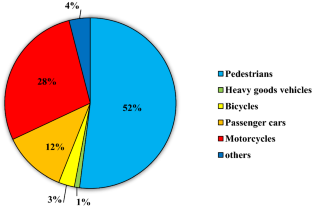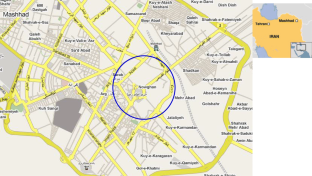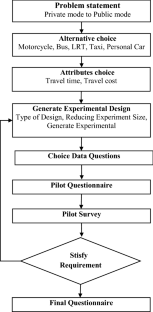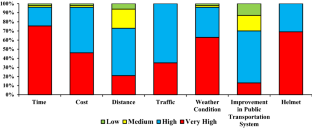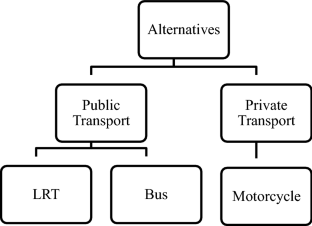 References
Azari KA, Arintono S, Hamid H, Rahmat R (2013a) Modelling demand under parking and cordon pricing policy. Transp Policy 25:1–9. https://doi.org/10.1016/j.tranpol.2012.10.003

Azari K, Arintono S, Hamid H, Davoodi S (2013b) Evaluation of demand for different trip purposes under various congestion pricing scenarios. J Transp Geogr 29:43–51. https://doi.org/10.1016/j.jtrangeo.2013.01.001

Basu D, Hunt J (2012) Valuing of attributes influencing the attractiveness of suburban train service in Mumbai city: a stated preference approach. Transp Res Part A Policy Pract 46(9):1465–1476. https://doi.org/10.1016/j.tra.2012.05.010

Ben-Akiva M, Lerman S (1991) Discrete choice analysis: theory and application to travel demand. The MIT Press, Cambridge

Burg P, Fox J, Kouwenhoven M, Rohr C, Wigan M (2007) Modeling of motorcycle ownership and commuter usage. Transp Res Rec 1818:39–46

Chakrabarti S (2016) How can public transit get people out of their cars? An analysis of transit mode choice for commute trips in Los Angeles. Transp Policy 5:10. https://doi.org/10.1016/j.tranpol.2016.11.005

Chang H, Wu S (2008) Exploring the vehicle dependence behind mode choice: evidence of motorcycle dependence in Taipei. Transp Res Part A Policy Pract 42(2):307–320. https://doi.org/10.1016/j.tra.2007.10.005

Chen C, Lai W (2011) The effects of rational and habitual factors on mode choice behaviors in a motorcycle-dependent region: evidence from Taiwan. Transp Policy 18(5):711–718. https://doi.org/10.1016/j.tranpol.2011.01.006

Dissanayake D, Morikawa T (2010) Investigating household vehicle ownership, mode choice and trip sharing decisions using a combined revealed preference/stated preference Nested Logit model: a case study in Bangkok Metropolitan Region. J Transp Geogr 18(3):402–410. https://doi.org/10.1016/j.jtrangeo.2009.07.003

Fatima E, Kumar R (2014) Introduction of public bus transit in Indian cities. Int J Sustain Built Environ 3(1):27–34. https://doi.org/10.1016/j.ijsbe.2014.06.001

Hensher DA, Rose JM, Greene WH (2005) Applied choice analysis: a primer. Cambridge University Press, New York

Ibrahim Sheikh A, Radin Umar R, Habshah M, Kassim H, Stevenson M, Hariza A (2006) Mode choice model for vulnerable motorcyclists in Malaysia. Traffic Inj Prev 7(2):150–154. https://doi.org/10.1080/15389580600550354

Jones S, Gurupackiam S, Walsh J (2013a) Factors influencing the severity of crashes caused by motorcyclists: analysis of data from alabama. J Transp Eng 139(9):949–956

Jones L, Cherry C, Vu T, Nguyen Q (2013b) The effect of incentives and technology on the adoption of electric motorcycles: a stated choice experiment in Vietnam. Transp Res Part A Policy Pract 57:1–11. https://doi.org/10.1016/j.tra.2013.09.003

Mashhad Transportation and Traffic Organization (MTTO) (2010) Sixth Mashhad transport report. Retrieved from http://www.mashadtraffic.ir/portal/images/stories/taffic/pdf/amarnameh/amarname%2089.pdf

Mashhad Transportation and Traffic Organization (MTTO) (2011) Restricted traffic zone. Retrieved from http://www.mashadtraffic.ir/portal/1387-12-20-06-41-09.html

Mashhad Transportation and Traffic Organization (MTTO) (2014) Mashhad. Retrieved from http://www.mashadtraffic.ir/portal/images/amarname-92.pdf

Miskeen AB, Manssour A, Mohamed Alhodairi A, Rahmat RAABO (2013) Modeling of intercity transport mode choice behavior in Libya: a binary logit model for business trips by private car and intercity bus. Aust J Basic Appl Sci 7(1):302–311

Nurdden A, Rahmat RAOK, Ismail A (2007) Effect of transportation policies on modal shift from private car to public transport in Malaysia. J Appl Sci 7(7):1013–1018

Sharif University of Technology Center for Transportation Research (SUTCRT) (1997) Travel demand estimation for future. Comprehensive transportation study of Mashhad

Tran N, Chikaraishi M, Zhang J, Fujiwara A (2012) Exploring day-to-day variations in the bus usage behavior of motorcycle owners in Hanoi. Procedia Soc Behav Sci 43:265–276. https://doi.org/10.1016/j.sbspro.2012.04.099

Tran M, Zhang J, Fujiwara A (2014) Can we reduce the access by motorcycles to mass transit systems in future Hanoi? Procedia Soc Behav Sci 138:623–631. https://doi.org/10.1016/j.sbspro.2014.07.248

Van H, Choocharukul K, Fujii S (2014) The effect of attitudes toward cars and public transportation on behavioral intention in commuting mode choice—a comparison across six Asian countries. Transp Res Part A Policy Pract 69:36–44. https://doi.org/10.1016/j.tra.2014.08.008

Vedagiri P, Arasan VT (2009) Modelling modal shift due to the enhanced level of bus service. Transport 24(2):121–128

Wang Y, Wang Z, Li Z, Staley S, Moore A, Gao Y (2013) Study of modal shifts to bus rapid transit in Chinese cities. J Transp Eng 139(5):515–523. https://doi.org/10.1061/(asce)te.1943-5436.0000523

Wigan M (2002) Motorcycles as a full mode of transportation. Transp Res Rec 1818:39–46

Yagi S, Nobel D, Kawaguchi H (2012) Time series comparison of auto and motorcycle ownership and mode choice in a changing transportation environment. Transp Res Rec 2317:40–50

Ye L, Wang Q (2011) Case study of motorcycle use and policy analysis in Huizhou, China. J Transp Eng 137(11):831–836

Zhang Z, Guan H, Qin H, Xue Y (2013) A traffic mode choice model for the bus user groups based on SP and RP data. Procedia Soc Behav Sci 96:382–389. https://doi.org/10.1016/j.sbspro.2013.08.045
About this article
Cite this article
Shahikhaneh, A., Azari, K.A. & Aghayan, I. Modeling the Transport Mode Choice Behavior of Motorcyclists. Iran J Sci Technol Trans Civ Eng 44, 175–184 (2020). https://doi.org/10.1007/s40996-019-00236-4
Received:

Accepted:

Published:

Issue Date:
Keywords
Motorcycle

Mode choice

Nested logit modeling

Stated-preference method