Abstract
Nowadays, finding appropriate solutions for reducing the environmental pollutions as a consequence of buildings is important. Using recycled concrete from demolished buildings as an aggregate in new concrete preparation can have a significant role in the sustainable development of the concrete industry; therefore, in this research work, the effect of employing different percentages (i.e., 20, 40, 60, 80 and 100%) of recycled concrete aggregates and the impact of using metakaolin as pozzolan in self-compacting concrete containing SiO2 nanoparticles were investigated. Hence, some properties of hardened self-compacting concrete such as compressive strength, tensile strength, modulus of elasticity, water absorption, density and apparent porosity of the samples were studied. The results demonstrate that construction of self-compacting concrete with complete replacement of recycled aggregates is possible. Although the strength of recycled self-compacting concretes is almost 11% less than the control samples, the use of metakaolin with optimum percentage as additives of cement leads to improvement in the recycled concretes properties.
Access options
Buy single article
Instant access to the full article PDF.
USD 39.95
Price includes VAT (USA)
Tax calculation will be finalised during checkout.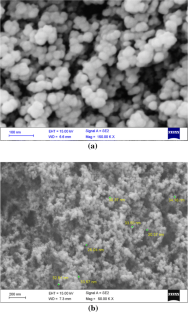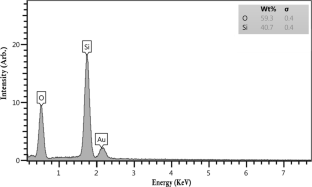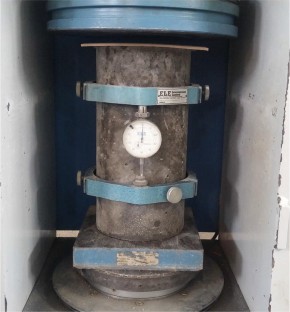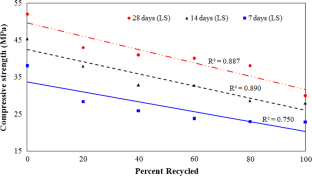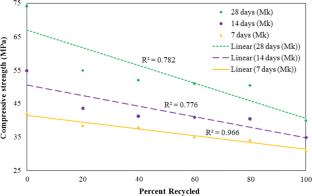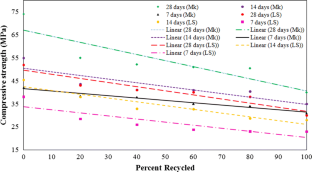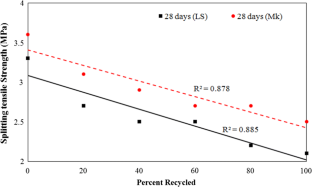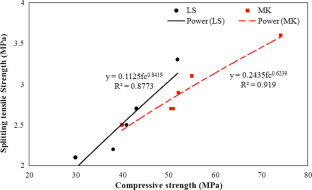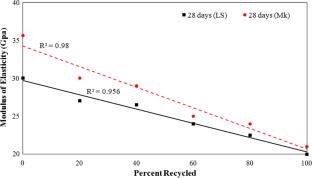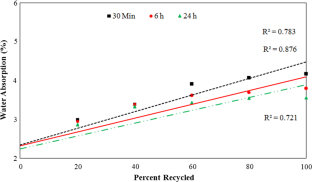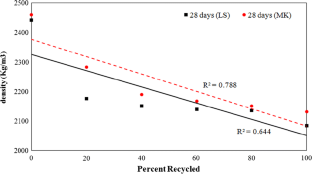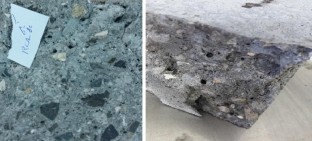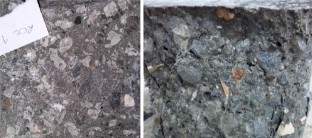 References
Afroughsabet V, Biolzi L, Ozbakkaloglu T (2016) High-performance fiber-reinforced concrete: a review. J Mater Sci 51:6517–6551

Aghdasi P (2016) Development of ultra-high performance fiber-reinforced concrete (UHP-FRC) for large-scale casting

Aghdasi P, Palacios G, Heid AE, Chao SH (2015) Mechanical properties of a highly flowable ultra-high-performance fiber-reinforced concrete mixture considering large-size effects. In: Proceedings of high performance fiber reinforced cement composites (HPFRCC 7)

Aghdasi P, Heid AE, Chao SH (2016) Developing ultra-high-performance fiber-reinforced concrete for large-scale structural applications. ACI Mater J 113:559–570

ASTM C496/C496 M–11 (2004) Standard test method for splitting tensile strength of cylindrical concrete specimens. ASTM International, West Conshohocken

ASTM C642–13 (2013) Standard test method for density, absorption, and voids in hardened concrete. ASTM International, West Conshohocken

ASTM C33/C33M–16 (2016) Standard specification for concrete aggregates. ASTM International, West Conshohocken

Bahari A, Sadeghi-Nik A, Roodbari M, Mirnia N (2012a) Investigation the Al–Fe–Cr–Ti nano composites structures with using XRD and AFM techniques. Sadhana 37:657–664

Bahari A, Sadeghi-Nik A, Roodbari M, Taghavi K, Mirshafiei SE (2012b) Synthesis and strength study of cement mortars containing SiC nano particles. Dig J Nanomater Biostruct 7:1427–1435

Bahari A, Sadeghi-Nik A, Roodbari M, Mirshafiei E, Amiri B (2015) Effect of silicon carbide nano dispersion on the mechanical and nano structural properties of cement. Natl Acad Sci Lett 38:361–364

Bahari A, Berenjian J, Sadeghi-Nik A (2016) Modification of portland cement with nano SiC. Proc Natl Acad Sci India Sect A 86:323–331

Bahari A, Sadeghi-Nik A, Roodbari M, Sadeghi-Nik A, Mirshafiei E (2018) Experimental and theoretical studies of ordinary Portland cement composites contains nano LSCO perovskite with Fokker–Planck and chemical reaction equations. Constr Build Mater 163:247–255

Courard L, Darimont A, Schouterden M, Ferauche F, Willem X, Degeimbre R (2003) Durability of mortars modified with metakaolin. Cem Concr Res 33:1473–1479

Evangelista L, De Brito J (2007) Mechanical behaviour of concrete made with fine recycled concrete aggregates. Cem Concr Compost 29:397–401

Evangelista L, De Brito J (2010) Durability performance of concrete made with fine recycled concrete aggregates. Cem Concr Compost 32:9–14

Frondistou-Yannas S (1981) Economics of concrete recycling in the United States. In: Kreijger PC (ed) Adhesion problems in the recycling of concrete. Nato conference series, vol 4. Springer, Boston

Hansen TC (2004) Recycling of demolished concrete and masonry. RILEM (The international-union of testing and research laboratories for materials and structures), vol 6. CRC Press, New York

Kafi MA, Sadeghi-Nik A, Bahari A, Sadeghi-Nik A, Mirshafiei E (2016) Microstructural characterization and mechanical properties of cementitious mortar containing montmorillonite nanoparticles. J Mater Civ Eng 28:04016155

Keshavarz Z, Torkian H (2018) Application of ANN and ANFIS models in determining compressive strength of concrete. Soft Comput Civ Eng 2:62–70

Khademi F, Akbari M, Jamal SM (2015a) Prediction of compressive strength of concrete by data-driven models. i-Manager's J Civ Eng 5:16

Khademi F, Akbari M, Jamal SM (2015b) Measuring compressive strength of puzzolan concrete by ultrasonic pulse velocity method. i-Manager's J Civ Eng 5:23

Khademi F, Jamal SM, Deshpande N, Londhe S (2016) Predicting strength of recycled aggregate concrete using artificial neural network, adaptive neuro-fuzzy inference system and multiple linear regression. Int J Sustain Built Environ 5:355–369

Khalilpasha MH, Sadeghi-Nik A, Lotfi-Omran O, Kimiaeifard K, Amirpour-Molla M (2012) Sustainable development using recyclable rubber in self-compacting concrete. In: Third international conference on construction in developing countries (advancing civil, architectural and construction engineering and management), Bangkok, Thailand, pp 580–585

Khatib JM (2005) Properties of concrete incorporating fine recycled aggregate. Cem Concr Res 35:763–769

Khayat KH (1999) Workability, testing, and performance of self-consolidating concrete. ACI Mater J 96:346–353

Khushnood RA, Ahmad S, Savi P, Tulliani JM, Giorcelli M, Ferro GA (2015) Improvement in electromagnetic interference shielding effectiveness of cement composites using carbonaceous nano/micro inerts. Constr Build Mater 85:208–216

Kim HS, Lee SH, Moon HY (2007) Strength properties and durability aspects of high strength concrete using Korean metakaolin. Constr Build Mater 21:1229–1237

Kou SC, Poon CS (2009) Properties of self-compacting concrete prepared with coarse and fine recycled concrete aggregates. Cem Concr Compos 31:622–627

Lee ST, Moon HY, Hooton RD, Kim JP (2005) Effect of solution concentrations and replacement levels of metakaolin on the resistance of mortars exposed to magnesium sulfate solutions. Cem Concr Res 35:1314–1323

Libre NA, Khoshnazar R, Shekarchi M (2010) Relationship between fluidity and stability of self-consolidating mortar incorporating chemical and mineral admixtures. Constr Build Mater 24:1262–1271

Mastali M, Dalvand A, Sattarifard AR (2016) The impact resistance and mechanical properties of reinforced self-compacting concrete with recycled glass fibre reinforced polymers. J Clean Prod 124:312–324

Mehta PK (1999) Concrete technology for sustainable development. Concr Int 21:47–53

Mejía de Gutiérrez R, Torres J, Vizcayno C, Castello R (2008) Influence of the calcination temperature of kaolin on the mechanical properties of mortars and concretes containing metakaolin. Clay Miner 43:177–183

Mo KH, Alengaram UJ, Jumaat MZ (2015) Compressive behaviour of polyacrylonitrile fibre reinforced lightweight aggregate concrete composite. Adv Mater Res Trans Tech Publ 1115:188–191

Mosavi SM, Sadeghi-Nik A (2015) Strengthening of steel–concrete composite girders using carbon fibre reinforced polymer (CFRP) plates. Sadhana 40:249–261

Neville AM (1995) Properties of concrete, 4th edn. Longman Group Limited, Harlow

Nikbin IM, Rahimi S, Allahyari H, Fallah F (2016) Feasibility study of waste Poly Ethylene Terephthalate (PET) particles as aggregate replacement for acid erosion of sustainable structural normal and lightweight concrete. J Clean Prod 126:108–117

Poon CS, Lam L, Kou SC, Wong YL, Wong R (2001) Rate of pozzolanic reaction of metakaolin in high-performance cement pastes. Cem Concr Res 31:1301–1306

Sadeghi-Nik A, Bahari A (2010) Nano-particles in concrete and cement mixtures. In: International conference on nano science and technology, Chengdu, China, pp 221–223

Sadeghi-Nik A, Ali B, Sadeghi-Nik A (2011a) Investigation of nano structural properties of cement—based materials. Am J Sci Res 25:104–111

Sadeghi-Nik A, Ali B, Sadeghi-Nik A, Mohammadh K (2011b) Nanotechnology coating of buildings with sol–gel method. Am J Sci Res 31:69–72

Sadeghi-Nik A, Bahari A, Amiri B (2011c) Nanostructural properties of cement—matrix composite. J Basic Appl Sci Res 11:2167–2173

Sadeghi-Nik A, Berenjian J, Bahari A, Safaei AS, Dehestani M (2017) Modification of microstructure and mechanical properties of cement by nanoparticles through a sustainable development approach. Constr Build Mater 155:880–891

Swamy RN (2002) The alkali-silica reaction in concrete. CRC Press, Boca Raton

Tabsh SW, Abdelfatah AS (2009) Influence of recycled concrete aggregates on strength properties of concrete. Constr Build Mater 23:1163–1167

Wild S, Khatib JM, Jones A (1996) Relative strength, pozzolanic activity and cement hydration in superplasticised metakaolin concrete. Cem Concr Res 26:1537–1544

Zhang MH, Malhotra VM (1995) Characteristics of a thermally activated alumino-silicate pozzolanic material and its use in concrete. Cem Concr Res 25:1713–1725
About this article
Cite this article
Sadeghi-Nik, A., Berenjian, J., Alimohammadi, S. et al. The Effect of Recycled Concrete Aggregates and Metakaolin on the Mechanical Properties of Self-Compacting Concrete Containing Nanoparticles. Iran J Sci Technol Trans Civ Eng 43, 503–515 (2019). https://doi.org/10.1007/s40996-018-0182-4
Received:

Accepted:

Published:

Issue Date:
Keywords
Recycled aggregates

Self-compacting concrete

Mechanical properties

Nano-SiO2 and sustainable development