Abstract
Steel pitched roof frames with the tapper fabricated members is the common solution for a wide range of industrial structures. In the present research, design optimization of the steel member sections is performed by different apex heights and tapered lengths for steel pitched roof frames. The effective variable definition has helped to reduce the variable domain and ignore the unwanted part of the bounds before starting the optimization process. Nine metaheuristic algorithms are used for the optimization. Results show that selecting apex height and tapered length can change optimum weight of structure by 10%. Additionally, performance of the considered metaheuristic algorithms is compared for this type of frame structures.
Access options
Buy single article
Instant access to the full article PDF.
US$ 39.95
Tax calculation will be finalised during checkout.
Subscribe to journal
Immediate online access to all issues from 2019. Subscription will auto renew annually.
US$ 79
Tax calculation will be finalised during checkout.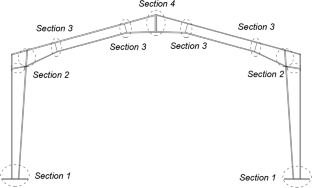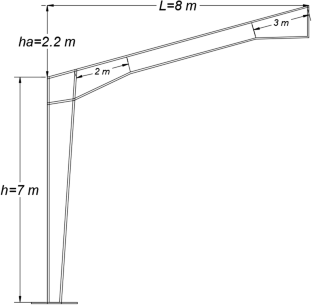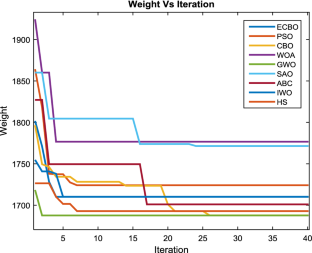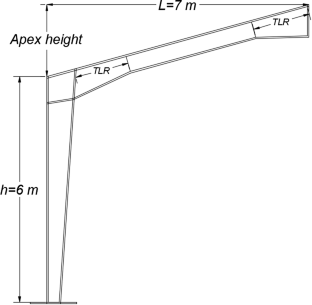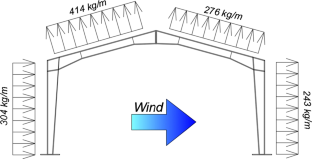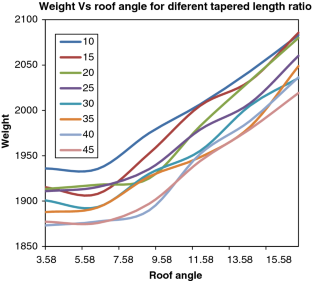 References
AISC (2002) Seismic provisions for structural steel buildings. American Institute of Steel Construction

AISC (2005) AISC 360-05-Specification for structural steel buildings

ASCE (2010) Minimum design loads for buildings and other structures

Eberhart RC, Kennedy J (1995) A new optimizer using particle swarm theory. In: Proceedings of the sixth international symposium on micro machine and human science. New York, NY

Geem ZW, Kim JH, Loganathan G (2001) A new heuristic optimization algorithm: harmony search. Simulation 76(2):60–68

Gholizadeh S, Poorhoseini H (2015) Optimum design of steel frame structures by a modified dolphin echolocation algorithm. Struct Eng Mech 55:535–554

Gholizadeh S, Shahrezaei AM (2015) Optimal placement of steel plate shear walls for steel frames by bat algorithm. Struct Des Tall Spec Build 24:1–18

Hayalioglu M, Saka M (1992) Optimum design of geometrically nonlinear elastic-plastic steel frames with tapered members. Comput Struct 44(4):915–924

Hernández S et al (2005) Design optimization of steel portal frames. Adv Eng Softw 36(9):626–633

Hradil P, Mielonen M, Fülöp L (2010) Advanced design and optimization of steel portal frames. Rakenteiden Mekaniikka. J Struct Mech 43(1):44–60

Karaboga D (2005) An idea based on honey bee swarm for numerical optimization. Technical report-tr06, Erciyes University, Engineering Faculty, Computer Engineering Department

Kaveh A (2017a) Adavances in metaheuristic algorithms for optimal design of structures. Springer, Cham

Kaveh A (2017b) Applications of metaheuristic optimization algorithms in civil engineering. Springer, Cham

Kaveh A, Ilchi Ghazaan M (2014) Enhanced colliding bodies optimization for design problems with continuous and discrete variables. Adv Eng Softw 77:66–75

Kaveh A, Mahdavi VR (2014) Colliding bodies optimization: a novel meta-heuristic method. Comput Struct 139:18–27

Kaveh A, Moradveisi M (2016) Optimal design of double-layer barrel vaults using CBO and ECBO algorithms. Iran J Sci Technol Trans Civ Eng 40(3):167–176

Kaveh A, Mahdavi VR, Kamalinejad M (2017) Optimal design of pitched roof frames with tapered members using ECBO algorithm. Smart Struct Syst 19(6):643–652

Kirkpatrick S, Vecchi MP (1983) Optimization by simmulated annealing. Science 220(4598):671–680

Kravanja S, Žula T (2010) Cost optimization of industrial steel building structures. Adv Eng Softw 41(3):442–450

Kravanja S et al (2013) Optimal design of single-story steel building structures based on parametric MINLP optimization. J Constr Steel Res 81:86–103

Li J-J, Li G-Q (2004) Reliability-based integrated design of steel portal frames with tapered members. Struct Saf 26(2):221–239

McKinstray R et al (2015a) Optimal design of long-span steel portal frames using fabricated beams. J Constr Steel Res 104:104–114

McKinstray R et al (2015b) Topographical optimisation of single-storey non-domestic steel framed buildings using photovoltaic panels for net-zero carbon impact. Build Environ 86:120–131

McKinstray R et al (2016) Comparison of optimal designs of steel portal frames including topological asymmetry considering rolled, fabricated and tapered sections. Eng Struct 111:505–524

Mehrabian AR, Lucas C (2006) A novel numerical optimization algorithm inspired from weed colonization. Ecol Inform 1(4):355–366

Mirjalili S, Lewis A (2016) The whale optimization algorithm. Adv Eng Softw 95:51–67

Mirjalili S, Mirjalili SM, Lewis A (2014) Grey wolf optimizer. Adv Eng Softw 69:46–61

O'Brien EJ, Dixon A (1997) Optimal plastic design of pitched roof frames for multiple loading. Comput Struct 64(1–4):737–740

Pan DT et al (2013) Design optimization of cold-formed steel portal frames taking into account the effect of building topology. Eng Optim 45(4):415–433

Saka M (1991) Optimum design of steel frames with stability constraints. Comput Struct 41(6):1365–1377

Saka M (1997) Optimum design of steel frames with tapered members. Comput Struct 63(4):797–811

Saka M (2003) Optimum design of pitched roof steel frames with haunched rafters by genetic algorithm. Comput Struct 81(18):1967–1978

Tam TK, Jennings A (1988) Optimal plastic design of frames with tapered members. Comput Struct 30(3):537–544
About this article
Cite this article
Kaveh, A., Ghafari, M.H. Geometry and Sizing Optimization of Steel Pitched Roof Frames with Tapered Members Using Nine Metaheuristics. Iran J Sci Technol Trans Civ Eng 43, 1–8 (2019). https://doi.org/10.1007/s40996-018-0132-1
Received:

Accepted:

Published:

Issue Date:
Keywords
Structural design optimization

Steel pitched roof frames

Gable roof

Tapered members

Industrial structures

Metaheuristic algorithms