Abstract
In recent years, due to the increasing use of hydrocarbons by humans, soil contamination has become a concern in environmental and geotechnical engineering fields. Accordingly, in the oil-rich regions of the world, a great deal of research is devoted to the study of soil refinement, bearing capacity and instability caused by soil contamination. An experimental study was undertaken to achieve an accurate and realistic response. After determining the bearing capacity, the effect of petroleum products, including gas oil and kerosene oil, on the bearing capacity of strip footings adjacent to sand slopes was investigated. In this study, variables such as the type and percentage of contamination and the thickness of the contaminated layer have been investigated. The results show that a thicker contaminated layer and a greater degree of contamination will decrease the bearing capacity of the strip footing. The correlation relationships were presented at the end of the research. By these equations and by knowing the type, depth and percentage of contamination, one can predict the bearing capacity of a strip footing with a specific width on the kerosene- and gas oil-contaminated sand slope.
This is a preview of subscription content, log in to check access.
Access options
Buy single article
Instant access to the full article PDF.
US$ 39.95
Price includes VAT for USA
Subscribe to journal
Immediate online access to all issues from 2019. Subscription will auto renew annually.
US$ 99
This is the net price. Taxes to be calculated in checkout.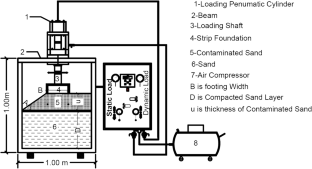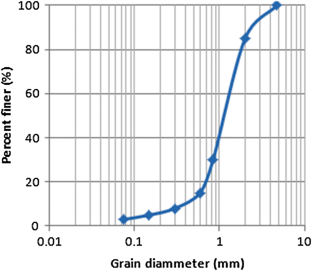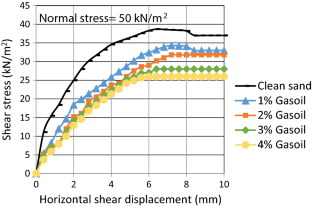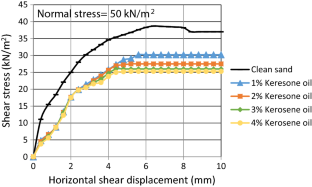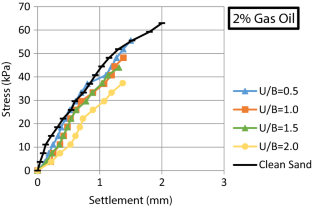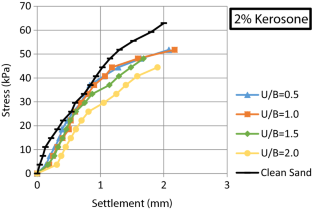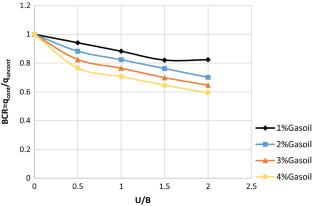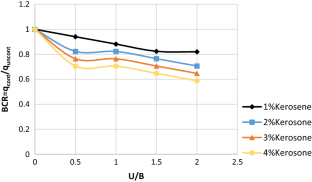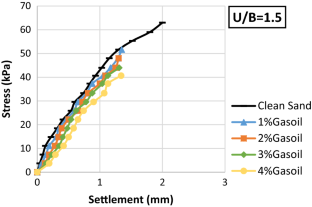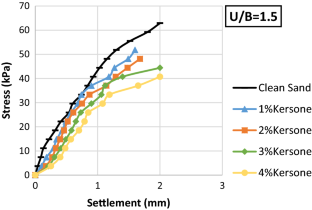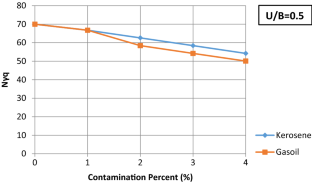 References
Abousnina RM, Manalo A, Shiau J, Lokuge W (2015) Effects of light crude oil contamination on the physical and mechanical properties of fine sand. Soil Sedim Contam Int J 24(8):833–845

Abtahi A, Boushehrian AH (2018) Experimental behavior of circular foundations on oil contaminated sand. Sci Iran. https://doi.org/10.24200/sci.2018.20223

Aiban SA (1998) The effect of temperature on the engineering properties of oil-contaminated sands. Environ Int 24(1):153–161

Alamshahi S, Hataf N (2009) Bearing capacity of strip footings on sand slopes reinforced with geogrid and grid-anchor. Geotext Geomembr 27(3):217–226

Alsanad HA, Eid WK, Ismael NF (1995) Geotechnical properties of oil contaminated Kuwaiti sand. J Geotech Eng ASCE 121(5):407–412

Azzam WR, Farouk A (2010) Experimental and numerical studies of sand slopes loaded with skirted strip footing. Electron J Geotech Eng 15:795–812

Borthakur BC, Nambiar MKC, Biswas A, Kalitha UC (1988) Studies on the bearing capacity of strip footing on slopes. In: Proceedings of the Indian geotechnical conference, vol 1, Bombay, pp 385–389

Castelli F, Motta E (2010) Bearing capacity of strip footings near slopes. Geotech Geol Eng 28(2):187–198

Cho G-C, Dodds J, Santamarina JC (2006) Particle shape effects on packing density, stiffness, and strength: natural and crushed sands. J Geotech Geoenviron Eng 132(5):591–602

El Sawwaf MA, Nazir AK (2012) Cyclic settlement behavior of strip footings resting on reinforced layered sand slope. J Adv Res 3(4):315–324

Evgin E, Das BM (1992a) Mechanical behavior of an oil contaminated sand. In: Usmen MA, Acar YB (eds) Environmental geotechnology. Bulkema Pub., Rotterdam, pp 101–108

Evgin E, Das BM (1992b) Mechanical behavior of an oil contaminated sand. In: Usmen MA, Acar YB (eds) Environmental geotechnology. Balkema, Rotterdam

Gu P, Su X (2007) Shear strength, interparticle locking and dilatancy of granular materials. Can Geotech J 44(5):579–591

Harsh G, Patel A, Himanshu B, Tiwari P (2016) Effect of rate of crude oil contamination on index properties and engineering properties of clays and sands. Indian J Sci Technol 9(30):1–4

Hosseini A, Boushehrian AH (2018) "Laboratory and numerical study of the behavior of circular footing rested on sand contaminated with oil under the cyclic loading. Sci Iran. https://doi.org/10.24200/sci.2018.5427.1267

Keskin MS, Laman M (2014) Experimental and numerical studies of strip footings on geogrid-reinforced sand slope. Arab J Sci Eng 39(3):1607–1619

Khosravi E, Ghasemzadeh H, Sabour MR, Yazdani H (2013) Geotechnical properties of gas oil-contaminated kaolinite. Eng Geol 166:11–16

Lu L, Arai K, Wang Z, Nishiyama R (2008) Laboratory model test and numerical analysis of bearing capacity of rigid strip footing on slope. J Appl Mech 11:399–410

Meyerhof GG (1957) The ultimate bearing capacity of foundations on slopes. In: Proceedings of 4th international conference on soil mechanics and foundation engineering, vol 1, pp 384–386

Naeini SA, Rabe BK, Mahmoodi E (2012) Bearing capacity and settlement of strip footing on geosynthetic reinforced clayey slopes. J Cent South Univ 19(4):1116–1124

Nasehi SA, Uromeihy A, Nikudel MR, Morsali A (2016) Influence of gas oil contamination on geotechnical properties of fine and coarse-grained soils. Geotech Geol Eng 34(1):333–345

Nasr AM (2015) Behaviour of strip footing on oil-contaminated sand slope. Int J Phys Model Geotech 16(3):134–151

Olgun M, Yildiz M (2010) Effect of organic fluids on the geotechnical behavior of a highly plastic clayey soil. Appl Clay Sci 48(4):615–621

Rajaei A, Keshavarz A, Ghahramani A (2019) Static and seismic bearing capacity of strip footings on sand overlying clay soils. Iran J Sci Technol Trans Civ Eng 43(1):69–80

Saffari R, Habibagahi G, Nikooee E, Niazi A (2017) Biological stabilization of a swelling fine-grained soil: the role of microstructural changes in the shear behavior. Iran J Sci Technol Trans Civ Eng 41(4):405–414

Saha Roy S, Deb K (2017) Bearing capacity of rectangular footings on multilayer geosynthetic-reinforced granular fill over soft soil. Int J Geomech 17(9):04017069

Saran S, Sud VK, Handa SC (1989) Bearing capacity of footings adjacent to slopes. J Geotech Eng 115(4):553–573

Shin EC, Das BM (2001) Bearing capacity of unsaturated oil contaminated sand. Int J Offshore Polar Eng 11(3):220–227

Shin EC, Das BM, Puri VK, Yen SC, Cook EE (1993) Bearing capacity of strip foundation on geogrid-reinforced clay. Geotech Test J 16(4):534–541

Shroff AV, Shah DL, Shah SJ (1998) Characterization of fuel oil contaminated soil and remedial measures—a case study. In: Proceedings of Indian geotechnical conference, 18–20 December, New Delhi, India, pp 49–51

Vahidi-Nia F, Lashkari A, Binesh SM (2015) An insight into the mechanical behavior of binary granular soils. Particuology 21:82–89

Veiskarami M, Jamshidi Chenari R, Jameei AA (2017) Bearing capacity of strip footings on anisotropic soils by the finite elements and linear programming. Int J Geomech 17(12):04017119

Yoo C (2001) Laboratory investigation of bearing capacity behavior of strip footing on geogrid-reinforced sand slope. Geotext Geomembr 19(5):279–298
About this article
Cite this article
Joukar, A., Boushehrian, A.H. Experimental Study of Strip Footings Rested on Kerosene Oil- and Gas Oil-Contaminated Sand Slopes. Iran J Sci Technol Trans Civ Eng 44, 209–217 (2020). https://doi.org/10.1007/s40996-018-00231-1
Received:

Accepted:

Published:

Issue Date:
Keywords
Oil pollutants

Bearing capacity

Load–settlement

Strip footing

Sand slope

Experimental study