Abstract
The green synthesis of nano-sized particles with specific functions is of great significance in the present bio-nanotechnology. In this study, the biosynthesis of silver nanoparticles (AgNPs) from the aqueous extract of stem, root and leaf of Rhizophora mucronata, one of the two native mangrove plants in southern Iran, and its activity against some bacterial pathogens are reported for the first time. A green procedure for the synthesis of AgNPs using the mangrove extract as reducing agent was used. Synthesized AgNPs were investigated using UV–visible spectrophotometry, transmission electron microscopy (TEM), field emission scanning electron microscopy, X-ray diffraction (XRD), energy-dispersive spectroscopy (EDS) and Fourier transform infrared (FTIR) spectroscopy. Antibacterial effect of the biosynthesized AgNPs was investigated by agar well diffusion assay against pathogenic bacteria. The leaf extract yielded the highest production of biosynthesized AgNPs among the plant parts. UV–visible spectrophotometry at a wavelength of 420 nm confirmed the synthesis of AgNPs. The results from the XRD analysis approved the formation of crystalline AgNPs with crystallinity percentage of 88.54. As shown by TEM evaluation, AgNPs had the same spherical morphology. The size of the biosynthesized AgNPs was between 1 and 80 nm with average size of 32.44 nm. According to the size distribution histogram, nanoparticles in the size range of 20–25 nm were more than other size groups. SEM images identified silver nanoparticles ranging in size from 10 to 19 nm. Results of EDS showed the existence of carbon, silver, oxygen and chlorine in the nanoparticles synthesized from the leaf extract of R. mucronata. Silver was the major constituent element, 73.5%. FTIR analysis distinguished different functional groups such as aromatic loops, alcohol, phenol group, alkanes and alkyl halides in the biosynthesis process. The biosynthesized AgNPs had potential antibacterial activity against the bacterial pathogens. Out of the selected bacterial strains, the Gram-positive bacteria of Bacillus cereus with the maximum inhibition zone and the Gram-negative bacteria of Pseudomonas aeruginosa with the minimum inhibition zone were the most sensitive and resistant bacteria, respectively. The mangrove Rhizophora mucronata extract was found to be a suitable reducing agent for biosynthesis of AgNPs with approved antibacterial activity.
We're sorry, something doesn't seem to be working properly.
Please try refreshing the page. If that doesn't work, please contact support so we can address the problem.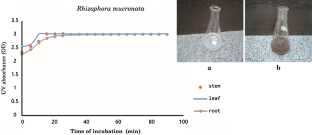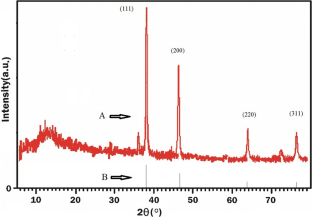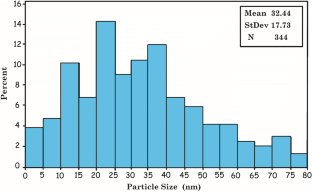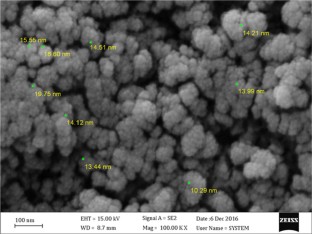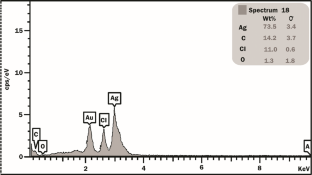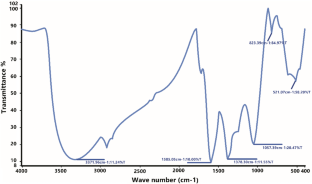 References
Abdelmoteleb A, Valdez-Salas B, Carrillo-Beltran M, Hernandez DD, González-Mendoza D (2018) Green synthesis of silver nanoparticles using Pluchea sericea a native plants from Baja California, Mexico and their potential application as antimicrobials. Iran J Sci Technol Trans A Sci 42:457–463

Abdi V, Sourinejad I, Yousefzadi M, Ghasemi Z (2018) Mangrove-mediated synthesis of silver nanoparticles using native Avicennia marina plant extract from southern Iran. Chem Eng Commun 205:1069–1076

Ahmed S, Ahmad M, Swami BL, Ikram S (2016) A review on plants extract mediated synthesis of silver nanoparticles for antimicrobial applications: a green expertise. J Adv Res 7:17–28

Bakshi M, Ghosh S, Chaudhuri P (2015) Green synthesis, characterization and antimicrobial potential of sliver nanoparticles using three mangrove plants from Indian Sundarban. BioNanoScience 5:162–170

Balakrishnan S, Srinivasan M, Mohanraj J (2016) Biosynthesis of silver nanoparticles from mangrove plant (Avicennia marina) extract and their potential mosquito larvicidal property. J Parasit Dis Off Organ Indian Soc Parasitol 40:991–996

Ghasemi Z, Younesi H, Zinatizadeh AA (2016a) Kinetics and thermodynamics of photocatalytic degradation of organic pollutants in petroleum refinery wastewater over nano-TiO2 supported on Fe-ZSM-5. J Taiwan Inst Chem Eng 65:357–366

Ghasemi Z, Younesi H, Zinatizadeh AA (2016b) Preparation, characterization and photocatalytic application of TiO2/Fe-ZSM-5 nanocomposite for the treatment of petroleum refinery wastewater: optimization of process parameters by response surface methodology. Chemosphere 159:552–564

Gnanadesigan M, Anand M, Ravikumar S, Maruthupandy M, Syed Ali M, Vijayakumar V, Kumaraguru AK (2012) Antibacterial potential of biosynthesised silver nanoparticles using Avicennia marina mangrove plant. Appl Nanosci 2:143–147

Gopinath V, Velusamy P (2013) Extracellular biosynthesis of silver nanoparticles using Bacillus sp. GP-23 and evaluation of their antifungal activity towards Fusarium oxysporum. Spectrochim Acta A Mol Biomol Spectrosc 106:170–174

Gopinath V, MubarakAli D, Priyadarshini S, Priyadharsshini NM, Thajuddin N, Velusamy P (2012) Biosynthesis of silver nanoparticles from Tribulus terrestris and its antimicrobial activity: a novel biological approach. Colloids Surf B Biointerfaces 96:69–74

Ibrahim HMM (2015) Green synthesis and characterization of silver nanoparticles using banana peel extract and their antimicrobial activity against representative microorganisms. J Radiat Res Appl Sci 8:265–275

Jyoti K, Baunthiyal M, Singh A (2016) Characterization of silver nanoparticles synthesized using Urtica dioica Linn. leaves and their synergistic effects with antibiotics. J Radiat Res Appl Sci 9:217–227

Keat CL, Aziz A, Eid AM, Elmarzugi NA (2015) Biosynthesis of nanoparticles and silver nanoparticles. Bioresour Bioprocess 2:47

Krishnaraj C, Jagan EG, Rajasekar S, Selvakumar P, Kalaichelvan PT, Mohan N (2010) Synthesis of silver nanoparticles using Acalypha indica leaf extracts and its antibacterial activity against water borne pathogens. Colloids Surf B Biointerfaces 76:50–56

Li G, He D, Qian Y, Guan B, Gao S, Cui Y, Yokoyama K, Wang L (2011) Fungus-mediated green synthesis of silver nanoparticles using Aspergillus terreus. Int J Mol Sci 13:466–476

Makarov VV, Love AJ, Sinitsyna OV, Makarova SS, Yaminsky IV, Taliansky ME, Kalinina NO (2014) "Green" nanotechnologies: synthesis of metal nanoparticles using plants. Acta Nat 6:35–44

Mallick K, Witcomb MJ, Scurrell MS (2004) Polymer stabilized silver nanoparticles: a photochemical synthesis route. J Mater Sci 39:4459–4463

Nabikhan A, Kandasamy K, Raj A, Alikunhi NM (2010) Synthesis of antimicrobial silver nanoparticles by callus and leaf extracts from saltmarsh plant, Sesuvium portulacastrum L. Colloids Surf B Biointerfaces 79:488–493

Nanda A, Saravanan M (2009) Biosynthesis of silver nanoparticles from Staphylococcus aureus and its antimicrobial activity against MRSA and MRSE. Nanomed Nanotechnol Biol Med 5:452–456

Patra JK, Thatoi HN (2011) Metabolic diversity and bioactivity screening of mangrove plants: a review. Acta Physiol Plant 33:1051–1061

Prakash P, Gnanaprakasam P, Emmanuel R, Arokiyaraj S, Saravanan M (2013) Green synthesis of silver nanoparticles from leaf extract of Mimusops elengi, Linn. for enhanced antibacterial activity against multi drug resistant clinical isolates. Colloids Surf B Biointerfaces 108:255–259

Prasad TNVKV, Elumalai EK (2011) Biofabrication of Ag nanoparticles using Moringa oleifera leaf extract and their antimicrobial activity. Asian Pac J Trop Biomed 1:439–442

Rai M, Yadav A, Gade A (2009) Silver nanoparticles as a new generation of antimicrobials. Biotechnol Adv 27:76–83

Rajeshkumar S, Malarkodi C, Gnanajobitha G, Paulkumar K, Vanaja M, Kannan C, Annadurai G (2013) Seaweed-mediated synthesis of gold nanoparticles using Turbinaria conoides and its characterization. J Nanostruct Chem 3:44

Saravanan M, Nanda A (2010) Extracellular synthesis of silver bionanoparticles from Aspergillus clavatus and its antimicrobial activity against MRSA and MRSE. Colloids Surf B Biointerfaces 77:214–218

Sari ZGLV, Younesi H, Kazemian H (2015) Synthesis of nanosized ZSM-5 zeolite using extracted silica from rice husk without adding any alumina source. Appl Nanosci 5:737–745

Sarkheil M, Sourinejad I, Mirbakhsh M, Kordestani D, Johari SA (2016) Application of silver nanoparticles immobilized on TEPA-Den-SiO2 as water filter media for bacterial disinfection in culture of Penaeid shrimp larvae. Aquacult Eng 74:17–29

Sarkheil M, Sourinejad I, Mirbakhsh M, Kordestani D, Johari SA (2017) Antibacterial activity of immobilized silver nanoparticles on TEPA-Den-SiO2 against shrimp pathogen, Vibrio sp. Persian1. Aquac Res 48:2120–2132

Sharma AK, Gangwar M, Tilak R, Nath G, Sinha ASK, Tripathi YB, Kumar D (2012) Comparative in vitro antimicrobial and phytochemical evaluation of methanolic extract of root, stem and leaf of Jatropha curcas Linn. Pharmacogn J 4:34–40

Singhal G, Bhavesh R, Kasariya K, Sharma AR, Singh RP (2011) Biosynthesis of silver nanoparticles using Ocimum sanctum (Tulsi) leaf extract and screening its antimicrobial activity. J Nanopart Res 13:2981–2988

Sinha SN, Paul D, Halder N, Sengupta D, Patra SK (2015) Green synthesis of silver nanoparticles using fresh water green alga Pithophora oedogonia (Mont.) Wittrock and evaluation of their antibacterial activity. Appl Nanosci 5:703–709

Suriya J, Raja SB, Sekar V, Rajasekaran R (2012) Biosynthesis of silver nanoparticles and its antibacterial activity using seaweed Urospora sp. Afr J Biotech 11:12192–12198

Syed Ali MY, Anuradha V, Yogananth N, Rajathilagam R, Chanthuru A, Mohamed Marzook S (2015) Green synthesis of silver nanoparticle by Acanthus ilicifolius mangrove plant against Armigeressubalbatus and Aedesaegypti mosquito larvae. Int J Nano Dimens 6:197–204

Vanaja M, Annadurai G (2013) Coleus aromaticus leaf extract mediated synthesis of silver nanoparticles and its bactericidal activity. Appl Nanosci 3:217–223

Yew YP, Shameli K, Miyake M, Kuwano N, Khairudin NB, Mohamad SE, Lee KX (2016) Green synthesis of magnetite (Fe3O4) nanoparticles using seaweed (Kappaphycus alvarezii) extract. Nanoscale Res Lett 11:276

Yousefzadi M, Rahimi Z, Ghafori V (2014) The green synthesis, characterization and antimicrobial activities of silver nanoparticles synthesized from green alga Enteromorpha flexuosa (wulfen). J Agardh Mater Lett 137:1–4

Yugandhar P, Haribabu R, Savithramma N (2015) Synthesis, characterization and antimicrobial properties of green-synthesised silver nanoparticles from stem bark extract of Syzygium alternifolium (Wt.) Walp. 3 Biotech 5:1031–1039

Zaheer Z, Rafiuddin R (2012) Silver nanoparticles to self-assembled films: green synthesis and characterization. Colloids Surf B 90:48–52

Zhang X-F, Liu Z-G, Shen W, Gurunathan S (2016) Silver nanoparticles: synthesis, characterization, properties, applications, and therapeutic approaches. Int J Mol Sci 17:1534
Funding
The authors are thankful to University of Hormozgan, Iran, for providing financial assistance (Grant No. 446).
Ethics declarations
Conflict of interest
The authors declare that they have no conflict of interest.
About this article
Cite this article
Abdi, V., Sourinejad, I., Yousefzadi, M. et al. Biosynthesis of Silver Nanoparticles from the Mangrove Rhizophora mucronata: Its Characterization and Antibacterial Potential. Iran J Sci Technol Trans Sci 43, 2163–2171 (2019). https://doi.org/10.1007/s40995-019-00739-9
Received:

Accepted:

Published:

Issue Date:

DOI: https://doi.org/10.1007/s40995-019-00739-9
Keywords
Rhizophora mucronata

Green synthesis

Biological activity

Silver nanoparticles

XRD

Bacterial pathogens