Abstract
The present study has been developed to evaluate the feasibility of the metal–organic framework (MOF) as adsorbent for nitrate removal from aqueous solution. The MOF-5 was prepared by solution and solvothermal methods via the self-assembly of primary building blocks using zinc acetate dehydrate and benzene-1,4-dicarboxylate (BDC) at two different conditions, room temperature and 90 °C temperature and with or without tri-ethylamine (TEA) as capping agent. The samples were characterized by Fourier transform infrared spectroscopy, X-ray diffraction analysis, scanning electron microscopy, BET surface area, and UV–Vis spectroscopy. The study of nitrate adsorption was carried out at room temperature on the higher surface area of MOF-5 in pH from 2 to 11, whereas significant difference of nitrate adsorption was observed in acidic pH. Based on the results, nano-sized MOF-5 was demonstrated the potential utility for nitrate removal from water solution.
Access options
Buy single article
Instant access to the full article PDF.
USD 39.95
Price excludes VAT (USA)
Tax calculation will be finalised during checkout.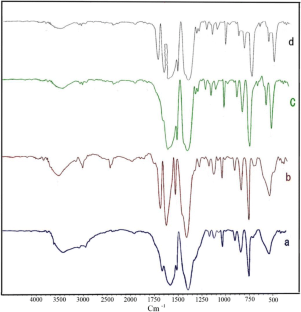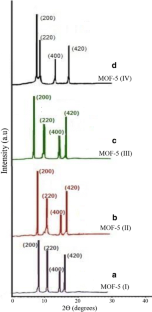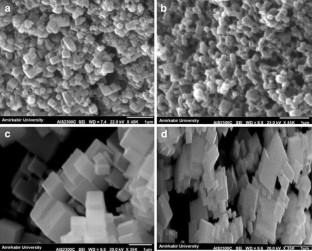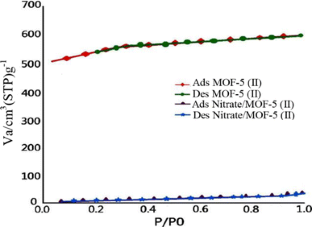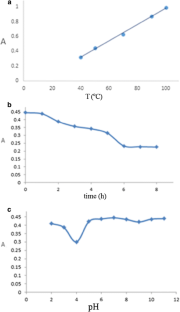 References
Abdel-Ghani NT, El-Chaghaby GA, Helal FS (2015) Individual and competitive adsorption of phenol and nickel onto multiwalled carbon nanotubes. J Adv Res 6(3):405–415

Adeyemo AA, Adeoye IO, Bello OS (2012) Metal organic frameworks as adsorbents for dye adsorption: overview, prospects and future challenges. Toxicol Environ Chem 94(10):1846–1863

Al-Ghouti MA, Khraisheh MAM, Allen SJ, Ahmad MN (2003) The removal of dyes from textile wastewater: a study of the physical characteristics and adsorption mechanisms of diatomaceous earth. J Environ Manage 69:229–238

Atoini Y, Adi Prasetyanto E, Chen P, Jonckheere D, De Vos D, De Cola L (2017) Tuning luminescent properties of a metal organic framework by insertion of metal complexes. Supramol Chem. https://doi.org/10.1080/10610278.2017.1290249

Babel S, Kurniawan TA (2003) Low-cost adsorbents for heavy metals uptake from contaminated water: a review. J Hazard Mater B97:219–243

Bhatnagara A, Kumarb E, Sillanpää M (2010) Nitrate removal from water by nano-alumina: characterization and sorption studies. Chem Eng J 163:317–323

Della Rocca C, Belgiorno V, Meric S (2007) Overview of in situ applicable nitrate removal processes. Desalination 204(1–3):46–62

Fang TH, Wang TH, Kang SH (2009) Nanomechanical and surface behavior of polydimethylsiloxane-filled nanoporous anodic alumina. J Mater Sci 44(6):1588–1593

Ferey G (2008) Hybrid porous solids: past, present, future. Chem Soc Rev 3(17):191–214

Fujita M, Kwon YJ, Washizu S, Ogura K (1994) Preparation, clathration ability, and catalysis of a two-dimensional square network material composed of cadmium(II) and 4,4'-bipyridine. J Am Chem Soc 116:1151–1152

Galán J, Rodríguez A, Gómez JM, Allen SJ, Walker GM (2013) Reactive dye adsorption onto a novel mesoporous carbon. Chem Eng J 219:62–68

Horcajada P, Serre C, Vallet-Regi M, Sebban M, Taulelle F, Férey G (2006) Metal–organic frameworks as efficient materials for drug delivery. Angew Chem Int Ed 45:5974–5978

Keskin S, Kizilel (2011) Biomedical applications of metal organic frameworks. Ind Eng Chem Res 50(4):1799–1812

Khan NA, Hasan Z, Jhung SH (2013) Adsorptive removal of hazardous materials using metal-organic frameworks (MOFs): a review. J Hazard Mater 244–245:444–456

Kitagawa S, Matsuda R (2007) Chemistry of coordination space of porous coordination polymers. Coord Chem Rev 251:2490–2509

Kleist W, Maciejewski M, Baiker A (2010) MOF-5 based mixed-linker metal–organic frameworks: synthesis, thermal stability and catalytic application. Thermochim Acta 499:71–78

Kuppler RJ, Timmons DJ, Fang QR, Li JR, Makal TA, Young MD, Yuan D, Zhao D, Zhuang W, Zhou HC (2009) Potential applications of metal organic frameworks. Coord Chem Rev 253:3042–3066

Li H, Eddaoudi M, Groy TL, Yaghi OM (1998a) Establishing microporosity in open metal−organic frameworks: gas sorption isotherms for Zn(BDC) (BDC = 1,4-benzenedicarboxylate). J Am Chem Soc 120:8571–8572

Li H, Davis CE, Groy TL, Kelley DG, Yaghi OM (1998b) Coordinatively unsaturated metal centers in the extended porous framework of Zn3(BDC)3•6CH3OH (BDC = 1,4-benzenedicarboxylate). J Am Chem Soc 120:2186–2187

Li H, Eddaoudi M, O'Keeffe M, Yaghi OM (1999) Design and synthesis of an exceptionally stable and highly porous metal-organic framework. Nature 402:276–279

Maji TK, Kitagawa S (2007) Chemistry of porous coordination polymers. Pure Appl Chem 79:2155–2177

Mena-Duran CJ, Sun Kou MR, Lopez T, Azamar-Barrios JA, Aguilar DH, Domínguez MI, Odriozola JA, Quintana P (2007) Nitrate removal using natural clays modified by acid thermoactivation. Appl Surf Sci 253(13):5762–5766

Mishra PC, Patel RK (2009) Use of agricultural waste for the removal of nitrate-nitrogen from aqueous medium. J Environ Manage 90(1):519–522

Motakef-Kazemi N, Shojaosadati SA, Morsali A (2014) In situ synthesis of a drug-loaded MOF at room temperature. Micropor Mesopor Mat 186:73–79

Mukherjee R, De S (2014) Adsorptive removal of nitrate from aqueous solution by polyacrylonitrile–alumina nanoparticle mixed matrix hollow-fiber membrane. Appl Surf Sci 466:281–292

Munusamy K, Sethia G, Patil DV, Somayajulu Rallapalli PB, Somani RS, Bajaj HC (2012) Sorption of carbon dioxide, methane, nitrogen and carbon monoxide on MIL-101(Cr): volumetric measurements and dynamic adsorption studies. Chem Eng J 195–196:359–368

Paik Suh M, Jeong Park H, Kootteri Prasad T, Lim DW (2011) Hydrogen storage in metal organic frameworks. Chem Rev 112:782–835

Patil DV, Somayajulu Rallapalli PB, Dangi GP, Tayade RJ, Somani RS, Bajaj HC (2011) MIL-53(Al): an efficient adsorbent for the removal of nitrobenzene from aqueous solutions. Ind Eng Chem Res 50:10516–10524

Polarz S, Smarsly B (2002) Nanoporous materials. J Nanosci Nanotechnol 2(6):581–612

Qin QD, Ma J, Liu KJ (2007) Adsorption of nitrobenzene from aqueous solution by MCM-41. Colloid Interface Sci 315:80–86

Rasuli L, Mahvi AHJ (2016) Removal of humic acid from aqueous solution using MgO nanoparticles. J Water Chem Technol 38(1):21–27

Reineke TM, Eddaoudi M, Fehr M, Kelly D, Yaghi OM (1999) From condensed lanthanide coordination solids to microporous frameworks having accessible metal sites. J Am Chem Soc 121:1651–1657

Sayari A, Hamoudi S, Yang Y (2005) Applications of pore-expanded mesoporous silica. 1. removal of heavy metal cations and organic pollutants from wastewater. Chem Mater 17:212–216

Senthil Raja D, Liu WL, Huang HY, Lin CH (2015) Immobilization of protein on nanoporous metal-organic framework materials. Comments Inorg Chem 35(6):332–349

Stock N, Biswas S (2011) Synthesis of metal organic frameworks (MOFs): routes to various MOF topologies, morphologies, and composites. Chem Rev 112(2):933–969

Tong MM, Liu DH, Yang QY, Devautour-Vinot S, Maurin G, Zhong CLJ (2013) Influence of the framework metal ions on the dye capture behavior of the MIL-100(Fe, Cr) MOF type solids. J Mater Chem A 1:8534–8537

Tranchemontagne DJ, Hunt JR, Yaghi OM (2008) Room temperature synthesis of metal-organic frameworks: MOF-5. Tetrahedron 64:8553–8557

Wang B, Xie YB, Yang H, Li M, Li JR (2014) A fluorescent 3-D metal-organic framework with unusual tetranuclear zinc secondary building units. J Coord Chem 21(67):3484–3491

Xie L, Liu D, Huang H, Yang Q, Zhong C (2014) Efficient capture of nitrobenzene from waste water using metal–organic frameworks. Chem Eng J 246:142–149

Yaghi OM, O'Keeffe M, Ockwig NW, Chae HK, Addaoudi M, Kim J (2003) Reticular synthesis and the design of new materials. Nature 423:705–714

Zamaro JM, Pérez NC, Miró EE, Casado C, Seoane B, Téllez C (2012) HKUST-1 MOF: a matrix to synthesize CuO and CuO–CeO2 nanoparticle catalysts for CO oxidation. Chem Eng J 195–196:180–187

Zhang Y, Lan D, Wangn Y, Cao H, Jiang H (2011) MOF-5 decorated hierarchical ZnO nanorod arrays and its photoluminescence. Physica E 43:1219–1223

Zhaoa Z, Li X, Li Z (2011) Adsorption equilibrium and kinetics of p-xylene on chromium-based metal organic framework MIL-101. Chem Eng J 173:150–157

Zou RQ, Abdel-Fattah AI, Xu WH, Zhao Y, Hickmott DD (2010) Storage and separation applications of nanoporous metal organic frameworks. Cryst Eng Comm 12:1337–1353
About this article
Cite this article
Mehmandoust, M.R., Motakef-Kazemi, N. & Ashouri, F. Nitrate Adsorption from Aqueous Solution by Metal–Organic Framework MOF-5. Iran J Sci Technol Trans Sci 43, 443–449 (2019). https://doi.org/10.1007/s40995-017-0423-6
Received:

Accepted:

Published:

Issue Date:

DOI: https://doi.org/10.1007/s40995-017-0423-6
Keywords
MOF-5

Nitrate adsorption

Solution method

Solvothermal method