Abstract
Medicinal plant-based healthcare system practiced by the traditional herbal healers (Vaidyas) plays a significant role in curing ailments. Phenology of many medicinal plants is altered due to changes in climatic variability. Studies towards possible effects of climate change on medicinal plants are particularly significant in the traditional healthcare system. The present study emphasizes that persistence of climatic variability will change the habitat and population of medicinal plants in the Himalayan region. There are indications that climate change is causing noticeable effects on life cycle and distribution of valuable medicinal plant resources. The perception of Vaidyas about medicinal plants has been documented to understand the impact of climate change on phenophases of medicinal plants and their effect on the traditional healthcare. The study reported 15 high-value medicinal plants which are used by the local people for curing various ailments. These medicinal plants are collected by Vaidyas from wild in appropriate time for their effective results following traditional, religious, and spiritual values. However, due to changes in the phenophases of these species, Vaidyas have also slightly changed the collection period which is against their tradition. The traditional healers have identified some other plant species as substitute of those plants which were used earlier for curing the same ailments so as to cope with the changes of phenophases of medicinal plants on health care systems. The present study is an attempt to generate unique information on the impacts of climate change on phenophases of medicinal plants and their effect on existing traditional healthcare system.
Access options
Buy single article
Instant access to the full article PDF.
US$ 39.95
Tax calculation will be finalised during checkout.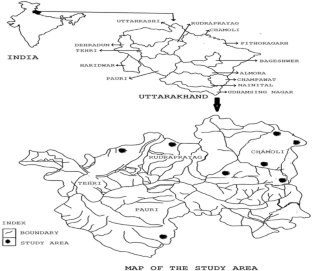 References
Bawa KS, Dayanandan S (2008) Global climate change and tropical forest genetic resources. Clim Change 39:473–485

Beniston M (1994) Mountain environments in changing climates. Routledge, London

Bhattarai S, Chaudhary RP, Quave CL, Taylor RSL (2010) The use of medicinal plants in the trans-himalayan arid zone of Mustang district, Nepal. J Ethnobiol Ethnomed 6(14):1–11

Bisht VK, Kandari LS, Negi JS, Bhandari AK, Sundriyal RC (2013) Traditional use of medicinal plants in district Chamoli, Uttarakhand, India. J Med Plants Res 7(15):918–929

Cannone N, Sgorbati S, Guglielmin M (2007) Unexpected impacts of climate change on alpine vegetation. Front Ecol Environ 5:360–364

Cavaliere C (2009) The effects of climate change on medicinal and aromatic plants. Herbal Gram 81:44–57

Christensen TRJ, Torbjom A, Jonas H, Mastepanov M (2004) Thawing sub-arctic permafrost: effects on vegetation and methane emissions. Geophys Res Lett 31:L04501. https://doi.org/10.1029/2008JG000703

Dhyani D, Maikhuri RK, Misra S, Rao KS (2010) Endorsing the declining indigenous ethnobotanical knowledge system of Seabuckthorn in Central Himalaya, India. J Ethnopharmacol 127:329–334

Dimri AP, Dash SK (2011) Wintertime climatic trends in the western Himalayas. Clim Change 111(3&4):775–800

Fransworth NR, Soejarto DD (1991) Global importance of medicinal plants. In: Akerely O, Heywood V, Synge H (eds) Conservation of Medicinal Plants. Cambridge University Press, Cambridge

Galen C, Stanton ML (1991) Consequences of emergences phenology for reproductive success in Ranunculus adoneus (Ranunculuaceae). Am J Bot 78:978–988

Gaur RD (1999) Flora of the District Garhwal Northwest Himalayas with ethnobotanical notes. Trans media, Srinagar, p 109

Grabherr G (2009) Biodiversity in the high ranges of the Alps: Ethnobotanical and climate change perspectives. Glob Environ Change 19(2):1052–1058

Holdridge LR (1967) Life zone ecology. Tropical Science Center, San Jose

IPCC (2001) Third assessment report on climate change. In: Mc Carthy JJ, Canziani OF, Leary NA, Dokken DJ, White KS (eds) Impacts, adaptation and vulnerability. Cambridge University Press, Cambridge

IPCC (2007) Climate change impacts, adaptation and vulnerability. Contribution of Working Group II to the Fourth assessment Report of the Intergovernmental Panel on Climate Change (IPCC). Cambridge University Press, Cambridge

Jorgenson MT, Racine CH, Waltere JC, Osterkamp TE (2001) Permafrost degradation and ecological changes associated with a warming in central Alaska. Clim Change 48:551–579

Kala CP (2005) Indigenous uses, population density and conservation of threatened medicinal plants in protected areas of the Indian Himalayas. Conserv Biol 19:368–378

Kandari LS, Phondani PC, Payal KC, Rao KS, Maikhuri RK (2012) Ethnobotanical Study towards conservation of medicinal and aromatic plants in upper catchments of Dhauli Ganga in the Central Himalaya. J Mt Sci 9:286–296

Kelly AE, Goulden ML (2008) Rapid shifts in plant distribution with recent climate change. Proc Nat Acad Sci USA 105(33):11823–11826

Khanduri VP, Sharma CM, Singh SP (2008) The effects of climate change on plant phenology. Environmentalist 28:143–147

Kirakosyan A, Gibson D, Sirvent T (2003) Comparative survey of Hypericum perforatum plants as sources of hpericins and hyper for in. J Herbs Species Med Plants 10:110–122

Kliebenstein DJ (2004) Secondary metabolites and plant/environmental interactions: a view through Arabidopsis thaliana tinged grasses. Plant Cell Environ 27:675–684

Korner C (1998) A re-assessment of high elevation tree line positions and their explanation. Oecologia 115(4):445–459

Liu X, Chen B (2000) Climatic warming in the Tibetan plateau during recent decades. Int J Climatol 20:1729–1742

Maikhuri RK, Nautiyal S, Rao KS, Saxena KG (1998) Medicinal plant cultivation and biosphere reserve management: a case study from Nanda Devi Biosphere Reserve, Himalaya. Curr Sci 74(2):157–163

Maikhuri RK, Rawat LS, Negi VS, Phondani PC, Bahuguna A, Chamoli KP and Farooquee NA (2009) Impact of climate change and coping strategies in Nanda Devi Biosphere Reserve (NDBR), Central Himalaya, India. In: Proceedings of the international mountain biodiversity conference, biodiversity conservation and management for enhanced ecosystem services: responding to the challenges of global change, ICIMOD, Kathmandu 135–148

Maikhuri RK, Phondani PC, Rawat LS, Jha NK, Maletha A, Bahuguna YM, Kandari LS (2016) Conservation and management strategies of medicinal plant resources through action research approaches in Indian Himalaya. Iran J Sci Technol Trans Sci. https://doi.org/10.1007/s40995-016-0057-0

Malcolm JR, Liu C, Neilson RP, Hansen L, Hannah L (2006) Global warming and extinctions of endemic species from biodiversity hotspots. Conserv Biol 20(2):538–548

McMichaell AJ, Butler CD, Carl F (2003) New visions for addressing sustainability. Science 302:1919–1920

Naithani BD (1984) Flora of Chamoli. Botanical Survey of India, Hawrah 1: X–XI

Nautiyal MC, Nautiyal BP, Prakash V (2001) Phenology and growth form distribution in an Alpine Pasture at Tungnath, Garhwal Himalaya. Mt Res Dev 21(2):177–183

Parmesan C, Yohe G (2003) A globally coherent fingerprint of climate change impacts across natural systems. Nature 421(6918):37–42

Phondani PC, Maikhuri RK, Rawat LS, Farooquee NA, Kala CP, Vishvakarma SCR, Rao KS, Saxena KG (2010) Ethnobotanical uses of plants among Bhotiya Tribal Communities of Niti Valley in Central Himalaya, India. Ethnobotany Research and Application 8:233–244

Phondani PC, Negi VS, Bhatt ID, Maikhuri RK, Kothiyari BP (2011) Promotion of medicinal and aromatic plants cultivation for improving livelihood security: a case study from West Himalaya, India. Int J Med Aromat Plants 1:245–252

Phondani PC, Maikhuri RK, Bisht NS (2013) Endorsement of ethnomedicinal knowledge towards conservation in the context of changing socio-economic and cultural values of traditional communities around Binsar Wildlife Sanctuary in Uttarakhand, India. J Agric Environ Ethics 26:573–600

Phondani PC, Maikhuri RK, Saxena KG (2014) The efficacy of herbal system of medicine in the context of allopathic system in Indian Central Himalaya. J Herbal Med 4:147–158

Phondani PC, Bhatt A, Elsarrag E, Yousef AH (2016a) Ethnobotanical magnitude towards sustainable utilization of wild foliage in Arabian desert. J Tradit Complement Med 6:209–218

Phondani PC, Bhat ID, Negi VS, Kothiyari BP, Bhatt A, Maikhuri RK (2016b) Promoting medicinal plant cultivation for livelihood enhancement and biodiversity conservation in the Indian Himalayan region. J Asia-Pac Biodivers 9:39–46

Ramakrishnan PS (1998) Sustainable development, climate change and tropical rain forest landscape. Clim Change 39:583–600

Shrestha AB, Wake CP, Mayewski PA, Dibb JE (1999) Maximum temperature trends in the Himalaya and its vicinity: an analysis based on temperature records from Nepal for the period 1971–1994. J Clim 12(9):2775–2786

Singh DK, Hajra PK (2010) Changing perspectives of biodiversity status in the Himalaya. In: Gujral GS, Sharma V (eds) British Council Division, British High Commission. Publ. Wildlife Youth Services, New Delhi, pp 23–38

Vashistha RK, Rawat N, Chaturvedi AK, Nautiyal BP, Prasad P, Nautiyal MC (2009) An exploration on the phenology of different growth forms of an alpine expanse of North-West Himalaya, India. New York Science Journal 2(6):29–41

Walther GR, Post E, Convey P, Menzel A, Parmesan C, Beebee TJ, Fromentin JM, Guldberg OH, Bairlein F (2002) Ecological responses to recent climate change. Nature 416(6879):389–395

Whiteman D (2000) Mountain Meteorology. Oxford University Press, Oxford

WWF (2006) An overview of glaciers, glacier retreat, and subsequent impacts in Nepal, India and China, Country Report: Himalayan Glaciers and River Project. WWF, Kathmandu
Acknowledgements
The authors are thankful to Dr. P.P. Dhyani, Director, G.B. Pant National Institute of Himalayan Environment and Sustainable Development, Kosi-Katarmal Almora for providing facilities. We are grateful to all the traditional herbal healers, local people and experts for sharing their experience and active participation in this study. The authors would like to thank the anonymous reviewers for their valuable remarks/suggestions. The authors also thankful to the National Medicinal Plants Board (NMPB) Delhi, Government of India and National Mission Program of Herbal Research and Development Institute (HRDI-SMPB) Government of Uttarakhand for financial support.
About this article
Cite this article
Maikhuri, R.K., Phondani, P.C., Dhyani, D. et al. Assessment of Climate Change Impacts and its Implications on Medicinal Plants-Based Traditional Healthcare System in Central Himalaya, India. Iran J Sci Technol Trans Sci 42, 1827–1835 (2018). https://doi.org/10.1007/s40995-017-0354-2
Received:

Accepted:

Published:

Issue Date:
Keywords
Phenology of medicinal plants

Climate change

Indigenous knowledge

Traditional healthcare system

Central Himalaya