Abstract
Discharge of silver nanoparticles (AgNPs) into aquatic ecosystems is inevitable due to their vast industrial applications. Thus, the present study aimed to evaluate the protective effect of dietary curcumin supplementation against AgNPs toxicity to the gut microbiota of common carp (Cyprinus carpio) including total bacteria count, mesophilic, lactic acid bacteria and Enterobacteriaceae. Nine different treatments including different combinations of dietary AgNPs (0, 0.05 and 0.15 g/kg feed) and curcumin (0, 0.75 and 1.5 g/kg feed) in three respective replicates were designed. The trial was conducted under natural photoperiod condition for 60 days. Samples were taken on days 20, 40 and 60. Our results showed that dietary AgNPs contamination resulted in reduced intestinal bacterial count in a dose dependent manner, however, dietary curcumin inclusion level of 0.75 g/kg remarkably reduced the toxicity of AgNPs to intestinal microflora of common carp at least at 0.05 g/kg AgNPs (p < 0.05). The results also indicated that there were highly significant relationships (p < 0.001) between intestinal microflora count and dietary curcumin and AgNPs concentrations which were dependent upon exposure time. Beta values for different terms of regression equations implied that AgNPs concentration had remarkable effects on different bacteria classes of gut microbiota (−0.75, −0.89, −0.73 and −0.84 for total bacteria, mesophilic bacteria, lactic acid bacteria and Enterobacteriaceae count, respectively). Conclusively, microflora population change might be assumed as an indication of environmental pollutions in aquatic ecosystems health assessment programs especially for newly emerging nano-materials. We also showed curcumin protected intestinal microflora against feed-born nanosilver particles.
Access options
Buy single article
Instant access to the full article PDF.
US$ 39.95
Tax calculation will be finalised during checkout.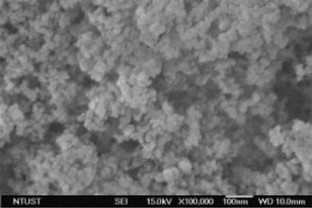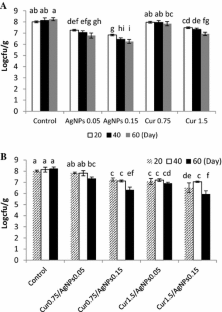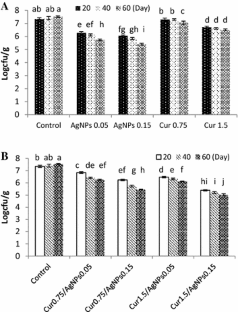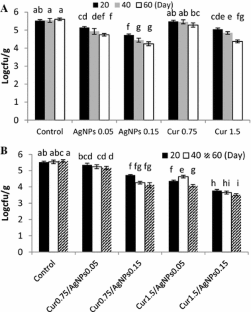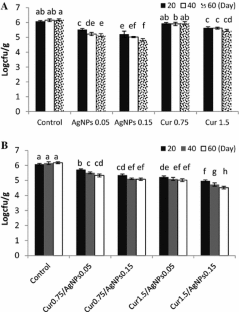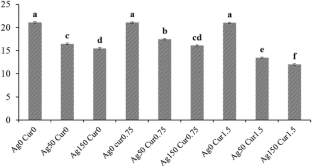 References
Agarwal M, Murugan MS, Sharma A, Rai R, Kamboj A, Sharma H, Roy SK (2013) Nanoparticles and its toxic effects: a review. Int J Curr Microbiol Appl Sci 2:76–82

Aggarwal B, Harikumar KB (2009) Potential therapeutic effects of curcumin, the anti-inflammatory agent, against neurodegenerative, cardiovascular, pulmonary, metabolic, autoimmune and neoplastic diseases. Int J Biochem Cell Biol 41(1):40–59

Aitken R, Chaudhry M, Boxall A, Hull M (2006) Manufacture and use of nanomaterials: current status in the UK and global trends. Occup Med 56(5):300–306

Ak T, Gülçin İ (2008) Antioxidant and radical scavenging properties of curcumin. Chem Biol Interact 174(1):27–37

Ali H, Tripathi G (2014) Assessment of toxicity of silver nanoparticles in an air-breathing freshwater catfish, Clarias batrachus. J Exp Zool India 17(1):151–154

Audenaert K, D'Haene K, Messens K, Ruyssen T, Vandamme P, Huys G (2010) Diversity of lactic acid bacteria from modified atmosphere packaged sliced cooked meat products at sell-by date assessed by PCR-denaturing gradient gel electrophoresis. Food Microbiol 27(1):12–18

Bar-Ilan O, Albrecht RM, Fako VE, Furgeson DY (2009) Toxicity assessments of multisized gold and silver nanoparticles in zebrafish embryos. Small 5(16):1897–1910

Benn TM, Westerhoff P (2008) Nanoparticle silver released into water from commercially available sock fabrics. Environ Sci Technol 42(11):4133–4139

Bereswill S, Muñoz M, Fischer A, Plickert R, Haag LM, Otto B, Kühl AA, Loddenkemper C, Göbel UB, Heimesaat MM (2010) Anti-inflammatory effects of resveratrol, curcumin and simvastatin in acute small intestinal inflammation. PLoS One 5(12):e15099

Björkstén B, Sepp E, Julge K, Voor T, Mikelsaar M (2001) Allergy development and the intestinal microflora during the first year of life. J Allergy Clin Immunol 108(4):516–520

Boujard T, Burel C, Médale F, Haylor G, Moisan A (2000) Effect of past nutritional history and fasting on feed intake and growthin rainbow trout Oncorhynchus mykiss. Aquat Living Resour 13(03):129–137

Brestoff JR, Artis D (2013) Commensal bacteria at the interface of host metabolism and the immune system. Nat Immunol 14(7):676–684

Buddington RK, Williams CH, Chen SC, Witherly SA (1996) Dietary supplement of neosugar alters the fecal flora and decreases activities of some reductive enzymes in human subjects. Am J Clin Nutr 63(5):709–716

Cahill MM (1990) Bacterial flora of fishes: a review. Microb Ecol 19(1):21–41

Cai CF, Wang WJ, Ye TT, Krogdahl Å, Wang YL, Xia YM, Yang CG (2012) Effect of soybean meal, raffinose and stachyose on the growth, body composition, intestinal morphology and intestinal microflora of juvenile allgynogenetic silver crucian carp (Carrassius auratus gibelio♀ × Cyprinus carpio♂). Aquacult Res 41:128–138

Chainani-Wu N (2003) Safety and anti-inflammatory activity of curcumin: a component of tumeric (Curcuma longa). J Altern Complement Med 9(1):161–168

Ciardi C, Jenny M, Tschoner A, Ueberall F, Patsch J, Pedrini M, Ebenbichler C, Fuchs D (2012) Food additives such as sodium sulphite, sodium benzoate and curcumin inhibit leptin release in lipopolysaccharide-treated murine adipocytes in vitro. Br J Nutr 107(06):826–833

De R, Kundu P, Swarnakar S, Ramamurthy T, Chowdhury A, Nair GB, Mukhopadhyay AK (2009) Antimicrobial activity of curcumin against Helicobacter pylori isolates from India and during infections in mice. Antimicrob Agents Chemother 53(4):1592–1597

Ellis RW, Clements M, Tibbetts A, Winfree R (2000) Reduction of the bioavailability of 20 μg/kg aflatoxin in trout feed containing clay. Aquaculture 183(1):179–188

Gonzalez CJ, Lopez-Diaz TM, Prieto M, Otero A (1999) Bacterial microflora of wild brown trout (Salmo trutta), wild pike (Esox lucius) and aquacultured rainbow trout (Oncorhynchus mykiss). J Food Prot 62(11):1270–1277

Guarner F, Malagelada JR (2003) Gut flora in health and disease. Lancet 361(9356):512–519

Handy RD, Shaw BJ (2007) Toxic effects of nanoparticles and nanomaterials: implications for public health, risk assessment and the public perception of nanotechnology. Health Risk Soc 9(2):125–144

Handy RD, Owen R, Valsami-Jones E (2008) The ecotoxicology of nanoparticles and nanomaterials: current status, knowledge gaps, challenges, and future needs. Ecotoxicology 17(5):315–325

Jayaprakasha G, Rao LJ, Sakariah K (2006) Antioxidant activities of curcumin, demethoxycurcumin and bisdemethoxycurcumin. Food Chem 98(4):720–724

Johari S, Kalbassi M, Soltani M, Yu I (2013) Toxicity comparison of colloidal silver nanoparticles in various life stages of rainbow trout (Oncorhynchus mykiss). Iran J Fish Sci 12(1):76–95

Kalantar M, Salary J, Sanami MN, Khojastekey M, Matin HRH (2014) Dietary supplementation of Silybum marianum or Curcuma spp on health characteristics and broiler chicken performance. Global J Animal Sci Res 2(1):58–63

Kalbassi M, Abdollahzadeh E, Salari-Joo H (2012) Effect of colloidal silver nanoparticles on population of gut bacterial flora of rainbow trout (Oncorhynchus mykiss). J Vet Res 67(2):181–189

Karatepe O, Acet E, Battal M, Adas G, Kemik A, Altiok M, Kamali G, Koculu S, Catay A, Kamali S, Karahan S (2010) Effects of glutamine and curcumin on bacterial translocation in jaundiced rats. World J Gastroenterol 16(34):4313–4320

Kawalilak LT, Franco AU, Fasenko GM (2010) Impaired intestinal villi growth in broiler chicks with unhealed navels. Poult Sci 89(1):82–87

Li X, Zhu X, Han D, Yang Y, Jin J, Xie S (2016) Carbohydrate utilization by herbivorous and omnivorous freshwater fish species: a comparative study on gibel carp (Carassius auratus gibelio. var CAS III) and grass carp (Ctenopharyngodon idella). Aquac Res 47(1):128–139

Liang G, Yang S, Jiang L, Zhao Y, Shao L, Xiao J, Ye F, Li Y, Li X (2008) Synthesis and anti-bacterial properties of mono-carbonyl analogues of curcumin. Chem Pharm Bull 56(2):162–167

Lovell RT (2003) Diet and fish husbandry. In: Halver JE, Hardy RW (eds) Fish nutrition, 3rd edn. Academic Press, San Diego, pp 703–754

Mandroli PS, Bhat K (2013) An in vitro evaluation of antibacterial activity of curcumin against common endodontic bacteria. J Appl Pharm Sci 3(10):106–108

Manju M, Sherin TG, Rajasekharan KN, Oommen OV (2009) Curcumin analogue inhibits lipid peroxidation in a freshwater teleost, Anabas testudineus (Bloch)—an in vitro and in vivo study. Fish Physiol Biochem 35(3):413–420

Martin SAM, Dehler CE, Król E (2016) Transcriptomic responses in the fish intestine. Dev Comp Immunol 64:103–117

Mishra S, Narain U, Mishra R, Misra K (2005) Design, development and synthesis of mixed bioconjugates of piperic acid–glycine, curcumin–glycine/alanine and curcumin–glycine–piperic acid and their antibacterial and antifungal properties. Bioorg Med Chem 13(5):1477–1486

Murray L (2016) Effect of nanosilver particles on metabolism and cortisol release in rainbow trout (Oncorhynchus mykiss). (MS Thesis). University of Manitoba. Retrieved from http://hdl.handle.net/1993/31083

NRC (National Research Council) (1983) Nutrient requirements of warmwater fishes and shellfishes, nutrient requirements of domestic animals series. National Academy of Sciences, Washington, D.C.

Oberdörster G, Oberdörster E, Oberdörster J (2005) Nanotoxicology: an emerging discipline evolving from studies of ultrafine particles. Environ Health Perspect 113(7):823–839

Olsen RE, Sundell K, Hansen T, Hemre GI, Myklebust R, Mayhew TM, Ringø E (2002) Acute stress alters the intestinal lining of Atlantic salmon, Salmo salar L.: an electron microscopical study. Fish Physiol Biochem 26(3):211–221

Parvathy K, Negi P, Srinivas P (2009) Antioxidant, antimutagenic and antibacterial activities of curcumin-β-diglucoside. Food Chem 115(1):265–271

Rai D, Singh JK, Roy N, Panda D (2008) Curcumin inhibits FtsZ assembly: an attractive mechanism for its antibacterial activity. Biochem J 410(1):147–155

Ramsden CS, Smith TJ, Shaw BJ, Handy RD (2009) Dietary exposure to titanium dioxide nanoparticles in rainbow trout (Oncorhynchus mykiss): no effect on growth, but subtle biochemical disturbances in the brain. Ecotoxicology 18(7):939–951

Ringø E, Olsen RE (1999) The effect of diet on aerobic bacterial flora associated with intestine of Arctic charr (Salvelinus alpinus L.). J Appl Microbiol 86:22–28

Shahbazzadeh D, Ahari H, Rahimi NM, Dastmalchi F, Soltani M, Fotovat M, Rahmannya J, Khorasani N (2009) The effects of nanosilver (Nanocid®) on survival percentage of rainbow trout (Oncorhynchus mykiss). Pak J Nutr 8(8):1178–1179

Shanock LR, Baran BE, Gentry WA, Pattison SC, Heggestad ED (2010) Polynomial regression with response surface analysis: a powerful approach for examining moderation and overcoming limitations of difference scores. J Bus Psychol 25(4):543–554

Sharifian M, Khani F, Khosravi K, Khalili M, Hedayati A (2013) Sublethal effect of nanosilver on the structure of gill of Caspian roach (Rutilus rutilus caspicus) fingerlings. Int J Aquatic Biol 1(2):55–60

Shiau RJ, Shih PC, Wen YD (2011) Effect of silymarin on curcumin-induced mortality in zebrafish (Danio rerio) embryos and larvae. Indian J Exp Biol 49(7):491–497

Song WB, Wang YY, Meng FS, Zhang QH, Zeng JY, Xiao LP, Yu XP, Peng DD, Su L, Xiao B, Zhang ZS (2010) Curcumin protects intestinal mucosal barrier function of rat enteritis via activation of MKP-1 and attenuation of p38 and NF-κB activation. PLoS One 5(9):e12969

Steinhoff U (2005) Who controls the crowd? New findings and old questions about the intestinal microflora. Immunol Lett 99(1):12–16

Sundh H, Kvamme BO, Fridell F, Olsen RE, Ellis T, Taranger GL, Sundell K (2010) Intestinal barrier function of Atlantic salmon (Salmo salar L.) post smolts is reduced by common sea cage environments and suggested as a possible physiological welfare indicator. BMC Physiol 10(1):1

Swamy MV, Citineni B, Patlolla JM, Mohammed A, Zhang Y, Rao CV (2008) Prevention and treatment of pancreatic cancer by curcumin in combination with omega-3 fatty acids. Nutr Cancer 60(S1):81–89

Szakolczai J (1996) Histopathological changes induced by environmental stress in common carp, Japanese coloured carp, European eel, and African catfish. Acta Vet Hung 45(1):1–10

Tajbakhsh S, Mohammadi K, Deilami I, Zandi K, Fouladvand M, Ramedani E, Asayesh G (2008) Antibacterial activity of indium curcumin and indium diacetylcurcumin. Afr J Biotechnol 7(21):3832–3835

Tyagi P, Singh M, Kumari H, Kumari A, Mukhopadhyay K (2015) Bactericidal activity of curcumin I is associated with damaging of bacterial membrane. PLoS One 10(3):e0121313

Wang T, Long X, Cheng Y, Liu Z, Yan S (2015) A comparison effect of copper nanoparticles versus copper sulphate on juvenile Epinephelus coioides: growth parameters, digestive enzymes, body composition, and histology as biomarkers. Int J Genomics. doi:10.1155/2015/783021

Wu Y, Zhou Q (2013) Silver nanoparticles cause oxidative damage and histological changes in medaka (Oryzias latipes) after 14 days of exposure. Environ Toxicol Chem 32(1):165–173

Yeo MK, Kang MS (2008) Effects of nanometer sized silver materials on biological toxicity during zebrafish embryogenesis. Bull Korean Chem Soc 29(6):1179–1184

Yi S, Li J, Zhu J, Lin Y, Fu L, Chen W, Li X (2011) Effect of tea polyphenols on microbiological and biochemical quality of Collichthys fish ball. J Sci Food Agric 91(9):1591–1597

Yu B, Peter WS (1996) Effects of crude fiber level in the diet on the intestinal morphology of growing rabbits. Lab Anim 30(2):143–148
Acknowledgments
The authors are grateful to the Caspian Sea Ecology Research Center (Sari, Iran) employees for their sincere cooperation and technical support in conducting the experiment and laboratory analysis. Authors are also grateful to Urmia University Research Council for partially supporting the present study. We are also thankful to Mr. Mojtaba Delfanian for his assistance in early drafting the manuscript.
About this article
Cite this article
Khorshidi, Z., Sarvi Moghanlou, K., Imani, A. et al. The Interactive Effect of Dietary Curcumin and Silver Nanoparticles on Gut Microbiota of Common Carp (Cyprinus carpio). Iran J Sci Technol Trans Sci 42, 379–387 (2018). https://doi.org/10.1007/s40995-016-0130-8
Received:

Accepted:

Published:

Issue Date:
Keywords
Curcumin

Enterobacteriaceae

Lactic acid bacteria

Mesophilic bacteria

Nanosilver

Total bacterial count