Abstract
The effects of dietary nickel oxide nanoparticles (NiO-NPs) contamination along with silymarin supplementation on pancreatic tissue of rainbow trout fingerlings were investigated. Five treatments including different levels of NiO-NPs (0, 100 and 500 mg kg−1 feed) and silymarin (0 and 1 g kg−1 feed) in three respective replicates were designed. The trial was conducted under 12L:12D photoperiod condition for 60 days. Tissue samples for histological and enzymatic studies were taken on days 30 and 60. The results from day 30 indicated that the highest and lowest alkaline protease activities were belonged to fish fed diet without any nanoparticles (T1) and those fed 100 or 500 mg kg−1 feed (T4 and T5), respectively. Dietary silymarin could to some extent prevent toxic effects of NiO-NPs on enzyme activity (T2 vs. T3). Acinar cells necrosis, edema of connective tissue and cellular shrinkage were observed in NiO-NPs received groups (T4 and T5). At the end of the trial, T2 and T3 could regain their digestive capacity after removal of nanoparticles and those groups continued to receive nanoparticles until the end of the trial (T4 and T5) showed the lowest alkaline protease activity. Moreover, the histological observations revealed pancreas tissue necrosis, nuclear degeneration and vascular dilation in the latter groups. In conclusion, NiO-NPs affected pancreatic tissue and its function in a dose-dependent manner, while dietary silymarin helped fish to sustain digestive capacity. Future researches should focus on the ecological outcomes of pollutants induced toxicity.
Access options
Buy single article
Instant access to the full article PDF.
US$ 39.95
Tax calculation will be finalised during checkout.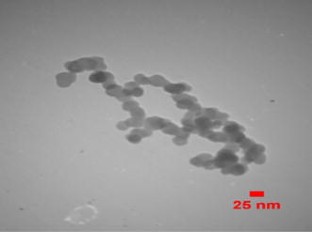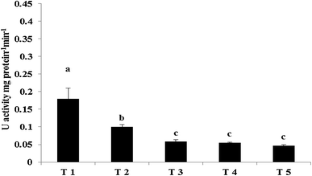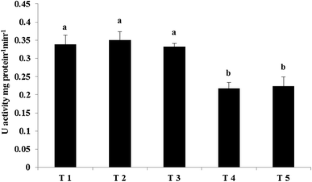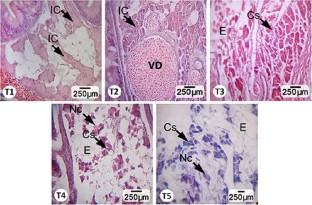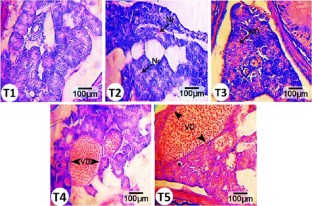 References
Agarwal M, Murugan MS, Sharma A, Rai R, Kamboj A, Sharma H, Roy SK (2013) Nanoparticles and its toxic effects: a review. Int J Curr Microbiol Appl Sci 2:76–82

Applebaum SL, Perez R, Lazo GP, Holt GL (2001) Characterization of chymotrypsin activity during ontogeny of larval red drum (Sciaenops ocellatus). Fish Physiol Biochem 25:291–300

Ardestani A, Yazdanparast R, Jamshidi Sh (2008) Therapeutic effects of Teucrium polium extract on oxidative stress in pancreas of streptozotocin-induced diabetic rats. J Med Food 11:525–532

Banaee M, Sureda A, Shahaf S, Fazilat N (2015) Protective effects of silymarin extract on malthion-induced zebra cichlid (Cichlasoma Nigrofasciatum) hepatotoxicity. Iran J Toxicol 9:1239–1246

Bauer DH, Lee DJ, Sinnhuber RO (1969) Acute toxicity of aflatoxins B1 and G1 in the rainbow trout (Salmo gairdneri). Toxicol Appl Pharmacol 15:415–419

Bolasina S, Perez A, Yamashita Y (2006) Digestive enzymes activity during ontogenic development and effect of starvation in Japanese flounder, Paralichthys olivaceus. Aquaculture 252:503–515

Boujard T, Burel C, Médale F, Haylor G, Moisan A (2000) Effect of past nutritional history and fasting on feed intake and growthin rainbow trout Oncorhynchus mykiss. Aquat Living Resour 13(03):129–137

Bradford MM (1976) A rapid and sensitive method for the quantitation of microgram quantities of protein utilizing the principle of protein-dye binding. Anal Biochem 72:248–254

Brown CC, Baker DC, Barker IK (2007) Intestine. In: Jubb K, Palmer's Pathology of Domestic Animals (5th Edition) Vol. 2, edited by M Grant Maxie, Elsevier, Edinburgh, pp 69–128

Charles JA (2007) Exocrine pancreas. In: Jubb K, Palmer's Pathology of Domestic Animals (5th Edition) Vol. 2, edited by M Grant Maxie, Elsevier, Edinburgh, pp 389–408

Chavez-Sanchez MC, Palacios CM, Moreno IO (1994) Pathological effects of feeding young Oreochromis niloticus diets supplemented with different levels of aflatoxin B1. Aquaculture 127:49–60

Chong ASC, Hashim R, Lee CY, Ali BA (2002) Partial characterization and activities of proteases form the digestive tract of discus fish (Symphysodon aequifasciata). Aquaculture 203:321–333

Corring T (1980) The adaptations of digestive enzymes to the diet: its physiological significance. Reprod Nutr Dév. 20(4B):1217–1235

Dedourge-Geffard O, Palais F, Biagianti-Risbourg S, Geffard O, Geffard A (2009) Effects of metals on feeding rate and digestive enzymes in Gammarus fossarum: an in situ experiment. Chemosphere 77:1569–1576

Doronicheva N, Yasui H, Sakurai H (2007) Chemical structure-dependent differential effects of flavonoids on the catalase activity as evaluated by a chemiluminescent method. Biol Pharm Bull 30:213–217

Eisele TA, Sinnhuber RO, Nixon JE (1983) Dietary antioxidant effects on the hepatic mixed-function oxidase system of rainbow trout (Salmo gairdneri). Food Chem Toxicol 21:273–277

Federici G, Shaw BJ, Handy RD (2007) Toxicity of titanium dioxide nanoparticles to rainbow trout (Oncorhynchus mykiss): gill injury, oxidative stress, and other physiological effects. Aquat Toxicol 84:415–430

Ferraris RP, Tan JD, DeLaCruz MC (1987) Development of the digestive tract of milkfish, Chanos chanos (Forsskal): histology and histochemistry. Aquaculture 61:241–257

Filippov AA, Golovanova IL, Aminov AI (2013) Effects of organic pollutants on fish digestive enzymes: a review. Inland Water Biol 6:155–160

Garcia-Carreno FL, Haard NF (1993) Characterization of proteinase classes in Langostilla pleuroncodesplanipes and Crayfish Pacifastacus astacus extracts. J Food Biochem 17:97–113

Grenier B, Applegate TJ (2013) Modulation of intestinal functions following mycotoxin ingestion: meta-analysis of published experiments in animals. Toxins 5:396–430

Han XY, Huang QC, Li WF, Jiang JF, Xu ZR (2008) Changes in growth performance, digestive enzyme activities and nutrient digestibility of cherry valley ducks in response to aflatoxin B1 levels. Livest Sci 119:216–220

Hanhineva K, Torronen R, Bondia-Pons I, Pekkine J, Kolehmainen M, Mykkanen H, Poutanen K (2010) Impact of dietary polyphenols on carbohydrate metabolism. Int J Mol Sci 11:1365–1402

Hsieh MS, Yin LJ, Jiang ST (2008) Purification and characterization of the amylase from a small abalone Haliotis sieboldii. Fish Sci 74:425–432

Imani A, Yazdanparast R, Farhangi M, Bakhtiyari M, Saljoghi ZS (2009) Effect of different food deprivation periods on digestive enzyme activities of rainbow trout Oncorhynchus mykiss. In: Moksness E, Dahl E, Støttrup J (eds). Aquaculture Eroupe 2009 Torndheim, pp 191–192

Ispas C, Andreescu D, Patel A, Goia DV, Andreescu S, Wallace KN (2009) Toxicity and developmental defects of different sizes and shape of nickel nanoparticles in zebrafish. Environ Sci Technol 43:6349–6356

Jantrarotai W, Lovell RT, Grizzle JM (1990) Acute toxicity of aflatoxin B1 to channel catfish. J Aquat Anim Health 2:237–247

Ji SC, Takaoka O, Lee SW, Hwang JH, Kim YS, Ishimura K, Seoka M, Jeong GS, Takii K (2009) Effect of dietary medicinal herbs on lipid metabolism and stress recovery in red sea bream Pagrus major. Fish Sci 75:665–672

Jia R, Cao L, Du J, Xu P, Jeney G, Yin G (2013) The protective effect of silymarin on the carbon tetrachloride (CCl4)-induced liver injury in common carp (Cyprinus carpio). In Vitro Cell Dev Biol Anim 49:155–161

Jobling M (1995) Digestion and absorption. Environmental biology of fishes. Chapman and Hall, London, pp 175–210

Kannan K, Jain SK (2004) Effect of vitamin B6 on oxygen radicals, mitochondrial membrane potential, and lipid peroxidation in H2O2-treated U937 monocytes. Free Radic Biol Med 36:423–428

Karkanis A, Bilalis D, Efthimiadou A (2011) Cultivation of milk thistle (Silybum marianum L. Gaertn.), a medicinal weed. Ind Crops Prod 34:825–830

Kharat PS, Pathan TS, Shejule KB (2014) Histopatholocal changes in hepatopancreas of freshwater prawn, Macrobrachium Kistnensis exposed to TBTCL. Middle East J Sci Res 22:1396–1400

Kim S, Choi JE, Choi J, Chung KH, Park K, Yi J, Ryu DY (2009) Oxidative stress-dependent toxicity of silver nanoparticles in human hepatoma cells. Toxicol In Vitro 23:1076–1084

Kovriznych JA, Sotnikova R, Zeljenkova D, Rollerova E, Szabova E (2014) Long-term (30 days) toxicity of NiO nanoparticles for adult zebrafish (Danio rerio). Interdiscip Toxicol 7:23–26

Kumar Sharma A, Bharti S, Ojha S, Bhatia J, Kumar N, Ray R, Kumari S, Arya DS (2011) Up-regulation of PPARg, heat shock protein-27 and -72 by naringin attenuates insulin resistance, b-cell dysfunction, hepatic steatosis and kidney damage in a rat model of type 2 diabetes. Br J Nutr 106(11):1713–1723

Le Bihan E, Perrin A, Koueta N (2004) Development of a bioassay from isolated digestive gland cells of the cuttlefish Sepia officinalis L. (Mollusca Cephalopoda): effect of Cu, Zn and Ag on enzyme activities and cell viability. J Exp Mar Biol Ecol 309:47–66

Lemieux H, Blier P, Dutil J (1999) Do digestive enzymes set a physiological limit on growth rate and food conversion efficiency in the Atlantic cod (Gadus morhua). Fish Physiol Biochem 20:293–303

Li SJ, Li JL, Wu TT (2007) The effects of copper, iron and zinc on digestive enzyme activities in the hybrid tilapia Oreochromis niloticus (L.) × Oreochromis aureus (Steindachner). J Fish Biol 71:1788–1798

Lovell RT (2003) Diet and fish husbandry. In: Halver JE, Hardy RW (eds) Fish nutrition, 3rd edn. Academic Press, San Diego, pp 703–754

Malekinejad H, Alizadeh A, Cheraghi H, Meshkin S, Dardmeh F (2012) The protective effect of liquorice plant extract on CCl4-induced hepatotoxicity in common carp (Cyprinus carpio). Vet Res Forum 1:158–164

McWilliams SR, Karasov WH (2001) Phenotypic flexibility in digestive system structure and function in migratory birds and its ecological significance: a review. Comp Biochem Physiol A Mol Integr Physiol 128(3):577–591

Rather MA, Sharma R, Aklakur A, Ahmad S, Kumar N, Khan M, Ramya VL (2011) Nanotechnology: a novel tool for aquaculture and fisheries development. A prospective mini-review. Fish Aquac J 16:1–5

Reddy PS, Fingerman M (1994) Effect of cadmium chloride on amylase activity in the red swamp crayfish, Procambarus clarkii. Comp Biochem Physiol C Pharmacol Toxicol Endocrinol 109:309–314

Rungraungsak-Torrissen K (2007) Digestive efficiency, growth and qualities of muscle and oocyte in Atlantic salmon (Salmo salar L.) fed with krill meal as an alternative protein source. J Food Biochem 31:509–540

Rungraungsak-Torrissen K, Lied E, Espe M (1994) Differences in digestion and absorption of dietary protein in Atlantic salmon (Salmo salar) with genetically different trypsin isozymes. J Fish Biol 45:1087–1104

Rungruangsak-Torrissen K (2012) Trypsin and its implementations for growth, maturation, and dietary quality assessment. In: Weaver k, Kelley C (eds) Trypsin: Structure, Biosynthesis and Functions, 1st edn. Nova Science Publishers Inc, New York, pp 1–59  

Rungruangsak-Torrissen K, Thongprajukaew K, Sansuwan K, Thapthimdaeng P, Kovitvadhi U, Seetaha S, Choowongkomon K, M Beck I, O Arnøy O (2012) Ecological effects on food utilization, trypsin isozymes, and performance qualities of growth and maturation in northeast Arctic cod (Gadus morhua L.). Open Fish Sci J 5:44–56

Sahoo PK, Mukherjee SC (2002) Influence of high dietary α-tocopherol intakes on specific immune response, nonspecific resistance factors and disease resistance of healthy and aflatoxin B1-induced immunocompromised Indian major carp, Labeo rohita (Hamilton). Aquac Nutr 8:159–167

Samanta P, Pal S, Mukherjee AK, Senapati T, Kole D, Ghosh AR (2014) Effects of almix herbicide on profile of digestive enzymes of three freshwater teleostean fishes in rice field condition. Toxicol Rep 1:379–384

Sarkar B, Kumar M, Verma S, Rhathore RM (2015) Effect of dietary nanosilver on gut proteases and general performance in zebrafish (Danio rerio). Int J Aquat Biol 3:60–67

Seebaugh DR, L'Amoreaux WJ, Wallace WG (2011) Digestive toxicity in grass shrimp collected along an impact gradient. Aquat Toxicol 105:609–617

Seebaugh DR, Wallace WG, L'Amoreaux WJ, Stewart GM (2012) Carbon assimilation and digestive toxicity in naïve grass shrimp (Palaemonetes pugio) exposed to dietary cadmium. Bull Environ Contam Toxicol 88:449–455

Sivaram V, Babu MM, Immanuel G, Murugadass S, Citarasu T, Marian MP (2004) Growth and immune response of juvenile greasy groupers (Epinephelus tauvina) fed with herbal antibacterial active principle supplemented diets against Vibrio harveyi infections. Aquaculture 237:9–20

Škottová N, Krečman V, Šimánek V (1999) Activities of silymarin and its flavonolignans upon low density lipoprotein oxidizability in vitro. Phytother Res 13:535–537

Solomon LR, Cohen K (1989) Erythrocyte oxygen transport and metabolism and effect of vitamin B6 therapy in type 2 diabetes mellitus. Diabetes 38:881–886

Souza MF, Tome AR, Rao VSN (1999) Inhibition by the bioflavonoid ternatin of aflatoxin b1-induced lipid peroxidation in rat liver. J Pharm Pharmacol 51:125–129

Sunde J, Taranger GL, Rungraungsak-Torrissen K (2001) Digestive protease activities and free amino acids in white muscle as indicators for feed conversion efficiency and growth rate in Atlantic salmon (Salmo salar L.). Fish Physiol Biochem 25:335–345

Suzer C, Saka Ş, Firat K (2006) Effects of illumination on early life development and digestive enzyme activities in common pandora Pagellus erythrinus L. larvae. Aquaculture 260:86–93

Tee JK, Ong CN, Bay BH, Ho HK, Leong DT (2015) Oxidative stress by inorganic nanoparticles. WIREs Nanomed Nanobiotechnol. doi:10.1002/wnan.1374

Valko M, Leibfritz D, Moncol J, Cronin MTD, Mazur M, Telser J (2007) Free radicals and antioxidants in normal physiological functions and human disease. Int J Biochem Cell Biol 39:44–84

Virgili F, Marino M (2008) Regulation of cellular signals from nutritional molecules: a specific role for phytochemicals, beyond antioxidant activity. Free Radic Biol Med 45:1205–1216

Wang T, Long X, Cheng Y, Liu Z, Yan S (2015) A comparison effect of copper nanoparticles versus copper sulphate on Juvenile Epinephelus coioides: growth parameters, digestive enzymes, body composition, and histology as biomarkers. Int J Genomics. doi:10.1155/2015/783021

Woźny M, Dobosz S, Obremski K, Hliwa P, Gomułka P, Łakomiak A, Różyński R, Zalewski T, Brzuzan P (2015) Feed-borne exposure to zearalenone leads to advanced ovarian development and limited histopathological changes in the liver of premarket size rainbow trout. Aquaculture 448:71–81

Yan T, Teo LH, Sin YM (1996) Effects of metals on α-amylase activity in the digestive gland of the green mussel, Perna viridis L. Bull Environ Contam Toxicol 56:677–682

Yazdanparast R, Ardestani A, Jamshidi S (2007) Experimental diabetes treated with Achillea santolina: effect on pancreatic oxidative parameters. J Ethnopharmacol 112:13–18

Zambare SP, Mahajan AY (2001) Heavy metal (copper and mercury) induced alterations in the enzyme secretory activity of hepatopancreas of a freshwater bivalve Corbicula Striatella. Pollut Res 20:143–146

Zhan XA, Li JX, Xu ZR, Wang M (2005) Effects of fluoride on pancreatic digestive enzyme activities and ultrastructure in young pigs. Fluoride 38:215

Zhang L, Wang WX (2006) Significance of subcellular metal distribution in prey in influencing the trophic transfer of metals in a marine fish. Limnol Oceanogr 51:2008–2017

Zhao J, Li N, Wang S, Zhao X, Wang J, Yan J, Ruan J, Wang H, Hong F (2010) The mechanism of oxidative damage in the nephrotoxicity of mice caused by nano-anatase TiO2. J Exp Nanosci 5:447–462
Acknowledgments
The authors would like to express their sincere gratitude to Vice-Chancellor for Research and Technology of Urmia University, I.R. Iran, for financial support of the research and also to Mr Jalili for his assistance in diet preparation and sampling. We are also thankful to staffs of Laboratory of Aquaculture, Urmia Lake Research Institute for their close collaborations during fish husbandry. We also appreciate the constructive suggestions and criticism given by two anonymous reviewers which certainly elaborated the quality of the manuscript.
About this article
Cite this article
Nazdar, N., Imani, A., Noori, F. et al. Effect of Silymarin Supplementation on Nickel Oxide Nanoparticle Toxicity to Rainbow Trout (Oncorhynchus mykiss) Fingerlings: Pancreas Tissue Histopathology and Alkaline Protease Activity. Iran J Sci Technol Trans Sci 42, 353–361 (2018). https://doi.org/10.1007/s40995-016-0052-5
Received:

Accepted:

Published:

Issue Date:
Keywords
Pancreas

Alkaline protease

Nickel oxide nanoparticles

Rainbow trout