Abstract
In this study, a packed bed was used to remove pathogenic bacteria from synthetic contaminated water. Two types of packing material substrates, sand and zeolite, were used. These substrates were coated with silver nanoparticles (AgNPs), which were prepared by decomposition of Ag ions from AgNO3 solution. The prepared coated packings were characterized using scanning electron microscopy, energy-dispersive X-ray spectroscopy and transmission electron microscopy. The packed column consisted of a PVC cylinder of 2 cm diameter and 20 cm in length. The column was packed with silver nanoparticle-coated substrates (sand or zeolite) at a depth of 10 cm. Four types of bacteria were studied: Escherichia coli, Shigella dysenteriae, Pseudomonas aeruginosa and Vibrio cholera. The parameters studied were feed inlet flow rate (1.5, 2, 3 and 4 L/h) and AgNO3 concentration (0.02, 0.04, 0.07 and 0.1 mM), which were used to coat the packing substrates. The best results for removal efficiency of bacteria were obtained at the feed flow rate of 1.5 L/h with AgNO3 concentration 0.1 mM. Likewise, the percent of bacterial removal from contaminated water was found to be 99% for V. cholera, 93.7% for E. coli, 85% for S. dysenteriae and 77.5% for P. aeruginosa.
Access options
Buy single article
Instant access to the full article PDF.
USD 39.95
Price excludes VAT (USA)
Tax calculation will be finalised during checkout.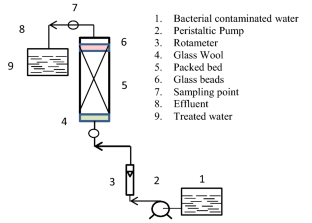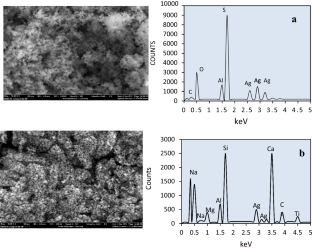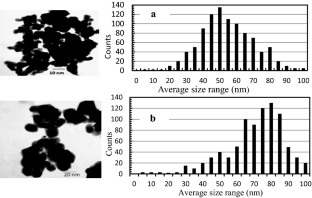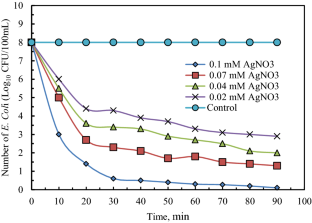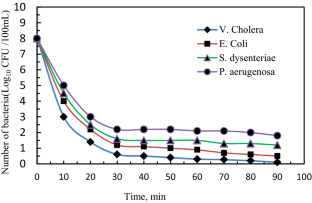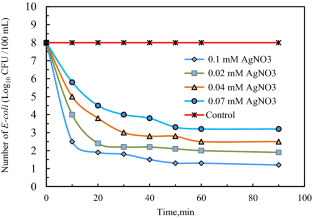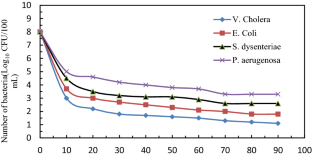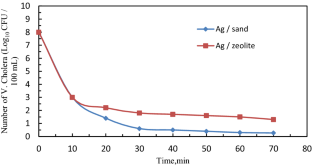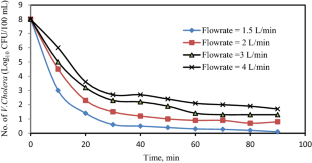 References
Amin MT, Alazba AA, Manzoor U (2014) A review of removal of pollutants from water/wastewater using different types of nanomaterials. Adv Mater Sci Eng 1:1. https://doi.org/10.1155/2014/825910

Bhattacharya A, Sharma S (2017) Drinking water contamination and treatment techniques. Appl Water Sci 7:1043–1067

Bratieres K, Fletcher TD, Deletic A, Alcazar L, Le Coustumer S (2008) Removal of nutrients heavy metals and pathogens by stormwater biofilters. In: 11th International conference on urban drainage 1–10

Carvalho A, Xavier GC, Alexandre J et al (2016) Environmental durability of soil-cement block incorporated with ornamental stone waste. Mater Sci Forum 798–799:548–553

Crini G, Lichtfouse E (2019) Advantages and disadvantages of techniques used for wastewater treatment. Environ Chem Lett 17(1):145–155

Daud MK, Nafees M, Ali S, Rizwan M, Bajwa RA et al (2017) Drinking water quality status and contamination in Pakistan. Biomed Res Int 1:1. https://doi.org/10.1155/2017/7908183

Dung TTN, Thi LP, Nang V, Thi T, Viet D (2019) Preparation of silver nanoparticle-containing ceramic filter by in-situ reduction and application for water disinfection. J Environ Chem Eng 7(3):103176

Figoli A, Saeed M, Dorraji S, Amani-ghadim AR (2017) Application of nanotechnology in drinking water purification. Elsevier, Amsterdam, pp 119–167

Gennaro B, Aprea P, Liguori B, Galzerano B, Peluso A, Caputo D (2020) applied sciences zeolite-rich composite materials for environmental remediation: arsenic removal from water. Appl Sci 10(19):6939

Gwimbi P, George M, Ramphalile M (2019) Bacterial contamination of drinking water sources in rural villages of Mohale Basin, Lesotho: exposures through neighborhood sanitation and hygiene practices. Environ Health Prev Med 24(1):1–7

Johari SA, Kalbassi MR, Soltani M, Yu IJ (2015) Application of nanosilver-coated zeolite as water filter media for fungal disinfection of rainbow trout ( Oncorhynchus mykiss ) eggs. Aquacult Int 24:23–38

Kühr S, Schneider S, Meisterjahn B et al (2018) Silver nanoparticles in sewage treatment plant effluents: chronic effects and accumulation of silver in the freshwater amphipod Hyalella Azteca. Environ Sci Eur 30(7):1–11

Margeta K, Logar NZ, Šiljeg M, Farkaš A (2013) Natural zeolites in water treatment—how effective is their use, Chap 5. In: Water Treatment. in Tech

Moustafa MT (2017) Removal of pathogenic bacteria from wastewater using silver nanoparticles synthesized by two fungal species. TITLE Water Sci 31(2):164–176

Mpenyana-monyatsi L, Mthombeni NH, Onyango MS et al (2012) Cost-Effective Filter Materials Coated with Silver Nanoparticles for the Removal of Pathogenic Bacteria in Groundwater. Int J Environ Res Public Health 9(1):244–271

Murray AL, Kumpel E et al (2017) The effect of sodium thiosulfate dechlorination on fecal indicator bacteria enumeration: laboratory and field data. J Water Health 16(1):70–77

Nasir GA, Mohammed AK, Samir HF (2016) Biosynthesis and Characterization of Silver Nanoparticles Using Olive Leaves Extract and Sorbitol. Iraqi J Biotechnol 15(1):22–32

Naushad M (2014) Surfactant assisted nano-composite cation exchanger: development, characterization, and applications for the removal of toxic Pb2+ from aqueous medium. Chem Eng J 235:100–108

Naushad M, ALOthman ZA (2015) Separation of toxic Pb2+ metal from aqueous solution using strongly acidic cation-exchange resin: analytical applications for the removal of metal ions from the pharmaceutical formulation. Desalin Water Treat 53(8):2158–2166

Naushad M, ALOthman ZA, Awual MR, Alam MM, Eldesoky GE, (2015a) Adsorption kinetics, isotherms, and thermodynamic studies for the adsorption of Pb2+ and Hg2+ metal ions from aqueous medium using Ti(IV) iodovanadate cation exchanger. Ionics 21(8):2237–2245

Naushad M, Mittal A, Rathore M, Gupta V (2015b) Ion-exchange kinetic studies for Cd(II), Co(II), Cu(II), and Pb(II) metal ions over a composite cation exchanger. Desalin Water Treat 54(10):2883–2890

Naushad M, Vasudevan S, Sharma G, Kumar A, Alothman ZA (2016) Adsorption kinetics, isotherms, and thermodynamic studies for Hg2+ adsorption from aqueous medium using alizarin red-S-loaded amberlite IRA-400 resin. Desalin Water Treat 57(39):18551–18559

Qing Y, Tang X et al (2018) Potential antibacterial mechanism of silver nanoparticles and the optimization of orthopedic implants by advanced modification technologies. Natl Center Biotechnol 5(13):3311–3327

Rus A, Leordean V, Berce P (2017) Silver Nanoparticles (AgNP) impregnated filters in drinking water disinfection. MATEC Web Conf 137(6): 07007:0–5

Surendhiran D, Sirajunnisa A, Tamilselvan K (2017) Silver–magnetic nanocomposites for water purification. Environ Chem Lett 15:367–386

Treacy J (2019) Drinking water treatment and challenges in developing countries. The relevance of hygiene to health in developing countries, In book

Tyagi PK (2016) Use of biofabricated silver nanoparticles-conjugated with antibiotic against multidrug-resistant pathogenic bacteria. Biol Insights 1(1):1–2

Wotton RS (2002) Water purification using sand. Hydrobiologia 469(1):193–201

Yin IX, Mei ML et al (2020) The Antibacterial Mechanism of Silver Nanoparticles and Its Application in Dentistry. Int J Nanomed 15:2555–2562

Zanelato EB, Alexandre J, de Azevedo ARG, Marvila MT (2019) Evaluation of roughcast on the adhesion mechanisms of mortars on ceramic substrates. Mater Struct/Materiaux et Constructions 52(3):1. https://doi.org/10.1617/s11527-019-1353-x
Acknowledgements
The author would like to thank the head of the Biotechnology Department/Genetic Engineering Institute/Baghdad University for his assistance in doing the necessary laboratory measurements concerning this study. The author expresses his gratitude to the head of the Nanotechnology Center/University of Technology for his continuous motivation and support through this research.
About this article
Cite this article
Rashid, I.M., Salman, S.D. & Mohammed, A.K. Removal of pathogenic bacteria from synthetic contaminated water using packed bed silver nanoparticle-coated substrates. Energ. Ecol. Environ. 6, 462–468 (2021). https://doi.org/10.1007/s40974-021-00208-3
Received:

Revised:

Accepted:

Published:

Issue Date:

DOI: https://doi.org/10.1007/s40974-021-00208-3
Keywords
Bacterial removal

Silver nanoparticles

Water disinfection wastewater

Treatment