Abstract
Bamboo is a multi-purpose woody grass with international and national interests accentuated by the promotion of green energy. In Asia, bamboo plantations are being successfully promoted and constitute important carbon sinks, while in Africa, they remain unimproved despite their potential service supply. In this study, we assessed ecosystem services (ESs) and biomass stock from bamboo stands in central and southern Benin. First, we interviewed 264 informants across seven sociolinguistic groups from 10 municipalities to analyse ESs importance across gender and multi-linguistic group spaces and determine trade-offs and synergies between services. Second, we used field plots to quantify biomass stocks in selected bamboo stands. Seven ESs (building material, handicraft material, medicine, firewood, support for agriculture, biological control and cultural dance) were mentioned, with provisioning ESs being the most important. ESs were equally mentioned by women and men, except for firewood and medicine which showed slightly different patterns. Handicraft material, firewood and cultural dance were mostly mentioned by Nago and Fon, whereas biological control and support for agriculture were cited by Toffin and Weme. Handicraft material, firewood and cultural dance were synergistically mentioned, but negatively associated with citations of biological control and support for agriculture, suggesting trade-offs. The estimated biomass density was remarkably low, ranging from 0.54 to 29.7 t/ha, with an average value of 11.1 t/ha. These results show a need for participative management integrating sociolinguistic groups into decision-making processes while promoting extensive bamboo plantations and bamboo carbon farming.
This is a preview of subscription content, log in to check access.
Access options
Buy single article
Instant access to the full article PDF.
US$ 39.95
Price includes VAT for USA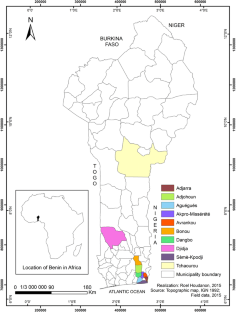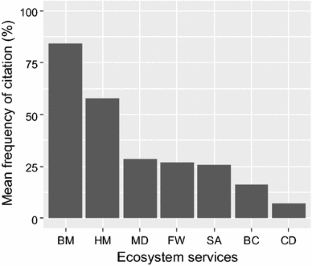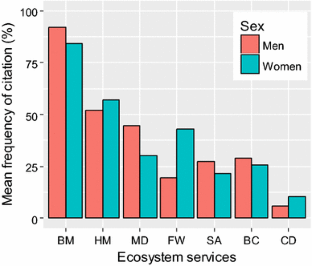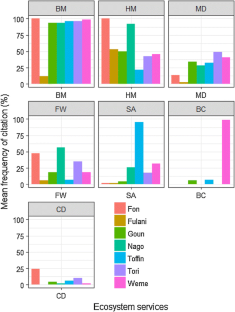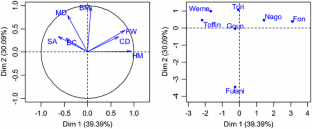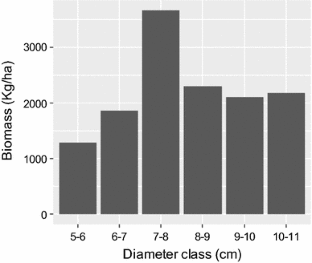 References
Agbomahenan E, Afouda F, Houssou C (2009) Impacts environnementaux de l'exploitation des mines d'argiles pour la poterie dans la Commune de Djidja au Bénin. Actes 2ème colloque de l'UAC des Sciences, Cultures et Technologies Géographie, pp 21–30

Albuquerque UP (2006) Re-examining hypotheses concerning the use and knowledge of medicinal plants a study in the Caatinga vegetation of NE Brazil. J Ethnobiol Ethnomed 2(30):1–10

Alohou EC, Gbemavo DSJC, Mensah S, Ouinsavi C (2017) Fragmentation of forest ecosystems and connectivity between sacred groves and forest reserves in Southeastern Benin, West Africa. Trop Conserv Sci 10:1–11. https://doi.org/10.1177/1940082917731730

Assogbadjo AE, Glèlè Kakaï R, Chadare FJ, Thomson L, Kyndt T, Sinsin B, Van Damme P (2008) Folk classification, perception and preferences of baobab products in West Africa: consequences for species conservation and improvement. Econ Bot 62(1):74–84

Barminas JT, Charles M, Emmanuel D (1998) Mineral composition of non-conventional leafy vegetables. Plant Foods Hum Nutr 53:29–36

Benton A, Thomson LAJ, Berg P, Ruskin S (2011) Farm and forestry production and marketing profile for Bamboo (various species). pp 1–28 in Specialty Crops for Pacific Island Agroforestry: Horticulture, value-added processing, and marketing. Edited by C.R. Elevitch. Permanent Agriculture Resources, Holualoa, Hawaii. http://agroforestry.net/scps

Bitariho R, McNeilage A (2008) Population structure of montane bamboo and causes of its decline in Echuya Central Forest Reserve, South West Uganda. Afr J Ecol 46:325–332

Bystriakova N, Kapos V, Lysenko I, Stapleton C (2003) Distribution and conservation status of forest bamboo biodiversity in the Asia-Pacific Region. Biodivers Conserv 12:1833–1841

Capo-chichi M (2008) La valorisation du bambou dans la région d'Analanjirofo (Tamatave, Madagascar). Rapport d'etude de cas Programme Pays Madagascar; Programme De Promotion des Revenus Ruraux, p 17

Chen X, Zhang X, Zhang Y, Booth T, He X (2009) Changes of carbon stocks in bamboo stands in China during 100 years. For Ecol Manag 258:1489–1496

Chihongo AW, Kishimto SI, Kachwele MN (2000) Bamboo production to consumption systems in Tanzania. INBAR Working paper No 28. 28. International Network for Bamboo and Rattans, Beijing, China

Dah-Dovonon ZJ (2000) Recherches pour la promotion et le développement du bambou et du rotin dans le Sud Benin. Foresterie et agroforesterie, pp 270–285

De Groot RS, Wilson MA, Boumans RMJ (2002) A typology for the classification, description and valuation of ecosystem functions, goods and services. Ecol Econ 41:393–408. https://doi.org/10.1016/S0921-8009(02)00089-7

El-Siddig K, Gunasena HPM, Prasad BA, Pushpakumara DKNG, Ramana KVR, Vijayanand P, Williams JT (2006) Tamarind, Tamarindus indica L. Southampton Centre for Underutilised Crops, Southampton

Embaye K, Weih M, Ledin S, Christersson L (2005) Biomass and nutrient distribution in a highland bamboo forest in southwest Ethiopia: implications for management. For Ecol Manag 204:159–169

FAO (2005) World Bamboo resources—a thematic study prepared in the framework of the Global Forest Resources Assessment. FAO

Fu J (2001) Chinese Moso bamboo: its importance. Bamboo. Mag Am Bamboo Soc 22:5–7

Haase D, Schwarz N, Strohbach M, Kroll F, Seppelt R (2012) Synergies, trade-offs, and losses of ecosystem services in urban regions: an integrated multiscale framework applied to the Leipzig-Halle region, Germany. Ecol Soc 17(3):22. https://doi.org/10.5751/ES-04853-170322

Hair JF, Black WC, Babin BJ, Anderson RE (2009) Multivariate data analysis, 7th edn. Pearson, Upper Saddle River, p 816

Honfo H, Tovissodé CF, Gnanglè C, Mensah S, Salako VK, Assogbadjo AE, Agbangla C, Glèlè Kakaï R (2015) Traditional ecological knowledge and use value of bamboo in Southeastern Benin: implications for sustainable management. Ethnobot Res Appl 14:139–153. https://doi.org/10.17348/era.14.0.139-153

Houehanou T, Assogbadjo AE, Glele Kakaï R, Houinato M, Sinsin B (2011) Valuation of local preferred uses and traditional ecological knowledge in relation to three multipurpose tree species in Benin (West Africa). For Policy Econ 13(7):554–562

Isagi Y, Kawahara T, Kamo K (1994) Biomass and net production in a bamboo (Phyllostachys bambusoides) stand. Ecol Res 8:123–133

Isagi Y, Kawahara T, Kamo K, Ito H (1997) Net production and carbon cycling in a bamboo Phyllostachys pubescens stand. Plant Ecol 130:41–52

Jusu A, Cuni Sanchez A (2014) Medicinal plant trade in Sierra Leone: threats and opportunities for conservation. Econ Bot 68:16–29

Laha R (2000) Bamboo uses for housing by different tribes of Northeast India. Bamboo Sci Cult 14(1):10–14

Laleye AOF, Mensah S, Assogbadjo AE, Ahissou H (2015) Diversity, knowledge, and use of plants in traditional treatment of diabetes in the Republic of Benin. Ethnobot Res Appl 257:231–257. https://doi.org/10.17348/era.14.0.231-257

Lobovikov M, Paudel S, Piazza M, Ren H, Wu J (2007) World Bamboo resources. FAO, Rome, p 74

Lou Y, Li Y, Kathleen B, Giles H, Zhou G (2010) Bamboo and climate change mitigation. Technical Report No. 32. International Network for Bamboo and Rattan (INBAR), Beijing

Martín-López B, Iniesta-Arandia I, García-Llorente M, Palomo I, Casado-Arzuaga I, del Amo DG, Gómez-Baggethun E, Oteros-Rozas E, Palacios-Agundez I, Willaarts B, González JA, Santos-Martín F, Onaindia M, López-Santiago C, Montes C (2012) Uncovering ecosystem service bundles through social preferences. PLoS ONE 7:e38970. https://doi.org/10.1371/journal.pone.0038970

MEA (2005) Ecosystems and human well-being: current state and trends. Washington, DC

Mensah S (2016) Selected key ecosystem services, functions, and the relationship with biodiversity in natural forest ecosystems. Ph.D. Dissertation, Stellenbosch University, South Africa, p 133

Mensah S, Veldtman R, du Toit B, Glèlè Kakaï R, Seifert T (2016) Aboveground biomass and carbon in a South African mistbelt forest and the relationships with tree species diversity and forest structures. Forests 79:1–17

Mensah S, Veldtman R, Assogbadjo A, Cori H, Glèlè Kakaï R, Seifert T (2017a) Ecosystem service importance and use vary with socio-environmental factors: a case study from household-surveys in local communities of South Africa. Ecosyst Serv 23:1–8

Mensah S, Veldtman R, Seifert T (2017b) Allometric models for height and aboveground biomass of dominant tree species in South African Mistbelt forests. South For J For Sci 79(1):19–30

Nath AJ, Bhattacharjee P, Nandy S, Das AK (2011) Traditional utilization of village bamboos among the tea tribes of Barak Valley, northeast India. Bamboo Sci Cult 24(1):35–44

Niyonkuru C, Lalèyè PA (2010) Impact of acadja fisheries on fish assemblages in Lake Nokoué, Benin, West Africa. Knowl Manag Aquat Ecosyst. https://doi.org/10.1051/kmae/2010033

Okioga T (2006) Ecological sanitation and market based product development using Bamboo—an appraisal report of the Addis Ababa Pilot Project. Addis Ababa

Qi L, Liu X, Jiang Z, Yue X, Li Z, Fu J, Liu G, Guo B, Shi L (2016) Combining diameter-distribution function with allometric equation in biomass estimates: a case study of Phyllostachys edulis forests in South Anhui, China. Agrofor Syst 90(6):1113–1121. https://doi.org/10.1007/s10457-015-9887-6

Quintans KN (1998) Ancient grass, future natural resource. The National Bamboo Project of Costa Rica: a case study of the role bamboo in international development. Inbar Working paper no. 16, p 58

Schreckenberg K (1999) Products of a managed landscape: non-timber forest products in the Parklands of the Bassila Region, Benin. Glob Ecol Biogeogr 8:279–289

Singhal P, Satya S, Sudhakar P (2011) Antioxidant and pharmaceutical potential of bamboo leaves. Bamboo Sci Cult 24(1):19–28

Song XZ, Peng CH, Zhou GM, Jiang H, Wang WF, Xiang WH (2013) Climate warming-induced upward shift of Moso bamboo population on Tianmu Mountain, China. J Mt Sci 10:363–369

Tovissodé FC, Honfo HS, Salako VK, Gnanglè CP, Mensah S, Glèlè Kakaï R (2015) Population structure of two bamboo species in relation to topographical units in the Republic of Benin (West Africa): implications for sustainable management. Acta Bot Gall Bot Lett 162(1):89–96. https://doi.org/10.1080/12538078.2014.990404

Tripathi SK, Singh KP (1996) Culm recruitment, dry matter dynamics and carbon flux in recently harvested and mature bamboo savannas in the Indian dry tropics. Ecol Res 11(2):149164. https://doi.org/10.1007/BF02347681

Van der Lugt P, Lobovikov M (2008) Bamboo worldwide: the current market and future potential. Econ Planet Bamboo 22

Vodouhê GF (2011) Non-timber forest products use and biodiversity conservation in Benin. Ph.D. Dissertation, Université d'Abomey-Calavi, Benin, p 185

Vodouhê GF, Coulibaly O, Greene C, Sinsin B (2009) Estimating local values of non-timber forest products to Pendjari biosphere reserve dwellers in Benin. Econ Bot 63(4):397–412

Xuhe C (2003) Promotion of bamboo for poverty alleviation and economic development. J Bamboo Rattan 2(4):345–350

Yang P, Yang C, Sale WS (2004) Flagellar radial spoke protein 2 is a calmodulin binding protein required for motility in Chlamydomonas reinhardtii. Eukaryot Cell 3(1):72–81

Yen TM, Lee JS (2011) Comparing aboveground carbon sequestration between Moso bamboo (Phyllostachys heterocycla) and China fir (Cunninghamia lanceolata) forests based on the allometric model. For Ecol Manag 261:995–1002

Zhou G, Jiang P (2004) Density, storage and spatial distribution of carbon in Phyllostachy pubescens forest. Sci Silvae Sin 40(6):20–24
Acknowledgements
The authors are grateful to the two anonymous reviewers for their constructive comments on the first version of this article. We would like to acknowledge the "Consolidoc" financial support from the Research Division of Stellenbosch University, which facilitated exchange of ideas.
Ethics declarations
Conflict of interest
On behalf of all authors, the corresponding author states that there is no conflict of interest.
About this article
Cite this article
Houdanon, R.D., Mensah, S., Gnanglè, C. et al. Ecosystem services and biomass stock from bamboo stands in central and southern Benin, West Africa. Energ. Ecol. Environ. 3, 185–194 (2018). https://doi.org/10.1007/s40974-018-0084-0
Received:

Revised:

Accepted:

Published:

Issue Date:
Keywords
Biomass

Cultural valuation

Gender

Local perception

Sociocultural group