Abstract
This study reports the dimensional accuracy of laser based powder bed fusion made parts with the effect of various input parameters while processing CL50WS material as the workpiece material. CL50WS material is mainly used in die and mould manufacturing industry for making die, tool insert, mould or casting die. In today's competitive era, the quality of the final product is driven by the mechanical properties of the die or mould, for die and mould manufacturing industry. This study focuses on studying the effects of process parameters, such as laser power, scanning speed, layer thickness and hatch spacing, on fabricated specimens. Analysis of variance was used to test the adequacy of the established models and also to find the significance of the parameters on response. The R2 was found to be 0.9265 which depicted that the developed models are suitable and effectively predict the dimensional accuracy within the range of chosen process parameters. The results suggest that layer thickness is the most significant parameters for dimensional accuracy.
This is a preview of subscription content, log in to check access.
Access options
Buy single article
Instant access to the full article PDF.
US$ 39.95
Price includes VAT for USA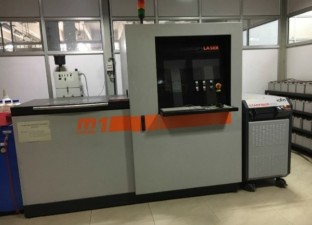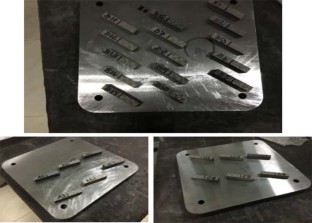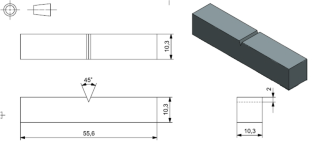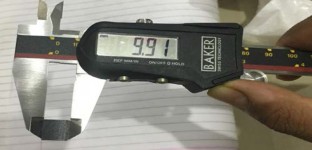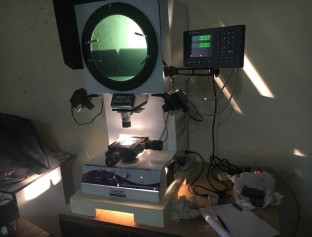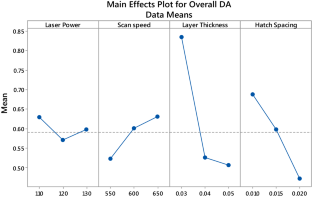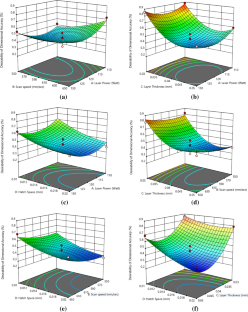 References
1.

International A (2016) International standard ISO/ASTM additive manufacturing—general principles—terminology, vol. 2016

2.

Klocke F, Arntz K, Teli M, Winands K, Wegener M, Oliari S (2017) State-of-the-art laser additive manufacturing for hot-work tool steels. Procedia CIRP 63:58–63

3.

Lee JH, Jang JH, Joo BD, Yim HS, Moon YH Application of direct laser metal tooling for AISI H13 tool steel. 8221

4.

Kempen K, Yasa E, Thijs L, Kruth JP, Van Humbeeck J (2011) Microstructure and mechanical properties of selective laser melted 18Ni-300 steel. Phys Procedia 12 (Part 1):255–263

5.

Hong W, Lee YT, Gong H (2005) A study of the staircase effect induced by material shrinkage in rapid prototyping. Rapid Prototyp J 11(2):82–89

6.

Nelson JC, Xue S, Barlow JW, Beaman JJ, Marcus HL, Bourell DL (1993) Model of the selective laser sintering of bisphenol-A polycarbonate. Ind Eng Chem Res 32(10):2305–2317

7.

Singh S, Sharma VS, Sachdeva A (2012) Optimization and analysis of shrinkage in selective laser sintered polyamide parts. Mater Manuf Process 27(6):707–714

8.

Ahmadi Dastjerdi A, Movahhedy MR, Akbari J (2010) Optimization of process parameters for reducing warpage in selected laser sintering of polymer parts. Addit Manuf 18, no.:285–294, 2017

9.

Ning Y, Wong YS, Fuh JYH, "Effect and control of hatch length on material properties in the direct metal laser sintering process," Proc. Inst. Mech. Eng. Part B J. Eng. Manuf., 2005

10.

Raghunath N, Pandey PM 2007 Improving accuracy through shrinkage modelling by using Taguchi method in selective laser sintering Int J Mach Tools Manuf

11.

Esakki B, Rajamani D, Arunkumar P (2018) Modeling and prediction of optimal process parameters in wear behaviour of selective inhibition sintered high density polyethylene parts. Prog Addit Manuf 3(3):109–121. https://doi.org/10.1007/s40964-017-0033-z

12.

Singh S, Sachdeva A, Sharma VS (2017) Optimization of selective laser sintering process parameters to achieve the maximum density and hardness in polyamide parts. Prog Addit Manuf 2(1–2): 19–30

13.

Singh S, Sharma VS, Sachdeva A (2018) Application of response surface methodology to analyze the effect of selective laser sintering parameters on dimensional accuracy. Prog Addit Manuf 0:0123456789

14.

Martinez-Conesa EJ, Egea JA, Miguel V, Toledo C, Meseguer-Valdenebro JL (2017) Optimization of geometric parameters in a welded joint through response surface methodology. Constr Build Mater 154:105–114

15.

Kirboga S, Öner M (2013) Application of experimental design for the precipitation of calcium carbonate in the presence of biopolymer. Powder Technol 249:95–104

16.

Khajeh M (2009) Application of Box-Behnken design in the optimization of a magnetic nanoparticle procedure for zinc determination in analytical samples by inductively coupled plasma optical emission spectrometry. J Hazard Mater 172(1):385–389

17.

Kirboga S, Öner M (2016) Investigating the effect of ultrasonic irradiation on synthesis of calcium carbonate using Box-Behnken experimental design. Powder Technol. https://doi.org/10.1016/j.powtec.2016.11.042

18.

Kruth JP, Mercelis P, Van Vaerenbergh J, Froyen L, Rombouts M (2005) Binding mechanisms in selective laser sintering and selective laser melting. Rapid Prototyping J 11(1):26–36

19.

Letenneur M, Brailovski V, Kreitcberg A, Paserin V, Bailon-Poujol I (2017) Laser powder bed fusion of water-atomized iron-based powders: process optimization. J Manuf Mater Process. https://doi.org/10.3390/jmmp1020023

20.

Sachdeva A, Singh S, Sharma VS (2013) Investigating surface roughness of parts produced by SLS process. Int J Adv Manuf Technol 64(9–12):1505–1516

21.

Singh S, Datta SS, Mahapatra T, Singha, Majumdar G (2013) Optimization of bead geometry of submerged arc weld using fuzzy based desirability function approach. J Intell Manuf 24(1):35–44
Additional information
Publisher's Note
Springer Nature remains neutral with regard to jurisdictional claims in published maps and institutional affiliations.
About this article
Cite this article
Hiren, M., Gajera, M.E., Dave, K.G. et al. Experimental investigation and analysis of dimensional accuracy of laser-based powder bed fusion made specimen by application of response surface methodology. Prog Addit Manuf 4, 371–382 (2019). https://doi.org/10.1007/s40964-019-00076-8
Received:

Accepted:

Published:

Issue Date:
Keywords
Additive manufacturing, Laser-based powder bed fusion

ANOVA

RSM

CL50WS

Shrinkage rate