Abstract
In this research, the effects of electromagnetic stirring and 1.5 wt% SiC nanoparticles on the solidification microstructure and mechanical properties of alloy Al A357 were studied at three different frequencies (10, 35, and 60 Hz). The microstructural evolution was characterized by scanning electron and optical microscopy, and the mechanical properties were studied by hardness and room-temperature uniaxial tensile tests. The results showed that with an increase in frequency to 60 Hz in the presence of 1.5 wt% SiC nanoparticles, the dendrite size was reduced from 59.5 ± 1.8 to 15.5 ± 3.6 µm (%73.9). By the application of electromagnetic stirrer frequencies from 0 to 60 Hz in the presence of 1.5 wt% SiC nanoparticles, the hardness, yield stress, and ultimate tensile stress of the Al A357-1.5 wt% SiC nanocomposites were increased by 30.9, 57.7, and 57.9%, respectively, compared to as-cast specimen. Orowan strengthening, Hall–Petch mechanism, and the load bearing were determined as the effective mechanisms in improvement in mechanical properties.
Access options
Buy single article
Instant access to the full article PDF.
USD 39.95
Price excludes VAT (USA)
Tax calculation will be finalised during checkout.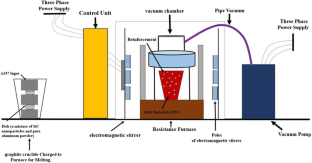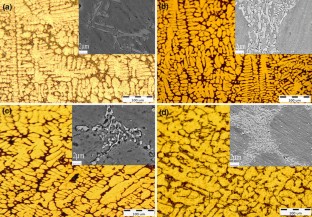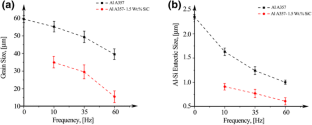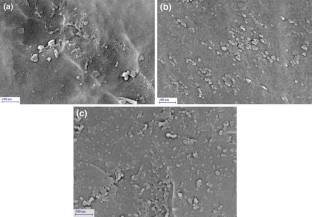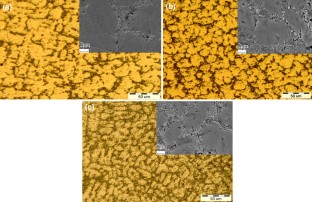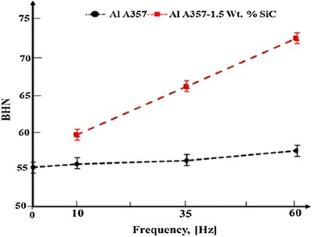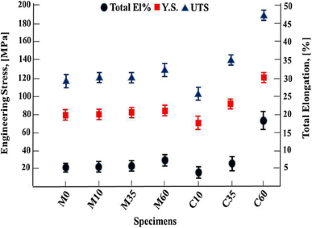 References
S.P. Bains, S.S. Sidhu, H.S. Payal, Fabrication and machining of metal matrix composites. Mater. Manuf. Process. 31(5), 553–573 (2016)

N. Barmanland, P. Dutta, Effect of process parameters on transport phenomena during solidification in the presence of electromagnetic stirring. Trans. Indian Inst. Met. 62(4), 469–474 (2009)

Q.Y. Hu, H.D. Zhao, J.L. Ge, Microstructure and mechanical properties of (B4C + Al3Ti)/Al hybrid composites fabricated by a two-step stir casting process. Mater. Sci. Eng., A 650, 478–482 (2016)

D. Lu, Y. Jiang, G. Guan, R. Zhou, Z. Li, R. Zhou, Refinement of primary Si in hypereutectic Al-Si alloy by electromagnetic stirring. J. Mater. Sci. Technol. 189, 13–18 (2007)

C. Maxell, A. Gruttadauria, M. Peroni, Application of electromagnetic stirring for the homogenization of aluminum billet cast in a semi-continuous machine. J. Mater. Process. Technol. 210, 306–314 (2010)

A. Kumar, S. Lal, S. Kumar, Fabrication and characterization of A359-Al2O3 metal matrix composite using electromagnetic stir casting method. J. Mater. Res. Technol. 2(3), 250–254 (2013)

S.P. Dwivedi, S. Sharma, R.K. Mishra, Microstructure and mechanical properties of A356/SiC composites fabricated by electromagnetic stir casting. Proced. Mater. Sci. 6, 1524–1532 (2014)

C.G. Kang, J.W. Bae, B.M. Kim, The grain size control of A356 aluminum alloy by horizontal electromagnetic stirring for rheology forging. J. Mater. Process. Technol. 187, 344–348 (2007)

Y. Zhiming, C. Meiling, Y. Jun, Grain refinement of CuNi10Fe1Mn alloy by SiC nanoparticles and electromagnetic stirring. Mater. Manuf. Process. 28(8), 957–961 (2013)

L. Yao, H. Hao, S.W. Gu, Effects of electromagnetic stirring on microstructure and mechanical properties of super light Mg–Li–Al–Zn alloy. Trans. Nonferrous Met. Soc. China 20, 388–392 (2010)

Y.D. Huang, K.U. Kainer, N. Hort, Mechanism of grain refinement of Mg–Al alloys by SiC inoculation. Scr. Mater. 64(8), 793–796 (2011)

S. Kumar, D. Kumar, Manufacturing aluminium composites materials using stir casting process: challenges and opportunities. Int. J. Eng. Res. Technol. 4(6), 19–22 (2015)

B.S. Yigezu, P.K. Jha, M.M. Mahapatra, The key attributes of synthesizing ceramic particulate reinforced Al-based matrix composites through stir casting process. Mater. Manuf. Process. 28, 969–979 (2013)

Q. Hu, H. Zhao, F. Li, Effects of manufacturing processes on microstructure and properties of Al/A356-B4C composites. Mater. Manuf. Process. 31(10), 1292–1300 (2016)

D. Koutsoyiannis, Clausius-Clapeyron equation and saturation vapour pressure: simple theory reconciled with practice. Eur. J. Phys. 33(2), 395 (2012)

N.Q. Tuan, H. Puga, J. Barbosa, Grain refinement of Al–Mg–Sc alloy by ultrasonic treatment. Met. Mater. Int. 21(2), 72–88 (2015)

G. Cao, H. Konishi, X. Li, Recent developments on ultrasonic cavitation based solidification processing of bulk magnesium nanocomposites. Int. J. Metalcasting. 2(1), 57–65 (2008)

R. Haghayeghi, L. Nastac, On microstructural refinement of an AA7449 aluminium alloy through shearing above liquidus temperature. Mater. Lett. 65(21), 3230–3233 (2011)

L. Peiyong, J. Jun, G. Jiagjie, Effect of melt superheating on microstructure and mechanical properties of A357 alloy. Trans. Nonferrous Met. Soc. China 7(3), 94–97 (1997)

C. Zhongwei, Z. Ruijie, Effect of strontium on primary dendrite and eutectic temperature of A357 aluminum alloy. J. Res. Dev. China 7(2), 149–152 (2010)

A.D. Hamedan, M. Shahmiri, Production of A356-1.0wt.% SiC nanocomposite by the modified stir casting method. Mater. Sci. Eng. A 556, 921–926 (2012)

P. Padhi, K. Naveen Kumar, G. Sudeshna, Modeling and experimental validation of deagglomeration of ultrafine nanoparticles in liquid Al during noncontact ultrasonic casting. Mater. Manuf. Process. 31(12), 1589–1596 (2016)

M. Hajizamani, H. Baharvandi, Fabrication and studying the mechanical properties of A356 alloy reinforced with Al2O3-10% Vol. ZrO2 nanoparticles through stir casting. Adv. Mater. Phys. Chem. 1(2), 26–30 (2011)

K. Amouri, S. Kazemi, A. Momeni, Microstructure and mechanical properties of Al-nano/micro SiC composites produced by stir casting technique. Mater. Sci. Eng., A 674, 569–578 (2016)

Y. Yang, J. Lan, X. Li, Study on bulk aluminum matrix nano-composite fabricated by ultrasonic dispersion of nano-sized SiC particles in molten aluminum alloy. Mater. Sci. Eng., A 380(1), 378–383 (2004)

A. Mazahery, M.O. Shabani, Characterization of cast A356 alloy reinforced with nano SiC composites. Trans. Nonferrous Met. Soc. China 22(2), 275–280 (2012)

L. Hua-ji, L. Chang-ming, L. Ge-sheng, Modification effects of Lanthanum-rich mischmetal on A357 alloy. Rare Earths 19(1), 149–152 (2001)

M. Faraji, L. Katgerman, Microstructural analysis of modification and grain refinement in a hypoeutectic Al–Si alloy. Int. J. Cast Met. Res. 22(1–4), 108–110 (2009)

B.N. Sarada, P.L. Srinivasamurthy, Swetha, microstructural characteristics of Sr and Na modified Al–Mg–Si alloy. Int. J. Innov. Res. Sci. Eng. Tech. 2(8), 3375–3983 (2013)

R. Haghayeghi, E.J. Zoqui, D.G. Eskin, Grain refinement of an Al-10% Mg alloy by intensive shearing in the liquid state. J. Alloys Compd. 485(1), 807–811 (2009)

A. Ansary Yar, M. Montazerian, H. Abdizadeh, Microstructure and mechanical properties of aluminum alloy matrix composite reinforced with nano-particle MgO. J. Alloys Compd. 484, 400–404 (2009)

H.R. Ezatpour, S.A. Sajjadi, M.H. Sabzevar, Investigation of microstructure and mechanical properties of Al6061-nanocomposite fabricated by stir casting. Mater. Des. 55, 921–928 (2014)

K.K. Chawla, N. Chawla, Metal-Matrix Composites (Springer, New York, 2006)

M.J. Shen, T. Ying, F.Y. Chen, J.M. Hou, Effects of hybrid SiCp on the microstructures and mechanical properties of AZ31B alloy. Int. J. Metalcasting. 11(2), 266–273 (2017)

L. Poovazhagan, K. Kalaichelvan, A. Rajadurai, Characterization of hybrid silicon carbide and boron carbide nanoparticles-reinforced aluminum alloy composites. Proced. Eng. 64, 681–689 (2013)

S.A. Sajjadi, H.R. Ezatpour, M. Torabi Parizi, Comparison of microstructure and mechanical properties of A356 aluminum alloy/Al2O3 composites fabricated by stir and compo-casting processes. Mater. Des. 34, 106–111 (2012)

A. Azad, L. Bichler, A. Elsayed, Effect of a novel Al–SiC grain refiner on the microstructure and properties of AZ91E magnesium alloy. Int. J. Metalcasting. 7(4), 49–59 (2013)

M. Habibnejad-Korayem, R. Mahmudi, W.J. Poole, Enhanced properties of Mg-based nanocomposites reinforced with Al2O3 nano-particles. Mater. Sci. Eng., A 519, 198–203 (2009)
About this article
Cite this article
Mohammadi Badizi, R., Askari-Paykani, M., Parizad, A. et al. Effects of Electromagnetic Frequency and SiC Nanoparticles on the Microstructure Refinement and Mechanical Properties of Al A357-1.5 wt% SiC Nanocomposites. Inter Metalcast 12, 565–573 (2018). https://doi.org/10.1007/s40962-017-0194-z
Published:

Issue Date:

DOI: https://doi.org/10.1007/s40962-017-0194-z
Keywords
Al A357

electromagnetic stirrer

SiC nanoparticles

solidification microstructure

microstructure refinement

mechanical properties