Abstract
The effect of various coating layers on the skin effect formation in thin-walled ductile iron casting with glass wool heat insulator has been investigated. Graphite, MgO, Zr, Zr + graphite, MgO + graphite coating layers have been used. We observed that the different coating layers can be used to control cooling rate. Higher heat conductivity coating layer yields lower cooling rate, while lower heat conductivity yields higher cooling rate. The use of double layer can further increase cooling rate which was observed for Zr + graphite and MgO + graphite double coating layers. These may only be applicable in our system. Higher cooling rate system produces a casting product that has thinner skin effect. The use of MgO layer yields lower skin effect thickness which stood at 52.27 µm.
This is a preview of subscription content, log in to check access.
Access options
Buy single article
Instant access to the full article PDF.
US$ 39.95
Price includes VAT for USA
Subscribe to journal
Immediate online access to all issues from 2019. Subscription will auto renew annually.
US$ 199
This is the net price. Taxes to be calculated in checkout.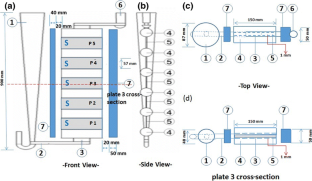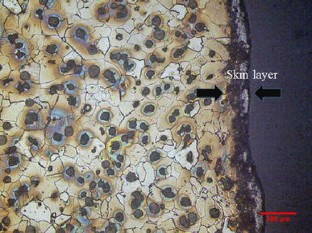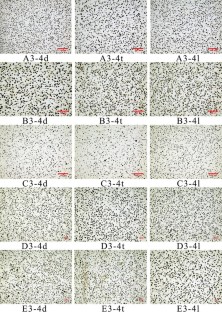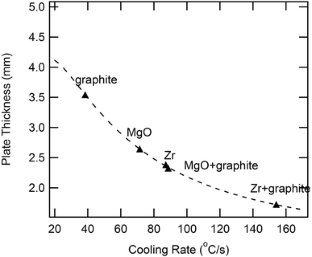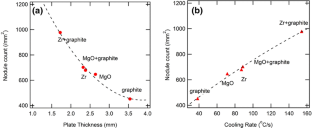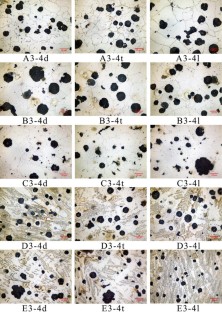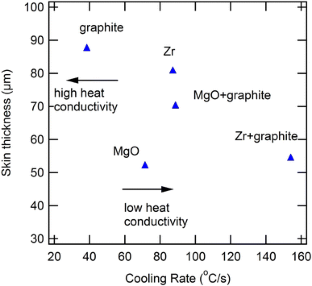 References
1.

E.N. Pan, C.C. Fan, H.Y. Chang, High Temperature Thermal Fatigue Property of Thin-Section Ductile Cast Iron (American Foundry Society, Schaumburg, 2010)

2.

M. Caldera, M. Chapetti, J.M. Massone, J.A. Sikora, Influence of nodule count on fatigue properties of ferritic thin wall ductile iron. Mater. Sci. Tech. 23, 1000–1004 (2007)

3.

R.A. Martinez, R.E. Boeri, J.A. Sikora, Application of ADI in high strength thin wall automotive parts, in Proceedings of the 2002 World Conference on ADI. AFS (2002) (pp. 144–148)

4.

D.M. Stefanescu, L.P. Dix, R.E. Ruxanda, C. Crobitt-Coburn, T.S. Piwonka, Tensile properties of thin wall ductile iron. AFS Transactions, 110 (2002)

5.

J.W. Soedarsono, R.D. Sulamet-Ariobimo, Effect of casting design to microstructure and mechanical properties of 1 mm thin walled ductile iron plate, in Applied Mechanics and Materials, Vol. 110 (Trans Tech Publications, 2012) pp. 3301–3307

6.

H. Reisener, Some aspects of the formation and structure of a skin on iron castings and a method used to obviate its occurrence. The British Foundryman, (1962) pp. 362–369

7.

R.C. Aufderheide, R.E. Showman, M.A. Hysell, 05-043 controlling the" skin effect" on thin-wall ductile iron castings. Trans.-Am. Foundrym. Soc. 113, 567 (2005)

8.

R.E. Ruxanda, D.M. Stefanescu, T.S. Piwonka, Microstructure characterization of ductile thin-wall iron castings. Trans.-Am. Foundrym. Soc. 2, 1131–1148 (2002)

9.

G.M. Goodrich, R.W. Lobenhofer, Effect of cooling rate on ductile iron mechanical properties, in Transactions of the American Foundry Society and the One Hundred Sixth Annual Casting Congress,(2002) pp. 1003–1032

10.

D. Dhaneswara, B. Suharno, N.D. Nugraha, R.D.S. Ariobimo, N. Sofyan, Effects of ceramic fibre insulation thickness on skin formation and nodule characteristics of thin wall ductile iron casting, in IOP Conference Series: Materials Science and Engineering, Vol. 176, No. 1 (IOP Publishing, 2017), p. 012032

11.

R.D. Sulamet-Ariobono, J.W. Soedarsono, Effect of plate thickness and casting position on skin effect formation in thin wall ductile iron plate. Int. J. Technol. 7(3), 374–382 (2016)

12.

K.M. Pedersen, N.S. Tiedje, Graphite nodule count and size distribution in thin-walled ductile cast iron. Mater. Charact. 59(8), 1111–1121 (2008)

13.

M. Górny, E. Tyrała, Effect of cooling rate on microstructure and mechanical properties of thin-walled ductile iron castings. J. Mater. Eng. Perform. 22(1), 300–305 (2013)

14.

O.N. Dogan, K.K. Schrems, J.A. Hawk, Microstructure Of Thin-Wall Ductile Iron Castings (No. DOE/ARC-2004-041). (Albany Research Center (ARC), Albany, 2003)

15.

A.I. Al-Ghonamy, M. Ramadan, N. Fathy, K.M. Hafez, A.A. El-Wakil, Effect of graphite nodularity on mechanical properties of ductile iron for waterworks fittings and accessories. Int. J. Civil. Environ. Eng. 10, 1–5 (2010)
Acknowledgements
Authors thank the Indonesian government for research funding. Authors also thank Geteka Fourindo company which allowed us to conduct our experiment in its factory.
About this article
Cite this article
Dhaneswara, D., Suharno, B., Ariobimo, R.D.S. et al. Effect of Coating Layer of Sand Casting Mold in Thin-Walled Ductile Iron Casting: Reducing the Skin Effect Formation. Inter Metalcast 12, 362–369 (2018). https://doi.org/10.1007/s40962-017-0173-4
Keywords
thin-walled ductile iron

coating layers

cooling rate