Abstract
The study examines the level of inefficiency present in three different sectors of India. More specifically, it applies different estimation techniques to measure the level of efficiency across the agriculture, service and manufacturing sectors by choosing twenty stocks from each of them. Since there are multiple industries belonging to a particular sector, capturing the intra-industry differential in their efficiencies is also crucial. Presence of long range dependence and the time-varying efficiency across the industries belonging to different sectors have been tested. Then, the impact of recent macroeconomic event of Demonetization on these industries have been explored using six event windows. The results confirm that the impact of this event on the industry returns are mostly negative and significant. However, the magnitude of impact varies across industries depending on the level of demand uncertainty and their cash dependence. Finally, the robustness of our findings has been checked using fixed effect panel regression which further validates the results of the event study.
This is a preview of subscription content, log in to check access.
Access options
Buy single article
Instant access to the full article PDF.
US$ 39.95
Price includes VAT for USA
Subscribe to journal
Immediate online access to all issues from 2019. Subscription will auto renew annually.
US$ 99
This is the net price. Taxes to be calculated in checkout.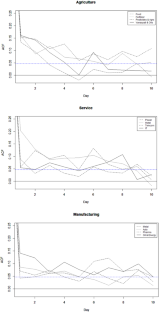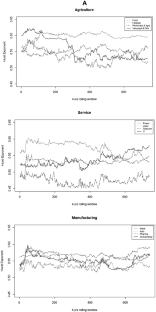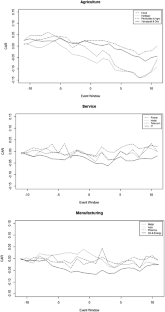 Notes
1.

2.

For Austria, Germany, Ireland, Estonia and Latvia banknotes and coins are acceptable to national central banks indefinitely.

3.

4.

5.

6.

7.

We have checked the same for value weighted portfolios and the results are almost similar.

8.
References
Antoniou, A., N. Ergul, and P. Holmes. 1997. Market efficiency, thin trading and non-linear behaviour: Evidence from an emerging market. European Financial Management 3 (2): 175–190.

Barua, S.K., and V. Raghunathan. 1987. Inefficiency and speculation in the Indian capital market. Vikalpa 12 (3): 53–58.

Bekaert, G. 1995. Market integration and investment barriers in emerging equity markets. World Bank Economic Review 9 (1): 75–107.

Bhattacharya, U., H. Daouk, B. Jorgenson, and C. Kehr. 2000. When an event is not an event: The curious case of an emerging market. Journal of Financial Economics 55 (1): 69–101.

Bhaumik, S.K., N. Driffield, and S. Pal. 2010. Does ownership structure of emerging-market firms affect their outward FDI? The case of the Indian automotive and pharmaceutical sectors. Journal of International Business Studies 41 (3): 437–450.

Bollerslev, T. 1986. Generalized autoregressive conditional heteroskedasticity. Journal of Econometrics 31 (3): 307–327. https://doi.org/10.1016/0304-4076(86)90063-1.

Breloff, P., and S. Rotman. 2011. An overview of the G2P payments sector in India. In: CGAP.

Brown, K.C., W.V. Harlow, and S.M. Tinic. 1988. Risk aversion, uncertain information, and market efficiency. Journal of Financial Economics 22 (2): 355–385.

Cajueiro, D.O., and B.M. Tabak. 2004. The Hurst exponent over time: Testing the assertion that emerging markets are becoming more efficient. Physica A: Statistical Mechanics and its Applications 336 (3/4): 521–537.

Campbell, J.Y., A.W.C. Lo, and A.C. MacKinlay. 1997. The econometrics of financial markets. New Jersey: Princeton University Press.

Carrington, S. 1992. The remonetisation of the commonwealth of independent states. American Economic Review Papers and Proceedings 82 (2): 22–26.

Clarke, S. 1998. The financial system and demonetization of the economy. Warwick: University of Warwick. https://warwick.ac.uk/#News.

Corazza, M., and A.G. Malliaris. 2002. Multi-fractality in foreign currency markets. Multinational Finance Journal 6 (2): 65–98.

Cutland, N. J., P. E. Kopp, and W. Willinger. 1995. Stock price returns and the Joseph effect: A fractional version of the Black–Scholes model. In Seminar on stochastic analysis, random fields and applications (pp. 327–351). Springer.

Ding, Z., C.W.J. Granger, and R.F. Engle. 1993. A long memory property of stock market returns and a new model. Journal of Empirical Finance 1 (1): 83–106. https://doi.org/10.1016/0927-5398(93)90006-D.

Eberstadt, N. 2013. Western aid: The missing link for North Korea's economic revival? In North Korea in transition: Politics, economy, and society, ed. Kyung-Ae Park and Scott Snyder, 119–152. Lanham: Rowman and Littlefield Publishers.

Fama, E.F. 1970. Efficient capital markets: A review of theory and empirical work. Journal of Finance 25 (2): 383–417.

Fama, E.F. 1991. Efficient markets: II. Journal of Finance 46 (5): 1575–1617.

Fama, E.F., L. Fisher, M.C. Jensen, and R. Roll. 1969. The adjustment of stock prices to new information. International Economic Review 10 (1): 1–21.

Fama, E.F., and K.R. French. 1992. The cross-section of expected stock returns. Journal of Finance 47 (2): 427–465.

Fatum, R., and M.M. Hutchison. 2003. Is sterilised foreign exchange intervention effective after all? An event study approach. The Economic Journal 113 (487): 390–411.

Greene, M.T., and B.D. Fielitz. 1977. Long-term dependence in common stock returns. Journal of Financial Economics 4 (3): 339–349.

Gu, F. 2005. Innovation, future earnings, and market efficiency. Journal of Accounting, Auditing and Finance 20 (4): 385–418.

Gunjan, M.S., K. Gupta, and R. Bandyopadhyay. 2012. Financial challenges in the Indian hospitality industry. Worldwide Hospitality and Tourism Themes 4 (2): 163–173.

Hlaing, K.Y. 2005. Myanmar in 2004: Another year of uncertainty. Asian Survey 45 (1): 174–179.

Hurst, H.E. 1951. Long-term storage capacity of reservoirs. Transactions of the American Society of Civil Engineers 116: 770–808.

Jensen, M.C. 1978. Some anomalous evidence regarding market efficiency. Journal of Financial Economics 6 (2/3): 95–101.

Kothari, S.P., and J.B. Warner. 2006. Econometrics of event studies. In Handbook of corporate finance: Empirical corporate finance, ed. B.E. Eckbo, 3–36. North Holland: Elsevier.

Kumar, D., and S. Maheswaran. 2013. Detecting sudden changes in volatility estimated from high, low and closing prices. Economic Modelling 31: 484–491.

Lo, A.W.C. 1991. Long-term memory in stock market prices. Econometrica 59: 1279–1313.

Mandelbrot, B.B. 1971. When can price be arbitraged efficiently? A limit to the validity of the random walk and martingale models. The Review of Economics and Statistics 53 (3): 225–236.

Mandelbrot, B.B. 1997. Fractal and scaling in finance: Discontinuity, concentration, risk. New York: Springer.

Mishra, P.K., K.B. Das, and B.B. Pradhan. 2009. Empirical evidence on Indian stock market efficiency in context of the global financial crisis. Global Journal of Finance and Management 1 (2): 149–157.

Mummolo, J., and E. Peterson. 2018. Improving the interpretation of fixed effects regression results. Political Science Research and Methods 6 (4): 829–835.

Nath, G.C. 2001. Long memory and Indian stock market: An empirical evidence. Mumbai: National Stock Exchange of India Ltd.

Orfila-Sintes, F., and J. Mattsson. 2009. Innovation behavior in the hotel industry. Omega 37 (2): 380–394.

Peress, J. 2010. Product market competition, insider trading, and stock market efficiency. Journal of Finance 65 (1): 1–43.

Peters, E.E. 1991. Chaos and order in the capital markets. A new view of cycle, prices, and market volatility. New York: Wiley.

Rosenberg, B., K. Raid, and R. Lanstein. 1985. Persuasive evidence of market inefficiency. Journal of Portfolio Management 11 (3): 9–17.

Stein, J. 1989. Efficient capital markets, inefficient firms: A model of myopic corporate behavior. Quarterly Journal of Economics 104 (4): 655–669.

Thornhill, S., and R.E. White. 2007. Strategic purity: A multi-industry evaluation of pure vs. hybrid business strategies. Strategic Management Journal 28 (5): 553–561.

Zunino, L., D.G. Pérez, A. Kowalski, M.T. Martín, M. Garavaglia, A. Plastino, and O.A. Rosso. 2008. Fractional Brownian motion, fractional gaussian noise, and Tsallis permutation entropy. Physica A 387 (24): 6057–6068.
Acknowledgement
I would like to acknowledge the significant contribution made by Mr. Ujjawal Ranjan in preparing the initial draft. His skills and hardwork has enriched the quality of the paper.
Additional information
Publisher's Note
Springer Nature remains neutral with regard to jurisdictional claims in published maps and institutional affiliations.
About this article
Cite this article
Paul, S. Time Varying Efficiency in Indian Sectors: An Event Study on Demonetization. J. Quant. Econ. 18, 103–127 (2020). https://doi.org/10.1007/s40953-019-00171-1
Keywords
Efficiency

Demonetization

Industry

Sector