Abstract
This paper draws implications for the energy and education policies in developing countries based on the insights derived from studying the determinants of household refrigerator ownership in India. In our study the failure of the government policies to ensure reliable public services such as uninterrupted power supply and improving female education levels turn out to be the key stumbling blocks to raising household welfare in India. While a threshold level of household income is necessary for a purchase of a consumer durable, it is not a sufficient condition. Our results for the determinants of refrigerator ownership in India suggest that, even when households have sufficient purchasing power, the duration of a complementary good (electricity for >17 h per day) is critical for the ownership, all else held constant. Also, females in households tend to derive greater utility from the refrigerator usage due to its impact on lowering household burden of work and easing women's entry into the labour market. Our results confirm the hypothesis that when women bargaining power is proxied by the level of education, households with a female with higher level of education have higher probability of refrigerator ownership.
This is a preview of subscription content, log in to check access.
Access options
Buy single article
Instant access to the full article PDF.
US$ 39.95
Price includes VAT for USA
Subscribe to journal
Immediate online access to all issues from 2019. Subscription will auto renew annually.
US$ 99
This is the net price. Taxes to be calculated in checkout.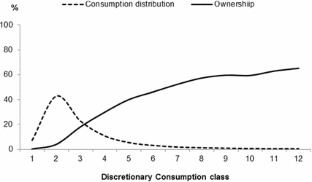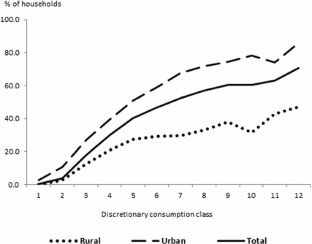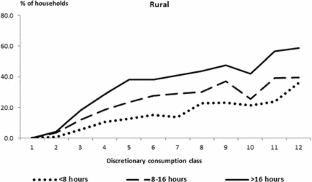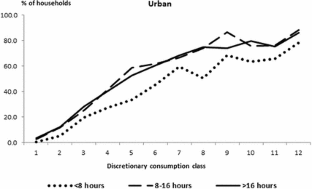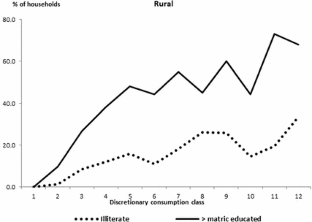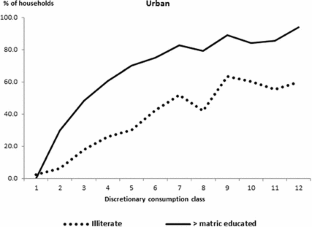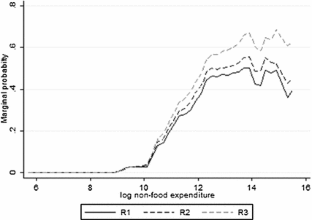 Notes
1.

Education levels of the male and female members are measured as 11 categories. We take the difference in education level of the main male member of the household and that of female member and then create dummy variables for positive, negative and no gap and include them in the regression analysis.
References
Beerli, A. 2010. The evolution of durable goods demand during China's transition, Working Paper No 201, University of Zurich.

Dargay, J., D. Gately, and M. Sommer. 2007. Vehicle ownership and income growth worldwide: 1960–2030. Energy Journal 28(4):143–170.

de V. Cavalcanti Tiago V, Tavares José. 2008. Assessing the "Engines of Liberation": Home Appliances and Female Labor Force Participation. In The Review of Economics and Statistics, vol. 90(1), 81–88. MIT Press.

De la Rue du Can, S., Letschert, V., MCNeil, M., Zhou, N., and J. Sathaye. 2009. Residential and Transport Energy use in India: Past Trend and Future Outlook, Lawrence Berkeley National Laboratory.

Farrell, M.J. 1954. The Demand for Motor-Cars in the United States. Journal of the Royal Statistical Society. Series A (General) 117 (2): 171–201.

Gertler, P., M. Sebastien, and M. Rubio-Codina. 2012. Investing Cash Transfers to Raise Long-term Living Standards. American Economic Journal: Economic Policy 4 (1): 461–92.

Greenwood, J., A. Seshadri, and M. Yorukoglu. 2005. Engines of Liberalisation. Review of Economic Studies 72 (1): 109–33.

Jones, L.E., R.E. Manuelli, and E.R. McGrattan.2003. Why are married women working so much? Federal Bank of Minneapolis Staff Report, Series 317, Minneapolis MN.

McNeil, M.A., and V.E. Letschert. 2010. Modeling diffusion of electrical appliances in the residential sector. Energy and Buildings 42 (6): 783–90.

Polato e Fava, A., and M. Arends-Kuenning. 2013. Intra-household Bargaining and the Demand for Consumer Durables in Brazil, IZA Discussion Paper No. 7281.

Rong, Z., and Y. Yao. 2003. Public Service Provision and demand for appliances in rural China. China Economic Review 14: 131–141.

Wolfram, C., O. Shelef, and P. Gertler. 2012. How Will Energy Demand Develop in the Developing World? Journal of Economic Perspectives 26 (1): 119–138.

World Bank. 2008. Residential Consumption of Electricity in India, Background Paper for India: Strategies for low carbon growth, July. Washington. D. C.

World Bank. 2015. World Bank Open Data. http://data.worldbank.org/indicator/SL.TLF.CACT.FE.ZS. Accessed 27 Feb 2017
About this article
Cite this article
Dhanaraj, S., Mahambare, V. & Munjal, P. From Income to Household Welfare: Lessons from Refrigerator Ownership in India. J. Quant. Econ. 16, 573–588 (2018). https://doi.org/10.1007/s40953-017-0084-5
Keywords
Economic development: urban

rural

Household behaviour

Family structure

Econometric modelling

ownership analysis
JEL Classification