Abstract
Purpose
Human papillomavirus detection is crucial in determining preventive approach in cervical cancer. Different HPV genotypes have been reported worldwide and have shown variations with respect to geographic location and oncogenic capabilities. We aimed to conduct molecular characterization and phylogenetic analysis of human papillomavirus (HPV) in Northern Nigeria, to guide public health intervention.
Methods
Cervical smear samples were collected from 148 consenting subjects attending different Hospitals in Northern Nigeria. It was stained with Papanicolaou method and processed for molecular detection of HPV. Isolates of HPV were sequenced targeting HPVL1 gene. The sequences were analysed for single-nucleotide polymorphism. HPV variant lineages and relatedness was determined by phylogenetic analysis.
Results
The result of the present study showed that 26.4% (34) of the subjects had HPV infection. The result of the cytodiagnosis showed that 29.4% (10/34) had normal cytology, 23.5% (8/34) had ASCUS, and 20.6% (7/34) had LSIL, while those having HSIL and SCC accounts for 20.6% (7/34) and 5.9% (2/34), respectively. The result for sequence analysis shows about fifteen different circulating genotypes in Northern Nigeria. Out of these, HPV 16 has the highest frequency (20.6%), while HPV 11, 70, 18, 31, 33, 35, 52, 56 and 7 has the least frequency (2.9%) each. Total of 21 single-nucleotide polymorphisms were detected, out of which 15 are synonymous, while 6 are non-synonymous mutations. Phylogenetic analysis of HPV genotypes using maximum likelihood method showed that majority of HPV genotypes from Nigeria clustered with two undetermined lineages. Pairwise distance estimation of some sequences from this study and some reference sequence revealed a distance ranging from 0.0082 to 2.0994, indicating that the sequences are majorly closely related.
Conclusion
The present study provided important data about molecular epidemiology, characteristics, phylogeny and polymorphism which will aid in further studies that will advance in-depth understanding of the viral molecular epidemiology and possibly policy on public health intervention.
Access options
Buy single article
Instant access to the full article PDF.
US$ 39.95
Tax calculation will be finalised during checkout.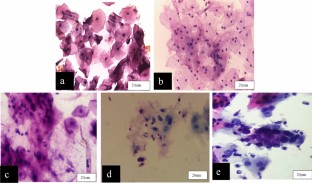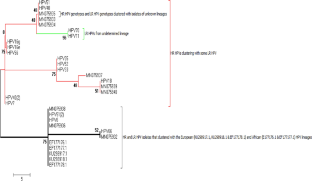 Data Availability
All data and information regarding this manuscript will be made available on request.
Abbreviations
HPV:

Human papillomavirus

HR-HPV:

High-risk human papillomavirus

LR-HPV:

Low-risk human papillomavirus

SNP:

Single-nucleotide polymorphism

ASCUS:

Atypical squamous cells of undetermined significance

LSIL:

Low-grade squamous intraepithelial lesion

HSIL:

High-grade squamous intraepithelial lesion

PCR:

Polymerase chain reaction
References
1.

Arbyn M, Weiderpass E, Bruni L, de Sanjosé S, Saraiya M, Ferlay J, Bray F. Estimates of incidence and mortality of cervical cancer in 2018: a worldwide analysis. The Lancet Global Health. 2020. https://doi.org/10.1016/S2214-109X(19)30482-6.

2.

Smith JS, Lindsay L, Hoots B, Keys J, Francheschi S, Winer R, Clifford GM. Human papillomavirus type distribution in invasive cervical cancer and high-grade cervical lesions: a meta-analysis update. Int J Cancer. 2007;121:621–32.

3.

Burd EM. Human papillomavirus and cervical cancer. Clin Microbiol Rev. 2003;16(1):1–17.

4.

Bosch FX, de Sanjosé S, Castellsagué X. HPV and genital cancer: the essential epidemiology. Vacc Prev Cerv Cancer. 2008;12:18–22.

5.

Stanley MA. Pathology and epidemiology of HPV infection in females. Gynecol Oncol. 2010;117(2):5–10.

6.

Bedoya-Pilozo CH, Medina Magues LG, Espinoga-Garcia M, Sanches M, Parrales Valdiviezo JV, Molina D, Badano I. Molecular epidemiology and phylogenetic analysis of human papillomavirus infection in women with cervical lesions and cancer from the coastal region of Ecuador. Rev Argent Microbiol. 2017;50(2):136–46.

7.

Marth GT, Korl I, Yandell MD, Yeh RT, Gu Z, Zakeri H, Gish WR. A general approach to single-nucleotide polymorphism discovery. Nat Genet. 1999;23(4):452–6.

8.

Thomas JO, Herrero R, Omigbodun AA, Ojemakinde K, Ajayi IO, Fawole A, Franceschi S. Prevalence of papillomavirus infection in women in Ibadan, Nigeria: a population-based study. Br J Cancer. 2004;90(3):638–45.

9.

Manga MM, Fowotade A, Abdullahi YM, El-nafaty AU, Adamu DB, Pindiga HU, Osoba AO. Epidemiological patterns of cervical human papillomavirus infection among women presenting for cervical cancer screening in North-Eastern Nigeria. Infect Agent Cancer. 2015;10:39.

10.

Auwal IK, Aminu M, Atanda AT, Tukur J, Sarkinfada F. Prevalence and risk factors of high risk human papillomavirus infections among women attending gynaecology clinics in Kano. Northern Nigeria Bajopas. 2014;6:67–71.

11.

Dareng EO, Ma B, Famooto AO, Akarolo-Anthony SN, Offiong RA, Olaniyan O, Adebamowo CA. Prevalent high-risk HPV infection and vaginal microbiota in Nigerian women. Epidemiol infect. 2016;2016(144):123–37.

12.

Papanicolaou GN. A new procedure for staining vaginal smears. Science. 1942;95(2469):438–9.

13.

Bernard HU, Chan SY, Manos MM, Ong CK, Villa LL, Delius H, Wheeler M. Identification and assessment of known and novel human papillomaviruses by polymerase chain reaction amplification, restriction fragment length polymorphisms, nucleotide sequence, and phylogenetic algorithms. J Infect Dis. 1994;170(5):1077–85.

14.

Tamura K, Nei M. Estimation of the number of nucleotide substitutions in the control region of mitochondrial DNA in humans and chimpanzees. Mol Biol Evol. 1993;10:512–26.

15.

Kumar S, Stecher G, Tamura K. MEGAX: Molecular Evolutionary Genetics Analysis version X for bigger datasets. Mol Biol Evol. 2016;33:1870–4.

16.

Nayar R, Wilbur DC. The pap test and Bethesda 2014. Acta Cytol. 2015;59(2):121–32.

17.

Jing Y, Wang T, Chen Z, Ding X, Xu J, Mu X, Cao M, Chen H. Phylogeny and Polymorphism in the long control regions E6, E7, and L1 of HPV Type 56 in women from Southwest China. Mol Med Rep. 2008;17:7131–41.

18.

Fadahunsi OO, Omoniyi-Esan GO, Banjo AAF, Esimai OA, Osiagwu D, Clement F, Iyola S. Prevalence of high risk oncogenic human papillomavirus types in cervical smears of women attending well woman clinic in Ile Ife Nigeria. Gynecol Obst. 2013. https://doi.org/10.4172/2161-0932.1000185.

19.

Gage JC, Ajenifuja KO, Wentzensen NA, Adepiti AC, Eklund C, Reilly M, Schiffman M. The age-specific prevalence of human papillomavirus and risk of cytologic abnormalities in rural Nigeria: Implications for screen-and-treat strategies. Int J Cancer. 2012;130(9):2111–7.

20.

Kleter BL, van Doorn J, Schrauwen L, Molijn A, Sastrowijoto S, Terschegget J, Quint M. Development and clinical evaluation of a highly sensitive PCR-reverse hybridization line probe assay for detection of anogenital human papillomavirus. J Clin Microbiol. 1999;37(8):2508–17.

21.

De Sanjosé S, Diaz M, Castellsagué X, Clifford G, Bruni L, Munoz L, Bosch FX. Worldwide prevalence and genotype distribution of cervical human papillomavirus DNA in women with normal cytology: a meta-analysis. Lancet. 2007;7(7):453–9.

22.

Badial RM, Dias MC, Stuqui B, Melli P, Quintana SM, Bonfim C, Rahal P. Detection and genotyping of human papillomavirus (HPV) in HIV-infected women and its relationship with HPV/HIV co-infection. Medicine. 2018;97(14):e9545.

23.

Aliyu IA, Ling KL, Md Hashim NF, Chee HY. Annexin A2 Translocation and Virus Interaction; a Potential Target for Antivirus Drug Discovery. Rev Med Virol. 2019. https://doi.org/10.1002/rmv.2038.

24.

Ghedira R, Mahfoudh W, Hadhri S, Gabbouj S, Bouanene I, Khairi H, Hassen E. Human papillomavirus genotypes and HPV-16 variants distribution among Tunisian women with normal cytology and squamous intraepithelial lesions. Infect Agent Cancer. 2016;11:61.
Acknowledgements
The authors gratefully acknowledge MLS. Sani Aliyu Mohammed, Dr. Yusuf M. Abdullahi, Dr. Aliyu Ibrahim Lawan and Dr. Aliyu Bala Umar for their useful contributions towards this research.
Funding
This research did not receive any specific grant from funding agencies in the public, commercial or not-for-profit sectors.
Ethics declarations
Conflict of interest
The authors declared that they have no conflict of interest.
Ethics Approval
Ethical approval was obtained from the research and ethics committee of the hospitals from which the study subjects were recruited.
Informed Consent
Samples were collected from consenting individuals.
Consent for Publication
Consent to publish findings was obtained from the study subjects.
Additional information
Publisher's Note
Springer Nature remains neutral with regard to jurisdictional claims in published maps and institutional affiliations.
About this article
Cite this article
Malik, K.I., Aliyu, D.U., Abubakar, B.J. et al. Identification of high-risk human papillomavirus isolates circulating in Nigeria and phylogenetic analysis based on the virus essential protein. Indian J Gynecol Oncolog 19, 87 (2021). https://doi.org/10.1007/s40944-021-00587-9
Received:

Revised:

Accepted:

Published:
Keywords
Human papillomavirus

Single-nucleotide polymorphism

Phylogenetic analysis

Cervical cancer