Abstract
Adenocarcinoma is the second most frequent (%15–20) cervical carcinoma, following squamous cell carcinoma (%80) (Fujiwara et al. in Curr Oncol Rep 16:416, 2014 Dec). Other rare type of cancers can occur in cervix, such as adenosquamous, small cell, lymphomas and sarcomas. Here, we present the 44-year-old woman diagnosed with usual type of cervix adenocarcinoma with low FDG uptake, staged and followed up with 18F-FDG PET CT.
Access options
Buy single article
Instant access to the full article PDF.
USD 39.95
Price includes VAT (USA)
Tax calculation will be finalised during checkout.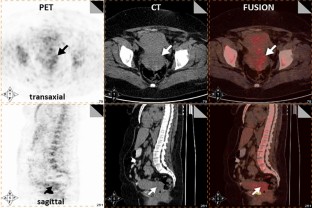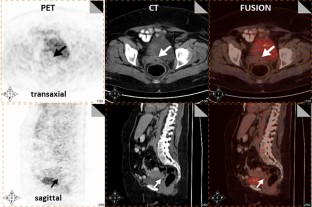 References
1.

Fujiwara K, Monk B, Devouassoux-Shisheboran M. Adenocarcinoma of the uterine cervix: why is it different? Curr Oncol Rep. 2014;16(12):416.

2.

Hodgson A, Park KJ, Djordjevic B, et al. International endocervical adenocarcinoma criteria and classification: validation and interobserver reproducibility. Am J Surg Pathol. 2019;43(1):75–83.

3.

Colombo N, Carinelli S,Colombo A, et al. Cervical cancer: ESMO Clinical Practice Guidelines for diagnosis, treatment and follow-up. Ann Oncol. 2012. Suppl 7: vii27–32

4.

Rotman J, Heeren AM, Gassama AA, et al. Adenocarcinoma of the uterine cervix shows impaired recruitment of cDC1 and CD8 + T cells and elevated β-catenin activation compared with squamous cell carcinoma. Clin Cancer Res. 2020;26(14):3791–802.

5.

Gien LT, Beauchemin MC, Thomas G. Adenocarcinoma: a unique cervical cancer. Gynecol Oncol. 2010;116:140–6.

6.

Ramirez PT, Jhingran A, Macapinlac HA, et al. Laparoscopic extraperitoneal para-aortic lymphadenectomy in locally advanced cervical cancer: a prospective correlation of surgical findings with positron emission tomography/computed tomography findings. Cancer. 2011;117:1928–34.

7.

Ramirez PT, Milam MR. Laparoscopic extraperitoneal paraaortic lymphadenectomy in patients with locally advanced cervical cancer. Gynecol Oncol. 2007;104:9–12.

8.

Parra-Herran C and Jennifer A. Bennett. What's new in gynecologic pathology 2021: vulva, cervix, and uterus. J Pathol Transl Med. 2021. 55(2):161-162

9.

Zhang Y, Chen Y, Huang Z, et al. Adenocarcinoma of the Cervix Uteri and Endometrium Combined with the Kartagener Syndrome on FDG PET/CT. Clin Nucl Med. 2015. 40(11)

10.

Mahajan S, Pandit-Taskar N. Uncommon metastasis to the pancreas from adenocarcinoma of the cervix detected on surveillance 18F-FDG PET/CT imaging. Clin Nucl Med. 2017;42(12):e511–2.

11.

Kim HK, Won KY, Kim C. Mesonephric Adenocarcinoma of the uterine fundus exhibiting high 18 F-FDG uptake. Diagnostics (Basel). 2020;10(9):729.
Ethics declarations
Conflicts of interest
None
Additional information
Publisher's Note
Springer Nature remains neutral with regard to jurisdictional claims in published maps and institutional affiliations.
About this article
Cite this article
Arslan, E., Vural Topuz, Ö., Özhan, M. et al. Use of 18F-FDG PET CT for Evaluation of Rarely Seen Adenocarcinoma of Cervix Uteri Before and After Therapy. Indian J Gynecol Oncolog 19, 91 (2021). https://doi.org/10.1007/s40944-021-00579-9
Received:

Accepted:

Published:
Keywords
Adenocarcinoma

Cervix uteri

18F-FDG PET CT