Abstract
Context
With limited access to mechanisms of early detection, the vast majority of breast cancer cases present at late stages in developing countries.
Objective
To determine the clinical efficacy of a handheld point-of-care medical device that could potentially assist allied healthcare workers to perform standardized Clinical Breast Examination in low-resource settings.
Design, Setting and Participants
Nine hundred and eighty-nine healthy women visiting Manipal Hospital, Bangalore, for annual health check were recruited for bilateral breast examinations. Additionally, 20 women attending the hospital with breast-related symptoms were also recruited as part of the opportunistic screening program. Each woman was examined by three independent methods, each blinded to the other two: iBreastExam (iBE), Clinical Breast Examination (CBE) by an expert clinician and Breast Imaging (mammography or breast ultrasound).
Main Outcome Measures
Sensitivity, Specificity, PPV, NPV for iBE and CBE were derived with Breast Imaging tests used as reference standard.
Results
Out of 916 enrolled participants, 93 were confirmed by imaging to have at least one breast lesion. Clinical Breast Examination in comparison with imaging detected breast lesions with Sn = 65 %, Sp = 94 %, PPV = 52 %, NPV = 96 %, and iBreastExam reported Sn = 84 %, Sp = 94 %, PPV = 60 % and NPV = 98 %. In women below age 40 (314 participants), iBE detected breast lesions with Sn = 85 %, Sp = 93 %. All malignant lesions were identified by iBE, while one non-palpable malignant lesion was missed by clinician CBE.
Conclusion
The point-of-care Breast Imaging device (iBreastExam) performed with significantly better sensitivity, by 19 %, than CBE to detect breast lesions while reporting high specificity (94 %) and NPV (98 %). In younger women population under the age of 40 years, where the prevalence of dense breast is high, iBreastExam demonstrated high-performance characteristics. iBreastExam detected all malignant lesions in this study, while the clinician's CBE missed to detect a non-palpable malignant lesion. iBreastExam can be a promising tool to provide clinically effective and standardized breast examinations in low-resource settings to detect breast lesions at early stages. The device can also be an effective screening tool for younger women with dense breasts.
Access options
Buy single article
Instant access to the full article PDF.
US$ 39.95
Tax calculation will be finalised during checkout.
Subscribe to journal
Immediate online access to all issues from 2019. Subscription will auto renew annually.
US$ 79
Tax calculation will be finalised during checkout.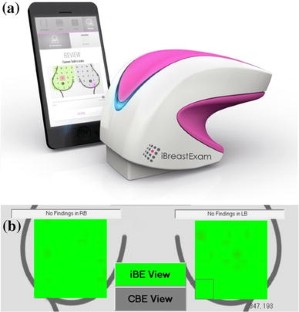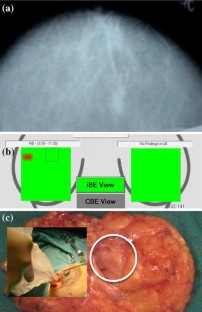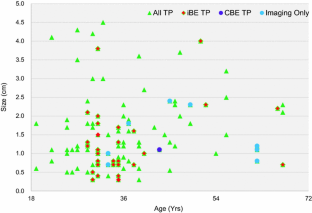 References
1.

Kingsbury K. Global breast cancer: the changing face of breast cancer. Time Specials. 2007. http://www.time.com/time/specials/2007/article/0,28804,1666089_1666563,00.html.

2.

Kalyanpur A. Radiology in India: the next decade. Indian J Radiol Imaging. 2008;18(3):191–2.

3.

Pisano ED, Gatsonis C, Hendrick E, et al. Diagnostic performance of digital versus film mammography for breast cancer screening. N Engl J Med. 2005;353:1773–83.

4.

Carney PA, Miglioretti DL, Yankaskas BC, et al. Individual and combined effects of age, breast density, and hormone replacement therapy use on the accuracy of screening mammography. Ann Intern Med. 2003;138:168–75.

5.

Nigenda G, Caballero M, Gonzalez-Robledo LM. Access barriers in early diagnosis of breast cancer in the Federal District and Oaxaca. Salud Publica Mex. 2009;51(Suppl 2):s254–62.

6.

Fenton JJ, Barton MB, Geiger AM, et al. Screening clinical breast examination: how often does it miss lethal breast cancer? J Natl Cancer Inst Monogr. 2005;35:67–71.

7.

Kahn KL, Goldberg RJ. Screening for breast cancer in the ambulatory setting. Clin Res. 1984;32:649A.

8.

Krouskop T, Wheeler T, Kallel F, Garra B, Hall T. Elastic moduli of breast and prostate tissues under compression. Ultrason Imaging. 1998;20(4):260–74.

9.

Wellman PS, Dalton EP, Kraig D, Kern KA, Howe RD. Tactile imaging of breast masses. Arch Surg. 2001;136(2):204–8.

10.

Xu X, Gifford-Hollingsworth C, Sensenig R, Shih W, Shih W, Brooks A. Breast tumor detection using piezoelectric fingers: first clinical report. J Am Coll Surg. 2013;216(6):1168–73.

11.

Lehmann U, Sanders D. Community health workers: What do we know about them? Evidence and information for policy. Geneva: Department of Human Resources for Health, World Health Organization; 2007.

12.

GLOBOCAN 2012 (IARC). Section of cancer information. http://www-dep.iarc.fr/. Accessed 27 Dec 2013.

13.

Coleman M, Quaresma M, Berrino F, Lutz J, De Angelis R, Capocaccia R, et al. Cancer survival in five continents: a worldwide population-based study (CONCORD). Lancet Oncol. 2008;9(8):730–56.

14.

Rajaraman P, Anderson B, Basu P, Belinson J, Cruz A, Dhillon P, et al. Recommendations for screening and early detection of common cancers in India. Lancet Oncol. 2015;16(7):e352–61.

15.

Khokhar A. Breast cancer in India: where do we stand and where do we go? Asian Pac J Cancer Prev. 2012;13:4861–6.

16.

Sankaranarayanan R, Ramadas K, Thara S, et al. Clinical breast examination: preliminary results from a cluster randomized controlled trial in India. J Natl Cancer Inst. 2011;103:1476–80.

17.

Corbex M, Burton R, Sancho-Garnier H. Breast cancer early detection methods for low and middle income countries, a review of the evidence. The Breast. 2012;21(4):428–34.

18.

Barton M, Harris R, Fletcher S. Does this patient have breast cancer? The screening clinical breast examination: Should it be done? How? Obstet Gynecol Surv. 2000;55(7):432–3.

19.

Bobo JK, Lee NC, Thames SF. Findings from 752,081 clinical breast examinations reported to a national screening program from 1995 through 1998. J Natl Cancer Inst. 2000;92:971–6.

20.

Saslow D, Hannan J, Osuch J, et al. Review Clinical breast examination: practical recommendations for optimizing performance and reporting. CA Cancer J Clin. 2004;54(6):327–44.
Sources of Funding
iBreastExam medical device was loaned by UE Lifesciences Inc. (Philadelphia, PA, USA) to the research team for the duration of the study.
Ethics declarations
Conflict of interest
No researcher of this study has any conflicts of interest to report.
About this article
Cite this article
Somashekhar, S.P., Vijay, R., Ananthasivan, R. et al. Noninvasive and Low-Cost Technique for Early Detection of Clinically Relevant Breast Lesions Using a Handheld Point-of-Care Medical Device (iBreastExam): Prospective Three-Arm Triple-Blinded Comparative Study. Indian J Gynecol Oncolog 14, 26 (2016). https://doi.org/10.1007/s40944-016-0057-1
Received:

Revised:

Accepted:

Published:
Keywords
iBreastExam

Breast cancer screening

India

Low-cost setting