Abstract
La Maison des Fondateurs in Le Brassus Switzerland is going to represent the watch making manufacture Audemars Piguet. Audemars Piguet stands for the finest quality, precision as well as innovation based on traditional watchmaking expertise and craftsmanship. La Maison des Fondateurs has been developed from a competition proposal to the execution project by the architects BIG—Bjarke Ingels Group. The created interlocking all glass spiral evolves the building volume out of the rough, natural landscape providing a perfect linear museum path for the building program. Despite the severe loading and weather conditions, inspired by the high values of Audemars Piguet the project team designed the building to the technical limits. The curved and very large insulated façade glass units as well as the curved glass partition walls of the interlocking glass spiral are forming the load bearing structure. All vertical and horizontal loads are transferred by these glass components making solid columns and shear wall obsolete. The article reflects the close collaboration of the designers, engineers, specialist contractor and industry. The global structural concept, transfer of the concentrated point loading into the curved structural glass element, testing procedures as well as the structural bonding beyond standards and the context of energy efficiency are discussed and elaborated.
This is a preview of subscription content, log in to check access.
Access options
Buy single article
Instant access to the full article PDF.
US$ 39.95
Price includes VAT for USA
Subscribe to journal
Immediate online access to all issues from 2019. Subscription will auto renew annually.
US$ 199
This is the net price. Taxes to be calculated in checkout.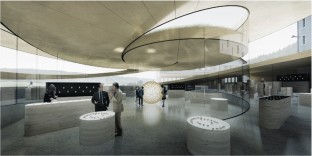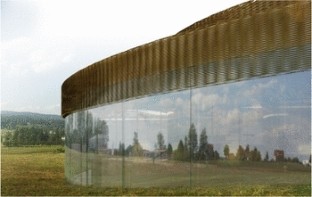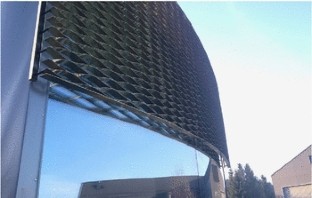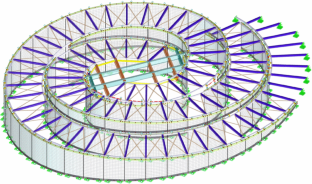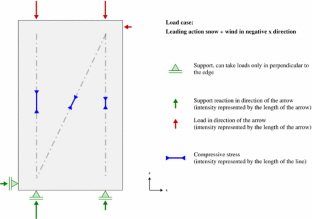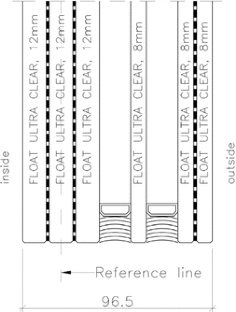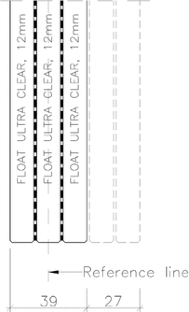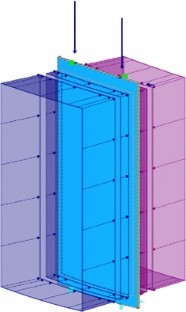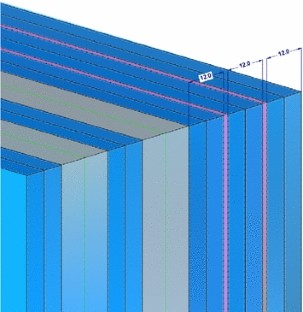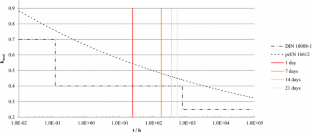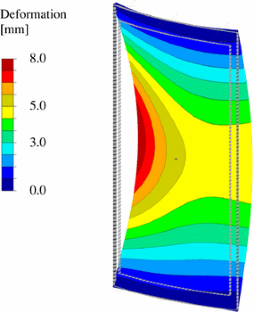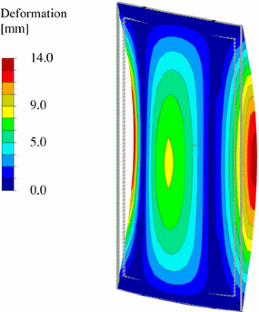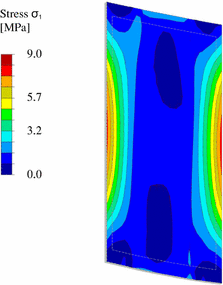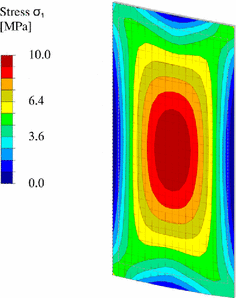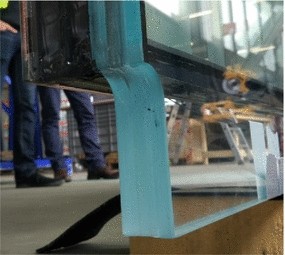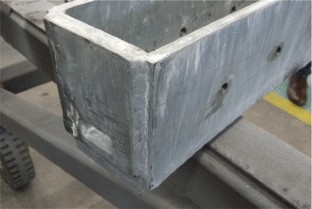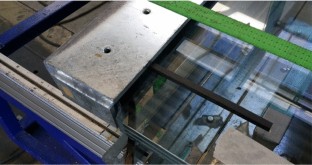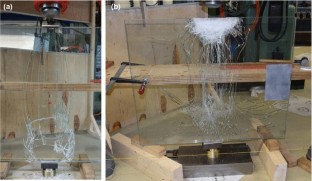 References
Bedon, C., Belis, J., Luible, A.: Assessment of existing analytical models for the lateral torsional buckling analysis of PVB and SG laminated glass beams via viscoelastic simulations and experiments. Eng. Struct. 60, 52–67 (2014)

Flachglas B: BF-Bulletin 009—Guidelines for thermally-curved glass in the building industry. Troisdorf (2011)

DIN EN 16612-06: Glass in building - Determination of the load resistance of glass panes by calculation and testing; German version prEN 16612:2013. Berlin (2013)

DIN EN 18008: Glass in Building—Design and construction rules. Berlin (2010)

Freitag, C., Woerner, J.D.: Glass as structural bracings–shear capacity of mechanically pre-stressed windowpanes. Glass Perfomance Days 2009, 333–337 (2009)

Krampe, P., Reich, S., Weller, B.: Glasbau-Praxis Konstruktion und Bemessung Band 1: Grundlagen. 3. Auflage. Beuth, Berlin (2013)

Luible, A.: Stabilität von Tragelementen aus Glas. EPFL Lausanne Wurm, Lausanne (2004)

Luible, A., Schärer, D.: Lateral torsional buckling of glass beams with continuous lateral support. Glass Struct. Eng. (2016). https://doi.org/10.1007/s40940-016-0008-3

Neugebauer, J.: Applications for curved glass in buildings. J. Façade Des. Eng. 2, 67–83 (2014)

Nijsse, R.: Glass walls carrying the roof and withstanding the wind load on the façade: conservatory of the Museum in Dordrecht and Raaks Glass Cube in Haarlem. Challenging Glass (2012). https://doi.org/10.3233/978-1-61499-061-1-111

Schneider, J., Kuntsche, J.K., Schula, S., Schneider, F., Wörner, J.-D.: Glasbau Grundlagen, Berechnung, Konstruktion. Springer, Berlin (2016)

Stamm, K., Witte, H.: Sandwichkonstruktionen - Berechnung, Fertigung, Ausführung. Springer, Wien (1974)
Acknowledgements
Client: Audemars Piguet, Le Brassus/Architecture: BIG - Bjarke Ingels Group, New York/Local Architect: CCHE, Lausanne/Structural Engineering: Lüchinger \(+\) Meyer, Zürich/Façade Engineering: Lüchinger \(+\) Meyer, Zürich/Lüchinger \(+\) Meyer \(+\) Hermansen, Copenhagen/Façade Contractor: Frener & Reifer, Brixen/Execution Design & Calculations: Ingenieurbüro Dr. Ing. Alois Neulichedl/Glass Processor: SFL Glastechnik, Stallhofen/Full Scale Testing: Façade and Metal Engineering Center, Lucerne University, Lucerne.
Ethics declarations
Conflicts of interest
On behalf of all authors, the corresponding author states that there is no conflict of interest.
Additional information
Publisher's Note
Springer Nature remains neutral with regard to jurisdictional claims in published maps and institutional affiliations.
About this article
Cite this article
Villiger, J., Willareth, P., Doebbel, F. et al. Interlocking glass spiral as building structure of the watch museum "La Maison des Fondateurs". Glass Struct Eng 4, 3–16 (2019). https://doi.org/10.1007/s40940-018-0077-6
Received:

Accepted:

Published:

Issue Date:
Keywords
Structural glass

Curved glass

Glass façade

Structural bonding