Abstract
In this article, we address why our management of the economy, community and business has led to global warming and we discuss the importance of worldviews, ontology, epistemology and axiology in the search for alternative paths of development. We do this by focusing on the concept of Circular Economy. Circular Economy is often presented as a solution to the problems of a globalized economy in the form of over-exploitation of resources, climate change and pollution of the environment. Within the mainstream economics paradigm, the aim is how to increase the effectiveness of resource extraction and utilization in order to maintain growth. We contrast this with the paradigm of Ecological Economics where the goal of the economy is to achieve and secure a higher quality of life. Circular Economy often side steps the deep ontological and epistemological questions we need to answer if we are to address the complex and interrelated environmental, economic and social problems we face today. This can be a limiting factor in the search for creative and long-term solutions. However, within the Circular Economy discourse, we find strands that critically engage with the foundations of mainstream Economics and so, innovative solutions for the society of the future are a possibility. We argue that to bring about a lasting solution to the interconnected social, economic and environmental problems, Circular Economy must engage with the ontological, epistemological and axiological foundations of mainstream economics. To further this argument, we apply Imre Lakatos' 'research program' model to philosophy of science as our framework of analysis and draw lessons for business and communities.
Access options
Buy single article
Instant access to the full article PDF.
US$ 39.95
Tax calculation will be finalised during checkout.
Subscribe to journal
Immediate online access to all issues from 2019. Subscription will auto renew annually.
US$ 79
Tax calculation will be finalised during checkout.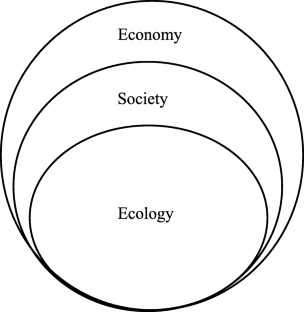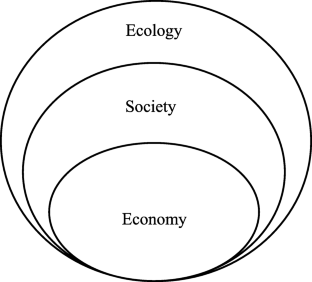 Notes
1.

See a recent letter written by 238 scholars to the European Union calling for a reorientation of the economy towards stability and wellbeing and away from a focus on economic growth (The Guardian 2018).

2.

We use mainstream economics and neoclassical economics interchangeably in this article as the two are closely related in economic policy development and implementation.

3.

4.

However, there is limited research on CE's social impact. As a result this aspiration for social impact of CE is currently not backed by empirical evidence (Korhonen et al. 2018a).
References
Arjoon, Surendra. 2010. An Aristotelian-Thomistic approach to management practice. Philosophy of Management 9 (2): 47–64. https://doi.org/10.5840/pom20109211.

Brahmachari, Deborshi. 2016. Neoclassical economics as a method of scientific research program. A review of existing literature. In Munich personal RePEc archive. India: IGNOU.

Bruni, Luigino, and Luca Stanca. 2008. Watching alone: Relational goods, television and happiness. Journal of Economic Behavior and Organization 65 (3): 506–528. https://doi.org/10.1016/j.jebo.2005.12.005.

Capra, Fritjof, and Ove Daniel Jakobsen. 2017. A conceptual framework for ecological economics based on systemic principles of life. International Journal of Social Economics 44 (6): 831–844. https://doi.org/10.1108/IJSE-05-2016-0136.

Cooter, Robert, and Peter Rappoport. 1984. Were the Ordinalists wrong about welfare economics? Journal of Economic Literature 22 (2): 507–530.

Costanza, Robert, John H Cumberland, Herman Daly, Robert Goodland, Richard B Norgaard, Ida Kubiszewski, and Carol Franco. 2014. An introduction to ecological economics. 2nd. Edtition. Aufl. CRC Press.

Cullen, Jonathan M. 2017. Circular economy: Theoretical benchmark or perpetual motion machine? Journal of Industrial Ecology 21 (3): 483–486. https://doi.org/10.1111/jiec.12599.

Easterlin, Richard A. 2004. The economics of happiness. Daedalus 133 (2): 26–33. https://doi.org/10.1162/001152604323049361.

Easterlin, Richard A., Laura Angelescu McVey, Malgorzata Switek, Onnicha Sawangfa, and Jacqueline Smith Zweig. 2010. The happiness—Income paradox revisited. Proceedings of the National Academy of Sciences of the United States of America 107 (52): 22463–22468.

Ellen MacArthur Foundation. 2012. Towards the circular economy: Economic and business rationale for an accelerated transition.

European Commission. 2015. Closing the loop - an EU action plan for the circular economy. Brussels: EU.

Gasper, Des. 2007. Human well-being: Concepts and conceptualizations. In Human well-being. Concept and measurement, ed. Mark McGillivray, 23–64. New York: United Nations University.

George, Karen, and Petia Sice. 2014. The emergence of wellbeing in community participation. Philosophy of Management 13 (2): 5–18. https://doi.org/10.5840/pom20141328.

Georgescu-Roegen, Nicolas. 1971. The entropy law and the economic process. Cambridge: Harvard University Press.

Goodwin, Neva R. 1991. Overview essay. In Human well-being and economic goals (frontier issues in economic thought), ed. Frank Ackerman, David Kiron, Neva R. Goodwin, Jonathan Harris, and Kevin Gallagher. Washington DC: Island Press.

Guillen-Royo, Monica. 2010. Realising the 'wellbeing dividend': An exploratory study using the human scale development approach. Ecological Economics 70 (2): 384–393. https://doi.org/10.1016/j.ecolecon.2010.09.010.

Ingebrigtsen, Stig, and Ove Jakobsen. 2007. Circulation economics : theory and practice. Frontiers of business ethics. Oxford: Peter Lang.

IPCC. 2018. Global warming of 1.5 °C. An IPCC special report on the impacts of global warming of 1.5 °C above pre-industrial levels and related global greenhouse gas emission pathways, in the context of strengthening the global response to the threat of climate change, sustainable development, and efforts to eradicate poverty. Summary for policy makers.

Kirchherr, Julian, Denise Reike, and Marko Hekkert. 2017. Conceptualizing the circular economy: An analysis of 114 definitions. Resources, Conservation and Recycling 127: 221–232. https://doi.org/10.1016/j.resconrec.2017.09.005.

Korhonen, Jouni, Antero Honkasalo, and Jyri Seppälä. 2018a. Circular economy: The concept and its limitations. Ecological Economics 143: 37–46. https://doi.org/10.1016/j.ecolecon.2017.06.041.

Korhonen, Jouni, Cali Nuur, Andreas Feldmann, and Seyoum Eshetu Birkie. 2018b. Circular economy as an essentially contested concept. Journal of Cleaner Production 175: 544–552. https://doi.org/10.1016/j.jclepro.2017.12.111.

Krausmann, Fridolin, Dominik Wiedenhofer, Christian Lauk, Willi Haas, Hiroki Tanikawa, Tomer Fishman, Alessio Miatto, Heinz Schandl, and Helmut Haberl. 2017. Global socioeconomic material stocks rise 23-fold over the 20th century and require half of annual resource use. Proceedings of the National Academy of Sciences of the United States of America 114 (8): 1880. https://doi.org/10.1073/pnas.1613773114.

Lakatos, Imre. 1970. Falsification and the methodology of scientific research programmes. In Criticism and the Growth of Knowledge, ed. Imre Lakatos and Alan Musgrave. Cambridge: Cambridge University Press.

Latour, Bruno. 2014. On some of the effects of capitalism. Royal Academy, Copenhagen.

Latsis, Spiro J. 1972. Situational determinism in economics. The British Journal for the Philosophy of Science 23 (3): 207–245. https://doi.org/10.1093/bjps/23.3.207.

Lukes, Steven. 1968. Methodological individualism reconsidered. The British Journal of Sociology 19 (2): 119–129. https://doi.org/10.2307/588689.

Max-Neef, Manfred A. 2005. Foundations of transdisciplinarity. Ecological Economics 53 (1): 5–16. https://doi.org/10.1016/j.ecolecon.2005.01.014.

Max-Neef, Manfred, and B. Smith Philip. 2011. Economics Unmasked: From power and greed to compassion and the common good. United Kingdom: Uit Cambridge.

Murray, Alan, Keith Skene, and Kathryn Haynes. 2017. The circular economy: An interdisciplinary exploration of the concept and application in a global context.(report). Journal of Business Ethics 140 (3): 369. https://doi.org/10.1007/s10551-015-2693-2.

Næss, Arne, David Rothenberg, and Arne Næss. 1989. Ecology, community and lifestyle: Outline of an ecosophy. Cambridge: Cambridge University Press.

OECD. 2009. The financial crisis : Reform and exit strategies. Paris: OECD Publishing.

Pena-López, José Atilano, José Manuel Sánchez-Santos, and Matías Membiela-Pollán. 2017. Individual social capital and subjective wellbeing: The relational goods. Journal of Happiness Studies. https://doi.org/10.1007/s10902-016-9753-x.

Phillips, David. 2006. Quality of Life : Concept, Policy and Practice. Florence: Routledge.

Piketty, Thomas. 2014. Capital in the twenty-first century. Le capital au XXIe siècle. Cambridge: Belknap Press.

Pratten, Stephen. 2015. Social ontology and modern economics. London: Routledge.

Price, Jane L., and Jeremy B. Joseph. 2000. Demand management – A basis for waste policy: A critical review of the applicability of the waste hierarchy in terms of achieving sustainable waste management. Sustainable Development 8 (2): 96–105.

Putnam, Hilary. 2004. The collapse of the fact/value dichotomy and other essays. Cambridge: Harvard University Press.

Rittel, H.W.J., and M.M. Webber. 1973. Dilemmas in a general theory of planning. Policy Sciences 4 (2): 155–169. https://doi.org/10.1007/BF01405730.

Roberts, Alasdair. 2012. Why the occupy movement failed. Hoboken.

Robeyns, Ingrid. 2005. The capability approach: A theoretical survey. Journal of Human Development 6 (1): 93–117. https://doi.org/10.1080/146498805200034266.

Rockström, Johan, Will Steffen, Kevin Noone, Åsa Persson, F. Stuart Chapin III, Eric F. Lambin, Timothy M. Lenton et al. 2009. A safe operating space for humanity. Nature 461 (7263):472. https://doi.org/10.1038/461472a.

Rotmans, Jan, and Derk Loorbach. 2009. Complexity and transition management. Journal of Industrial Ecology 13 (2): 184–196. https://doi.org/10.1111/j.1530-9290.2009.00116.x.

Ryan, Richard M., and Edward L. Deci. 2000. Self-determination theory and the facilitation of intrinsic motivation, social development, and well-being. American Psychologist 55 (1): 68–78. https://doi.org/10.1037/0003-066X.55.1.68.

Schäpke, Niko, and Felix Rauschmayer. 2014. Going beyond efficiency: Including altruistic motives in behavioral models for sustainability transitions to address sufficiency. Sustainability Science 10 (1): 29–44.

Schlaile, Michael P., Sophie Urmetzer, Vincent Blok, Allan Dahl Andersen, Job Timmermans, Matthias Mueller, Jan Fagerberg, and Andreas Pyka. 2017. Innovation Systems for Transformations towards Sustainability? Taking the Normative Dimension Seriously. 9(12). https://doi.org/10.3390/su9122253.

Schlaile, Michael, Matthias Mueller, Michael Schramm, and Andreas Pyka. 2018. Evolutionary economics, responsible innovation and demand: Making a case for the role of consumers. Philosophy of Management 17 (1): 7–39. https://doi.org/10.1007/s40926-017-0054-1.

Schröder, Enno, and Servaas Storm. 2018. Economic growth and carbon emissions: The road to 'hothouse earth' is paved with good intentions in INET Working Papers. New York: Institute for New Economic Thinking.

Simonis, Udo E. 2013. Decoupling natural resource use and environmental impacts from economic growth. International Journal of Social Economics 40 (4): 385–386. https://doi.org/10.1108/03068291311305044.

Söderbaum, Peter. 1999. Values, ideology and politics in ecological economics. Ecological Economics 28 (2): 161–170.

Spash, Clive L. 2009. The new environmental pragmatists, pluralism and sustainability. Environmental Values 18 (3): 253–256. https://doi.org/10.3197/096327109X12474739376370.

Spash, Clive L. 2012. New foundations for ecological economics. Ecological Economics 77: 36–47. https://doi.org/10.1016/j.ecolecon.2012.02.004.

Spash, Clive L., and Anthony Ryan. 2012. Economic schools of thought on the environment: Investigating unity and division. Cambridge Journal of Economics 36 (5): 1091–1121. https://doi.org/10.1093/cje/bes023.

Stanton, Elizabeth A. 2007. The Human Development Index: A History. In Workingpaper Series. Amherst, Massachusetts: Political Economy Research Institute.

Steffen, Will, Katherine Richardson, Johan Rockström, Sarah E. Cornell, Ingo Fetzer, Elena M. Bennett, Reinette Biggs, et al. 2015. Sustainability. Planetary boundaries: Guiding human development on a changing planet. Science (New York, N.Y.) 347 (6223): 1259855. https://doi.org/10.1126/science.1259855.

The Guardian. 2018. The EU needs a stability and wellbeing pact, not more growth. Letters. https://www.theguardian.com/politics/2018/sep/16/the-eu-needs-a-stability-and-wellbeing-pact-not-more-growth. Accessed 10 October 2018.

UNEP. 2006. Circular economy: An alternative for economic development. Paris: UNEP DTIE.

Webster, Ken. 2015. The circular economy. A wealth of flows. United Kingdom: Ellen MacArthur Foundation Publishing.

Weintraub, Roy E. 1993. Neoclassical Economics]. In The concise encyclopedia of economics. Library of Economics and Liberty.

Wilkinson, Richard, and Kate Pickett. 2010. The spirit level : Why equality is better for everyone. London: Penguin Books.
Ethics declarations
Conflict of Interest Statement
On behalf of all authors, the corresponding author states that there is no conflict of interest.
Additional information
Publisher's Note
Springer Nature remains neutral with regard to jurisdictional claims in published maps and institutional affiliations.
About this article
Cite this article
Temesgen, A., Storsletten, V. & Jakobsen, O. Circular Economy – Reducing Symptoms or Radical Change?. Philosophy of Management 20, 37–56 (2021). https://doi.org/10.1007/s40926-019-00112-1
Keywords
Circular economy

Ecological economics

Quality of life

Lakatos