Abstract
River bank line shifting and channel migration due to river bank erosion and accretion causes inevitable geomorphic hazards in Gangetic West Bengal, India. Channel oscillation and associated river bank erosion-accretion is the widespread hydro-geomorphic phenomenon of the Bhagirathi-Hooghly river. In the present analysis, an attempt has been made to investigate the pattern of bank line shifting and river bank erosion-accretion dynamics of the 85 km long upper reach of the Hooghly river for the last 100 years with the use of geospatial techniques. The study is based on police station maps (1917–1921), topographical sheets (1954) and Landsat imageries of 1972, 1990, 2005 and 2020, which were collected from different sources. Sinuosity index, radius-wavelength ratio and bend-tightness index of different time periods have been computed for analyzing the temporal changes that occurred in the study reach. The result shows that the sinuosity index decreased from 1.95 in 1921 to 1.87 in 2020 and the areal extension of bank erosion and accretion decreases. This study has also developed a model for future prediction of river centerlines in the coming decades to identify future hazard zones. The overall channel migration of the upper reach of the Hooghly river indicates the oscillatory nature of the river channel. Channel widening, meander bend development and lateral movement of the channel are responsible for erosion and accretion of the bank. Therefore, the present analysis may be helpful for the identification and mapping of future vulnerable areas and make a plan for the lives of the people living near the bank line for their safety and sustainability.
Access options
Buy single article
Instant access to the full article PDF.
USD 39.95
Price excludes VAT (USA)
Tax calculation will be finalised during checkout.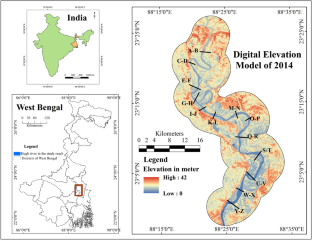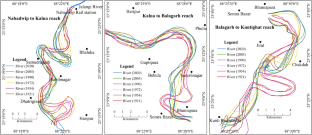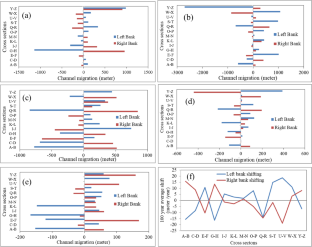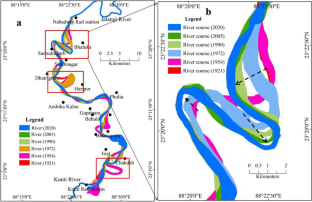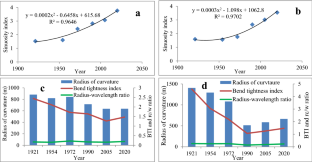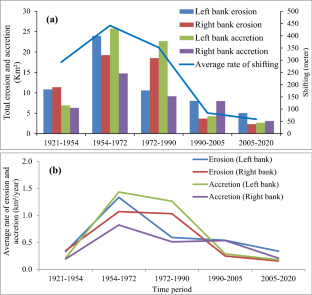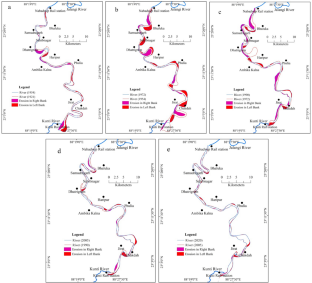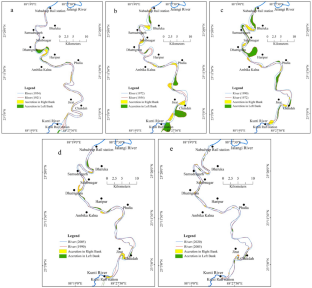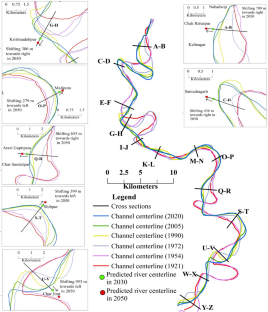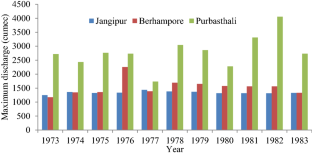 Similar content being viewed by others
Availability of data and material
Topographical sheets are available in the website of Army map service. Satellite imageries of different periods used for change analysis were downloaded from USGS Earth Explorer website. Data from other sources have been described appropriately.
References
Bag R, Mondal I, Bandyopadhyay J (2019) Assessing the oscillation of channel geometry and meander migration cardinality of Bhagirathi River, West Bengal, India. J Geogr Sci 29(4):613–634. https://doi.org/10.1007/s11442-019-1618-z

Bagchi KG (1944) The Ganges delta. Calcutta University, Calcutta

Bandyopadhyay S (2007) Evolution Ganga-Brahmaputra delta: a review. Geogr Rev India 69(3):235–268

Banerjee M (1999) A report on the impact of farakka barrage on the human fabric. South Asia Network on Dams, Rivers & People

Bhunia GS, Shit PK, Pal DK (2016) Channel dynamics associated with land use/cover change in Ganges river, India, 1989–2010. Spat Inf Res 24(4):437–449. https://doi.org/10.1007/s41324-016-0045-7

Boscardin WJ (2010) The use and interpretation of linear regression analysis in opthalmology research. Am J Ophthalmol 150(1):1–2. https://doi.org/10.1016/j.ajo.2010.02.022

Brice JC (1964) Channel patterns and terraces of the Loup Rivers in Nebraska. https://doi.org/10.3133/PP422D

Charlton R (2008) Fundamentals of fluvial geomorphology (1. publ). Routledge, London

Chatterjee S, Mistri B (2013) Analysis of the factors responsible for river bank erosion: a study in Shantipur Block, Nadia District, West Bengal. Sci Park I(VII):1–6. https://doi.org/10.9780/23218045/152013/21

Das BC (2014) Two indices to measure the intensity of meander. In: Singh M, Singh RB, Hassan MI (eds) Landscape ecology and water management. Springer Japan, pp 233–245. https://doi.org/10.1007/978-4-431-54871-3_17

Das B, Mondal M, Das A (2012) Monitoring of bank line erosion of River Ganga, Malda District, and West Bengal: using RS and GIS compiled with statistical techniques. Int J Geomat Geosci 3:1

Das S, Adak K, Samanta K (2014) Hydrodynamic changes of river course of part of Bhagirathi-Hooghly in Nadia district—a Geoinformatics appraisal. Int J Geomat Geosci 5(2):16

Deb M, Ferreira C (2014) Planform channel dynamics and bank migration hazard assessment of a highly sinuous river in the north-eastern zone of Bangladesh. Environ Earth Sci 73(10):6613–6623. https://doi.org/10.1007/s12665-014-3884-3

Friedman JM, Osterkamp WR, Scott ML, Auble GT (1998) Downstream effects of dams on channel geometry and bottomland vegetation: Regional patterns in the great plains. Wetlands 18(4):619–633. https://doi.org/10.1007/BF03161677

Gadgil M, Guha R (1994) Ecological conflicts and the environmental movement in India. Dev Chang 25(1):101–136. https://doi.org/10.1111/j.1467-7660.1994.tb00511.x

Garrett JHE (1910) Bengal District Gazetteers: Nadia.

Gogoi C, Goswami DC (2014) A study on channel migration of the Subansiri river in Assam using remote sensing and GIS technology. Curr Sci 106(8):1113–1120

Guchhait SK, Islam A, Ghosh S, Das BC, Maji NK (2016) Role of hydrological regime and floodplain sediments in channel instability of the Bhagirathi River, Ganga-Brahmaputra Delta, India. Phys Geogr 37(6):476–510. https://doi.org/10.1080/02723646.2016.1230986

Gurnell AM, Downward SR, Jones R (1994) Channel planform change on the river dee meanders, 1876–1992. Regul Rivers Res Manage 9(4):187–204. https://doi.org/10.1002/rrr.3450090402

Hasanuzzaman M, Mandal SA (2020) morphology-independent methodology to assess erosion, accretion and lateral migration of an alluvial channel using geospatial tools: a study on the Raidak-I river of Himalayan Foothills. Sustain Water Resour Manag 6:35. https://doi.org/10.1007/s40899-020-00393-9

Hickin EJ, Nanson GC (1984) Lateral migration rates of river bends. J Hydraul Eng 110(11):1557–1567. https://doi.org/10.1061/(ASCE)0733-429(1984)110:11(1557)

Hirst MF (1915) Report on the Nadia Rivers, reprinted in Rivers of Bengal, vol 3. Department of Higher Education-2002. West Bengal District Gazetteers, Calcutta

Islam A (2016) River bank erosion and its impact on economy and society: a study along the left bank of river Bhagirathi in Nadia District, West Bengal. Unpublished Ph. D. Thesis. Burdwan University. Burdwan

Islam A, Guchhait SK (2013) Integrating channel instability, bank erosion and land use planning along the left bank of river Bhagirathi in Nadia district, West Bengal. River Behav Control 34:11–26

Islam A, Guchhait SK (2017) Analysing the influence of Farakka Barrage Project on channel dynamics and meander geometry of Bhagirathi river of West Bengal, India. Arab J Geosci 10(11):245. https://doi.org/10.1007/s12517-017-3004-2

Islam A, Das BC, Maji NK, Barman SD (2020) Assessing meander belt width of Bhagirathi-Jalangi river system in lower Ganga delta, India. Eur J Geogr 11(1):140–162. https://doi.org/10.48088/ejg.a.isl.11.1.140.162

Khan MYA, Khan B, Chakrapani GJ (2016a) Assessment of spatial variations in water quality of Garra River at Shahjahanpur, Ganga Basin, India. Arab J Geosci 9:516. https://doi.org/10.1007/s12517-016-2551-2

Khan MYA, Daityari S, Chakrapani GJ (2016b) Factors responsible for temporal and spatial variations in water and sediment discharge in Ramganga River, Ganga Basin, India. Environ Earth Sci 75:283. https://doi.org/10.1007/s12665-015-5148-2

Khan MYA, Hu H, Tian F, Wen J (2019) Monitoring the spatio-temporal impact of small tributaries on the hydrochemical characteristics of Ramganga River, Ganges Basin, India. Int J River Basin Manag 18(2):231–241. https://doi.org/10.1080/15715124.2019.1675677

Knighton D (1998) Fluvial forms and processes: a new perspective (Rev. and update ed). Arnold, London

Kumari K, Yadav S (2018) Linear regression analysis study. J Pract Cardiovasc Sci 4(1):33–36. https://doi.org/10.4103/jpcs.jpcs_8_18

Lawler DM (1993) The measurement of river bank erosion and lateral channel change: a review. Earth Surf Proc Land 18(9):777–821. https://doi.org/10.1002/esp.3290180905

Leopold LB, Langbein WB (1966) River meanders. Sci Am 214(6):60–70

Leopold LB, Wolman MG, Miller JP (1964) Fluvial processes in geomorphology. Dover Publications, New York, p 281

Mandal AC, Patra P, Majumder R, Ghosh DK, Bhunia GS (2018) Evaluating meander shifting dynamics (1977–2017) of the Bhagirathi river course in Murshidabad District, West Bengal, India. Spat Inf Res 26(1):33–45. https://doi.org/10.1007/s41324-017-0153-z

Marren PM, Grove JR, Webb JA, Stewardson MJ (2014) The potential for dams to impact lowland meandering river floodplain geomorphology. Sci World J 2014:1–24. https://doi.org/10.1155/2014/309673

Mondal J, Mandal S (2018) Monitoring changing course of the river Ganga and land-use dynamicity in Manikchak Diara of Malda district, West Bengal, India, using geospatial tools. Spat Inf Res 26(6):691–704. https://doi.org/10.1007/s41324-018-0210-2

Mueller JE (1968) An introduction to the hydraulic and topographic sinuosity indexes. Ann Assoc Am Geogr 58(2):371–385. https://doi.org/10.1111/j.1467-8306.1968.tb00650.x

Mukherjee R, Bilas R, Biswas SS, Pal R (2017) Bank erosion and accretion dynamics explored by GIS techniques in lower Ramganga river, Western Uttar Pradesh, India. Spat Inf Res 25(1):23–38. https://doi.org/10.1007/s41324-016-0074-2

Neog R (2018) A GIS-based study on channel variation, erosion and deposition along the bank of Dibru Saikhowa National Park (1967–2016), Assam, India. Sustain Water Resour Manag 4:499–507. https://doi.org/10.1007/s40899-017-0131-6

Nilsson C (2005) Fragmentation and flow regulation of the world's large river systems. Science 308(5720):405–408. https://doi.org/10.1126/science.1107887

Panda S, Bandyopadhyay J (2011) Morphodynamic changes of Bhagirathi river at Murshidabad district using geoinformatics. J Geogr Inf Syst 03(01):85–97. https://doi.org/10.4236/jgis.2011.31006

Parua PK (2009) The Ganges. Springer Netherlands, Dordrecht. https://doi.org/10.1007/978-90-481-3103-7

Pati JK, Lal J, Prakash K, Bhusan R (2008) Spatio-temporal shift of western bank of the Ganga river, Allahabad city and its implications. J Indian Soc Remote Sens 36(3):289–297. https://doi.org/10.1007/s12524-008-0030-2

Rudra K (2010) Dynamics of the Ganga in West Bengal, India (1764–2007): Implications for science–policy interaction. Quatern Int 227(2):161–169. https://doi.org/10.1016/j.quaint.2009.10.043

Rudra K (2018) The Bhagirathi-Hooghly river system. In: Rudra K (ed) Rivers of the Ganga-Brahmaputra-Meghna Delta. Springer International Publishing, Cham, pp 77–93. https://doi.org/10.1007/978-3-319-76544-0_6

Sarkar A, Garg RD, Sharma N (2012) RS-GIS based assessment of river dynamics of Brahmaputra river in India. J Water Resour Prot 04(02):63–72. https://doi.org/10.4236/jwarp.2012.42008

Schumm SA (1985) Patterns of alluvial rivers. Ann Rev Earth Planet Sci 13(5):27

Singh P, Patil RG, Singh A (2018) Assessment of recent changes in planform of river Ganga from Mirapur Khadar to Narora barrage, Uttar Pradesh, India. Sustain Water Resour Manag 5:575–586. https://doi.org/10.1007/s40899-018-0222-z

Thakur PK, Laha C, Aggarwal SP (2012) River bank erosion hazard study of river Ganga, upstream of Farakka barrage using remote sensing and GIS. Nat Hazards 61(3):967–987. https://doi.org/10.1007/s11069-011-9944-z

Yang C, Cai X, Wang X, Yan R, Zhang T, Zhang Q, Lu X (2015) Remotely sensed trajectory analysis of channel migration in lower Jingjiang Reach during the period of 1983–2013. Remote Sens 7(12):16241–16256. https://doi.org/10.3390/rs71215828
Funding
This work has been done with the funding of NET-JRF Fellowship scheme of University Grant Commission [(3312/(OBC)(NET-JAN 2017)].
Ethics declarations
Conflict of interest
Authors declare that there is no such conflict of interest regarding the results and data. We also disclose that all the ethical standards have been maintained for this research.
Additional information
Publisher's Note
Springer Nature remains neutral with regard to jurisdictional claims in published maps and institutional affiliations.
Rights and permissions
Springer Nature or its licensor holds exclusive rights to this article under a publishing agreement with the author(s) or other rightsholder(s); author self-archiving of the accepted manuscript version of this article is solely governed by the terms of such publishing agreement and applicable law.
About this article
Cite this article
Paul, A., Bhattacharji, M. Assessing land erosion and accretion dynamics and river bank line shifting of upper reach of Hooghly river of West Bengal, India. Sustain. Water Resour. Manag. 8, 136 (2022). https://doi.org/10.1007/s40899-022-00732-y
Received:

Accepted:

Published:

DOI: https://doi.org/10.1007/s40899-022-00732-y
Keywords