Abstract
The Mio-Plio-Quaternary groundwater of Mchira-Teleghma suffers from an increasing rate of salinity especially in the northwestern part. To identify the reason for the water's salinity and its aptitude for irrigation, physico-chemical analyses of 20 water samples, which were based on the different physical and chemical parameters (electric conductivity EC, pH, Ca2+, Mg2+, Na+, K+, HCO3−, Cl−, SO42−, NO3− and Sr2+), were carried out during the period of October 2015. This study showed disquieting anomalies of electric conductivity that reached the value of 4376.14 µS cm−1. The statistical analyses, the multivariate statistics: the principal component analysis, Q-mode cluster analyses, Sr2+/Ca2+ ratio and water type showed that the hydrochemistry of Mchira-Teleghma groundwater is controlled by the dissolution of carbonate rocks and the leaching of evaporite processes, which proved that these anomalies of the MPQ groundwater's salinity of Mchira-Teleghma are mainly determined by the leaching of Triassic gypsum formations process. This hydrogeochemical process generates an unsuitable quality of water based on Wilcox's and Water Quality Index's methods, whereas Richard's method classifies all water samples to C3S1 and C4S1 classes as they are recommended to be used with salt-tolerant species in well-drained and leached soils.
Access options
Buy single article
Instant access to the full article PDF.
USD 39.95
Price includes VAT (USA)
Tax calculation will be finalised during checkout.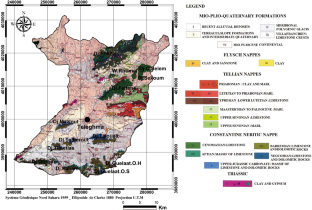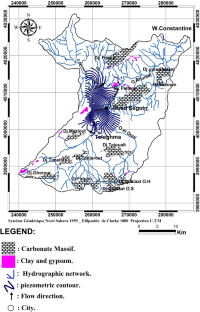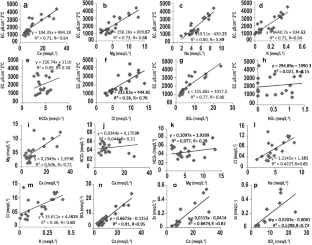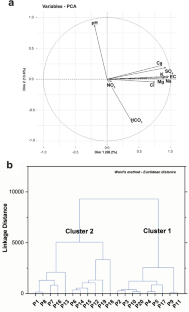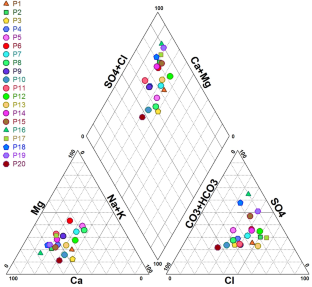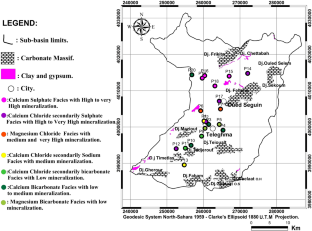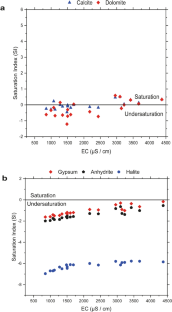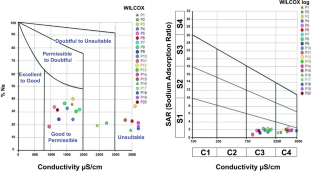 References
Abdesselam M, Mania J, Mudry J, Gélard JP, Chauve P, Lami H, Aigoun C (2000) Arguments hydrogéochimiques en faveur de Trias évaporitique non affleurant dans le massif du Djurdjura (dorsale kabyle, élément des Maghrébides). Rseau 13:155–166. https://doi.org/10.7202/705387ar

Agoubi B, Souid F, Kharroubi A, Abdallaoui A (2016) Assessment of hot groundwater in an arid area in Tunisia using geochemical and fuzzy logic approaches. Environ Earth Sci 75:1163. https://doi.org/10.1007/s12665-016-6296-8

Aubert G (1975) Les sols sodiques en Afrique du Nord. Annale de l'institut National. Agronomique. Alger

Ayadi Y, Mokadem N, Besser H, Redhaounia B, Khelifi F, Harabi S, Nasri T, Hamed Y (2018) Statistical and geochemical assessment of groundwater quality in Teboursouk area (Northwestern Tunisian Atlas). Environ Earth Sci 77:208. https://doi.org/10.1007/s12665-018-7523-2

Bakalowicz M (1988) La formation des travertins : aspects géochimiques. Essai de synthèse et discussion n°XVII, U.A.903. CNRS et ATP PIREN Aix-en-Provence

Barkat A, Bouaicha F, Bouteraa O, Mester T, Ata B, Balla D, Rahal Z, Szabó G (2021) Assessment of complex terminal groundwater aquifer for different use of Oued Souf Valley (Algeria) using multivariate statistical methods, geostatistical modeling, and Water Quality Index. Water 13:1609. https://doi.org/10.3390/w13111609

Belkhiri L, Mouni L (2013) Geochemical modeling of groundwater in the El Eulma area, Algeria. Desalin Water Treat 51:1468–1476. https://doi.org/10.1080/19443994.2012.699350

Belkhiri L, Boudoukha A, Mouni L, Baouz T (2011) Statistical categorization geochemical modeling of groundwater in Ain Azel plain (Algeria). J Afr Earth Sc 59:140–148. https://doi.org/10.1016/j.jafrearsci.2010.09.007

Ben Alaya M, Zemni T, Mamou A, Zargouni F (2014) Acquisition de salinité et qualité des eaux d'une nappe profonde en Tunisie: approche statistique et géochimique. Hydrol Sci J 59:395–419. https://doi.org/10.1080/02626667.2013.870663

Bouaicha F, Dib H, Bouteraa O, Manchar N, Boufaa K, Chabour N, Demdoum A (2019) Geochemical assessment, mixing behavior and environmental impact of thermal waters in the Guelma geothermal system, Algeria. Acta Geochim 38:683–702. https://doi.org/10.1007/s11631-019-00324-2

Bouteraa O, Mebarki A, Bouaicha F, Nouaceur Z, Laignel B (2019) Groundwater quality assessment using multivariate analysis, geostatistical modeling, and water quality index (WQI): a case of study in the Boumerzoug-El Khroub valley of Northeast Algeria. Acta Geochim 38:796–814. https://doi.org/10.1007/s11631-019-00329-x

Brinis N (2011) Caractérisation de la salinité d'un complexe aquifère en zone aride cas de l'aquifère d'el-Outaya région nord-ouest de Biskra. Algérie, faculté des sciences et de la technologie, département d'hydraulique et du génie civil, Doctorat en science, Université Mohamed Kheider–Biskra

Brinis N, Boudouka A, Djaiz F (2014) Etude de la salinité des eaux souterraines dans les zones arides Cas de l'aquifère d'El-Outaya Région Nord-ouest de Biskra-Algerie. Int J Environ Water 3(1):44–51

Brown RM, McClelland NI, Deininger RA, Tozer RG (1970) A Water Quality Index: do we dare? Water Sewage Works 117(10):339–343

Chabour N, Dib H, Bouaicha F, Bechkit MA, Messaoud Nacer N (2021) A conceptual framework of groundwater flowpath and recharge in Ziban aquifer: south of Algeria. Sustain Water Resour Manag 7:36p. https://doi.org/10.1007/s40899-020-00483-8

Foued B, Hénia D, Lazhar B, Nabil M, Nabil C (2017) Hydrogeochemistry and geothermometry of thermal springs from the Guelma region, Algeria. J Geol Soc India 90:226–232. https://doi.org/10.1007/s12594-017-0703-y

Gouaidia L, Guefaifia O, Boudoukha A, LaidHemila M, Martin C (2012) Évaluation de la salinité des eaux souterraines utilisées en irrigation et risques de dégradation des sols : exemple de la plaine de Meskiana (Nord-Est Algérien). Physio-Geo. https://doi.org/10.4000/physio-geo.2632

Haritash AK, Mathur K, Singh P, Singh SK (2017) Hydrochemical characterization and suitability assessment of groundwater in Baga-Calangute stretch of Goa, India. Environ Earth Sci 76:15. https://doi.org/10.1007/s12665-017-6679-5

Horton RK (1965) An index number system for rating water quality. J Water Pollut Control Fed 37(3):300–305

Khedidja A, Boudoukha A (2015) Characterization of the salinity of the alluvial aquifer in the upper valley of Wadi Rhumel (eastern Algeria). Desalin Water Treat 56:629–637. https://doi.org/10.1080/19443994.2014.939856

Khedidja A (2016) Caractérisation des paramètres hydrodynamiques de l'aquifère de Tadjnant–Chelghoum Laid et impact de la pollution des eaux de surface sur les eaux souterraines, Thèse de doctorat en science, Faculté de technologie, Département d'hydraulique, université de batna2

Khelif S, Boudoukha A (2018) Multivariate statistical characterization of groundwater quality in Fesdis, East of Algeria. J Water Land Dev 37:65–74. https://doi.org/10.2478/jwld-2018-0026

Kouadra R, Demdoum A, Chabour N, Benchikh R (2019) The use of hydrogeochemical analyses and multivariate statistics for the characterization of thermal springs in the Constantine area, Northeastern Algeria. Acta Geochim 38:292–306. https://doi.org/10.1007/s11631-018-0298-z

Lebid H, Errih M, Boudjemline D (2016) Contribution of strontium to the study of groundwater salinity. Case of the alluvial plain of Sidi Bel Abbes (Northwestern Algeria). Environ Earth Sci 75:2000. https://doi.org/10.1007/s12665-016-5704-4

Marghade D, Malpe DB, Zade AB (2011) Geochemical characterization of groundwater from northeastern part of Nagpur urban, Central India. Environ Earth Sci 62:1419–1430. https://doi.org/10.1007/s12665-010-0627-y

Mebarki A (1994) Le barrage d'Hamman Grouz (haut Rhumel, Constantinois). Bilan et perspectives d'un aménagement hydraulique en zone semi-aride. Medit 80:15–22. https://doi.org/10.3406/medit.1994.2854

Mebarki A (2005) Hydrologie des bassins de l'Est algérien: Ressources en eau, aménagement et environnement, Thèse de doctorat d'Etat, Faculté des sciences de la terre, de la géographie et de l'aménagement du territoire, Département de l'aménagement du territoire, Université Constantine1

Mihoubi N (2009) Fonctionnement et de gestion hydrogéologique et hydrologique des ressources en eau du bassin du Hammam Grouz, Mémoire de magister, département des Sciences de la Terre, faculté des sciences de la terre, de la géographie et de l'aménagement du territoire, Université Mentouri Constantine

Piper AM (1944) A graphic procedure in the geochemical interpretation of water-analyses. Trans AGU 25:914. https://doi.org/10.1029/TR025i006p00914

Ravikumar P, Venkatesharaju K, Prakash KL, Somashekar RK (2011) Geochemistry of groundwater and groundwater prospects evaluation, Anekal Taluk, Bangalore Urban District, Karnataka, India. Environ Monit Assess 179:93–112. https://doi.org/10.1007/s10661-010-1721-z

Richards LA (1954) Diagnosis and improvement of saline and alkali soils. Agriculture handbook, vol 60. USDA, Washington D.C.

Rodier J (2009) L'analyse de l'eau 9 èmeédition. Dunod, Paris, France

Schoeller H (1959) Hydrologie des régions arides - progrès recents, Organisation des Nations Unies pour l'Education, la science et la culture (UNESCO): place de Fontenoy, Paris-70 Imprimeries Oberthur. p. 127

Shout H, Bouaicha F, Merrad Z (2020) Les ressources géothermiques du nord-est constantinois - étude comparative - cas de la région de Guelma et Telaghma (impact socio-économique et juridique). Sciences & technologie des hydrocarbures. Sonatrach-Devision Laboratoires (E&P/SONTRACH) N°02/Septembre 2020. Algérie

Todd DKM, Mays LW (2005) Groundwater hydrology, 3rd edn. Wiley, Hoboken

Vila J M (1977a) Cartegéologique de Sétif au 200000ème, avec sa notice explicative, Service de la carte géologique de l'Algérie

Vila J M (1977b) Cartes géologiques de Constantine au 200000ème, avec sa notice explicative, Service de la cartegéologique de l'Algérie

Wilcox LV (ed) (1948) The quality of water for agricultural use. Edit. U.S Department of Agriculture, Technical Bulletin, vol 962, Washington (USA)

Wilcox LV (1955) Classification and use of irrigation waters. U.S. Department of Agriculture, Circular 969, Washington, D.C.
Additional information
Publisher's Note
Springer Nature remains neutral with regard to jurisdictional claims in published maps and institutional affiliations.
About this article
Cite this article
Mohamadi, A., Demdoum, A., Bouaicha, F. et al. Evaluation of the quality of groundwater for its appropriateness for irrigation purposes using Water Quality Index (WQI), Mchira-Teleghma aquifer case study, northeastern Algeria. Sustain. Water Resour. Manag. 7, 97 (2021). https://doi.org/10.1007/s40899-021-00571-3
Received:

Accepted:

Published:
Keywords
Water Quality Index

Hydrogeochemical process

Salinity

Triassic gypsum

Mchira-Teleghma aquifer and irrigation