Abstract
Changbai Mountains is one of the important water sources of mineral spring in China, whose mineral springs are in concentrated distribution of the basalt stratum in the form of spring groups. To further explore the formation and water quality characteristics of spring groups, the hydrochemical data, hydrogen and oxygen isotopes, and tritium isotopes data of spring water in the field were collected, and the chemical characteristics of mineral water and its influencing factors as well as the source of mineral water were analyzed. According to the elevation effect of hydrogen and oxygen isotopes, the recharge elevation of mineral springs is calculated, the recharge runoff and discharge areas of spring groups are delineated, and the age of mineral springs is determined by radioactive tritium isotopes. Based on the groundwater quality criterion, the set pair analysis model is used to evaluate the quality of spring water. The results indicate that: (1) the hydrochemical type of mineral springs is mainly HCO3−Ca+Mg+Na, and atmospheric precipitation is the recharge source of groundwater. Mineral springs and groundwater replenish a large amount of surface water, which makes the content of H2SiO3 abnormally high. (2) The mineral spring in the research area is in the same groundwater flow system, and is the shallow groundwater recharge with relatively short cycling time. The area above 769 m altitude is the recharge area of spring groups. (3) The water quality grade of some mineral springs is not the top Grade I, and the main component affecting the water quality grade is NO3−. The results are helpful to understanding the formation and water quality of mineral spring in the basalt area of Changbai Mountains, and provide a basis for the protection and multi-purpose development of mineral spring resources.
Access options
Buy single article
Instant access to the full article PDF.
USD 39.95
Price includes VAT (USA)
Tax calculation will be finalised during checkout.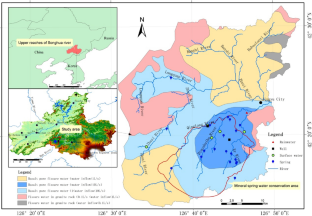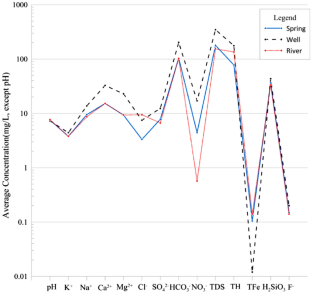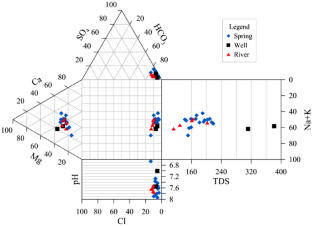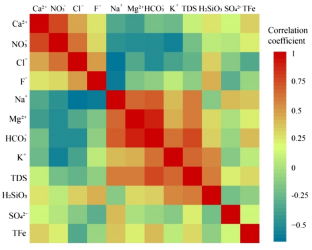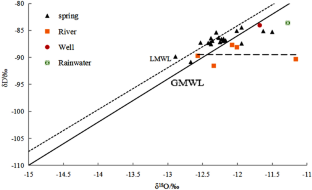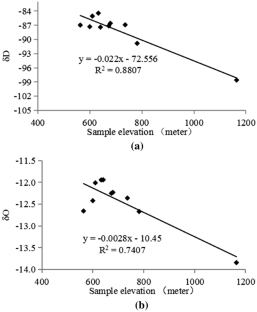 Availability of data and materials
References
Baizhong Y, Xiao C, Liang X, Wei R, Wu S (2015) Characteristics and genesis of mineral water from Changbai Mountain, Northeast China. Environ Earth Sci 73:4819–4829. https://doi.org/10.1007/s12665-014-3774-8

Baizhong Y, Xiao C, Liang X, Wu S (2016) Hydrogeochemical tracing of mineral water in Jingyu County, Northeast China. Environ Geochem Health 38:291–307. https://doi.org/10.1007/s10653-015-9719-7

Baizhong Y, Liang X, Xiao C (2018) Hydrogeochemical characteristics and genesis model of Jinjiang and Julong Hot Springs in Changbai Mountain, Northeast China. Geofluids 2018:1–16. https://doi.org/10.1155/2018/1694567

Cao Y-h, Qi J-w, Xiong S-l (2010) Hydrogeological characteristics of endemic fluorine disease areas of Jilin Province and water source project countermeasures for fluorine prevention. Geology in China 37(3):690–695 (in Chinese)

Chen P, Xuanlong S, Guoli H, Rongsheng Z, Jian Z (2017) Faults and Karsts controlled geothermal genesis model of Xianrenqiao hot spring in Changbai Mountain. J Jilin Univ (earth Sci Edition) 47(4):1236–1246 (in Chinese)

Constanze EW, Burns SJ, Waber HN (2002) Isotope study of moisture sources, recharge areas, and groundwater flow paths within the eastern Batinah coastal plain, Sultanate of Oman. Water Resour Res 38(10):1184. https://doi.org/10.1029/2000WR000149

Elad D, Burg A, Gvirtzman H (2006) Deduction of groundwater flow regime in a basaltic aquifer using geochemical and isotopic data: The Golan Heights, Israel case study. J Hydrol 330:506–524. https://doi.org/10.1016/j.jhydrol.2006.04.002

Emmanuel DS, Abu M, Zango MS, Wani AML (2020) Hydrogeochemical characterization and assessment of groundwater quality in the Kwahu-Bombouaka Group of the Voltaian Supergroup, Ghana. J Afr Earth Sci 169(2020):103899. https://doi.org/10.1016/j.jafrearsci.2020.103899

Gao L, Zhiguan S, Haiquan W, Ciping Z (2011) Geochemical features of the Hubin Spring gases from the Northern Caldera Lake of the Tianchi Volcano, Changbai Mountains. Earthquake Res China 25(3):370–377

Ge W, Xiao C, Qi Z, Lai Q, Meng F, Liang X (2021) Research on the exploitation and utilization degree of mineral water based on ecological base flow in the Changbai Mountain basalt area, northeast China. Environ Geochem Health. https://doi.org/10.1007/s10653-021-00865-7

Jianmin B, Sun X, Zhang B, Zhang Z, Ding F, Wang Y (2019) Study on the natural mineral water resource bearing capacity and its driving factors in Fusong County, Changbai Mountain Area, Jilin Province of China. Water Resour 46(3):332–343. https://doi.org/10.1134/S0097807819030096

Jiaqi L, Chu G, Han J, Rioual P, Jiao W, Wang K (2009) Volcanic eruptions in the Longgang volcanic field, northeastern China, during the past 15,000 years. J Asian Earth Sci 34(2009):645–654. https://doi.org/10.1016/j.jseaes.2008.09.005

Li N, Fan QC, Sun Q, Zhang WL (2004) Magma evolution of Changbaishan Tianchi volcano: evidences from main phenocrystal minerals. Acta Petrologica Sinica 20(3):575–582 (in Chinese)

Li JL, Ma YX, Bian JM et al (2021) (2021) Hydrochemical origin and water quality health function evaluation of mineral water in antu county of Changbai Mountain Area, China. Rural Water Hydropower 6:42–48 (in Chinese)

Marques JM, Matos C, Carreira PM, Neves MO (2019a) Isotopes and geochemistry to assess shallow/thermal groundwater interaction in a karst/fissured-porous environment (Portugal): a review and reinterpretation. Sustain Water Resour Manage 5(4):1525–1536. https://doi.org/10.1007/s40899-017-0207-3

Marques JM, Carreira PM, Neves O, Espinha Marques J, Teixeira J (2019b) Revision of the hydrogeological conceptual models of two Portuguese thermomineral water systems: similarities and differences. Sustainable Water Resources Management 5(1):117–133. https://doi.org/10.1007/s40899-018-0218-8

Meng X-m, Hu H-p (2009) Application of set pair analysis model based on entropy weight to comprehensive evaluation of water quality. J Hydraul Eng 40(3):257–262 (in Chinese)

Ministry of Land and Resources of P. R. China (2015) Standard for Groundwater Quality GB/T 14848-2017. Geological Press (in Chinese)

Narsimha A, Qian H (2021) Groundwater chemistry, distribution and potential health risk appraisal of nitrate enriched groundwater: a case study from the semi-urban region of South India. Ecotoxicol Environ Safe 207(2021):111277. https://doi.org/10.1016/j.ecoenv.2020.111277

National Health Commission of P. R. China (2018) Standard for Drinking Natural Mineral Water GB/T 8537-2018. Geological Press (in Chinese)

Paula MC, Costa A, Soares AM, Nunes D, João M, Valadas  (2019) Carbon-14 content as a support for Moura mineral water aquifer conceptual model. Sustain Water Resour Manag 5(4):1455–1468. https://doi.org/10.1007/s40899-019-00313-6

Qian Z, Liang X, Xiao C (2017) The hydrogeochemical characteristic of mineral water associated with water-rock interaction in Jingyu County, China. Procedia Earth Planetary Sci 17(2017):726–729. https://doi.org/10.1016/j.proeps.2016.12.184

Qingchun Y, Li Z, Ma H, Wang L, Martín JD (2016) Identification of the hydrogeochemical processes and assessment of groundwater quality using classic integrated geochemical methods in the Southeastern part of Ordos basin, China. Environ Pollut 218(2016):879–888. https://doi.org/10.1016/j.envpol.2016.08.017

Unterweger MP, Coursey BM, Schima FJ, Mann WB (1980) Preparation and calibration of the 1978 National Bureau of Standards tritiated-water standards. Int J Appl Radiat Isot 31(10):611–614. https://doi.org/10.1016/0020-708X(80)90017-4

Wang FS (1995) Spatiotemporal distribution and environmental effects of hydrogen and oxygen isotope concentration field of meteoric water in Jilin Province. Hydrogeol Eng Geol 1995(4):28–31 (in Chinese)

Yin J, Xiaoyu Z, Na L, Ke Z, Jukui Z (2008) Research on the healthy of springs in Changbaishan area. Water Wastewater Eng 34(11):30–33 (in Chinese)

Yue G, Bian J, Song C (2016) Study on the dynamic relation between spring discharge and precipitation in Fusong County, Changbai Mountain, Jilin Province of China. Water Supply 16(2):428–437. https://doi.org/10.2166/ws.2015.153

Zhang J, Zhang GS, Liu SM (2005) Dissolved silicate in coastal marine rainwaters: comparison between the Yellow Sea and the East China Sea on the impact and potential link with primary production. J Geophys Res 110:D16304. https://doi.org/10.1029/2004JD005411

Zhang W, Wang W, Liu S, Chen J (2019) Relationship of recharge runoff and drainage for the mineral water in the Changbai Mountain. J Hohai University (nat Sci) 47(2):108–113 (in Chinese)

Zhao KQ, Xuan AL (1996) Set pair theory-a new theory method of non-define and its applications. Syst Eng 14(1):18–23 (in Chinese)
Funding
This research was funded by the National Key R&D Program of China, grant number 2019YFC0409103, and the Key R&D Program of Science and Technology Department of Jilin Province, grant number 20190303076SF. The funding body has funded sample collection tests and data analysis.
Ethics declarations
Conflict of interest
The authors does not declare any conflict of interest.
Additional information
Publisher's Note
Springer Nature remains neutral with regard to jurisdictional claims in published maps and institutional affiliations.
About this article
Cite this article
Li, J., Bian, J., Li, Y. et al. Formation and water quality evaluation of spring groups in the basalt area of Changbai Mountains. Sustain. Water Resour. Manag. 7, 90 (2021). https://doi.org/10.1007/s40899-021-00570-4
Received:

Accepted:

Published:
Keywords
Mineral springs

Hydrogen and oxygen isotopes

Tritium isotopes

Water quality evaluation