Abstract
Hand-dug wells can range in depth from roughly 5 meters to more than 20 meters. Hand‑dug wells can range top to bottom from about 5 m depth, to deep wells more than 20 m. Wells with a depth of more than 30 m are now and then developed to exploit a known aquifer. It is unrealistic to excavate a well that is less than a meter in measurement; an excavation of about 1.5 m in breadth gives adequate working space to the diggers and will permit a final internal diameter of about 1.2 m after the well has been lined. The wells tap water from shallow aquifers for residential water use, small enterprises, and small water system plans. Many hand-dug wells exist in the Guna Tana landscape. They are significant in both urban and rural communities. The wells are dug by hand and confined to digging ground, such as muds, sands, rock, and blended soils where just small stones are encountered. Some communities utilize the ability and information on nearby well diggers; however regularly, the excavation is completed, under oversight, by the locals themselves. Well development cost is modest, as low-scale innovation and labor are utilized. Problems with hand-dug wells incorporate susceptibility to contamination/sullying; extraordinary decreases in water level during the dry season; low good yields; silting up of wells; and collapsing or crumbling of well dividers, and so forth. New plans are proposed to improve the effectiveness and execution of this old innovation. In the Guna Tana Landscape, wells ought to be finished in April and May when the water level is deepest. Well yield is improved by utilizing slotted concrete rings to screen the aquifer. Anti-contamination devices are likewise proposed for better water quality. Such wells would give more consumable water to the urban and provincial poor. An improved sort of opened/slotted solid concrete ring has been intended for use in the screened portion of the well. Non-perforated solid rings are utilized in the non-productive portion of the aquifer or over the water table, to prevent collapsing or falling of well walls. A convex spread structure is a defensive edge stretching out past the boundary of the well, to prevent the entrance of surface contaminants. Water from the dug wells is pumped through an external filtration system into an overhead stockpiling/treatment tank utilizing a modest pumping system. These structures are proposed to improve the effectiveness of the wells, to give strength to the wells and better well yield, and to diminish the frequency of contamination/pollution inside the well and its general condition.
Access options
Buy single article
Instant access to the full article PDF.
USD 39.95
Price includes VAT (USA)
Tax calculation will be finalised during checkout.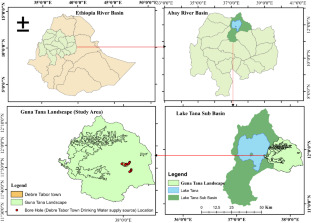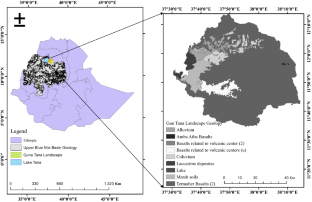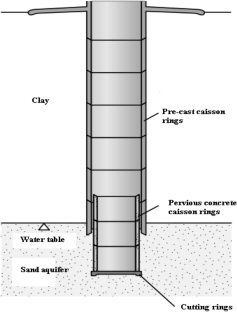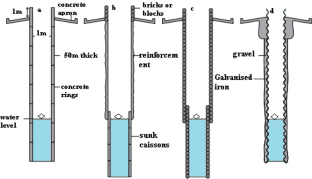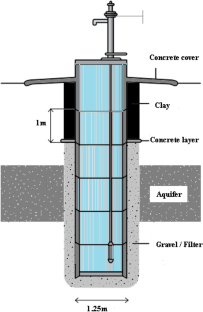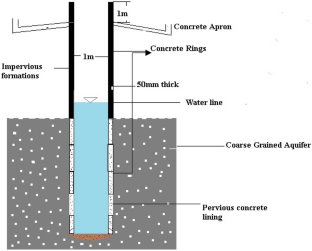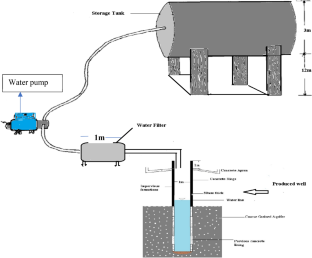 References
Andualem TG et al (2020) Spatial assessment of groundwater quality in Guna Tana landscape. Environ Qual Manag. https://doi.org/10.1002/tqem.21662

CSA (2012) Summary and statistical report of the 2012 population and housing censuspopulation size by age and sex. CSA, Addis Ababa

Egboka BCE, Mbanugoh RE, Nwogute NS, Uma KO, Okpoko EI (1988) Positive implications of hand-dug wells in water resources planning and management in a developing economy such as in Nigeria. Water Int 13(2):98–105

FAO (2016) The climate of Ethiopia, Food and Agricultural Organization of the United Nation. Retrieved from. http://www.fao.org/nr/water/aquastat/countries_regions/ETH/. Accessed 12 Mar 2019

Fazzini M, Bisci C, Billi P (2015) The climate of Ethiopia. In: Billi P (ed) Landscapes and landforms of Ethiopia. World Geomorphological Landscapes. Springer, Berlin, pp 65–87. https://doi.org/10.1007/978-94-017-8026-1_3

Hamblin WK, Christiansen EH (2004) Earth's dynamic systems, 10th edn. Prentice-Hall, Upper Saddle River

Peiffer S (2007) Groundwater management and development by integrated remote sensing and geographic information systems: prospects and constraints. Water Resour Manag 21:427–467

Solley WB, Pierce RR, Perlman HA (1998) Estimated use of water in the United States in 1995 (Vol. 1200). US Geological Survey

Ullah R, Malik RN, Qadir A (2009) Assessment of groundwater contamination in an industrial city, Sialkot, Pakistan. Afr J Environ Sci Technol 3(2):429–446

UNESCO (2013) Groundwater monitoring in the SADC region; International Groundwater Resources Assessment Centre, Zambia. UNESCO, London

Upton K, Dochartaigh IÓ (2018) BÉ and Bellwood-Howard, Africa Groundwater Atlas: Hydrogeology of Eritrea. Br Geol Surv

USGS (1998) U. S. Geological Survey Circular 1200. USGS, Denver

Walker D, Parkin G, Gowing J, Haile AT (2019) Development of a hydrogeological conceptual model for shallow aquifers in the data-scarce upper Blue Nile basin. Hydrology 6(43):1–24. https://doi.org/10.3390/hydrology6020043

WaterAid (2013) Technical brief hand-dug wells.

WESS (2013) World economic and social survey, sustainable development challenges. J Sustain Dev 2(1):5–10
Funding
The authors did not receive support from any organization for the submitted work.
Ethics declarations
Conflict of interest
We (authors) declare that we have no known personal relationships that could have appeared to influence the work reported in this paper.
Ethical statement
The authors state that the research was conducted according to ethical standards and we declare that this manuscript is original, has not been published before, and is not currently being considered for publication elsewhere.
Ethical approval
We confirm that the manuscript has been read and approved by all named authors. We further confirm and understand that the corresponding author is the sole contact for the editorial process.
Consent for publication
We, the authors, have permitted the publication of the work.
Consent to participate
We, the authors, had voluntarily agreed to participate in this research study.
Additional information
Publisher's Note
Springer Nature remains neutral with regard to jurisdictional claims in published maps and institutional affiliations.
About this article
Cite this article
Kifelew, M.S., Mesalie, R.A. The optimistic implication of hand-dug wells in water resources development and handling in Ethiopia, a developing economy, such as in Guna Tana landscape. Sustain. Water Resour. Manag. 7, 91 (2021). https://doi.org/10.1007/s40899-021-00567-z
Received:

Accepted:

Published:
Keywords
Hand-dug well

Well development

Well depth

Wells yield

Guna Tana landscape