Abstract
Groundwater quality and its potential health risk around a municipal dumpsite in Ikire, Southwest Nigeria was investigated using ten groundwater samples which were analyzed for physicochemical parameters. The methods used were groundwater sampling, analyses, spatial distribution of heavy metal (Cd, Cr, Cu, Fe, Mn, Pb, and Zn) and quantitative health risk analysis using USEPA equations. The chronic daily intake (CDI), hazard quotient (HQ), and hazard index (HI) were used to examine potential human health risks of heavy metal pollution. The mean concentration values of Cl−, Ca2+, K+ Mg2+, Fe, Cd, Pb and Mn were higher than their respective permissible limits, while the mean concentration values HCO3−, Cu and Zn were within their respective limits. The HQ values of the heavy metals via oral ingestion for the children and adults are found in the order: Cd > Pb > Mn > Fe > Zn > Cu and Cd > Pb > Mn > Zn > Cu > Fe, respectively. The HI values via ingestion pathway for all heavy metals were beyond the threshold value of 1.0, indicating high contamination adverse health risk due to an undesirable level of heavy metals. Cadmium is a major contributor to non-cancer effects in children and adults in the groundwater samples in the region. The groundwater is unsafe for drinking and should be treated before domestic consumption.
Access options
Buy single article
Instant access to the full article PDF.
US$ 39.95
Tax calculation will be finalised during checkout.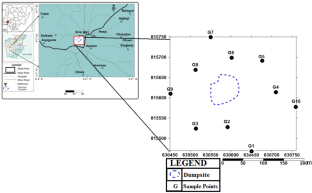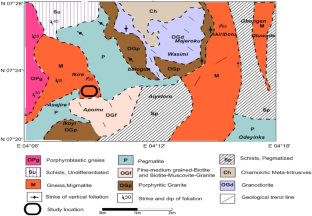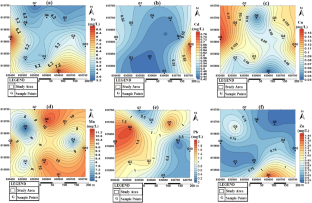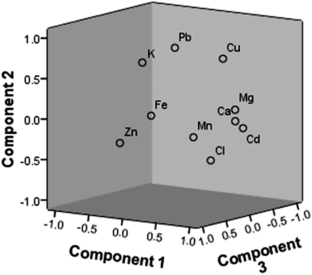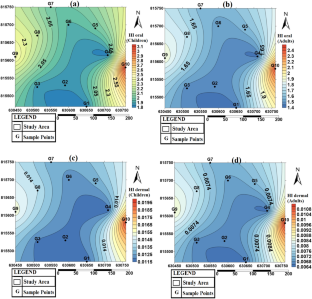 Availability of data and material
Data are available upon reasonable request.
References
Adebayo AS, Ariyibi EA, Awoyemi MO, Onyedim GC (2015) Environmental assessment of old domestic dump site using 2D electrical resistivity imaging: a case study from Olubonku dump site in Ede Osun State, Southwestern, Nigeria. Arab J Geosci 8:4075–4081. https://doi.org/10.1007/s12517-014-1496-6

Ahmed N, Bodrud-Doza M, Islam SMDU, Choudhry MA, Muhib MI, Hossain SZ, Moniruzzaman M, Deb N, Bhuiyan MAQ (2019) Hydrogeochemical evaluation and statistical analysis of groundwater of Sylhet, north-eastern Bangladesh. Acta Geochim 38(3):440–455

Akinola BS, Awoyemi MO, Matthew OJ, Adebayo AS (2018) Geophysical and hydro-chemical investigation of contamination plume in a basement complex formation around Sunmoye dumpsite in Ikire, Southwestern Nigeria. Model Earth Syst Environ 4(2):753–764. https://doi.org/10.1007/s40808-018-0455-8

Awosika DD, Ariyibi EA, Adebayo AS, Dasho OA, Shode OH, Adenika CD, Emmanuel OE (2020) Evaluation of groundwater potential zones using integrated geophysical approach in Obun-Ewi, Ondo east local government, Southwestern Nigeria. Sustain Water Resour Manag 6:63. https://doi.org/10.1007/s40899-020-00418-3

Bhuiyan MAH, Bodrud-Doza M, Islam ARMT, Rakib MA, Rahman MS, Ramanathan AL (2016) Assessment of groundwater quality of Lakshimpur district of Bangladesh using water quality indices, geostatistical methods, and multivariate analysis. Environ Earth Sci 75:1020. https://doi.org/10.1007/s12665-016-5823-y

Bortey-Sam N, Nakayama SMM, Ikenaka Y, Akoto O, Yohannes YB, Baidoo E, Mizukawa H, Ishizuka M (2015) Human health risks from metals and metalloid via consumption of food animals near gold mines in Tarkwa, Ghana: estimation of the daily intakes and target hazard quotients (THQs). Ecotoxicol Environ Saf 111:160–167

Bulut Y, Baysal Z (2006) Removal of Pb (II) from wastewater using wheat bran. J Environ Manage 78(2):107–113

Carter JD (1966) Geological Survey Nigeria. Bulletin 38

Chabukdhara M, Gupta SK, Kotecha Y, Nema AK (2017) Groundwater quality in Ghaziabad district, Uttar Pradesh, India: multivariate and health risk assessment. Chemosphere 179:167–178. https://doi.org/10.1016/j.chemosphere.2017.03.086

Giri S, Singh AK (2015) Human health risk assessment via drinking water pathway due to metal contamination in the groundwater of Subarnarekha River Basin, India. Environ Monit Assess 187:63. https://doi.org/10.1007/s10661-015-4265-4

Islam SMD, Majumder RK, Uddin MJ, Khalil MI, Alam MF (2017) Hydrochemical characteristics and quality assessment of groundwater in Patuakhali district, southern coastal region of Bangladesh. Expo Health 9:43–60

Khorasgani FC, Abbasnia A, Yousefi M, Mohammadi AA, Soleimani H (2018) Data on assessment of groundwater quality for drinking and irrigation in rural area Sarpol-e Zahab city, Kermanshah province, Iran. Data Brief 17:148–156. https://doi.org/10.1016/j.dib.2017.12.061

Luoma SN, Carter JL (1991) Effects of trace metals on aquatic benthos. In: Newman MC, Mcintosh AW (eds) Metal ecotoxicology: concept and application. Lewis (MI.1), Chelesa

Mondal NC, Singh VS, Puranik SC, Singh VP (2010) Trace element concentration from Gokana, Rivers State, Nigeria: non-cancer and cancer health risk assessment. Hum Ecol Risk Assess 24(1):214–224

National Population Commission (2006) Nigerian population census report 2006

Nasr MM, Gondal MA, Seddigi ZS (2011) Detection of hazardous pollutants in chrome-tanned leather using locally developed laser-induced breakdown spectrometer. Environ Monit Assess. https://doi.org/10.1007/s10661-010-1538-9

Naz A, Chowdhury A, Mishra BK, Gupta SK (2016) Metal pollution in water environment and the associated human health risk from drinking water: a case study of Sukinda chromite mine, India. Hum Ecol Risk Assess 22(7):1433–1455

Nkpaa KW, Amadi BA, Wegwu MO (2018) Hazardous metals levels in groundwater from Gokana, Rivers State, Nigeria: non-cancer and cancer health risk assessment. Hum Ecol Risk Assess 24(1):214–224

Nordstrom DK (2011) Hydrogeochemical processes governing the origin, transport and fate of major and trace elements from mine wastes and mineralized rock to surface waters. Appl Geochemistry 26:1777–1791. https://doi.org/10.1016/j.apgeochem.2011.06.002

NSDQW (2007) Nigerian standard for drinking water quality. Nigerian industrial standard NIS 554. Standard Organization of Nigeria, Lagos, Nigeria, p 30

Rahaman MA (1976) Progressive polyphase metamorphism in pelite schist around Aiyetoro, Oyo State, Nigeria. J Min Geol 13(2):33–34

Rahman MM, Islam MA, Bodrud-Doza M, Muhib MI, Zahid A, Shammi M, Tareq SM, Kurasaki M (2017) Spatio-temporal assessment of groundwater quality and human health risk: a case study in Gopalganj. Expo. Health, Bangladesh. https://doi.org/10.1007/s12403-017-0253-y

Subramani T, Elango L, Damodarasamy SR (2005) Groundwater quality and its suitability for drinking and agricultural use in Chithar River Basin, Tamil Nadu, India. Environ Geol 47(8):1099–1110

USEPA 1989. Risk assessment guidance for superfund. Volume I. Human health evaluation manual EPA/540/1-89/002. Office of solid waste and emergency response (Accessed May, 2018)

USEPA (1999) A risk assessment-multi way exposure spread sheet calculation tool. United States Environmental Protection Agency, Washington, DC

USEPA (2001) Baseline human health risk assessment Vasquez Boulevard and I-70 Superfund Site. Denver CO. U.S. Environmental Protection Agency. Assessed from http://www.epa.gov/region8/superfund/sites/VB-170-Risk.pdf

USEPA (2004) Risk assessment guidance for superfund volume I: human health evaluation manual (part E). U.S. Environmental Protection Agency. http://www.epa.gov/oswer/riskassessment/ragse/pdf/introduction.pdf. (Accessed 20 September 2017)

USEPA (2011) United States Environmental Protection Agency's risk assessment guidance for superfund. In: Part A: human health evaluation manual; part E, supplemental guidance for dermal risk assessment; part F, supplemental guidance for inhalation risk assessment,volumeII. http://www.epa.gov/oswer/riskassessment/humanhealthexposure.htm. Accessed June 2018

Wang Z, Hu X, Xu Z (2014) Cadmium in agricultural soils, vegetables and rice and potential health risk in vicinity of Dabaoshan Mine in Shaoguan, China. J Central South Univ 21(5):2004–2010

WHO (2017) Guidelines for drinking-water quality: fourth edition incorporating the first Addendum. ISBN 978-92-4-154995-0. http://www.who.int/water_sanitation_health/publications/drinking-waterquality-guidelines-4-including-1st-addendum/en/

Wongsasuluk P, Chotpantarat S, Siriwong W, Robson M (2014) Heavy metal contamination and human health risk assessment in drinking water from shallow groundwater wells in an agricultural area in Ubon Ratchathani province, Thailand. Environ Geochem Health 36(1):169–182

Wu B, Zhao DY, Jia HY, Zhang Y, Zhang XX, Cheng SP (2009) Preliminary risk assessment of trace metal pollution in surface water from Yangtze River in Nanjing section, China. Bull Environ Contam Toxicol 82:405–409

Wu J, Zhang Y, Zhou H (2020) Groundwater chemistry and groundwater quality index incorporating health risk weighting in Dingbian County, Ordos basin of northwest China. Geochemistry. https://doi.org/10.1016/j.chemer.2020.125607

Yang M, Fei Y, Ju YMZ, Li H (2012) Health risk assessment of groundwater pollution—a case study of typical city in north China. Plain J Earth Sci 23(3):335–348

Zhang S, Liua G, Suna R, Wua D (2016) Health risk assessment of heavy metals in groundwater of coal mining area: a case study in Dingji coal mine, Huainan coalfield, China. Hum Ecol Risk Assess 22(7):1469–2147
Funding
No funding is available for this research.
Ethics declarations
Conflict of interest
The authors declare that they have no conflict of interest.
Ethical approval
This research does not contain any studies with human participants or animals performed by any of the authors.
Additional information
Publisher's Note
Springer Nature remains neutral with regard to jurisdictional claims in published maps and institutional affiliations.
About this article
Cite this article
Adebayo, A.S., Akinola, B.S. & Adeyemi, A.F. Groundwater contamination and human health risk assessment in Ikire community, Osun State, Nigeria. Sustain. Water Resour. Manag. 7, 83 (2021). https://doi.org/10.1007/s40899-021-00565-1
Received:

Accepted:

Published:
Keywords
Groundwater

Point source

Heavy metals

Hazard index

Health risk