Abstract
Acanthopagrus pacificus is a commercially important fish in the coasts of western Pacific. Its early stages show potential variation in morphology and seasonal occurrences by different oceanography, even though little work has been reported. This study aims to provide morphological characteristics and spatio-temporal distribution patterns of early-stage juveniles of this species in the estuary [Tien Yen (ca. 21° 20′ N)] of northern Vietnam, which is located in the middle region of the distributional range. They were characterized by the presence of prominent supracleithral and posttemporal spines, relatively deeper body, large head and eyes, which useful to distinguish them from other Acanthopagrus early juveniles. The juveniles appeared in April, reflecting the seasonal occurrence around winter and spring in northern Vietnam. They occurred in the waters where salinity ranged from < 0.05 to 16.6 PSU, respectively. This result indicates A. pacificus early juveniles that colonized the shallow banks of the estuary extended to freshwater habitat.
Access options
Buy single article
Instant access to the full article PDF.
USD 39.95
Price includes VAT (USA)
Tax calculation will be finalised during checkout.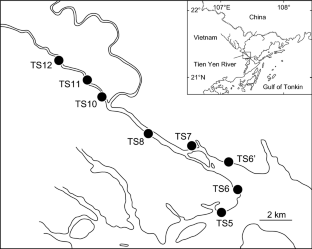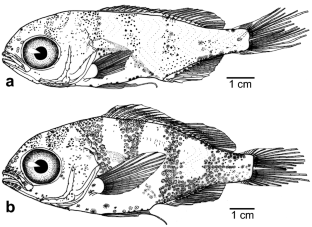 Data availability
The datasets generated during the current study are available from the corresponding author on reasonable request.
References
Dingerkus G, Uhler LD (1977) Enzyme clearing of alcian blue stained whole small vertebrates for demonstration of cartilage. Stain Technol 52:229–232

Fujita S, Kinoshita I, Takahashi I, Azuma K (2002) Species composition and seasonal occurrence of fish larvae and juveniles in the Shimanto estuary, Japan. Fish Sci 68:364–370

Hayashi M, Hagiwara K (2013) Sparidae. In: Nakabo T (ed) Fishes of Japan with pictorial keys to the species third edition – II. Tokai University Press, Hadano, pp 955–959

Iwatsuki Y (2013) Review of the Acanthopagrus latus complex (Perciformes: Sparidae) with descriptions of three new species from the Indo-West Pacific Ocean. J Fish Biol 83:64–95

Iwatsuki Y, Kume M, Yoshino T (2010) A new species, Acanthopagrus pacificus from the Western Pacific (Pisces, Sparidae). Bulletin of the national museum of nature and science. Ser A (zool) 36:115–130

Kendall AW Jr, Ahlstorm EH, Moser HG (1984) Early life history stages of fishes and their characters. In: Moser HG, Richards WJ, Cohen DM, Fahay MP, Kendall AW Jr, Richardson SL (eds) Ontogeny and systematics of fishes. American Society of Ichthyologists and Herpetologists, Special 1, Lawrence, pp 11–12

Kimura S, Imamura H, Nguyen VQ, Pham TD (2018) Fishes of Ha Long Bay, the natural world heritage site in northern Vietnam. Fisheries Research Laboratory, Mie University, Shima

Kinoshita I (1993) Ecological study on larvae and juveniles of sparine fishes occurring in surf zones of sandy beaches. Bull Mar Sci Fish Kochi Univ 13:21–99

Kinoshita I, Oka S (2014) Sparidae. In: Okiyama M (ed) An atlas of early stage fishes in Japan, 2nd edn. Tokai University Press, Hadano, pp 865–875

Kinoshita I, Fujita S, Takahashi I, Azuma K (1988) Occurrence of larval and juvenile Japanese snook, Lates japonicus, in the Shimanto estuary. Jpn J Ichthyol 34:462–467

Leis JM, Carson-Ewart BM (2000) The larvae of Indo-Pacific coastal fishes: a guide to identification. Brill, Leiden

Neira FJ, Miskiewicz AG, Trnski T (1998) Larvae of temperate Australian fishes: Laboratory guide for larval fish identification. University of Western Australia Press, Nedlands

Nelson JS, Grande TC, Wilson MVH (2016) Fishes of the world, 5th edn. Wiley, Hoboken

Nguyen TN, Tran TT, Tran DH (2019) New insights into early stages of Lateolabrax maculatus (McClelland, 1844) in a tropical estuary of northern Vietnam. Reg Stud Mar Sci. https://doi.org/10.1016/j.rsma.2019.100727

Nguyen VH, Nguyen MH, Ha ND, Nguyen N, Bui NT, Le XS, Tatonova Y, Greiman SE (2020) Five monogenean species (Allodiscocotylidae, Heteromicrocotylidae, Microcotylidae) from the Pacific seabream Acanthopagrus pacificus (Perciformes: Sparidae) in the Gulf of Tonkin off Vietnam, with descriptions of three new species. Folia Parasitol. https://doi.org/10.14411/fp.2020.028

Senta T, Kinoshita I (1985) Larval and juvenile fishes occurring in surf zones of western Japan. Trans Am Fish Soc 114:609–618

Sheaves M (1992) Patterns of distribution and abundance of fishes in different habitats of a mangrove-lined tropical estuary, as determined by fish trapping. Mar Freshw Res 43:1462–1479

Sheaves M (2006) Is the timing of spawning in sparid fishes a response to sea temperature regimes? Coral Reefs 25:655–669

Sheaves M, Molony B (2013) Reproductive periodicity of the sparid, Acanthopagrus pacificus, on a hierarchy of temporal scales. J Fish Biol 82:538–554

Tobin AJ, Sheaves MJ, Molony BW (1997) Evidence of protandrous hermaphroditism in the tropical sparid Acanthopagrus berda. J Fish Biol 50:22–33

Tran TT (2018) Comparison of early life histories of euryhaline fishes in estuaries between Vietnam and Japan. PhD dissertation, Kochi University

Tran TT, Ha NT, Tran HD (2017a) Occurrence of fish larvae and juveniles in the bank waters at the mouth of the So estuary, Nam Dinh Province. Acad J Biol 39(2):152–160

Tran TT, Tran HD, Kinoshita I (2017b) Occurrence of two types of larvae of the Asian seaperch (Lateolabrax) in the estuaries of northern Vietnam. Ichthyol Res 64:244–249

Tran TT, Tran HD, Nguyen XH (2018) Larval description and habitat utilization of an amphidromous goby, Redigobius bikolanus (Gobiidae). Anim Biol 68:15–26

Tran TT, Tran HD, Kinoshita I (2019) Simultaneous and sympatric occurrence of early juveniles of Acanthopagrus latus and A. schlegelii (Sparidae) in the estuary of northern Vietnam. Limnology 20:321–326

Uehara M, Tachihara K (2020) Early development and occurrence patterns of the Pagrinae seabream Argyrops bleekeri (Perciformes: Sparidae): Does early life history have implications for sparid relationships? J Fish Biol 96:631–641
Acknowledgements
We are thankful I. Kinoshita and T.T. Ta for their assistance with this study. All surveys in this study were performed according to the current laws of Vietnam. We are grateful to D.M. Guarte (marine biologist) for correcting the English manuscript.
Ethics declarations
Conflict of interest
The authors declare that they have no conflict of interest.
Ethical approval
This is an observational study. All surveys in this study were performed according to the current laws of Vietnam.
Consent to participate
All surveys in this study were performed according to the current laws of Vietnam.
Consent for publication
All authors have agreed to submit this manuscript to Sustainable Water Resources Management.
Additional information
Publisher's Note
Springer Nature remains neutral with regard to jurisdictional claims in published maps and institutional affiliations.
About this article
Cite this article
Tran, T.T., Tran, H.D. & Nguyen, N.T. Notes on morphology and spatio-temporal distribution of early-stage juveniles of Acanthopagrus pacificus (Sparidae) in the estuary of northern Vietnam. Sustain. Water Resour. Manag. 7, 80 (2021). https://doi.org/10.1007/s40899-021-00564-2
Received:

Accepted:

Published:
Keywords
Early stages

Northern Vietnam estuary

Pacific seabream

Sparine fishes