Abstract
Conventional graphical methods have been used to classify water in Lake Bosumtwi and groundwater around the lake. The study also assessed the suitability of these water resources for agricultural use. Results indicate slightly acidic, moderately hard to very hard groundwater with alkaline earth concentrations exceeding alkali metals. In contrast, the lake water is alkaline, showing alkalis in excess over alkaline earth metals. Weak acids exceed strong acids in both lake/groundwater. Rock weathering largely controls groundwater and lake water chemical compositions, resulting mainly in Ca–Mg–HCO3 groundwater and Na–HCO3 lake water types. Thus, suggesting that there is no apparent incipient relationship, which benefits the primary aquifer system in terms of recharge. Water quality indices suggest groundwater of good to excellent quality for human consumption and other domestic use. An evaluation of lake/groundwater based on salinity, sodicity and bicarbonate hazard reveals that the groundwater is generally suitable for irrigation whiles the lake water is not suitable for irrigation. However, the lake water may be used in generous amounts on highly permeable soils and salt-tolerant crops under special soil and water management practices.
Access options
Buy single article
Instant access to the full article PDF.
US$ 39.95
Tax calculation will be finalised during checkout.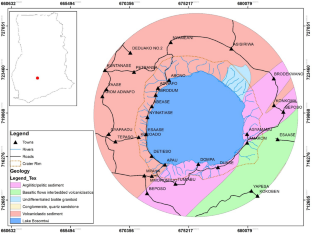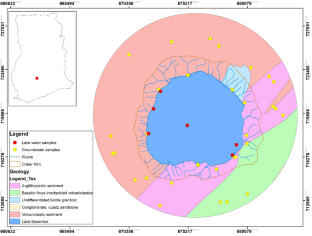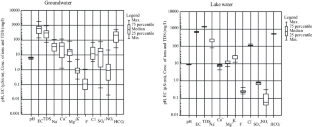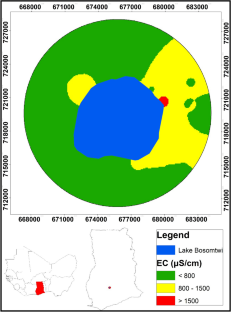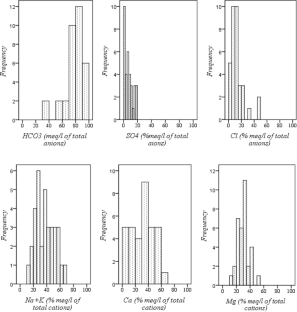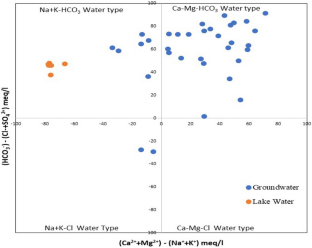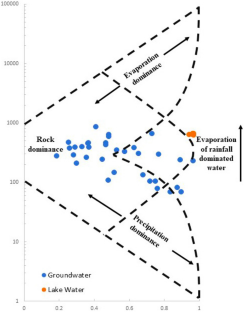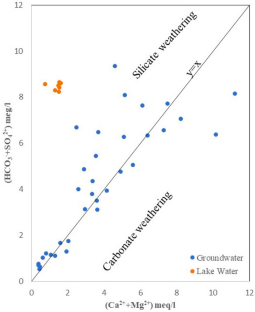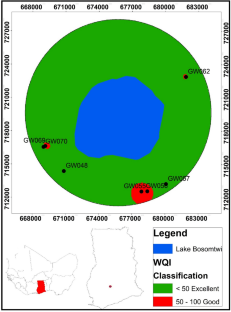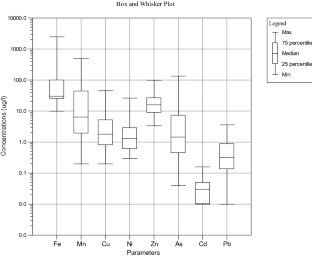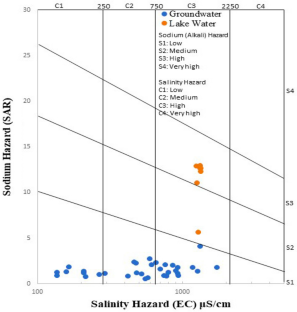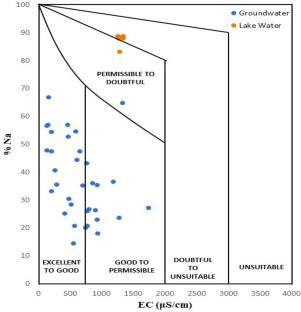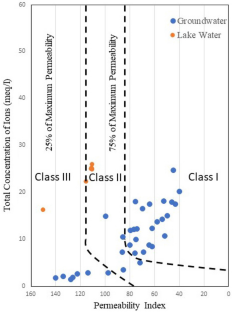 References
Adom D (2018) The human impact and the aquatic biodiversity of lake Bosomtwe: renaissance of the cultural traditions of Abono (Ghana). Transylv Rev Syst Ecol Res 20(1):87–110. https://doi.org/10.1515/trser-2018-0007

Adu S, Darko EO, Awudu AR, Adukpo OK (2011) Preliminary study of natural radioactivity in the lake Bosumtwi Basin. Res J Environ Earth Sci, 3:463–8. http://maxwellsci.com/print/rjees/v3-463-468.pdf.

Adu-Boahen K, Dei Leud A, Antwi KB, Adu-Boahen AO (2015) Shoreline change detection of lake Bosomtwe, Ghana, evidence from historical and meteorological records. J Arts Soc Sci 3(1):18–42

Adu–Boahen K, Emmanuel MA, Kwaku KK, Osman A (2014) Socio-economic impact of Lake Bosomtwe shoreline changes on catchment residents in Ghana. Int J Sci Res Publ 674

Anku YS, Banoeng-Yakubo B, Asiedu DK, Yidana SM (2009) Water quality analysis of Groundwater in crystalline basement rocks. North Ghana Environ Geol 58(5):989–997

Appelo CA, Postma D (2005) Geochemistry, Groundwater and pollution, 2nd edn. Balkema, Rotterdam

Asante J, Kreamer DK (2018) Identifying local and regional Groundwater in basins: chemical and stable isotopic attributes of multivariate classification of hydrochemical data, the Lower Virgin River Basin, Nevada, Arizona and Utah, USA. Isot Environ Health Stud 54(4):370–391. https://doi.org/10.1080/10256016.2018.1444611

Ballesteros-Navarro BJ, Díaz-Losada E, Domínguez-Sánchez JA, Grima-Olmedo J (2019) Methodological proposal for conceptualization and classification of interactions between Groundwater and surface water. Water Policy 21(3):623–642. https://doi.org/10.2166/wp.2019.091

Balugani E, Lubczynski MW, Reyes-Acosta L (2017) Groundwater and unsaturated zone evaporation and transpiration in a semi-arid open woodland. J Hydrol 547:54–66. https://doi.org/10.1016/j.jhydrol.2017.01.042

Banoeng-Yakubo B, Skjernaa L (2000) Application of remote sensing and geographical information system to hydrogeological studies in Upper West Region, Ghana. In Groundwater: past achievements and future challenges pp. 73–79.

Banoeng-Yakubu B, Yidana SM, Ajayi JO, Loh Y, Aseidu D (2011) Hydrogeology and groundwater resources of Ghana: a review of the hydrogeology and hydrochemistry of Ghana. Potable Water Sanitation 142

Bauder TA, Waskom RM, Sutherland PL, Davis JG (2011) Irrigation water quality criteria. Fact sheet (Colorado State University. Extension). Crop series, no. 0.506.

Bjørklund G, Chartrand MS, Aaseth J (2017) Manganese exposure and neurotoxic effects in children. Environ Res 155:380–384. https://doi.org/10.1016/j.envres.2017.03.003

Boamah D, Koeberl C (2002) Geochemistry of soils from the Bosumtwi impact structure, Ghana, and relationship to radiometric airborne geophysical data. Impacts in Precambrian Shields. Springer, Berlin, Heidelberg, pp 211–255

Boateng TK, Opoku F, Acquaah SO, Akoto O (2016) Groundwater quality assessment using statistical approach and water quality index in Ejisu-Juaben Municipality Ghana. Environ Earth Sci 75(6):489. https://doi.org/10.1007/s12665-015-5105-0

Busico G, Cuoco E, Kazakis N et al (2018) Multivariate statistical analysis to characterize/discriminate between anthropogenic and geogenic trace elements occurrence in the Campania Plain, Southern Italy. Environ Pollut 234:260–269. https://doi.org/10.1016/j.envpol.2017.11.053

Chadha DK (1999) A proposed new diagram for geochemical classification of natural waters and interpretation of chemical data. Hydrogeol J 7(5):431–439

Chapman DV (Ed) (1996) Water quality assessments: a guide to the use of biota, sediments and water in environmental monitoring. CRC Press

Chen P, Bornhorst J, Aschner M (2019) Manganese metabolism in humans. https://doi.org/10.25932/publishup-42743

Collins ME, Kuehl RJ (2000) Organic matter accumulation and organic soils. Lewis Publishers, Boca Raton, pp 137–162

Cronan CS (2018) Mineral Weathering. Ecosystem Biogeochemistry. Springer, Cham, pp 87–100

Daliakopoulos IN, Tsanis IK, Koutroulis A et al (2016) The threat of soil salinity: a European scale review. Sci Total Environ 573:727–739. https://doi.org/10.1016/j.scitotenv.2016.08.177

Diaconu A, Balu OF, Gole I, Mogos LP (2019) Overview of access to a clean water. Calitatea 20(S2):234–239

Doneen LD (1964) Water quality for agriculture. Department of Irrigation, University of California, Davis, p 48

Egbi CD, Anornu G, Appiah-Adjei EK et al (2018) Evaluation of water quality using hydrochemistry, stable isotopes, and water quality indices in the Lower Volta River Basin of Ghana. Environ Dev Sustain 21:3033–3063. https://doi.org/10.1007/s10668-018-0180-5

Fetter CW (1994) Applied hydrogeology. Macmillan College Publishing Company, New York

Flusche MA, Seltzer G, Rodbell D, Siegel D, Samson S (2005) Constraining water sources and hydrologic processes from the isotopic analysis of water and dissolved strontium, Lake Junin Peru. J Hydrol 312(1–4):1–3

Freeze AR, Cherry JA (1979) Groundwater. Prentice-Hall, New Jersey

Garrels RM, Mackenzie FT (1967) Origin of the chemical compositions of some springs and lakes. In: Equilibrium concepts in natural-water chemistry. Advances in Chemistry Series. American Chemical Society, (67), 222–242

Gibbs RJ (1970) Mechanisms controlling world water chemistry. Science 170(3962):1088–1090

Hirdes W, Davis DW, Eisenlohr BN (1992) Reassessment of Proterozoic granitoid ages in Ghana on the basis of U/Pb zircon and monazite dating. Precambr Res 56(1–2):89–96

Jones WB (1985) The origin of the Bosumtwi crater, Ghana—an historical review. Proc Geol Assoc 96(3):275–284

Jones WB, Bacon M, Hastings DA (1981) The Lake Bosumtwi impact crater, Ghana. Geol Soc Am Bull 92(6):342–349

Karikari F, Ferriere L, Koeberl C, Reimold WU, Mader D (2007) Petrography, geochemistry, and alteration of country rocks from the Bosumtwi impact structure Ghana. Meteoritics Planet Sci 42(4–5):513–540

Karp T, Milkereit B, Janle P, Danuor SK, Pohl J, Berckhemer H, Scholz CA (2002) Seismic investigation of the Lake Bosumtwi impact crater: preliminary results. Planet Space Sci 50(7–8):735–743

Kattel GR (2019) State of future water regimes in the world's river basins: balancing the water between society and nature. Crit Rev Environ Sci Technol 49(12):1107–1133. https://doi.org/10.1080/10643389.2019.1579621

Kesse GO (1985) The mineral and rock resources of Ghana.

Koeberl C, Bottomley R, Glass BP, Storzer D (1997) Geochemistry and age of Ivory Coast tektites and microtektites. Geochim Cosmochim Acta 61(8):1745–1772

Koeberl C, Reimold W, Blum J, Chamberlain CP (1998) Petrology and geochemistry of target rocks from the Bosumtwi impact structure, Ghana, and comparison with Ivory Coast tektites. Geochim Cosmochim Acta 62(12):2179–2196. https://doi.org/10.1016/S0016-7037(98)00137-9

Koeberl C, Brandstätter F, Glass BP, Hecht L et al (2007a) Uppermost impact fallback layer in the Bosumtwi crater (Ghana): Mineralogy, geochemistry, and comparison with Ivory Coast tektites. Meteorit Planet Sci 42(4–5):709–729

Koeberl C, Milkereit B, Overpeck JT, Scholz CA et al (2007b) An international and multidisciplinary drilling project into a young complex impact structure: The 2004 ICDP Bosumtwi Crater Drilling Project—an overview. Meteorit Planet Sci 42(4–5):483–511. https://doi.org/10.1111/j.1945-5100.2007.tb01057.x

Koffi KV, Obuobie E, Banning A, Wohnlich S (2017) Hydrochemical characteristics of groundwater and surface water for domestic and irrigation purposes in Vea catchment Northern Ghana. Environ Earth Sci 76(4):185. https://doi.org/10.1007/s12665-017-6490-3

Kumar PS, James EJ (2019) Geostatistical and geochemical model-assisted hydrogeochemical pattern recognition along the groundwater flow paths in Coimbatore district, South India. Environ Dev Sustain 21:369–384. https://doi.org/10.1007/s10668-017-0043-5

Kumar M, Kumari K, Ramanathan AL, Saxena R (2007) A comparative evaluation of groundwater suitability for irrigation and drinking purposes in two intensively cultivated districts of Punjab. India Environ Geol 53(3):553–574. https://doi.org/10.1007/s00254-007-0672-3

Leube A, Hirdes W, Mauer R, Kesse GO (1990) The early Proterozoic Birimian Supergroup of Ghana and some aspects of its associated gold mineralization. Precambr Res 46(1–2):139–165. https://doi.org/10.1016/0301-9268(90)90070-7

Loh YSA, Yidana SM, Banoeng-Yakubo B, Sakyi PA et al (2016) Determination of the mineral stability field of evolving Groundwater in the Lake Bosumtwi impact crater and surrounding areas. J Afr Earth Sc 121:286–300. https://doi.org/10.1016/j.jafrearsci.2016.06.007

Macgregor D (1937) Results of a hydrographic survey of Lake Bosumtwi

McLean W, Jankowski J, Lavitt N (2000) Groundwater quality and sustainability in an alluvial aquifer, Australia. InGroundwater: past achievements and future challenges, pp. 567–573. http://pascal-francis.inist.fr/vibad/index.php?action=getRecordDetail&idt=6178313

Mensah A, Sanful P, Agyeman Y, Trolle D (2018) Sustainable ecosystem services of Lake Bosumtwi, Ghana–implications for livelihoods and food security. Nat Faune 32(2):58–61

Milovanovic M (2007) Water quality assessment and determination of pollution sources along the Axios/Vardar River, Southeastern Europe. Desalination 213(1–3):159–173

Nematollahi MJ, Ebrahimi P, Razmara M, Ghasemi A (2016) Hydrogeochemical investigations and groundwater quality assessment of Torbat-Zaveh plain, Khorasan Razavi Iran. Environ Monit Assess 188(1):2. https://doi.org/10.1007/s10661-015-4968-6

Obiefuna GI, Orazulike DM (2011) The hydrochemical characteristics and evolution of Groundwater in semiarid Yola Area, Northeast, Nigeria. Res J Environ Earth Sci 3(4):400–416

Prakash S, Wieringa P, Ros B, Poels E et al (2005) Potential of ecotourism development in the Lake Bosumtwi Basin: A case study of Ankaase in the Amansie East District. Ghana''. Working Paper

Reimold WU, Brandt D, Koeberl C (1998) Detailed structural analysis of the rim of a large, complex impact crater: Bosumtwi crater. Ghana Geol 26(6):543–546. https://doi.org/10.1130/0091-7613(1998)026%3C0543:DSAOTR%3E2.3.CO;2

Rotiroti M, Zanotti C, Fumagalli L et al (2019) Multivariate statistical analysis supporting the hydrochemical characterization of Groundwater and surface water: a case study in northern Italy. Rend Online Soc Geol Ital 47:90–96. https://doi.org/10.3301/ROL.2019.17

Rouabhia A, Baali F, Fehdi C, Kherici N, Djabri L (2009) Hydrochemical and isotopic investigation of a sandstone aquifer groundwater in a semi arid region, El Ma El Abiod. Algeria Environ Geol 57(8):1699–1705. https://doi.org/10.1007/s00254-008-1451-5

Russell J, Talbot MR, Haskell BJ (2003) Mid-holocene climate change in Lake Bosumtwi, Ghana. Quat Res 60(2):133–141

Sahu P, Sikdar PK (2008) Hydrochemical framework of the aquifer in and around East Kolkata Wetlands, West Bengal. India Environ Geol 55(4):823–835. https://doi.org/10.1007/s00254-007-1034-x

Sakyi PA, Asare R, Fynn OF, Osiakwan GM (2016) Assessment of groundwater quality and its suitability for domestic and agricultural purposes in parts of the Central Region, Ghana. West Afr J Appl Ecol 24(2):67–89

Sayyad-Amin P, Borzouei A, Jahansooz MR, Parsaeiyan M (2016) Root biochemical responses of grain and sweet-forage sorghum cultivars under saline conditions at vegetative and reproductive phases. Braz J Bot 39(1):115–122. https://doi.org/10.1007/s40415-015-0221-3

Schilling KE, Li Z, Zhang YK (2006) Groundwater–surface water interaction in the riparian zone of an incised channel, Walnut Creek, Iowa. J Hydrol 327(1–2):140–150. https://doi.org/10.1016/j.jhydrol.2005.11.014

Singh S, Raju NJ, Ramakrishna C (2015) Evaluation of groundwater quality and its suitability for domestic and irrigation use in parts of the Chandauli-Varanasi region, Uttar Pradesh, India. J Water Resour Protect 7(07): 572. http://creativecommons.org/licenses/by/4.0/

Turner BF, Gardner LR, Sharp WE (1996a) The hydrology of Lake Bosumtwi, a climate-sensitive lake in Ghana West Africa. J Hydrol 183(3–4):243–261. https://doi.org/10.1016/0022-1694(95)02982-6

Turner BF, Gardner LR, Sharp WE, Blood ER (1996b) The geochemistry of Lake Bosumtwi, a hydrologically closed basin in the humid zone of tropical Ghana. Limnol Oceanogr 41(7):1415–1424. https://doi.org/10.4319/lo.1996.41.7.1415

White AF, Brantley SL (Eds) (2018) Chemical weathering rates of silicate minerals (Vol. 31). Walter de Gruyter GmbH & Co KG

Wilcox L (1955) Classification and use of irrigation waters. US Department of Agriculture

World Health Organisation (2017) Guidelines for Drinking-Water Quality: Fourth Edition Incorporating the First Addendum, ISBN 978–92–4–154995–0. https://apps.who.int/iris/bitstream/handle/10665/254637/9789241549950-eng.pdf?sequence ¼1. Accessed 25 July 2020

Wu Z, Wang X, Chen Y, Cai Y, Deng J (2018) Assessing river water quality using water quality index in Lake Taihu Basin, China. Sci Total Environ 612:914–922. https://doi.org/10.1016/j.scitotenv.2017.08.293

Yidana SM, Ophori D, Banoeng-Yakubo B (2008) Hydrochemical evaluation of the Voltaian system—the Afram Plains area, Ghana. J Environ Manag 88(4):697–707

Yidana SM, Banoeng-Yakubo B, Sakyi PA (2012a) Identifying key processes in the hydrochemistry of a basin through the combined use of factor and regression models. J Earth Syst Sci 121(2):491–507

Yidana SM, Bawoyobie P, Sakyi P, Fynn OF (2018) Evolutionary analysis of groundwater flow: Application of multivariate statistical analysis to hydrochemical data in the Densu Basin, Ghana. J Afr Earth Sc 138:167–176. https://doi.org/10.1016/j.jafrearsci.2017.10.026

Yidana SM, Ophori D, Banoeng-Yakubo B, Samed AA (2012) A factor model to explain the hydrochemistry and causes of fluoride enrichment in Groundwater from the middle Voltaian sedimentary aquifers in the northern region, Ghana. http://ugspace.ug.edu.gh/handle/123456789/26977
Ethics declarations
Conflict of interest
We declare there is no conflict of interest in this research work.
Additional information
Publisher's Note
Springer Nature remains neutral with regard to jurisdictional claims in published maps and institutional affiliations.
About this article
Cite this article
Loh, Y.S.A., Addai, M.O., Fynn, O.F. et al. Characterisation and quality assessment of surface and groundwater in and around Lake Bosumtwi impact craton (Ghana). Sustain. Water Resour. Manag. 7, 81 (2021). https://doi.org/10.1007/s40899-021-00563-3
Received:

Accepted:

Published:
Keywords
Lake Bosumtwi

Water quality

Irrigation

Birimian