Abstract
The Southwest coastal region of Bangladesh is located in the Ganges delta's central portion with the Sundarbans, between the inhabited and the Bay of Bengal. Around 405 rivers pass through the country, out of which 57 rivers are shared with other riparian countries and known as transboundary rivers. The upper riparian countries take their geographical advantage and construct obstacles, divert natural river flow or increase water usage from these sources. Another significant issue across all the riparian countries is that the centralized institutions follow a top–down method in the decision-making on transboundary water issues with almost no community participation. As the main rivers Kholpetua, Kalindi, Madar, Kopotakkho are interlinked with neighboring country India, the backwater flow effect of the Ganges river is one of the main reasons behind the low streamflow in the region. Transboundary river impacts, lack of good governance, salinity intrusion, deltaic sedimentation, and water scarcity issues are the primary reasons behind the water stress in Bangladesh's coastal region. These impacts are also further exacerbated by climate change impacts. A key finding from the cross-country visit to India showed the involvement of the local community with the local stakeholders through the initiation of Jal Chaupal, which resulted in significant and effective water interventions for the revival of the Ganges river. The learnings from India indicate that a community-based approach to sustainable transboundary water resources management would be an effective and equitable solution to the water stress issue in Bangladesh as well. In this way, the local communities' actual problems can be identified, and need-based solutions can be implemented. Furthermore, it is also essential to identify the gaps in the national policies to tackle the water stress at downstream regions, which might open an option for cooperation among the riparian countries. This study argues that although relevant policies are in place, there is no proper implementation involving the local community to work out the water issues. Therefore, this study emphasizes good governance and effective policies as critical to a sustainable shift towards integrated water resources management in coastal Bangladesh.
Access options
Buy single article
Instant access to the full article PDF.
US$ 39.95
Tax calculation will be finalised during checkout.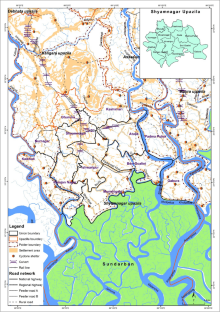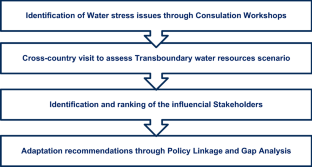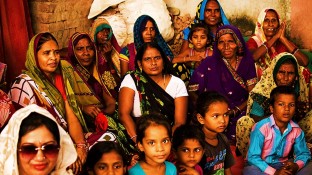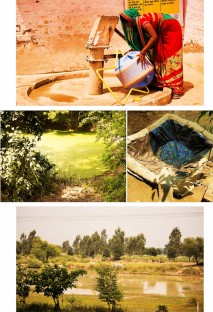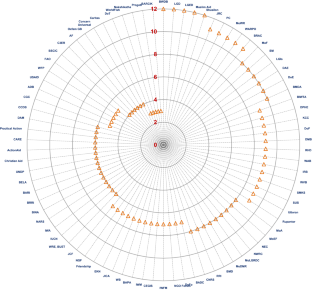 Data availability statement
Some or all data, models, or code generated or used during the study are available from the corresponding author by request.
References
Afroz S, Cramb R, Grunbuhel C (2016) Collective management of water resources in Coastal Bangladesh: formal and substantive approaches. Hum Ecol 44:17–31

Baten MA, Titumir RAM (2016a) Environmental challenges of trans-boundary water resources management: the case of Bangladesh. Sustain Water Res Manag 2(1):13–27

Baten M, Titumir R (2016b) Environmental challenges of trans-boundary water resources management: the case of Bangladesh. Sustain Water Resour Manag 2:13–27

BDP (2015) Bangladesh delta plan 2100 formulation project: climate change (Draft). Dhaka: General Economics Division, Planning Commission, Government of Bangladesh, Dhaka

Benson D, Gain AK, Rouillard JJ (2015) Water governance in a comparative perspective: from IWRM to a "nexus" approach? Water Altern 8:756–773

Bhuiyan MA, Didar-Ul Islam S, Ramanathan A (2015) Climate change impacts and vulnerability assessment in Coastal region of Bangladesh: a case study on Shyamnagar Upazila of Satkhira District. J Clim Change 1:37

Biswas AK, Unver O, Tortajada C (2004) Water as a focus for regional development. Oxford University Press, Delhi

Dewan C, Mukherji A, Buisson M (2015) Evolution of water management in coastal Bangladesh: from temporary earthen embankments to depoliticized community-managed polders. Water Int 40:401–416

Dixit A (2001) River of collective belonging. Himal Magazine, Katmandu

Faisal I (2002) Managing common waters in the Ganges-Brahmaputra-Meghna. SAIS Rev 22:309

GoB (2005) Unlocking the potential: national for accelerated poverty reduction. General Economic Division, Planning Commission, Government of the People's Republic of Bangladesh, Dhaka

Honkonen T (2017) Water security and climate change: the need for adaptive governance. Per 20:1

Islam M, Hossain D (2014) Island char resources mobilization (ICRM): changes of livelihoods of vulnerable people in Bangladesh. Soc Indic Res 117:1033–1054

Islam S, Moniruzzaman M (2019) Estimation of temperature and rainfall over coastal areas of bangladesh in a predicted climate change condition. J NOAMI 36(1–2):145–156

Khalid I (2010) Bangladesh water concern. South Asian Stud 25:1

Kliot N, Shmueli D, Shamir U (2001) Development of institutional frameworks for the management of transboundary water resources. Int J Glob Environ Issues 1:306

Mirza MMQ (2005) Vulnerability to the Ganges Water Diversion: Adaptation and coping mechanisms. Water Sci Technol

MoEF (2009) Bangladesh climate change strategy and action plan 2009. Ministry of Environment and Forestry, Government of the People's Republic of Bangladesh, Dhaka

MoWR (2005) Coastal zone policy. Ministry of Water Resources, Bangladesh

Nishat A, Faisal I (2000) An assessment of the institutional mechanisms for water negotiations in the Ganges-Brahmaputra-Meghna System. Int Negot 5(2):289–310

Nyikahadzoi K, Mhlanga W, Madzudzo E, Tendaupenyu I, Silwimba E (2017) Dynamics of transboundary governance and management of small scale fisheries on Lake Kariba: implications for sustainable use. Int J Environ Stud 74:458–470

Petersen-Perlman JD, Veilleux JC, Wolf AT (2017) International water conflict and cooperation: challenges and opportunities. Water Int 42(2):105–120

Rahman S, Islam AKMS, Saha P, Tazkia AR, Krien Y, Durand F, Testut L, Islam GMT, Bala SK (2019) Projected changes of inundation of cyclonic storms in the Ganges–Brahmaputra–Meghna delta of Bangladesh due to SLR by 2100. J Earth Syst Sci 128:145

Rahmat S, Al-Gheethi A, Ayob S et al (2020) Development of dual water supply using rooftop rainwater harvesting and groundwater systems. SN Appl Sci 2:85

Rouillard J, Benson D, Gain A (2014) Evaluating IWRM implementation success: are water policies in Bangladesh enhancing adaptive capacity to climate change impacts? Int J Water Resour Dev 30:515–527

Saha P, Ashraf A, Tasneem J, Chakraborty M (2018) River assessment and water management strategy in South-West Coastal region of Bangladesh. Int J Manag Appl Sci 4:2

Saha P, Islam M, Oyshi JT, Khanum R, Nishat A (2019) A sustainability study of the flow regulation impacts by dams in a carp breeding river using the hydrodynamic model and building block analysis. SN Appl Sci 1:1429

Saha P, Islam M, Oyshi JT, Khanum R, Nishat A (2020) A sustainability analysis on the trends and frequency of the channel flow of a carp breeding river against human interventions and governing public–private partnership (PPP) as adaptation. SN Appl Sci 2:969

Salman SMA, Uprety K (2018) Shared watercourses and water security in South Asia: challenges of negotiating and enforcing treaties. Brill Res Perspect Int Water Law 3(3):1–100

Tantoh H, Simatele M, Ebhuoma E (2020) Shifting the paradigm in community-based water resource management in North-West Cameroon: a search for an alternative management approach. Community Dev 51:172–191

TIB report (2013) Climate Finance in Bangladesh: Governance Challenges and Way Out. [Online]. Available: http://www.ti-bangladesh.org/beta3/images/max_file/es_cfg_executive_summary_english.pdf/.

Uitto JI, Duda AF (2002) Management of transboundary water resources: lessons from international cooperation for conflict prevention. Geogr J 168(4):365–378

UN (2014) Convention on the Law of the Non-navigational Uses of International Watercourses. United Nations

UN (2018) Progress on transboundary water cooperation global baseline for SDG indicator 652. United Nations and the United Nations Educational, Scientific and Cultural Organization, France

UNECE (2015) Policy Guidance Note on the Benefits of Transboundary Water Cooperation Identification, Assessment, and Communication. United Nations Publication

UNECE (2015) Policy Guidance Note on the Benefits of Transboundary Water Cooperation: Identification, Assessment and Communication. United Nations Economic Commission for Europe

UNECE (2011) Strengthening Water Management and Transboundary Water Cooperation in Central Asia: the Role of UNECE Environmental Conventions. United Nations Economic Commission for Europe

UNEP (2016) Transboundary river basins: status and trends. United Nations Environment Programme (UNEP), Nairobi

UN-Water (2008) Transboundary Waters: Sharing Benefits, Sharing Responsibilities

Vishwanath A (2018) Paddling upstream: transboundary water politics in South Asia. Carnegie India, Delhi

Wirsing RG, Jasparro C, Stoll DC (2013) international conflict over water resources in Himalayan Asia. Macmillan, UK
Acknowledgements
The study leading to these results has been conducted by Center for Climate Change and Environmental Research (C3ER), BRAC University
Funding
Received funding from the WaterAid, Bangladesh, for the project, "Advancing Water Security of Marginalized Communities Living along Karnali-Ganges River Basin in Nepal, India, and Bangladesh" under Climate Resilience Program.
Ethics declarations
Conflict of interest
There are no Conflicts of interest against review or publications.
Additional information
Publisher's Note
Springer Nature remains neutral with regard to jurisdictional claims in published maps and institutional affiliations.
About this article
Cite this article
Saha, P., Ashraf, A., Oyshi, J.T. et al. A community-based approach to sustainable transboundary water resources management and governance in the South-West Coastal region of Bangladesh. Sustain. Water Resour. Manag. 7, 79 (2021). https://doi.org/10.1007/s40899-021-00562-4
Received:

Accepted:

Published:
Keywords
Policy gap

South-West Coastal Bangladesh

Stakeholder analysis

Transboundary water management

Ganges river back-flow

Water policy