Abstract
The study of karstic aquifers is a challenge because of their heterogeneous and anisotropic nature; the groundwater flow in these systems often cannot be explained using Darcian theory. Many techniques (direct and indirect) have been used for the characterization of karstic aquifers. Dissolved oxygen alteration method (DOAM) consists in injecting air into wells and tracing the evolution of this parameter over time; this practice offers advantages because it is cheap and harmless. Previous experiences show acceptable results in the identification of fractures and preferential flow in heterogeneous aquifers. The air injection used during the drilling process (rotary perforation with air cleaning) could be used as a tracer. This research monitored the physical parameters in groundwater after drilling wells, especially the dissolved oxygen. Besides, karstic zones have been identified using video surveys in drilling wells. Finally, the results using the DOAM method were contrasted with the physical evidence of karstic zones to compare the technique's accuracy. Results show that DOAM offers a qualitative approach to the evidence of karstic zones and preferential groundwater flow. DOAM can be considered as a useful choice to study the karstification influence on the aquifer groundwater flow and transport in karstic aquifers. The identification of these zones areis important for the design of supply and wastewater projects; therefore, this approach represents an improvement in the wells' design process in aquifers with similar conditions.
Access options
Buy single article
Instant access to the full article PDF.
US$ 39.95
Tax calculation will be finalised during checkout.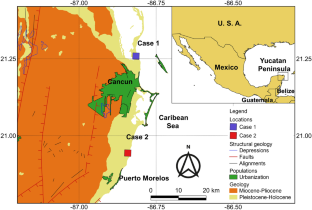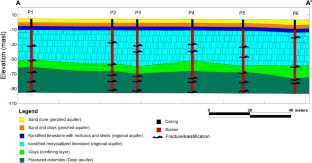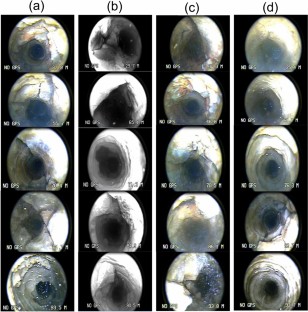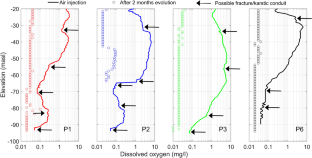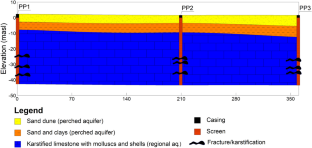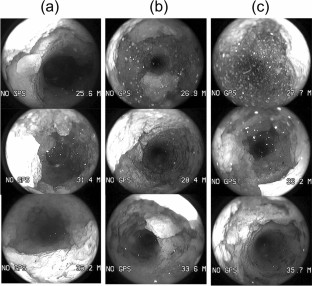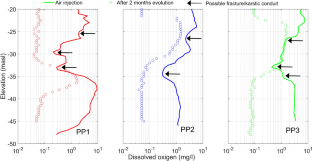 References
Aguayo JEC, Bello RM, del Vecchio MA, et al (1980) Estudio sedimentologico en el area Tulum-Cancún-Isla Mujeres, Estado de Quintana Roo, México. Bol Soc Geol Mex XLI https://doi.org/10.18268/BSGM1980v41n1a2

Back W, Hanshaw BB, Herman JS, Van Driel JN (1986) Differential dissolution of a Pleistocene reef in the groundwater mixing zone of coastal Yucatan, Mexico. Geology https://doi.org/10.1130/0091-7613(1986)14<137:DDOAPR>2.0.CO;2

Bauer-Gottwein P, Gondwe BRN, Charvet G et al (2011) Review: The Yucatan Peninsula karst aquifer, Mexico. Hydrogeol J 19:507–524. https://doi.org/10.1007/s10040-010-0699-5

Canul-Macario C, González-Herrera R, Sánchez-Pinto I, Graniel-Castro E (2019) Contribution to the evaluation of solute transport properties in a karstic aquifer (Yucatan, Mexico). Hydrogeol J 27:1683–1691. https://doi.org/10.1007/s10040-019-01947-8

Chlebica DW, Robbins GA (2013) Altering dissolved oxygen to determine flow conditions in fractured bedrock wells. Groundw Monit Remediat 33:100–107. https://doi.org/10.1111/gwmr.12019

CONAGUA (2012) Programa Hídrico Regional Visión 2030 (Regional Hydric Program: 2030 Vision). Natural Resources and Environmental Bureau . CDMX, Mexico City

CONAGUA (2018) Estadísticas del agua en México 2018 (Mexican water statics 2018). Coyoacan . CDMX, Mexico

Coutino A, Stastna M, Kovacs S, Reinhardt E (2017) Hurricanes ingrid and manuel (2013) and their impact on the salinity of the Meteoric Water Mass, Quintana Roo, Mexico. J Hydrol 551:715–729. https://doi.org/10.1016/j.jhydrol.2017.04.022

Divine CE, McDonnell JJ (2005) The future of applied tracers in hydrogeology. Hydrogeol J 13:255–258. https://doi.org/10.1007/s10040-004-0416-3

Fiorillo F, Malik P (2019) Hydraulic Behavior of Karst Aquifers. Water (Switzerland) 11:10–15. https://doi.org/10.3390/w11081563

Fuentes-Diaz M (2007) La desalación del agua. del IMTA, Gac

Gondwe BRN, Merediz-Alonso G, Bauer-Gottwein P (2011) The influence of conceptual model uncertainty on management decisions for a groundwater-dependent ecosystem in karst. J Hydrol 400:24–40. https://doi.org/10.1016/j.jhydrol.2011.01.023

Hanshaw BB, Back W (1979) Major geochemical processes in the evolution of carbonate-aquifer systems. Dev Water Sci. https://doi.org/10.1016/S0167-5648(09)70022-X

Hanshaw BB, Back W, Deike RG (1971) A geochemical hypothesis for dolomitization by ground water. Econ Geol. https://doi.org/10.2113/gsecongeo.66.5.710

Hartmann A, Goldscheider N, Wagener T et al (2014) Karst water resources in a changing world: Review of hydrological modeling approaches. Rev Geophys 52:218–242. https://doi.org/10.1002/2013RG000443

JazayeriNoushabadi MR, Jourde H, Massonnat G (2011) Influence of the observation scale on permeability estimation at local and regional scales through well tests in a fractured and karstic aquifer (Lez aquifer, Southern France). J Hydrol 403:321–336. https://doi.org/10.1016/j.jhydrol.2011.04.013

JICA (2004) Capítulo 12. Tratamiendo de aguas residuales tipo urbano. In: KOKUSAI KOGYO CO. L (ed) Estudio de Manejo de Saneamiento Ambiental en la Costa del Estado de Quintana Roo en los Estados Unidos Mexicanos, KOKUSAI KO. KOKUSAI KOGYO CO., LTD, Othon P. Blanco, Q ROO, México, p 89

Kovacs SE, Reinhardt EG, Stastna M et al (2017) Hurricane Ingrid and Tropical Storm Hanna's effects on the salinity of the coastal aquifer, Quintana Roo, Mexico. J Hydrol 551:703–714. https://doi.org/10.1016/j.jhydrol.2017.02.024

Rose S, Long A (1988) Monitoring dissolved oxygen in ground water: some basic considerations. Groundw Monit Remediat 8:93–97. https://doi.org/10.1111/j.1745-6592.1988.tb00981.x

Sánchez Pinto IA, Cervantes-Martínez A, González Herrera, RA et al. (2015) Evidencia de flujo preferencial al mar, del Cenote Caletita, en Cozumel, México [Evidence of preferential flow to the sea from the Cenote Caletita, in Cozumel, Mexico]. Ingeniería 19: 1–12 ISSN 1665-529–X

Servicio Geológico Mexicano (1996) Carta Geológica Minera: Cancún F16–8. Servicio Geológico Mexicano, Mexico City

Servicio Geológico Mexicano (1997) Carta Geológica Minera: Cozumel F19–11. Servicio Geológico Mexicano, Mexico City, México

Stevanović Z (2015) Karst Aquifers—Characterization and Engineering. Springer International Publishing, Cham

Sundell J, Norberg T, Haaf E, Rosén L (2019) Economic valuation of hydrogeological information when managing groundwater drawdown. Hydrogeol J 27:1111–1130. https://doi.org/10.1007/s10040-018-1906-z

Vitale SA, Robbins GA (2017) Measuring flow rate in crystalline bedrock wells using the dissolved oxygen alteration method. Groundwater 55:588–592. https://doi.org/10.1111/gwat.12512

Vitale SA, Robbins GA, Romanowicz E (2019) Identifying cross-well fracture connections using the dissolved oxygen alteration method. J Hydrol 572:781–789. https://doi.org/10.1016/j.jhydrol.2019.03.070

Worthington SRH (2015) Diagnostic tests for conceptualizing transport in bedrock aquifers. J Hydrol 529:365–372. https://doi.org/10.1016/j.jhydrol.2015.08.002

Young C, Martin JB, Branyon J et al (2018) Effects of short-term variations in sea level on dissolved oxygen in a coastal karst aquifer, Quintana Roo, Mexico. Limnol Oceanogr 63:352–362. https://doi.org/10.1002/lno.10635
Acknowledgements
We thank the Mexican Hydrogeologist Association (AGM, as an acronym in Spanish) for motivating the publication of this research under the 12th Groundwater National Congress carried on November, 2019. We are also very grateful to the Associate Editor and reviewers whose valuable comments contributed to improving this manuscript.
Ethics declarations
Conflict of interest
On behalf of all authors, the corresponding author states that there is no conflict of interest.
Additional information
Publisher's Note
Springer Nature remains neutral with regard to jurisdictional claims in published maps and institutional affiliations.
Supplementary Information
Below is the link to the electronic supplementary material.
About this article
Cite this article
Villasuso-Pino, M., Canul-Macario, C., Baldazo-Escobedo, G. et al. Experiences of karstic zones identification using dissolved oxygen as a tracer in the aquifer of Quintana Roo, Mexico. Sustain. Water Resour. Manag. 7, 84 (2021). https://doi.org/10.1007/s40899-021-00561-5
Received:

Accepted:

Published:
Keywords
Karstic aquifers

Dissolved oxygen alteration method

Karstic zone identification