Abstract
A number of models for car following have been proposed for homogeneous traffic and some of these have been modified or adapted to represent mixed traffic conditions in India. Vehicle-following behavior under mixed traffic is both complex and challenging and cannot be adequately captured by conventional lane-based following models and their variants. For example, the behavior of a subject vehicle in a mixed traffic condition depends on the behavior of lead vehicle as well as the influence of neighboring vehicles. Most existing models are based on the longitudinal spacing and the relative speed of the lead and the subject vehicles. However, the vehicular interactions also depend on the lateral movements such as lateral spacing and lateral speed. Furthermore, the response of the subject vehicle also depends on the type of vehicles involved and their maneuvers in the surrounding space. This study aims to address some of these gaps in the existing vehicle-following models for mixed traffic. Mixed traffic trajectory data collected from the mid-block section of a six-lane divided urban arterial road in Chennai city were used for this study. From the data set, leader–follower vehicle pairs identified based on three different methods: influence area method, headway method, and video data tracking are compared, and the most suitable method is chosen for further analysis. Variation of driver behavior due to different factors such as follower's speed, relative spacing, lateral position, vehicle types, and following behaviors were examined. Calibration and validation of the models were done for different leader–follower vehicle pairs. The results show that the model parameters vary with not only by subject vehicle type, but also by leader–follower pairs. In addition, there is a significant effect of factors such as lateral position of vehicles and types of following behaviors. This study will find application in developing more realistic mixed traffic simulation models by including these factors.
Access options
Buy single article
Instant access to the full article PDF.
USD 39.95
Price includes VAT (USA)
Tax calculation will be finalised during checkout.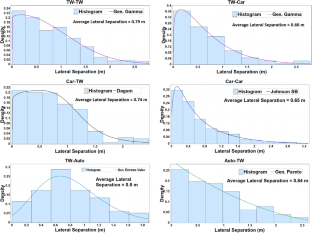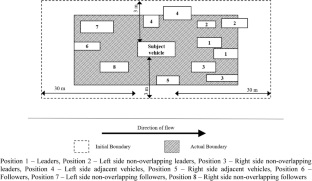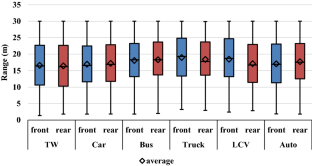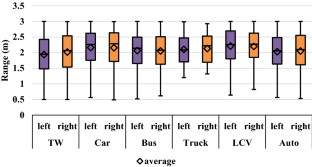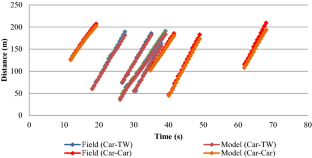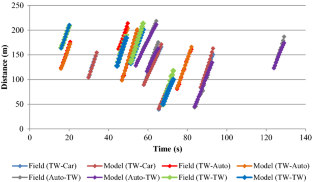 References
1.

Pipes LA (1953) An operational analysis of traffic dynamics. J Appl Phys 24:274–281. https://doi.org/10.1063/1.1721265

2.

Gazis DC, Herman R, Rothery RW (1961) Nonlinear follow-the-leader models of traffic flow. Oper Res 9:545–567

3.

Gipps PG (1981) A behavioural car-following model for computer simulation. Transp Res Part B 15:105–111. https://doi.org/10.1016/0191-2615(81)90037-0

4.

Krauß S (1998) Microscopic modeling of traffic flow: Investigation of collision free vehicle dynamics

5.

Treiber M, Hennecke A, Helbing D (2000) Congested traffic states in empirical observations and microscopic simulations. Phys Rev E 62:1805–1824. https://doi.org/10.1103/PhysRevE.62.1805

6.

Leutzbach W, Wiedemann R (1986) Development and applications of traffic simulation models at the Karlsruhe Institut Fuer Verkehrswesen. Traffic Eng Control 27:270–278

7.

Wiedemann R (1974) Simulation des Straßenverkehrsflusses. In: Institut für Verkehrswesen, Universität Karlsruhe, Karlsruhe

8.

Bando M, Hasebe K, Nakayama A et al (1995) Dynamical model of traffic congestion and numerical simulation. Phys Rev E 51:1035–1042. https://doi.org/10.1103/PhysRevE.51.1035

9.

Kesting A, Treiber M (2008) Calibrating car-following models using trajectory data: methodological study. Transp Res Rec 2088:148–156. https://doi.org/10.3141/2088-16

10.

Chen C, Li L, Hu J, Geng C (2010) Calibration of MITSIM and IDM car-following model based on NGSIM trajectory datasets. Proc 2010 IEEE Int Conf Veh electron safety. ICVES 2010:48–53. https://doi.org/10.1109/ICVES.2010.5550943

11.

Punzo V, Tripodi A (2007) Steady-state solutions and multiclass calibration of Gipps microscopic traffic flow model. Transp Res Rec J Transp Res Board 1999:104–114. https://doi.org/10.3141/1999-12

12.

Toledo T, Koutsopoulos H, Davol A et al (2003) Calibration and validation of microscopic traffic simulation tools: Stockholm case study. Transp Res Rec J Transp Res Board 1831:65–75. https://doi.org/10.3141/1831-08

13.

Gunay B (2007) Car following theory with lateral discomfort. Transp Res Part B 41:722–735. https://doi.org/10.1016/j.trb.2007.02.002

14.

Ravishankar KVR, Mathew Tom V (2011) Vehicle-type dependent car-following model for heterogeneous traffic conditions. J Transp Eng 137:775–781. https://doi.org/10.1061/(ASCE)TE.1943-5436.0000273

15.

Asaithambi G, Basheer S (2017) Analysis and modeling of vehicle following behavior in mixed traffic conditions. Transp Res Procedia 25:5094–5103. https://doi.org/10.1016/j.trpro.2017.07.001

16.

Durrani U, Lee C, Maoh H (2016) Calibrating the Wiedemann's vehicle-following model using mixed vehicle-pair interactions. Transp Res Part C 67:227–242. https://doi.org/10.1016/j.trc.2016.02.012

17.

Asaithambi G, Kanagaraj V, Srinivasan KK, Sivanandan R (2016) Study of traffic flow characteristics using different vehicle-following models under mixed traffic conditions. Transp Lett. https://doi.org/10.1080/19427867.2016.1190887

18.

Raju N, Kumar P, Chepuri A, Arkatkar SS, Joshi G (2016) Calibration of vehicle following models using trajectory data under heterogeneous traffic conditions. In: Proceedings of the 96th transportation research board annual meeting. Washington, D. C., USA

19.

Kanagaraj V, Asaithambi G, Toledo T, Lee T-C (2015) Trajectory data and flow characteristics of mixed traffic. Transp Res Rec J Transp Res Board 2491:1–11. https://doi.org/10.3141/2491-01

20.

Smith C (2014) US 231 Scottsville road scoping and traffic operations study appendix B: VISSIM development and calibration report

21.

Kanagaraj V, Asaithambi G, Kumar CHN et al (2013) Evaluation of different vehicle following models under mixed traffic conditions. Proc Soc Behav Sci 104:390–401. https://doi.org/10.1016/j.sbspro.2013.11.132
Acknowledgements
The authors acknowledge the opportunity provided by the 4th Conference of the Transportation Research Group of India (4th CTRG) held at IIT Bombay, Mumbai, India between 17th December, 2017 and 20th December, 2017 to present the work that forms the basis of this manuscript.
Additional information
Publisher's Note
Springer Nature remains neutral with regard to jurisdictional claims in published maps and institutional affiliations.
About this article
Cite this article
Anand, P.A., Atmakuri, P., Anne, V.S.R. et al. Calibration of Vehicle-Following Model Parameters Using Mixed Traffic Trajectory Data. Transp. in Dev. Econ. 5, 18 (2019). https://doi.org/10.1007/s40890-019-0086-4
Received:

Accepted:

Published:
Keywords
Leader–follower pairs

Influence area

Vehicle-following model

Calibration

Mixed traffic

Trajectory data set